When looking for a vibration machine for home use, we need to consider plate size, motor power, vibration type, and machine weight.
If budget allows, it's always best to buy a large vibration platform such as the Confidence Fitness Vibration Machine. Why? Because they come with large vibration plates, more powerful motors and weigh almost twice as much as the smaller vibration plates.
The extra weight is always a good thing when it comes to vibration machines, and I'll explain why later.
Powerful 1.5HP -50-60HZ Linear Vibration Plate
The Confidence Fitness full-Body Vibration Machine is one of the best-equipped large vibration plates in its price bracket. This thing boasts everything you need to reap the health benefits of vibration workouts at home.
With a powerful 1.5hp power motor and a large vibration plate, giving you more than enough space for standing and floor workouts. Plus, this impressive machine uses linear vibration, an excllent vibration type for muscle toning and weight loss.
Let's take a quick look at the product specs then we'll get on with the rest of the review!
Motor – 1.5HP – 600w 50-60 hz
Why Do We Like The Confidence Fitness Vibration Machine?
When buying a vibration machine. Something a lot of people forget to consider is the weight of the machine.
I know many people will think they prefer something light because it's easier to move and store, which is true, but the weight of a vibration machine is more important than you think.
The weight of a vibration platform gives us a good clue as to the quality of materials used in the build. It's also important when we consider energy loss.
Lightweight, cheaply built vibration platforms tend to shake too much. This causes energy to disperse sideways, downwards, and upwards instead of just upwards into our bodies.
Heavier machines stay planted to the floor, eliminating energy loss and focusing the energy upwards into your body.
And at 70lb, the Condifdece Fitness machine is heavier than any other large vibration plate in this price range, including the Pinty 2000w, and twice heavy as the popular smaller plate the LifePro waver.
When it comes to weight and build quality, the Confidence Fitness vibration machine gets a big thumbs up.
Understanding Vibration Types – Does This Machine Suit Your Needs?
The Confidence Fitness Vibration Machine users a linear vibration system. While this is excellent for muscle toning/strengthening, weight loss, increasing bone density, blood circulation, and reducing cellulite, it isn't best suited for people with joint or neck issues.
Linear vibration moves both sides of the body simultaneously, making it a higher impact vibration type than oscillating, which moves each side of the body alternatively.
Linear vibration mimics the jump reflex, which is why many sports professionals prefer this type of vibration, especially football and basketball players.
Linear vibration can have an impact of 6x the user's body weight which is a good thing for muscle toning and strengthening but not so good if you have joint problems.
I recommend people with neck or joint issues either take it very easy on a linear vibration plate or use an oscillating vibration platform.
Oscillating vibration is a much gentler, more natural vibration type as it mimics how we walk. It's a see-saw low-impact motion that can improve joint problems. If that sounds more appealing to you, I recommend taking at the Hurtle Fitness Vibration Platform an impressive oscillating machine and under $200.
Can you lose weight with a linear platform? Yes, both linear machines and oscillating machines can help you lose weight.
The vibrations of the machines cause 1000s of involuntary muscle contractions every few minutes. Muscle contractions use energy = calories. And this can be achieved just by standing on the machine.
However, if you want to lose more weight and tone muscles faster, it's best to incorporate other exercises into your routine, such as squats, lunges, press-ups, etc.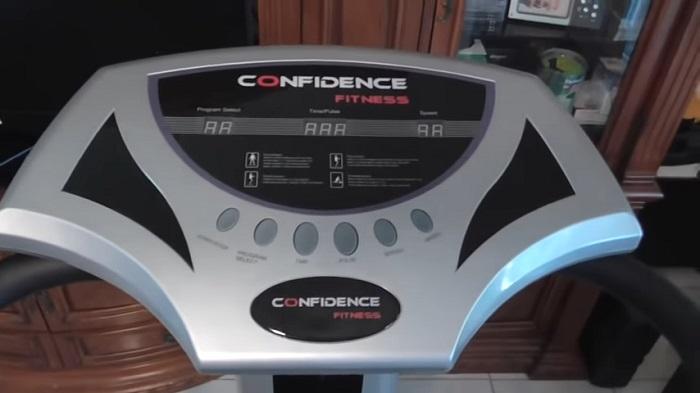 Simple – Easy To Use Monitor
An impressive monitor for the price point, and as I mentioned before, large machines always come with more advanced monitors than small vibration plates. The Confidence Fitness monitor includes 3 LED screens, one for the speed, workouts program, heart rate, and another for the timer.
Even though this isn't a commercial vibration platform, the monitor is just as good as any I have seen on commercial machines.
The Confidence Fitness monitor tracks all the vital workout data such as pulse, speed, and time, plus it also includes a few built-in workout programs, which are great to see at this price.
The good thing is there's nothing too complicated about the monitor with nice large buttons and separate LEDs so you can check all your workout data at once.
It would have been nice to of included a remote, as they can be handy when you are performing floor exercises and want to change the speed level in the middle of a workout without having to stand, but it's not a big deal, and at this price, I didn't expect to see one.
Resistance Bands For a Full Body Workout
Most vibration machines love to boast full-body workouts, but really a linear vibration machine will mostly work the lower body – the legs, butt, and core.
If you're after a full-body workout, you can use the resistance bands that come with the machine. However, the resistance bands only allow for a couple of upper body exercises, so can be limiting.
The good idea is to get hold of a set of dumbbells. This opens up many other upper body exercises you can perform while standing on the vibration plate.
And if you dont like the idea of the dumbbells or the resistance bands, you could incorporate other exercises into your vibration workouts, such as squats. Press-ups and lunges.
The machine's vibrations make the exercises more difficult to perform, making your muscles work harder than they normally would have to. Without the machine, cuttings your workout time in half.
Heavy stable build, 70lb weight avoid energy loss
50-speed levels – suitable for beginners and advanced users
High info monitor for price range
Easy to assemble, under 30 minutes
Powerful 1.5HP – 600w motor – easily string enough to cope with upper levels of vibration
Whisper quiet when in motion – you won't disturb others with the sound of your workout
4 suction pads help keep the machine planted to the floor
Several reviewers had difficulty with assembly because of too-tight screws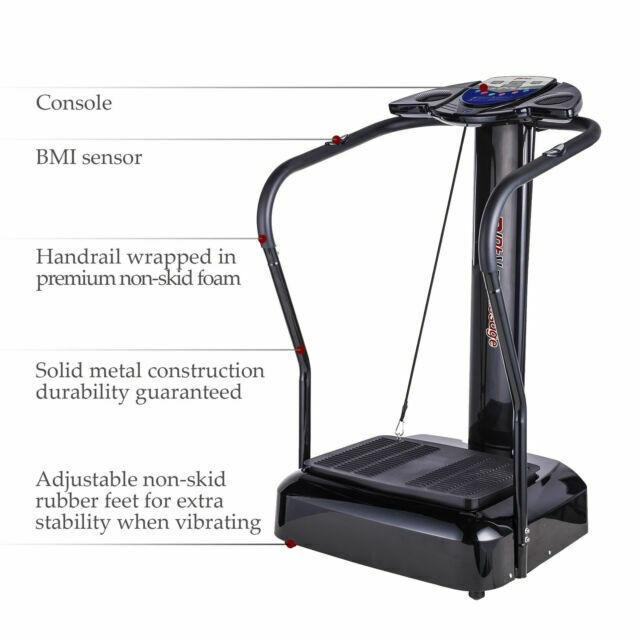 Pinty 1.5HP 2000w Vibration Platform
The Pinty 2000w vibration platform is another large linear vibration machine and it's very similar to Confidence Fitness in that it boasts a ton of vibration levels some workout programs and includes a large vibration plate that's a perfect size for standing and floor workouts.
This is the upgraded (new) version of the Pinty 2000 and a lot more impressive than the previous version, as this thing boasts a more powerful 2000w motor that's three times more powerful than the motor of the confidence Fitness machine.
Also, the Pinty includes 10 workout programs compared to Confidence Fitness's 3.
It's certainly an impressive machine for the price and only $20 more than the Confidence Fitness.
The only drawback to this machine is that it's built by a relatively unknown company. These guys havent been around a long also the Pinty weighs 17lb less than the Confidence Fitness machine so we can assume the martiasl used are not as high quality as the ones used by Confidence Fitness.
I do think the Pinty is worth some serious consideration as it packs in a few more features than the Confidence Fitness machine including a dual speaker M3 player and has that nice powerful 2000w motor.
Still, it's the quality of the build that's most important here, and weighing considerably less than the Confidence Fitness plate it makes me question the durability of the Pinty 2000w vibration machine.
To Sum Up
Confidence Fitness has been around a long time these guys are known for building quality home gym gear at affordable prices and their Linear vibration plate is no exception.
The Confidence Fitness Vibration Platform is one of the best vibration plates on the market right now, okay it can't match some of the machines in this price bracket when it comes to power or amount of vibration levels but for build quality, it sits at the top.
If you're after a durable linear vibration machine made by a reputable company I recommend you take a closer look at this impressive vibration machine.
And dont worry 600w 1.5hp is still a powerful machine!