What I really liked about the BlueFin Fitness 3D Vibration Plate is that it gives you the choice of which type of vibration to use for your workout. This is important because not all of us want to use just 3D vibration for every workout.
Oscillating – Gentle Vibration – Linear – Sports – 3D – Weight loss
There are many workouts, sports injures, and rehabilitation that will benefit far more from oscillating vibration than a combined vibration type and some sports training that is much better suited to a linear vibration.
Yes, 2 motor 3D vibration is great for weight loss and muscle toning, which is why most of the cheaper models only offer you this option. Still, if you want to reap all the health benefits of vibration workouts, it's best to own a vibration plate that not only has 3D vibration but also lets you use oscillating and linear vibration independently.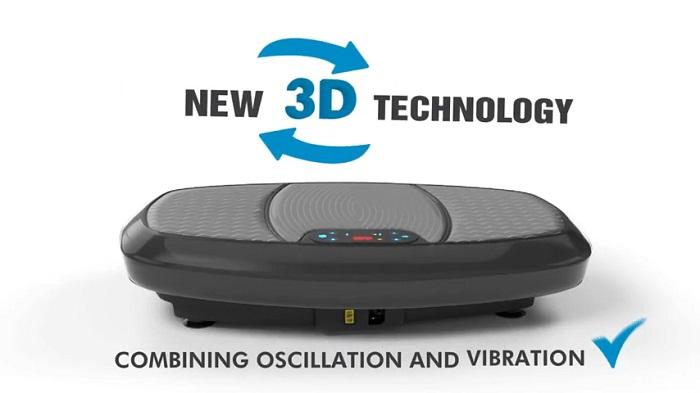 Vibration type – linear – Osciallting – 3D
Why Do We Like The BlueFin 3D Vibration Plate?
A lot of the budget vibration plates are underpowered. Even the most popular oscillating vibration plate, the ' Hurtle Fitness Vibration Machine,' only has a single 200W motor.
Seeing that the Hurtle has one 200w motor, I expected the BlueFin to include two similarly powered motors, so it was a nice surprise to find that the BlueFin 3D includes 2 x 500w motors. One 500w motor for oscillating vibration and one for Linear.
This is great news, especially for those of you who want to use the vibration types independently. Even using the motors on their own, the single motors of the BlueFin are twice as powerful as most vibration plates with single motors.
And when used together for 3D vibration, you'll have 1000w of power, making it one of the most powerful 3D vibration plates in this price bracket, not quite commercial-grade power, but not far off!
Understanding the BlueFin Vibration Platform
If you're planning on using a vibration plate a few times a week, you should know a little bit about how they work. This is a 3D plate, so it offers 3 types of vibration.
 Oscillating
The first is oscillating vibration. Oscillating vibration is the most popular type of vibration. It's great for weight loss, rehabilitation muscle toning increasing blood circulation and bone density, and can be used by just about anyone because it is the most gentle vibration type.
Oscillating vibration is a see-saw motion. It mimics how we walk, and it's because of this it feels the most natural of all vibration types. Think of it as taking thousands of mini-steps every few minutes.
These steps cause muscle contractions. The muscle contractions require energy and energy = calories.
You can lose weight without doing anything because the machine is doing all the hard work for you. On a high setting, your muscles will contract 50x more than usual, giving you a heavy workout. This helps to tone and strengthen the muscles and uses a ton of energy doing so.
Oscillating vibration focuses on your legs, butt, and core.
And if you want even faster results, you can incorporate other exercises into your oscillating vibration workouts.
Linear
Linear vibration is completely different from Oscailltiong vibration in that it works both sides of the body simultaneously rather than alternatively.
With linear vibration, the platform remains horizontal and moves up and down in one motion, which contracts the muscles on both sides of the body at the same time, making it a high-impact vibration, up to 6x the user's body weight on high-speed levels.
Just like osculating, the linear system's vibrations cause the muscle to contract, and just like oscillating the muscles, contractions will help tone and strengthen your muscles. Some feel linear is better for weight loss as linear activates the larger muscle groups more than oscillating, thus increasing metabolism.
Still, this high-impact vibration type isn't recommended for people with joint or neck issues. Linear vibration is mostly used for sports training as it mimics the jump reflex. Professional basketball players and football players are known to use linear vibration plates.
3D is the option of using both the Osciallting motor and Liner motor together. It's the ultimate vibration workout, as you'll benefit from both vibration types. However, if you have neck problems, I would avoid 3D as well. Oscillating vibration is a much better choice for anyone who has joint or neck problems.
Easy To Use Monitor
The BluFin 3D Platform has one of the more advanced monitors in this price bracket. It includes both BlueTooth and 5 built-in workout programs and 180 levels of vibration, which is more than enough to suit any user level.
But what I like most about the monitor is that it's placed at the back of the machine, making it easily accessible when performing floor workouts. For standing workouts, the BlueFin comes with a sweatproof remote control.
The remote control gives you the option to change vibration levels, choose workout programs, and set the timer. Always best to choose a vibration machine that includes a remote. It saves you from having to step off the machine in the middle of a workout to change the vibration level.
Resistance Bands – Full-Body Workout
The companies that build vibration machines love to hype them by saying they give a full-body workout. However, this isn't 100% true as liner, and oscillating vibration mainly works the legs, butt, and core.
Still, if you want a full-body workout, you can use the resistance bands provided with the machine. A good one to try is bicep curing while squatting; it's an advanced movement and requires a lot of balance, so practice on a low level first.
The only problem with the resistance bands is that they limit you to a few upper body exercises.
Instead, you could use a set of dumbbells. I know this is something my girlfriend does on her vibration machine. It opens up a ton of other exercises, from shoulder presses to bent-over rows. Just check out YouTube for ideas if this is your first vibration plate.
Nice & Heavy – It's A Good Thing!
You might think a light machine is best because it's easier to move and store, which is true, but when it comes to quality, the heavier, the better as the extra weight of the machine is a telling sign it's made from quality materials. And at 42lb, the BlueFin is fairly heavy for its price point – LifePro 3D just 33lb.
The extra weight is also going to help with energy loss. Lightweight, cheaply built machines tend to shake too much. This causes the vibrations' energy to disperse downwards, upwards, and sideways instead of just upwards into our bodies.
Heavier machines stay planted to the floor, allowing the majority of the energy to disperse upwards.
The Bluefin comes with integrated transport wheels; moving the machine shouldn't be a problem. Just tilt and roll.
180 speed levels – 5 workout programs
Remote control – no need to step off machine to change vibration level
Use oscillating or linear independently or simultaneously 
Lifetime warranty on motors
Resistance bands + Workout & Nutrition Guide
Powerfull 2 x 500w motors
Some may find it a little noisey on high vibration levels
Resistance bands are not that strong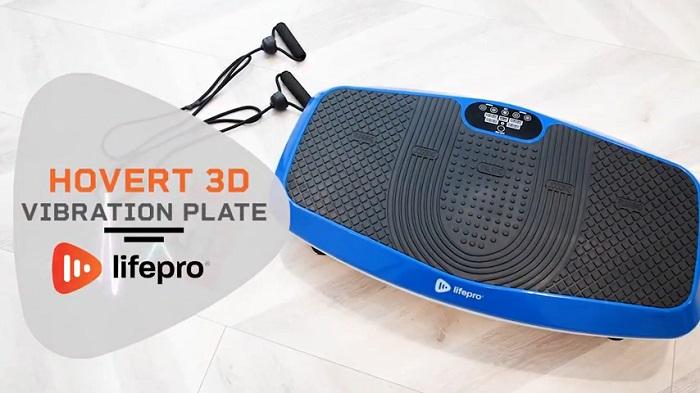 LifePro Hovert 3D Vibration Machine
LifePro are known well for building quality, affordable vibration machines, and I think their single motor vibration machines are probably the best machine for the price on the market.
Their 3D plate is like their other single-motor machines; well-built comes with a ton of speed levels, resistance bands, and a remote.
The only problem I have with their 3D vibration plate is that instead of combining the two most beneficial vibration types, oscillating and linear, lifePro decided to go for oscillating and Lateral.
LiefPro sort of missed the boat here – Lateral is a sideways movent that doesn't really do anything worthwhile when it comes to muscle toning or weight loss. Why? All of the energy is dispersed sideways instead of up into our bodies.
And when you combine Lateral with oscillating to produce the 3D effect, research has shown that using lateral and oscillating together causes a spiral effect that activates fewer muscles than oscillating alone.
So yes, the LfePro 3D is a well-built vibration plate they always are from this company. It will last years of use and comes with a lifetime warranty on everything. Still, the 3D  doesn't work nearly as well as the BlueFin Fitness's combined lineal and oscillating.
If you want to save yourself a few bucks and only need an oscillating vibration platform, I highly recommend the LifePro Waver, one of the best oscillating machines you'll find for under $200.
But for 3D, you might want to avoid their Hovert. And stick with the BlueFin 3D machine.
To Sum Up
180-speed levels 5 workouts programs and the option to choose vibration type makes the BlueFin Fitness vibration plate a winner. And you won't have to worry about power either with 2 x 500w motors.
I havent seen any other plate that can match the BlueFin 3D Plate on quality or features. It would have been nice to have the full lifetime warranty on everything rather than just the motors. However, this is still a more impressive warranty than you'll see on most plates in this price bracket apart from the LifePro.
Boasting the best vibration types and the strongest motors, there's no other plate out there better suited for weight loss and muscle toning for under $300. Remember to incorporate other exercises into your vibration workouts to get the most out of this versatile vibration plate.