The Pinty 2000w Whole Body Vibration Platform has finally been upgraded. It now boasts a large premium ABS vibration plate, more workout programs, and doubles the number of vibration levels of the previous model, and the great thing is the price didn't go up by much.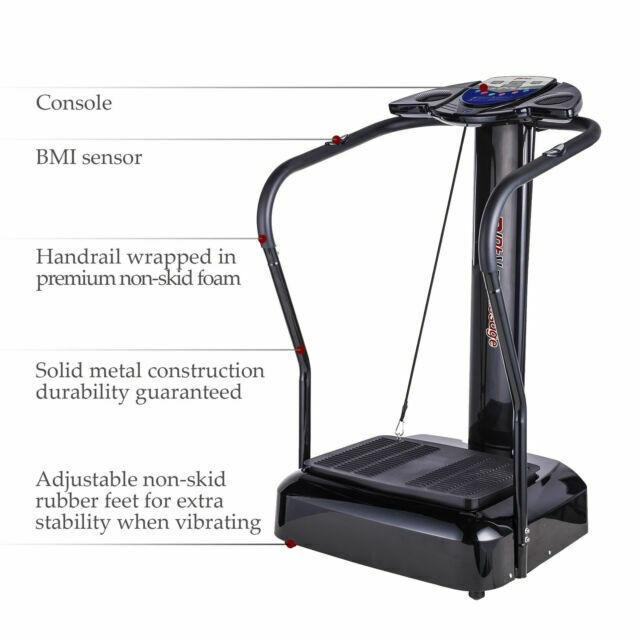 Powerfull Top of The Line Linear Plate.
Pinty has been around longer than most in the vibration plate world; their years of experience ensure quality, and their extremely positive user feedback is evidence of this.
The Pinty 2000w is one of their top-of-the-line most powerful models its been designed for weight loss and muscle toning, but the health benefits dont stop there? Its linear vibration system will also improve blood circulation, increase bone density, and can reduce cellulite by a whopping 25% even more if you decide to incorporate other exercises into your routine.
Linear vibration workouts are time-saving, too, as 10 minutes on this powerful machine is equal to 45 minutes of regular exercise. Cutting your workout time drastically
Still, a linear vibration isn't suitable for everyone, and I'll explain why later in the review. First, let's take a quick look at the product specs!
Vibration type – linear – 50 to 60 Hertz frequency range and ±5MM amplitude
Why Do We Like The Pinty 2000w Whole Body Vibration Platform?
The best thing about a larger machines like the Pinty XL is that they weigh more. And yes, heavy is a good thing. The problem with lighter vibration plates is that they shake too much. This causes energy to disperse sideways downwards and upwards instead of just upwards into our bodies.
We need a heavy vibration machine that stays planted to the floor. This will help with energy loss and ensure most of the vibration's energy is dispersed upwards into our bodies.
Okay, the Pinty isn't a commercial-grade machine, so we're not looking at super heavy. Still, at 53lb, it's much heavier than most vibration plates, especially when compared to plates such as the LifePro Hovert and the Hurtle Fitness vibration plates that weigh just 30lb.
Also, the machine's extra weight is a good sign that the Pinty is made from quality materials.
Vibration Type – Linear  – Great For Muscle Toning – Not So Good For Joint Problems.
The Pinty 200ow plate uses linear vibrations. Linear vibration moves both sides of the body simultaneously, great for activating the larger muscle groups, etc. but not so good for people with joint problems.
Moving both sides of the body up and down at the same time results in high impact up to 6x the user's body weight, and while this is desirable for sports training and muscle toning, it could be painful for anyone with neck or joint problems.
If you have any joint or neck problems, I'd advise you to take it easy at first on a linear vibration plate, as it could make your joint problems worse. Instead, you could look for an oscillating vibration platform.
Oscillating vibration is a more gentle vibration type in that it's a natural movement that mimics how we walk and can actually improve joint problems. The LifePro Waver is a good choice.
On the positive linear vibration is great for muscle toning and weight loss. The vibrations cause your muscles to contract thousands of times every few minutes. The contractions use energy and energy = calories. The higher the speed level, the more vibrations – the more calories you burn.
Also, the muscle contraction will help tone and strengthen the muscles in the legs, butt, and core.
If you really want to get the most out of a linear vibration machine, why not incoraparte other exercises into your routines, such as planks, push-ups, lunges, and squats? You' 'll burn more calories and tone and strengthen muscles much faster.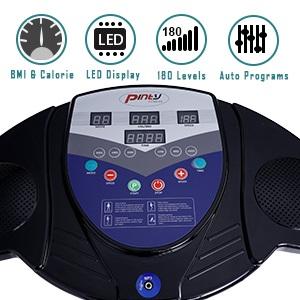 Easy To Use Control Console/Monitor
This is a great monitor for the price point easily as good as monitors I've seen on commercial plates costing $1k+. Having 4 LED's each one telling tracking a different workout stat, so you know exactly what's happening while you workout.
There's an LED for vibration speed, BMI, timer, and workout programs. Another excellent feature of the Piny machine is that it offers 10 workout programs great to see in this price bracket.
This is the latest version of the Pinty 2000w, so they have doubled the number of speed levels allowing the machine to be used by beginners right up to advanced. You should easily find a vibration level to suit your personal workout needs.
There's a Dual speaker sound system included so you can listen to your favorites music while you work out, or you could watch tv because the great thing about this vibration machine is that it's whisper-quiet when in motion, you won't disturb yourself or anyone else with the sounds of your workout.
Any drawbacks of the monitor? Just one, and it's not a biggy, but there's no remote control which means when doing floor exercises, you'll have to stand up to change speed level, etc.
Resistance Bands Full-Body Workout
Most of the companies that build vibration machines love to boast that their vibration machines provide full-body workouts, and they do, but only if you use resistance bands, etc., for the upper body.
Linear vibration mimics the jump reflex, so it's a favorite for sports training, especially popular amongst basketball and football players.
This type of vibration focuses most of the energy on the legs, butt, and core, more so than the body's other muscles.
If you want a full-body workout, it's best to use the resistance bands while on the vibration plate.  Squatting while bicep curing is an excellent exercise that requires a lot of balance, so be sure to practice at a slow speed first.
However, resistance bands limit you to a few upper body exercises. Why not get hold of a set of dumbbells? This will open up a ton of other upper body exercises you can perform while standing on the vibration plate.
Heavy /quality build – stainless steel frame, premium abs non-slip vibration plate
180 vibration levels – suitable for beginners right though to advanced users
Vibration type suitable for weight loss, muscle toning and strengthening – increased blood circulation bone density and reducing cellulite
Easy to assemble, under 30 minutes
Powerfull 1.5hp 2000w motor
Transport Wheels – Easily move the vibration plate from room to room or to store
Dual speaker MP3 sound system
Quiet machine – watch TV while you exercise
The resistance straps don't provide much resistance
To Sum Up
I prefer the larger vibration plates as they offer so much more. Yes, they take up more room, but we benefit from more powerful motors, a larger vibration plate to exercise on, and much better monitors. The Pinty is one of my favorite large vibration plates, and its monitor is one of the best in this price bracket.
This isn't a commercial-grade machine, but it's not that far off. It's a good weight at 53lb, so we should avoid any major energy loss, and its 2000w should easily be able to cope at high vibration speeds.
For the price, the Pinty 2000W Vibration Machine is an excellent vibration platform designed to be used for multiple purposes, from increasing blood circulation to weight loss and muscle strengthening.
Just remember to use the machine regularly, and the results will come dont expect miracles overnight. Just like any fitness program, these things take time. And to get the most out of the machine, dont forget to incorporate other exercises into your vibration workouts. Check out YouTube for workout videos and ideas.