The Best Choices Products Full Body Vibration Platform offers more features than any other we have reviewed for the price point. It's one of the only oscillating vibration machines to offer preset workouts for under $150.
99 Speed Levels – Remote Control & Resistance Bands
The Best Choices vibration platform also comes with a remote control so you can effortlessly change speed levels while standing on the machine, plus a pair of resistance bands for a full-body workout.
And with 99 levels of vibration, you shouldn't have any trouble finding a comfortable speed level to suit your workouts.
Okay, this thing is a long way off commercial grade, and at this price, I wouldn't expect it to be anywhere near costing just $99.
Still, a decent entry-level vibration plate such as the Best choices Products machine surprisingly can boast more benefits to your health than any other fitness product in this price bracket. Especially when combined with other exercises.
Combine Your Vibration Plate Workout With Other Exercises For Maximum Results.
When you combine your vibration plate workouts with other exercises such as lunges, press-ups, and squats, not only will you be burning more calories, you'll be toning and strengthening your targeted muscle groups.
And because you're performing the exercises on the vibration plate, you're going to see results faster as the machine's vibrations will increase the number of muscle contractions from 1 – 2 a second without vibration to 30-60 a second when performed on the plate.
Research has shown just 15 minutes a day on a vibration machine is equal to 60 minutes of regular exercise. Drastically cutting your workout time.
So yes, even a budget vibration plate offers a ton of health benefits thanks to its oscillating platform, and today we're going to take a close look at everything the Best choices vibration plate has to offer, including a few of its cons. First, let's take a quick look at the product specs!
Vibration type – Oscillating 
Max weight capacity – 330lb
What's Not So Good?
Something that's unavoidable with low-cost vibration plates is their low weight.
You might be thinking it's great this machine doesn't weigh much and yes it makes moving the machine around the home easier. But the weight of a vibration plate is more important than people think.
And one of the main problems we run into with a low-weight vibration plate such as the Best Choice Products plate is energy loss. Light weight machines tend to shake too much – energy will disperse in all directions down, sideways, and up rather than just upwards into our bodies.
The heavier the machine the less energy is lost because the machine stays more planted to the floor.
Thankfully the Best Choices plate isn't super light it's actually quite heavy for the price point at 33lb, some 10lb heavier than most machines in this price bracket, and that extra 10lb will make a difference.
So while we can expect some energy loss, it's not going to be as bad as most of the entry-level vibration plates.
Oscillating Vibration Best For Home Use
This machine's best feature has to be the type of vibration it uses (oscillating vibration); this is by far the best vibration type for home use. Why? It supports more weight, has less vertical impact on the body, reduces stress on the organs, and helps keep the spine more flexible and loose.
Oscillating vibration mimics how we walk, our bodies are designed around a spinal column, so when we walk, we have to balance from left to right. It's a see-saw motion. 
When we use the Best Choices Products plate's oscillation vibrating plate, the affected muscle contact just as if we were walking.
But rather than large steps, you can think of oscillating vibration as lots of mini-steps causing up to 60 muscle contractions a second.
The high number of contractions is great for weight loss as the muscles need the energy to contract. Energy = calories; the more the conractions, the more calories burned.
Oscillating vibration is also the best vibration type for improving our balance. Its gentle side-alternating vibration creates a rocking motion that causes the brain to tell the muscles to contract to maintain balance.
Maintaining balance on your oscillating vibration plate creates a low-impact workout perfect for muscle-toning and strengthening with minimal risk of damage to the joints and tendons.
Easy To Use Control Console
We're not going to see any advanced monitors in this price bracket. Most vibration plates that cost around $100 come fitted with a simple but easy-to-use monitor that displays speed level and a timer.
Last week I reviewed one of the LifePro Oscillating plates and the popular Hurtle Fitness vibration plate. These machines cost considerably more than the Best Choices Products plate but do not include workout programs which is why it was a nice surprise to see the Best Choices vibration platform includes 10 preset workout programs.
Also, the Best Choices control console /monitor is situated at the back of the machine. This is perfect for floor workouts as you can manually adjust speed levels when performing press up and planks, etc.
And for standing workouts, we have the remote, so no need to step off the machine during workouts to change speed levels. You can adjust the speed set the timer all from the remote control.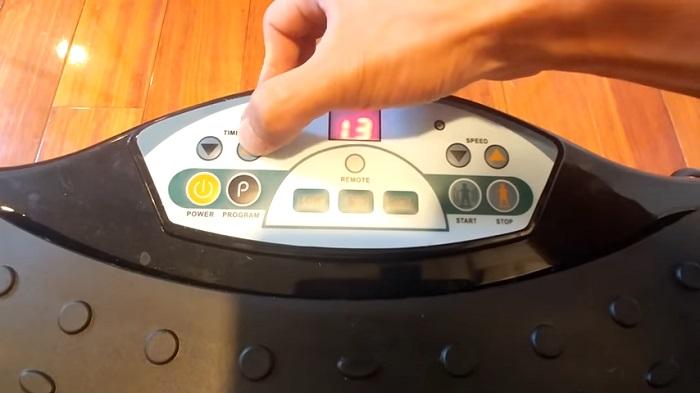 Full Body Workout – Resistance Bands
Let's not forget the vibration plate is shipped with resistance bands.
The resistance bands clip into the side of the machine and let you perform upper body exercises, turning your vibration workouts into full-body workouts. The vibration plate works your leg's, butt, and core while the resistance bands work the rest of your body.
One exercise advanced users love to do when using the resistance bands advanced is squatting while performing bicep curls. If you're new to vibration plates and want to try this exercise, I recommend you start with a low speed as it requires a lot of balance.
And lastly let's take a quick look at a few more health benefits of Oscillating Vibration plates.
Muscle toning
Weight loss 
Fat loss
Healthier Endocrine System
Increased Metabolic Rate
Improves balance
Improved bone density
Improved blood circulation
Decreased cellulite
Low impact exercise – great for rehabilitation
Decent build quality for price point 
Oscillating vibration – Excellent for weight loss, toning and rehabilitation – low impact
4 suction pads help to keep things stable on polished floors
Can be noisy on high speed levels
Some users mentioned it was heavy to move around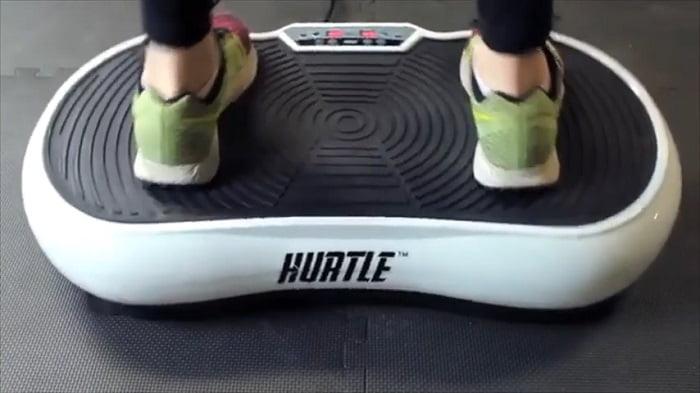 Hurtle Fitness Vibration Plate
One of the most popular vibration machines on the market, the Hurtle Fitness vibration plate offers everything you need for a full-body workout at home.
Like the Best Choices, the Hurtle comes with resistance bands, oscillating vibration, a remote, suction pads, and an anti-slip rubber top.
The Hurtle costs around 50 bucks more than the Best Choices but doesn't offer anything more.
It has fewer speed levels and doesn't include any workout programs.  You start to realize just what a good deal the Best Choice machine is, especially when we consider it has 10 workout programs and double the Hurtle's speed levels, which is great for beginners.
Still, the Hurtle Fitness plate has been around for years, and people who own the machine continue to praise how well it works years after purchasing, which is a reassuring sign that the Hurtle is built well and made from quality materials.
The Hurtle Fitness vibration machine is still one of the best out there in this price bracket its stood the test of time and is as popular now as it was when it first came out.
Yes, it lacks a few minor features, but if you want a machine that you know will last, the Hurtle Fitness vibration plate won't disappoint.
To Sum Up
There isn't too much I can fault about the Best Choice Products Full Body Vibration Platform. It has a good weight at 33lb; this will help keep the machine planted to the floor and prevent energy loss.
It comes with 99 workout levels and 10 preset workout programs, so it has one of the best monitors in the price bracket and comes with resistance bands for a full-body workout.
If you've been looking for an oscillating vibration machine for your home and dont want to break the bank, this thing offers more bang for your buck than any other on the market.