A vibration machine is a versatile bit of kit for your home gym; these things can be used by people of any age and fitness level.
Whether you want to tone your abs, butt, and thighs or you're recovering from surgery and need to improve your mobility, a vibration plate such as the FitQuiet Vibration Platform with its low impact gentle rocking vibration should satisfy all your workout needs.
FitQuiet Vibration Plate 180 Speed Levels
This is an entry-level vibration plate, so don't expect gym quality. Still, even entry-level machines with decent 200w motors like the FitQuiet provide enough workout options that you shouldn't need to upgrade any time soon.
For the price point, the Fitquiet is one of the best-equipped vibration plates I've come across, with a whopping 180-speed levels and 6 built-in workout programs.
And if you are after a full-body workout, the machine is shipped with resistance bands – bicep curls while squatting on the plate is a good one to try!
Yes, the FitQuiet Vibration Platform is packed full of features for the price point, which is why today I want to take a close look at everything this machine has to offer. I'll also compare the FitQuiet with one of its closest rivals, the Hurtle Fitness Vibration machine.
Before we get on with the review, let's take a quick look at the product specs!
Why Do We Like The Fit Quiet Vibration Platform?
What you have to love about this plate is how many speed levels it offers. 180 levels is a huge amount for a budget vibration plate, especially when considering some plates in this price range offer just 20.
It's impressive to read 180 levels, but you need a powerful motor if you are going to notice any real difference in vibration speed from switching between low and high levels.
A 200w motor is twice as powerful as the motors we find in very cheap vibration plates. However, it's still not very powerful, so while it's great to have many levels of vibration,  changing from one to the next, you may not notice the difference.
To notice any real difference in vibration speed, I recommend you adjust the levels in 2's. This gives us around 100 noticeable speed levels for the FitQuiet plate, which is still impressive and what I'd hope to find from a well-built budget vibration plate.
Can I lose Weight on A cheap Vibration Plate?
Yes, you can; okay, you're not going to lose as much weight as you would if using a commercial-grade machine in the gym with 2 x 300w motors, but entry-level plates such as FitQuiet can and will help you lose weight at home.
You'll need to use the plate in its upper-speed levels as the more vibrations (higher speed), the more times your muscles will contract.
When muscles contract, they use energy. Energy requires fuel (calories). The more times your muscles contract, the more calories you will burn.
Just by standing on the machine, you will be burning calories because your muscles will be contracting hundreds of times. Think of a vibration machine as taking hundreds of mini-steps without moving.
If you want to burn even more calories and really start to tone and strengthen your muscles? You'll need to incorporate other exercises into your vibration workout, such as squats, press-ups, planks, etc.
The vibration of the plates makes these exercises more difficult, thus making your muscles work harder.
Research has proved that a 15-minute workout on a medium speed level is equal to 60 minutes of regular exercise—great news for people with little time on their hands. A vibration plate cuts your workout time by more than half.
The FitQuiet vibration plate hasn't been designed only for weight loss and muscle toning. The FitQuite provides a ton of other health benefits too, check the list out below.
Healthier Endocrine System
Increased Metabolic Rate
Improves balance
Improved bone density
Improved blood circulation
Decreased cellulite
Low impact exercise – great for rehabilitation
Light Weight Machines Can Cause Energy Loss
One of the only issues with buying a budget vibration plate is just how light these things are. Light vibration machines tend to shake too much as they don't have the extra weight to stay fully planted to the floor.
The issue that arrives when a cheap plate shakes too much is energy loss; the energy is dispersed sideways, downwards, and upwards. Instead of just upwards into our bodies
Cheap vibration plates have got slightly heavier and are better made than a few years ago. So energy displacement isn't as big an issue as it used to be.
Still, at 30lb in weight, we will lose some energy. It's not a deal killer, but it's something to bear in mind when buying entry-level machines such as the FitQuiet.
On the positive, this is a 30lb vibration plate and a good weight for the price bracket, 10lb heavier than many I have seen, and that extra 10lb will make a difference.
Tip always find a flat surface for the machine and make sure the rubber suckers are doing their job. We want the machine as stable as can be to avoid any more issues with energy dispersing in the wrong direction.
Monitor/Control Console
It shouldn't come as a surprise that there's no advanced monitor in this price range. Still, after reviewing many other vibration plates, the FitQuiets monitor has more features than most. Boasting both Bluetooth and workout programs.
Last week, I reviewed the Hurtle fitness vibration plate and the LifePro, which cost considerably more than the FitQuiet, and surprisingly, both machines lacked workout programs and Bluetooth.
Another thing I liked about the FitQuiets monitor is that it's built into the back of the machine, which makes it easily accessible when performing floor exercises such as press up and planks.
And to save you having to step off the machine to adjust vibration speed when standing on the plate, the FitQuiet has a remote control; you can change the speed level and set the timer.
200w powerful yet quiet motor – watch tv while you exercise without being disturbed by the sound of the machine
Remote control – No need to step off machine to change vibration speed
Resistance bands  – upper body workouts
One of the best monitors in this price bracket – includes Bluetooth
Can be noisy on high speed settings
Some elderly users mentioned it was quite heavy to move around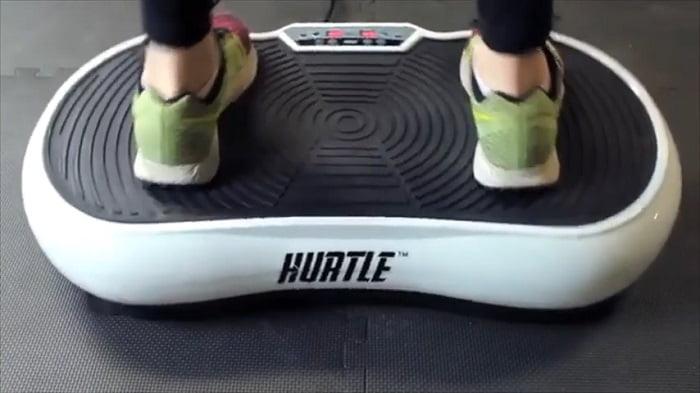 Hurtle Fitness Vibration Machine
The Hurtle Fitness Vibration machine has been around for a few years and has become one of the most popular budget vibration platforms on the market. It cost around $40 more than the FitQuiet but doesn't really offer that much more.
Both machines weigh around the same, which means they both will suffer from minor energy loss. Both machines include a large number of speed levels, the FitQuiet 180 and the Hurtle 40.
The only difference with Hurtle is that the speed increments are very noticeable. It's actually something users have praised which is almost unheard of for a budget machine. Still, there are only 40 of them.
There's no BlueTooth with the Hurtle, nor does it have any workout modes. So when it comes to monitoring features, the FitQuiet easily trumps the Hurtle.
 For power, the Hurtle is the winner with a 300w motor, which will make the vibrations stronger.
Another positive about the Hurtle machine is that it has been around for a few years. And the good thing about this is that people are still praising the vibration plate long after owning it. This is great news for a budget vibration plate. Not many budget plates can claim they stood the test of time. And reassuring for you, as there are plenty of users praising its durability.
Overall the Hurtle Fitness vibration plate with its 300w motor is still a good buy. Yes, it lacks a few features, but it has proven to be a durable machine, and if you dont mind spending a few extra bucks, the Hurtle plate is worth some serious consideration.
To Sum Up
Bang for buck it looks as if the FitQuiet Vibration Platform is unbeatable especially when we consider what's on offer. With built-in, Bluetooth, workout modes, and a ton of speed levels there isn't anything else out there that can match it.
Plates like the FitQuiet are great for home use, and you get out of them what you put in but don't expect miracles overnight, what I mean by this is you need to use the machine regularly to see results.
And if your health allows, I highly recommend you try some other exercises on the vibration plate. There are hundreds of workout videos on youTube to give you some ideas and encouragement.