The Pro is BlueFin Fitness's top-of-the-line vibration plate it has been designed specially for weight loss and muscle toning.
The BlueFin Pro Vibration Plate uses a linear vibration system that contracts your muscles 1000's of times a second helping you to burn a ton of calories while toning and strengthening your muscles at the same time.
I always recommend choosing a large vibration plate such as the BlueFin Fitness Pro as they allow more room for floor and standing exercises their motors are more powerful which means results come faster and they weigh a lot more which is a good thing as it prevents energy loss.
2000w Motor – 180 Speed Levels – 10 Workout Programs.
This thing shines when it comes to motor power with a 2000w motor with a max power output of 3800w. It's more powerful than any other large plate in this price bracket; in fact, it's not far off commercial grade, and with 180-speed levels, 10 workout programs, a dual speaker sound system, and 4 LED screen monitor, it's packed full of features too.
For the price, this machine is impressive, and today I want to take a close look at everything it has to offer. At the end of the review, I'll also be comparing the BlueFun Fitness Pro Vibration Plate with its closest rival, the Confidence Fitness Vibration Machine.
First, A quick look at the BlueFin Pro product specs!
Motor – silent drive 2000w – max output 3800w
Why Do We Like The BlueFin Pro Vibration Plate?
What I like most about this vibration plate is that it's heavy. Heavy is always a good thing when it comes to vibration plates. I know the extra weight makes it slightly more difficult to move around the home, but the pros of a heavier machine far outweigh the cons.
Not only is the extra weight of the Bluefin vibration platform a telling sign this machine is made from quality materials, but the extra weight also helps with energy loss.
Cheap, lightweight vibration plates have a habit of shaking too much, causing the energy from the vibrations to be dispersed downwards upwards and sideways instead of just upwards into our bodies.
The 64lb weight of the Bluefin is going to help keep the machine planted to the floor, and that's exactly what we need. Havier machines like the BlueFin Pro prevent energy loss and disperse the energy in the right direction for maximum workout results.
Is A Linear Vibration Plate The Right Choice For Me?
Linear vibration platforms move both sides of the body simultaneously, and it's because of this, they can have a high impact on the body up to 6x the user's weight. While high-impact vibration is great for strength training and weight loss, it's not ideal for people with joint or neck issues.
If you have joint or neck issues, either take it very easy on a linear vibration like the BlueFin (low-speed level) or, better yet, choose an oscillating vibration plate.
Oscillating vibration is a much more natural vibration type. With its see-saw motion, the affected muscles contract alternately, much like when you're walking.  Resulting in less vertical stress on the body. 
Check out our Hurtle Fitness Vibration Plate review if you think you might prefer an oscillating vibration machine.
Linear Vibration – Perfect Vibration System For Weight Loss
As we mentioned above, the linear vibration system of the BlueFin Pro is excellent for weight loss. Even on medium speed levels, the vibration plate causes the muscles to contract 1000s of times in a minute.
When our muscles contract, they require energy, and energy = calories. The higher the machine's speed level, the more calories you will burn, and the good thing about this is you dont have to move to lose weight as the machine is doing all the hard work for you.
However, to get the most out of any linear vibration platform, it's best to incorporate other exercises into your vibration workouts, as the vibrations of the machine make the exercises more difficult, making your muscles work harder.
A 15-minute workout on a linear vibration plate is equal to 60 minutes of regular exercise.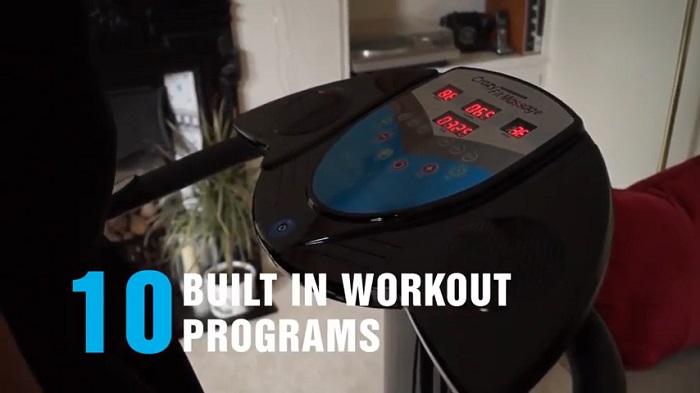 Easy To Use Feature Full Monitor
Because this is a large machine, we get a much better monitor than we see on smaller vibration platforms, and the BlueFin monitor is easily the best in this price bracket, boasting 180-speed levels, 10 workout programs, a calorie counter, BMI calculator, and a deal speaker MP3 sound system.
All of your workout stats can be viewed at the same time thanks to the 4 LED screens. This machine has been designed for beginners and advanced users, which is why it has soo many vibration speeds. You shouldn't have any problems finding a vibration level to suit your workout.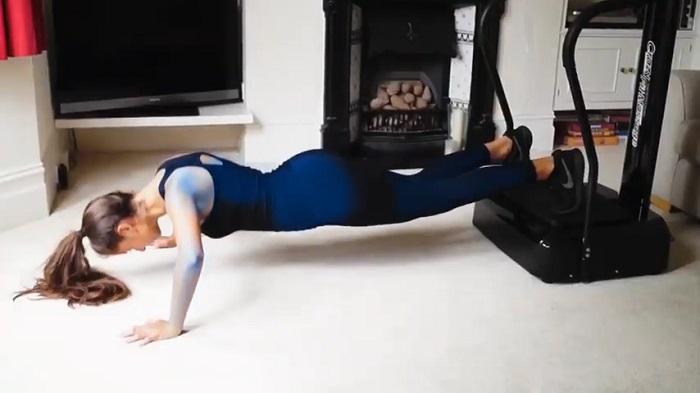 Full-Body Workout / Resistance Bands
The linear vibration system of the BlueFin Pro mainly targets your legs, glutes, and core. If you're looking for a full-body workout, you might want to take advantage of the resistance bands that come with the machine.
The only problem with resistance bands is they limit you to just a few exercises on the vibration machine.
However, if you want to take full advantage of your vibration plate, you could get hold of a set of dumbbells. This opens up a whole new world of exercises you can perform while standing on your vibration plate.
Check out YouTube for exercise routines and ideas.
Heavy – high quality build
180 speed levels suit beginners to advnaced
Easy to assemble, under 20 minutes
Linear vibration  designed to help with weight loss and muscle toning (sports training)
Powerful 2000w motor with max output of 3800w
BMI calculator -Calorie counter and dual speaker sound system included
Whisper quiet when in motion – you won't disturb others with the sound of your workouts
Lifetime warranty of the motor
Some users mentioned the mnaual was hard to understand
Can be a little noisy on the higher vibration levels
Confidence Fitness Vibration Platform
Confidence Fitness are a company that's been around a long time. These guys are known well for building quality home gym gear at affordable prices, and their XL vibration machine is no exception.
The Confidence Fitness Vibration Platform is very similar to the BlueFin in that it provides Linear vibrations, so it is best suited to weight loss and muscle toning its also boasts a large vibration plate, making it perfect for floor workouts.
And it excels when it comes to build quality being the heaviest large plate in this price bracket at 70lb. And we know it's durable because people are still praising the Confidence Fitness Vibration Plate after owning it for years. Always good to hear of a product that stands the test of time!
But when we consider this machine costs the same as the BlueFin, the Confidence is slightly underpowered. That's because the machine, although still one of the most popular plates on the market, is dated. Other Large vibration plates like the BlueFin are taking over.
The BlueFin Pro has a 2000w motor compared to Confidence Fitness 600w, the Bluefin also outshines the Confidence Fitness when it comes to speed levels with 180 compared to the Confidence's 50, and the Confidence Fitness doesn't come with a sound system or any workout programs.
The Confidence Fitness is a well-built vibration platform, and it's easy to see why it's been popular for so long, but if the Confidence machine wants to stay competitive with the likes of BlueFin. Confidence Fitness needs to upgrade both the monitor and motor.
To Sum Up
I can't think of any bad points about the new upgraded BlueFin Pro Vibration Platform. It has the most powerful motor in this price bracket, the most monitor features, and has a decent weight of 64lb, which will help prevent energy loss and tells us they havent cut any corners with the material used in the build.
If you have been looking for a large, powerful linear vibration plate, the BlueFin Fitness Pro is an excellent choice. Outshining everything else in this price bracket.
Still, you need to remember these are not miracle machines, and just like any other fitness routine, it takes regular workouts and time to see results.