I've reviewed a lot of gym gear from these guys, and they always come up trumps both on price and quality, and by the looks of things, the MiraFit Vibration Plate is no exception.
Powerful 1000w Motor – 99 Speed Levels
Boasting one of the most powerful motors for any small vibration plate and one of the best monitors that includes 9 workout programs and a huge 99-speed levels, this thing is better equipped than many of its competitors, including the popular LifePro Waver.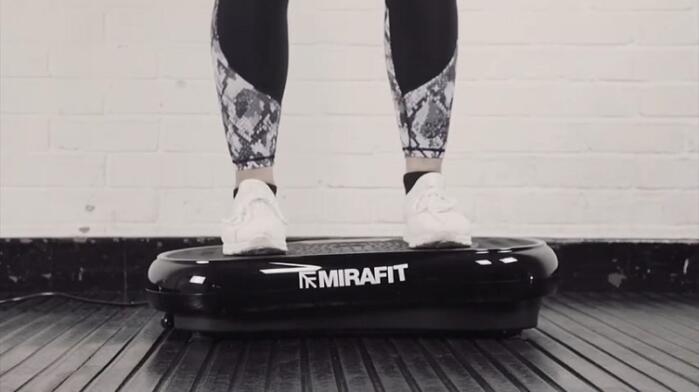 Today I want to take a close look at everything this impressive, compact vibration plate has to offer, including its drawbacks.
I'll also compare the MiraFit with its closes rival in this price bracket, the LifePro Waver. By the end of the review, you should know if this is the right oscillating vibration platform for your needs.
First, let's take a quick look at the MiraFit Vibration Plate product specs!
Vibration type – Oscillating 
Motor – 1000w – max output – 2500w
Why Do We Like The MiraFit Vibration Plate?
What you have to like most about this vibration machine is that it uses oscillating vibration.
You need to think of oscillating vibration as taking thousands of mini-steps every few minutes. These mini-steps cause your muscle to contract and relax.
When muscles contract and relax, they use energy – energy = calories. So not only does standing on the MiraFit burn calories, but the contractions will also help tone and strengthen the muscles in your core, butt, and thighs.
The good thing about oscillating vibration is that it's a gentle vibration type, a see-saw motion, that mimics how we walk. It's a more natural vibration type than linear/tri-plan allowing anyone to benefit from the vibrations no matter their age or ability.
And what's most impressive is the MiraFit has an exceptionally powerful motor for the price point – a 1000w motor with a max output of 2800w is excellent. This powerful motor will make sure the vibrations are strong and should cope easily with heavier users, something most plates in this price range have issues with.
Okay, we are not looking at commercial power here, but it's not far off. The majority of small plates in this price range use 200-300w motors, including the top sellers. To see 1000w motor features on a machine in this price bracket was a nice surprise.
The Only Drawback With Smaller Vibration Plates?
This isn't going to be a deal-killer, but it's something worth a mention. The problem with all small oscillating vibrations machines is their lightweight builds. Being lightweight makes it easy to move and store, but the lack of weight will cause energy loss.
Lightweight vibration machines tend to shake too much, causing the energy to disperse upwards, sideways, and downwards instead of just upwards into our bodies.
Thankfully this isn't such an issue when we're standing on the machine because our body weight will help keep the machine planted to the floor. It's more of an issue with floor exercises such as planks, pushups, etc.
On the Positive, the MiraFit is heavier than most of the Budget vibration plates – 30lb isn't too bad. Plus, it comes with 4 suction pads. These will keep the machine more stable when used on polished floors.
If you want to avoid energy loss altogether, then you'd need to spend a little more and choose a linear vibration machine – Tri-plan. These machines can weigh up to three times more than the smaller plates. They also come with a center column and handles. Decent ones start at under £250. BlueFin Pro is our current favorite.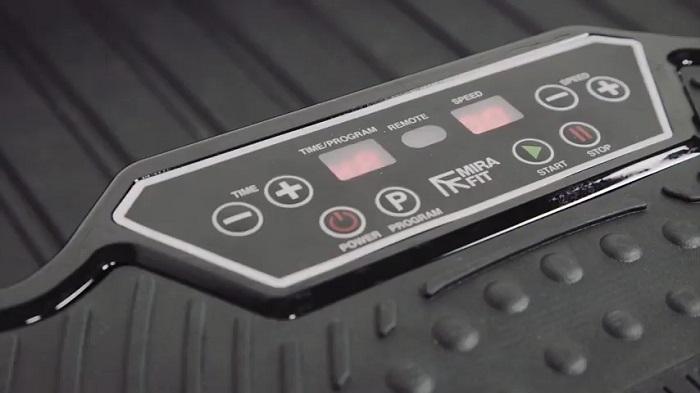 Easy  To Use Monitor/Control Console
The MiraFit has a great monitor for the price. It's one of the only machines I've reviewed for under £150 that includes workouts program 9 in total.
As well as the workout programs, we have 99 levels of vibration, which is more than enough to suit beginners right through to advanced users. You shouldn't havent any problem finding a vibration speed to suit your workout and ability level.
And what I like most about the MiraFit monitor is that it's placed at the back of the machine. This makes it easily accessible when performing floor workouts—no need to stand up to change the speed level or change the workout programs.
This machine also comes with a remote control so you can effortlessly change the speed level while working out.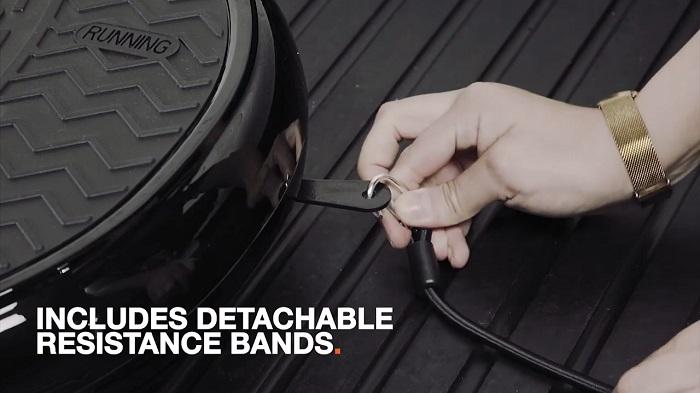 Resistance Bands For a Full-Body Workout
About every vibration machine, you'll see advertised like to claim full-body workouts, and they do, sort of, as you will feel the shakes even in the upper body. Still oscillating and linear vibration only really works the legs, core, and glutes hard. When standing on the plate.
For a real full-body workout, you'll need to incorporate other exercises into your vibration sessions.
You can use the resistance bands that come with the machine. Squatting while bicep curing is an excellent one to try, however, it requires a lot of balance, so I suggest practicing on a low-speed level first.
I found resistance bands to be limiting as they only allow for a couple of upper body exercises. Try and get hold of a set of dumbbells. This will open up a whole other world of upper body exercises you can perform while standing on your vibration machine.
Oscillating vibration – Suitable for all ages and abilities – lose weight, tone muscles increase blood circulation and bones density
Powerful 1000w motor with 2800w max output
Good monitor for price point – 9 workout programs and 99 speed levels.
Includes remote control – saves having to step off machine in the middle of a wiekout to change speed levels 
Resistance bands – full-body workout
Whisper quiet – watch TV while you exercise
Transport wheels, tilt and roll to move
A few people found instructions hard to follow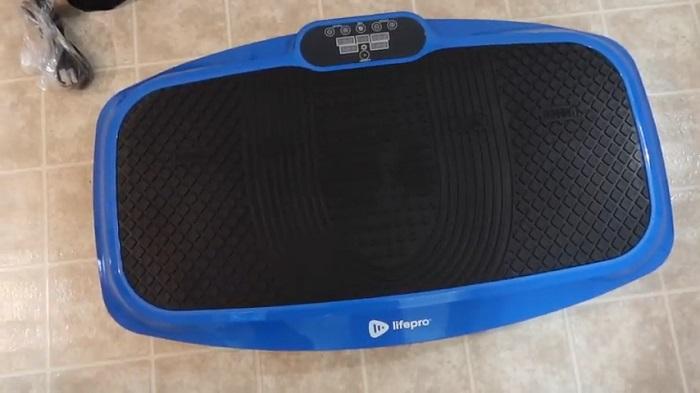 LifePro Vibration Plate
There no doubt that the LifePro Waver is the most popular oscillating vibration machine out there. This thing outsells everything else by at least 3x. Maybe that's because it's been out for a few years, or it's because this company are the only one who offers lifetime warranties on all their budget vibration plates?
The LifePro is very similar to the MiraFit. It weighs the same, is almost the same size, both offer 99-speed levels, resistance bands, and remote control, and most importantly, both take advantage of oscillating vibrations.
There's not much between them when it comes to price, either with the LifePro costing a few pounds extra.
The big difference between these two machines is in the power of their motors. The LifePro uses a 300w motor, but the MiraFit trumps this by a long way with its powerful 1000w motor. Also, the Lifepro doesn't offer any workout programs.
Yes, the LifePro offers an excellent warranty, but the power of the Mirafit is more appealing than the warranty of the LifePro Waver.
The LifePro Waver seems a little dated and underpowered compared to the new plates on the market, such as the MiraFit.
However, the LifePro is worth some serious consideration, its stood the test of time, and people continue to praise the machine years after purchasing it. Not many cheap fitness products can boast that!
To Sum Up
The MiraFit Vibration Plate is surprisingly good considering it cost less than most of its competition. It boasts a 1000w motor, so vibration strength shouldn't be an issue.
If you have havent got the space or money for a large linear vibration machine, the next best thing for weight loss and muscle toning is a smaller powerful vibration machine, and the MiraFit is one of the best I've come across.
And one of the only machines in this bracket to include workout programs and a large number of speed levels.
An impressive vibration machine at an affordable price. The MiraFit has everything you need to start your vibration sessions at home. Just remember, dont expect things to happen overnight vibration workouts are like any other fitness program. It takes time and regular workouts to see results.