The Yosuda Indoor Cycling Bike is another spin bike that proves you dont have to spend a ton of cash for a high-quality indoor exercise bike.
Yes, we can burn up to 700 calories on one of these things, and we're going to tone and strengthen muscles in the lower body. Still, we need a bike that's up to the job, one that's built well, offers enough resistance for intense workouts, and won't break down after a few weeks of use.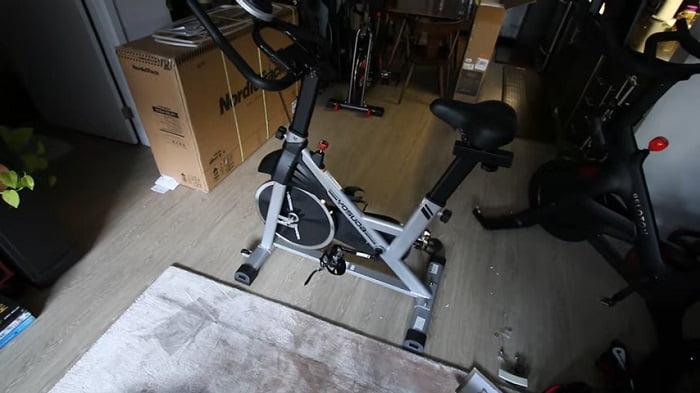 Not Gym Quality – But Impressive For Price Point
Let's not pretend the Yosuda spin bike is anywhere near the quality you'd find at your local gym, but it's not down there in the budget range either.
We have a heavy-duty steel frame that provides enough weight to keep the bike stable: an excellent belt drive system to keep things smooth and quiet and an impressive 35lb flywheel.
For the price, the Yosuda indoor bike packs quite a punch, and today, we're going to take a close look at this entry/mid-level spin bike. At the end of the review, I'll also compare the Yosuda with one of its main rivals, the Sunny SF-B1001.
First, let's take a quick look at the product specs!
Product dimensions –  40.16 x 21.65 x 46.06 inches
2 way adjustable – 4 way adjustable seat
Resistance type – friction, cotton pad
Why Do We Like The Yosuda Indoor Cycling Bike?
The Yosuda bike's best feature has to the belt drive system. Most bikes under $300 come with a chain drive system and while there's nothing wrong with a chain drive they are much louder when in motion compared to a belt drive.
Another advantage of belt drive systems is that they take little to no maintenance.
Chain drive systems will need regular lubrication and the chains similar to an outdoor bike tend to fall off once in a while because they can stretch. You'll have to take off the protective drive system housing and tighten the chain and put it back onto the sprocket.
If you want to avoid any maintenance with your new spin bike I highly recommend going for a belt drive system which thankfully the Yasuda has.
Stability – Wide Stabilizers & 4 Adjustable Levelers
I can't stress enough how important stability is for an indoor bike; the last thing you want is for the bike to wobble or move while exercising.
Most of us will want to stand while cycling for more intense workouts, and it's here a stable bike is more important than ever.
So what have Yosuda done to ensure we get as little movement as possible when cycling? Probably the best stability feature on the Yosuade is its adjustable feet levelers.
The adjustable levelers are there to helo keep the bike level on uneven floors. It's a great design feature and handy if, like me, you have uneven floors.
We have to remember this is a bike costing under $300, so it's not going to weigh 100lb + like the pro bikes, but at close 70lb, it's not a light bike either.
The weight of the bike and your own body weight will help with stability and ensure that when you're cycling, you feel like you are on a high-quality bike, not a cheaply made light weight spin bike. The heavier the indoor bike is, the better the quality of the materials used.
With wide stabilizing feet, 4 adjustable levelers, and a heavy frame, I think the guys at Yosuada have done all they can in providing you as much stability as possible for a bike in this price range. A thumbs up from me.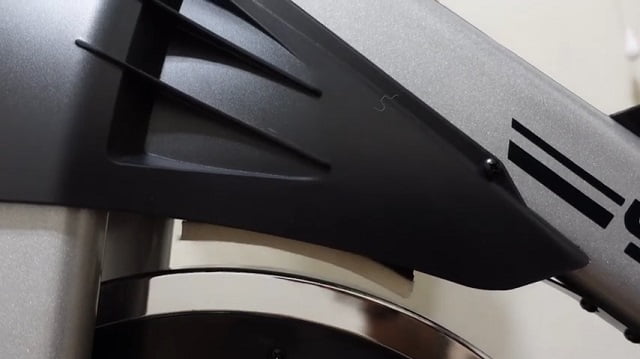 Friction Resistance/Strength
The only slight drawback of this bike is that it uses friction resistance rather than magnetic; however, if you wanted a bike that uses magnets to create the resistance, we'd be looking at spending at least another $80 or so.
Friction resistance works just as well as magnetic and will provide you with resistance strong enough for intense cardio sessions. Still, there are a few drawbacks to friction resistance. Firstly it makes a sound because the friction pad has to make contact with the flywheel.
It's not a loud sound by any means, a soft 'whooshing noise' and shouldn't put you off listening to music or watching Netflix. The second probably more time-consuming drawback is that friction pads require maintenance. Not a huge amount, they need to be changed once every 6 months, and you can if you lubricate the friction pad to make the pads last longer.
Replacing the pads is easy, and they don't cost much either.
Resistance Strength
Many of these bikes, including the Yosuda, love to claim that they have infinite resistance levels. This is a somewhat crazy claim as all resistance systems have their limits.
What this bike does have is a tension knob without any defined, marked levels; you can turn the knob until you find a level that of resistance that suits your workout.
This is a $300 spin bike. It hasn't been designed for seasoned athletes and or cyclists. And the strength of the resistance, even at its strongest, will reflect this. However, for most of us, there's easily enough strength of resistance for calorie-burning workouts.
I haven't heard anyone yet complain about resistance strength, which is a good sign especially considering how popular this bike is. Most users seem very happy.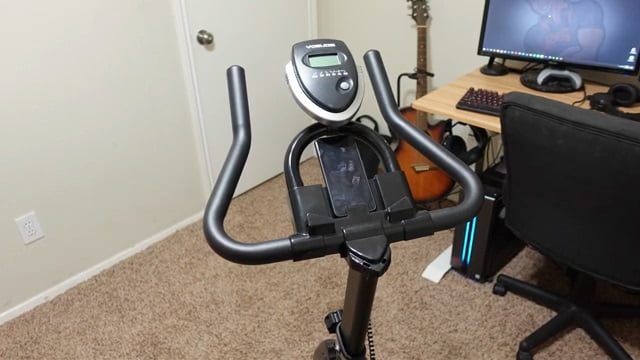 Free Tablet Holder + Easy To Use Monitor.
We're never going to HD screens and a ton of built-in fitness apps in this price range. Still, at the very least, these guys have provided you with a tablet holder. You can either access a load of free cycling workouts from youtube on your tablet, or you can pay for a subscription such as Peloton. The choice is yours.
I do recommend you find something for use on your tablet, as following an online workout really does help pass the time. Long cardio sessions can get boring, and a workout app/video takes away the monotony of long sessions. They also help push you to reach your fitness goals faster.
The Yosuda indoor bike's actual monitor is nice and easy to use, and tracks all the useful workout data such as time, speed, distance, calories burned, and odometer.
2-Way Adjustable HandleBras + 4 Way Adjustable Seat
Although we haven't got the 4-way adjustable handlebars, we do have a 4-way adjustable seat, so it's going to allow for most body sizes with a max height of around 6'1″
The handlebars are padded, and it's the padding that usually shows signs of wear on most entry-level spin boke. Even if the handlebar padding does wear quickly, dont be afraid to ask for a replacement as these guys at Yosuda offer free replacement parts for 12 months, which is excellent considering the bike's price.
30 Minutes Assembly Time
Thankfully most of the Yosuda Indoor Cycling bike comes pre-assembled. Many users have praised how easy the bike is to assemble and have completed assembly in under 30 minutes. All tools and clear instructions are provided.
Precision-balanced 35lb flywheel combined with the belt drive mechanism allows for smooth and quiet workouts
Fully adjustable 4 way saddle and two way handle bars
Solid construction and the extra-wide base ensure outstanding stability and protect your floor and carpet
4 adjustable levelers to keep bike level on uneven floors
Basic but easy to use monitor, track all your workout data
Transport wheels just tilt and roll to move or store
Low impact protect your joints – and burn up to 600 calories per 45 minute session
Great price for a high quality spin bike
Alternative & Comparison Table
Our Choice
Yosuda Indoor Bike
Flywheel weight – 35lb

Drive system – belt

Monitor – Yes

Resistance Type – friction

Max Capacity – 270lb
Flywheel weight – 30lb

Drive system – chain

Monitor – no

Resistance Type – friction

Max Capacity – 220lb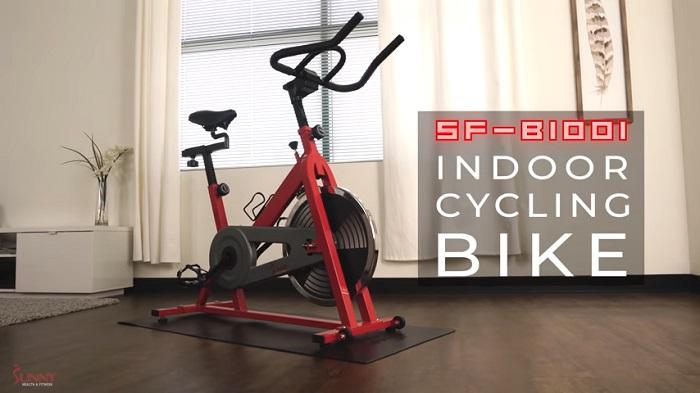 Sunny Health SF-B1001 Indoor Bike
Just like the Yosuda, the Sunny Health SF-B1001 is one of the most popular spin bikes for beginners looking to get into the world of indoor cycling. I need to point out the Sunny costs slightly less than the Yosuda, yet it still delivers on all the important features.
Sunny Health & Fitness specializes in affordable quality cardio gear. They have been the market leaders for some time now and really know what they are doing when it comes to entry-level cardio machines. And the SF-B1001 is no exception. It boasts a nice heavy frame at 89lb, so it should feel reassuringly stable when cycling.
It also comes with a heavy-duty crank and a 30lb flywheel, which is impressive considering the price point.
The only big difference between the Yosuda indoor bike and the Sunny is the drive system. The Sunny uses a chain and the Yosuda a Belt. You'll still achieve just as good a workout with a chain drive system; however, there is extra maintenance and noise.
Also, the Sunny doesn't include a monitor, which is no biggy considering most people use their tablets or phones to access fitness apps.
If you dont mind a chain drive system and want to save yourself a few bucks, the SF-B1001 is one of the best budget bikes out there. People who own this spin bike are still praising it years after purchasing it. That's a great sign. It shows the Sunny is built well and durable.
To Sum Up
One of my favorite spin bikes in the under $300 price category. The Yosuda Indoor Bike boasts all the essential features for a smooth, quiet cycling session at home, including the impressive 35lb flywheel.
A belt drive system allows for minimal maintenance, and the solid heavy-duty frame gives the bike that feel of quality we all want from any piece of cardio gear. 
As I mentioned, the resistance on this bike will not be strong enough for seasoned cyclists. You'll need a pro bike and a few more hundred bucks.
However, the Yosuda spin bike is a great choice for beginners or anyone looking to increase their cardio fitness.
If you're after a low impact, low cost, durable cardio machine that can help you burn a ton of calories, strengthen lower and upper body muscles the Yosuda indoor bike is easily one of the best you will find in this price bracket.