With a crowded market, it can be tough looking for the best budget spin bike, there are well over 100 spin bikes in this price bracket, and the difference in quality from one bike to another can be huge!
Luckily for you, we've been researching and reviewing spin bikes in this price bracket for the past 3 months. We've considered 50 of the best and narrowed this down to the top 5, so you won't have to worry about wasting your money on a below-par, poorly built indoor bike.
Surprisingly Good – Advanced Features – Heavy Duty Frames Under $300.
Budget spin bikes have come a long way in the past five years, and a few of them are surprisingly good, with a couple of bikes boasting advanced features such as magnetic resistance and belt drive systems.
We can even expect heavy flywheels in this price bracket excellent for a smooth cycling motion and heavy-duty frames, which help keep your spin bike stable, especially useful if you want to cycle out of the saddle.
Yes, just because you're paying budget prices doesn't mean you have to settle for the second-best. If you're looking for a durable spin bike, one that's stable and can cope with intense calorie-burning sessions or even a Peloton alternative, then keep reading. You might be surprised at what you can get hold of.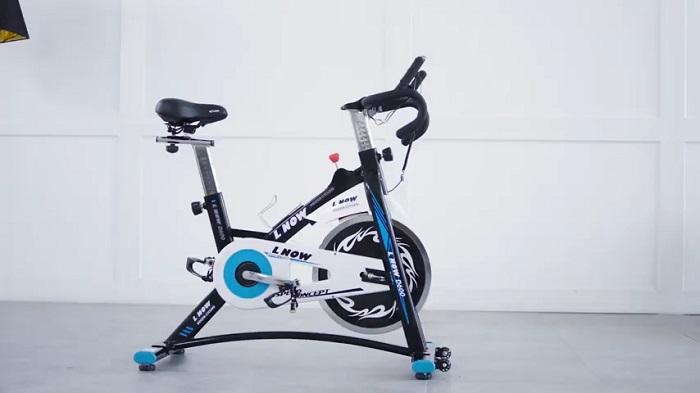 Before we get on with the reviews lets take a quick look at the best Budget Spin Bikes Comparison Table
Weight – 70lb

Resistance type – friction

Drive system – belt

Flywheel weight – 35lb

Monitor – yes
Our Choice
Pyhigh Indoor Bike
Weight – 79lb

Resistance type – friction

Drive system – belt

Flywheel weight – 35lb

Monitor – yes
Weight – 89lb

Resistance type – magnetic

Drive system – belt

Flywheel weight – 30lb

Monitor – yes
Best Budget Spin Bikes Reviews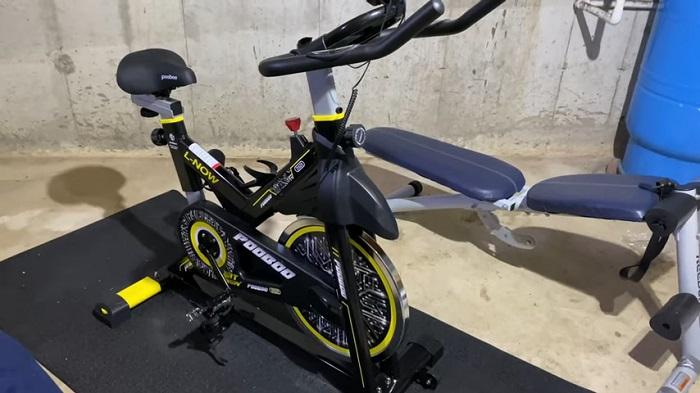 1. Pyhigh S2 (POOBOO) Spin Bike
The Pyhigh S2 spin bike is one of the most popular spin bikes on the market, and there's a good reason why, as it provides one of the smoothest cycling motions for under $350 thanks to its impressive 35lb flywheel.
And just like the MaxKare, the Pyhigh S2 Indoor Bike it includes the desirable belt drive system, which means noise will be kept to a minimum, and you won't be disturbing others around you with the sound of your workouts.
The Pyhigh benefits from 4-way adjustable handlebars and seat allowing users from 4.9″ to 6'1″ to find comfortable cycling positions.
Not all budget spin bikes include a monitor, so it's good to see one featured on the Pyhigh; although basic, it is nice and easy to use and tracks all your workout stats such as time, distance, RPM, pulse, and speed.
And if you want to take advantage of some of the latest cycling apps, the Pyhigh comes equipped with a phone and tablet holder.
We are paying slightly less for the Pyhigh than the MaxKare, so we cant expect magnetic resistance. The Pyhigh instead uses a friction pad to create resistance.
You'll be happy to hear resistance strength doesn't suffer because we are using a friction pad. It's just slightly louder than magnetic, and the pads need to be replaced once in a while. (cheap & easy to replace)
When it comes to stability, you shouldn't have any problems there either, as the bike includes 4 adjustable levelers. These can be independently adjusted to keep the bike level on uneven floors, and the bike's overall weight of 79lb should keep the bike stable even when standing and cycling.
Overall the Pyhigh provides everything you need for intense workouts. The quiet belt drive system is its best feature and makes it a great choice for indoor use.
The heavy-duty frame and adjustable levels will ensure a stable ride, and its heavy 35lb flywheel will ensure a smooth un-jerky cycling motion perfect for long spinning sessions.
35lb flywheel for a smooth, natural riding motion
Belt drive system – low maintenance – almost silent 
Basic but easy to use monitor to track all your workout stats
Easy to assemble, under 30 minutes
Built-in transport wheels, just tilt and roll to store
Horizontal adjustments at the four foot support covers are equipped to fit for uneven floors
Burn up to 600 calories an hour – excellent low impact cardio machine for weight loss
Excellent price for a belt-driven – solid spin bike
Not ideal for individuals over 6'1″
No pulse reading function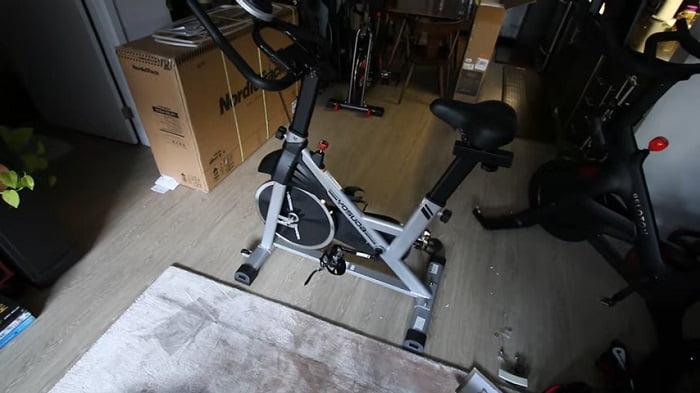 2. Yosuda Indoor Cycling bike
One of the big positives of the Yosuda spin bike is that it's been around for a few years. This means there's a ton of feedback, and I'm happy to say nearly all is positive, which is surprising for a $300 indoor bike.
With many people still praising their Yoshuda spin bike years after purchasing, it's a comforting sign this bike has been made from quality materials.
The Yosuda indoor cycling bike is very similar to the Pyhigh. Both bikes have matching price tags. Both include impressive near-silent belt drive systems. Both are excellent at providing smooth cycling motions thanks to their heavy 35lb flywheels, and both can accommodate most body sizes thanks to their 4-way adjustable seats and handlebars.
Again at this price, we can't expect magnetic resistance, so instead, the Yoshusda uses a friction pad to create resistance which is common for all budget bikes. Still, resistance is strong and good enough for calorie-burning workouts.
Unlike the MaxKare and Pyhigh, the Yosuda doesn't include the handlebar pulse sensors, which is a shame, but to include a monitor is still a big plus there are many spin bikes at twice the price that don't include one at all, so at the very least we have a monitor to track speed, distance, time and RPM.
Thankfully we do have a tablet holder, which I urge you to take advantage of and download either free or paid fitness apps as it's always good to have something to help keep away the monotony of long cardio sessions.
Overall the Yosuda is a safe buy its been around a while and stood the test of time, which is impressive for a budget indoor bike.
There really aren't many other bikes out there that can boast a 35lb flywheel, a heavy-duty frame, and a belt drive system, all for under $300; it is an excellent buy.
The Yosuda is yet another spin bike that punches way above its price tag in the budget range.
Precision-balanced 35lb flywheel combined with the belt drive mechanism allows for smooth and quiet workouts
Fully adjustable 4 way saddle and two way handle bars
Solid construction and the extra-wide base ensure outstanding stability and protect your floor and carpet
4 adjustable levelers to keep bike level on uneven floors
Basic but easy to use monitor, track all your workout data
Transport wheels just tilt and roll to move or store
Seat adjustment system can be tricky
Handle bar can be adjusted only up and down, it is not 4-way adjustable
No backlit on the bike computer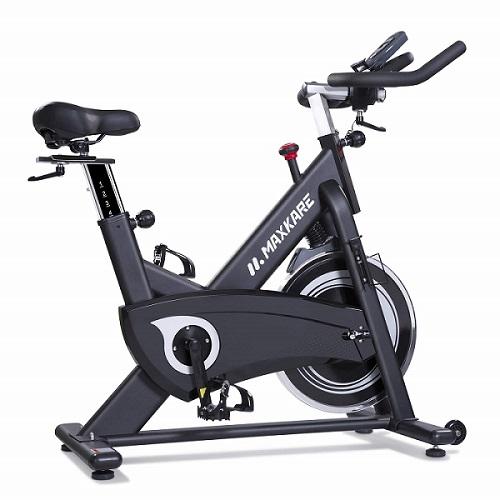 3. MaxKare Magnetic Spin Bike (update: no longer available)
MaxKare are a small company that specializes in building quality cardio gear at affordable prices. I reviewed one of their treadmills a few months ago, and for the price, it was unbeatable, and it looks like their magnetic spin bike is just as impressive.
The MaxKare magnetic bike is one of the only spin bikes in this price bracket that can boast magnetic resistance; magnetic resistance is a feature usually reserved for high-end spin bikes, so it was a nice surprise to find the MaxKare takes advantage of this whisper-quiet resistance system.
Not only is magnetic resistance quiet it's also maintenance-free. And what's best about magnetic resistance is it can be adjusted in small strength increments making it a perfect choice for cycling apps where they ask you to make minor resistance adjustments, something almost impossible to do with budget friction resistance bikes.
Another excellent feature of the MaxKare is that it uses a belt drive system rather than a chain.
The main advantage of a belt drive system is that its makes hardly any noise.
The majority of entry-level spin bikes use a chain for their drive system. While there nothing working with a chain, it gets the job done. It noisy because the chain has to roll over the sprocket.
Chain drives also require maintenance as the chain will require regular lubrication, something you can avoid with a belt drive system.
So if you're looking for a maintenance-free spin bike, one that's whisper-quiet when in use, always lookout for a belt drive system as they are ideal for indoor use.
And lastly and probably the most impressive feature of this bike is its heavy-duty frame, weighting close to 90lb is impressive for the price point, because not only is the extra weight useful to keep the bike stable its also a telling sign the Maxkare is made from quality materials.
When you're cycling on the MaxKare, it's not going to feel like some cheaply built unstable spin bike. Its heavy frame and impressive flywheel will allow for a smooth, stable ride and shouldn't feel much different from bikes you'd find in your local gym.
Overall the MaxKare is unbeatable for around $400. There's no other spin bike that can offer the quality or the features.
The MaxKare bike has been designed to accommodate most body sizes as both the handlebars and seat are adjustable vertically and backward, and forward; this ensures comfortable cycling positions for heights ranging from 5′ to 6'2″.
Heavy-duty 90lb frame – heavy enough to aid stability
30lb flywheel for smooth consistant momentum
Belt Drive – Maintenance free – low noise
Easy to assemble, under 30 minutes
4-way adjustable saddle and handlebars – allows users of most height to fit properly on the bike
Integrated transport wheels for easy movement
Tablet  & water bottle holder
The fitness meter has no backlight
A tablet or phone placed on the media holder will cover the display of the exercise meter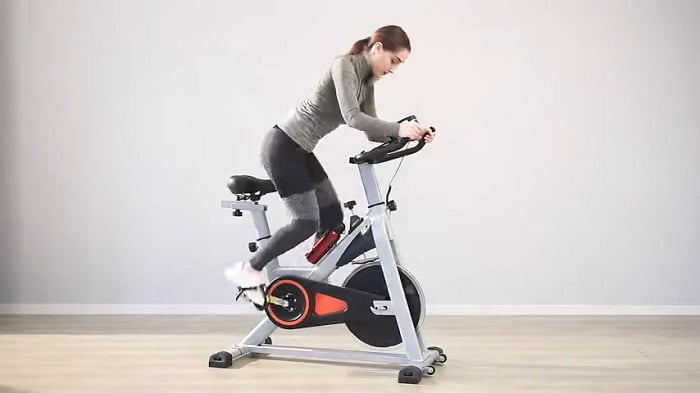 4. Merax Spin Bike
Merax are best known for their weight training equipment currently. Their dumbbells outsell most on the market. These guys havent been around long, but they're making a big impact on the home gym market, so too is their cardio gear.
And it's not surprising their products are so popular when we see their Merax spin bike providing high-end features for under $300; this thing boasts a heavy-duty frame, belt drive system, 30lb flywheel, and 330lb capacity. That's more than impressive for a bike that costs less than $300!
Making the Merax spin bike a perfect spin bike looking to get into the world of indoor cycling, it's cheap, well built, and offers a belt-drive system, so it's well suited for home use.
When we consider there are many spin bikes, including bikes from leading companies such as Schwinn and Sunny Health & Fitness who charge twice as much for a bike with the same features and frames (weight & quality), actually the Merax weighs more than the Schwinn IS2 ($700) you start to realize how much bike you get for the money.
The Merax ticks all the right boxes of a quality indoor bike – maintenance-free drive system, solid build, heavy frame – for stability, decent resistance system with enough strength in the upper levels for intense workouts, and a flywheel heavy enough to ensure a smooth cycling motion.
If you dont want to spend over $300 on an indoor bike, I urge you to check the Merax out. It's worth every buck.
30lb flywheel impressive for price point – ensures a smooth non jerky cycling motion
Belt drive system – maintenance free – whisper quiet
Easy to assemble, under 45 minutes
4 adjustable levelers – keeps the bike level on uneven floors
Transport wheels- just tilt and roll to move
 meter unit doesn't have backlight
Not recommended for users over 6'1″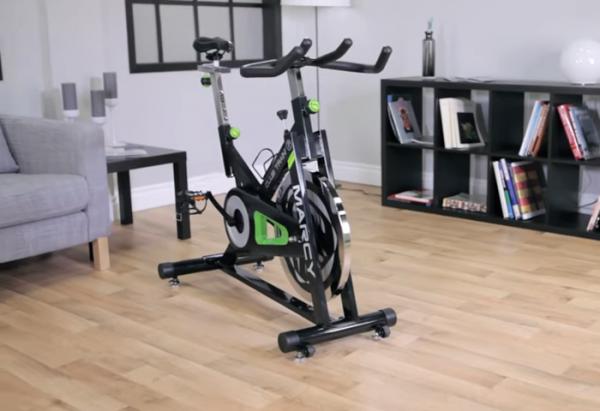 5. Marcy Revolution XJ-3220
Marcy are a company well known for building quality budget home gym gear. I've reviewed a ton of their stuff, and they never fail to impress. Bang for buck, these guys are the ones to look to first.
I'll start by saying we are far down in the budget range with XJ-3200 its the cheapest bike in this review, so dont go expecting anywhere near gym quality.
Still, for a budget bike, the Marcy XJ-3220 has some impressive features, and if you're a beginner just starting to get into the world of indoor cycling, the Marcy is an excellent choice.
The frame and build quality are what's most impressive about this bike.
It weighs 85lb that's heavy for a bike costing under $250. It's a lot of bike for the money. And much of that weight comes from the flywheel, which weighs 40lb, almost unheard of in this price range to find a 40lb flywheel, so you can be sure of a smooth cycling motion.
Yes, we have a nice solid bike and an impressive flywheel, but when it comes to the other features, especially the drive system and resistance system, this is where the Marcy suffers.
Sadly but not surprisingly, we see a chain drive system, which means more noise and more maintenance.
At this price, a chain drive system is not a deal killer by a long way. Chain drive systems do just as good a job as a belt drive system, so the quality of your spinning session will feel no different.
Chain systems are slightly louder. And the chain will need to be lubricated as you would with an outdoor bike.
However, maintenance doesn't take long. You'll need to lubricate the chain once a week or so and replace the friction pad when it's worn.
When you consider most spin bikes that cost under $250 have frames weighing between 50-60lb and flywheels 20-30lb, you realize Marcy has gone that bit further than the rest, and that's what Marcy always does.
They beat the competition in the budget ranges by providing you the best product possible for money, and they have done it again here with the Marcy Revoltutin spin bike. If you're a beginner, it's a great choice.
Heavy-duty frame 89lb aids stability
Heavy 40lb flywheel – smooth unjerky cycling motion
4 way adjustable seat – 2 way adjustable handlebars
Easy to assemble, under 1 hour
4 adjustable feet levelers – keeps bike level on uneven floors
Integrated transport wheels just tilt and roll to move
Not suitable for users over 6'2″
Buying Tips & Info
For the past few years, spinning has become incredibly popular, it's now No.1 in commercial gyms for cardio workouts, and there's a good reason why. Spinning is low impact. It doesn't put as much stress on your joints as running on a treadmill.
Also, you can burn up to 600 calories in a 45-minute session on a spin bike while strengthening and toning your muscles. And with health benefits as good as this, spinning isn't going away anytime soon.
But not all want to go to crowded gyms or have the money for a yearly membership. Instead, many people turn to home workouts, and a spinning bike is now one of the top choices for cardio workouts at home. The good thing is you dont have to spend a ton of money to get hold of a decent spin bike.
If you look hard, you can even find a few budget bikes with all the features you need for a calorie-busting workout at home. You won't quite find commercial-grade bikes in the budget range, but we can try our best to get close to the feel of a pro bike as possible.
If you're new to spinning, you will need to consider a few important features before buying. The last thing you want to do is waste cash on an unstable, poorly built bike. So let's have a quick look at the most important features you should look for when deciding on your new spin bike.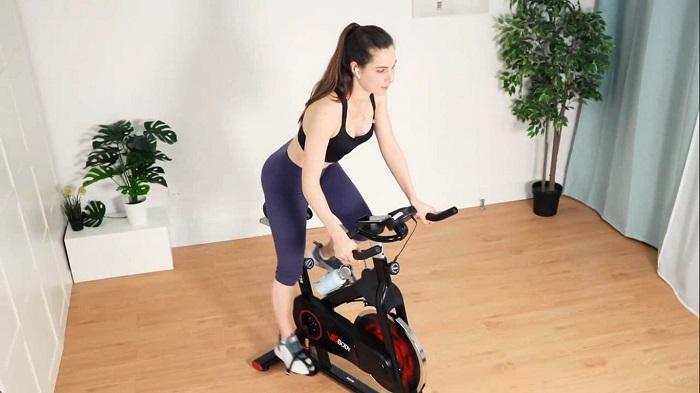 Stability – Heavy Duty Frames
Stability is one of those things people tend to overlook when buying indoor bikes; they're more concerned with fitness apps and the bike's look rather than if the thing is stable enough for an intense workout.
How do we know if the bike is going to be stable? The spin bike weight will give us a good idea of whether it's going to feel reassuringly solid when cycling or if it's going to feel cheap and unstable.
A spin bike in your local gym is going to weigh anything from 150-200lb. It's one of the main reasons they feel rock solid.
We're looking at the bikes in the under $400, so we can't expect to find a 150lb spin bike, but thankfully we can get close to 100lb, which is impressive at this price point. 100lb spin bike is going to feel stable and is suitable for out-of-the-saddle workouts.
The closer you can get to 100lb in this price bracket, the better. The Extra weight of the bike is also a telling sign it's made from quality materials. So the heavier, the better when it comes to your spin bike.
Chain Vs. Belt – Which Is Best?
A few years ago, we wouldn't be having this conversation about Chain Vs. Belt, as belt drives were typically seen on high-end spin bikes; they were the new thing! So it's great to now see a belt drive system featured on lower-priced spin bikes even as low as $300.
Many people still ask what is a better chain or belt? A few people may say chain drive systems, as some indoor cyclists love their indoor cycle to mimic an outdoor bike's feel as much as possible.
But the majority of indoor cyclists love belt drive systems. Simply because they're so quiet, there's no chain rolling over a sprocket, creating noise. The belt drive is almost silent in operation, which is why it's best suited for indoor use.
And unlike the chain drives systems, the belt drive is maintenance-free. If you dont want to disturb others with the sound of your workouts and you favor a maintenance-free drive system, it's always best to choose a belt drive.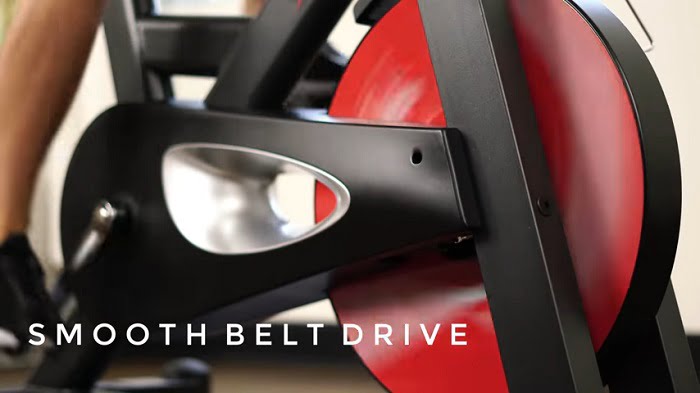 Which Type of Resistance Is Best?
There are two types of resistance systems for spin bikes one is magnetic the other is friction. Friction resistance is typically found on low-cost spin bikes as it's cheaper to manufacture.
Fiction resistance does a good job of creating resistance, and it's straightforward to use. All you have to do is turn the tension knob, and the friction pad will press against the flywheel. The more you turn the friction knob, the more resistance you will feel.
Friction resistance does have a few downsides. The friction pad will wear over time, so it will need to be replaced every six months or so. You can lubricate the pad, which will make it last longer still. If you're using the bike regularly, most friction pads wear out between 6-12 months even with, lubrication.
The only downside of friction resistance is. Generally, you can not use a friction resistance bike with apps such as the Peloton as the resistance strength does not increase in small enough increments to meet the workouts' demands. It's still possible, but it isn't easy. It's much easier to use a bike with magnetic resistance that can offer micro-adjustments.
This brings us to our second type of resistance, Magnetic. Magnetic resistance costs slightly more to produce than friction, so it's usually found on a more expensive spin bike – mid-level to high end.
One of the benefits of using magnetic resistance is that it's whisper-quiet because the magnetic does not need to make contact with the flywheel; also, there is no maintenance.
Magnetic resistance is the best choice if you can afford it. Maintenance-free, silent, and offers micro resistance levels.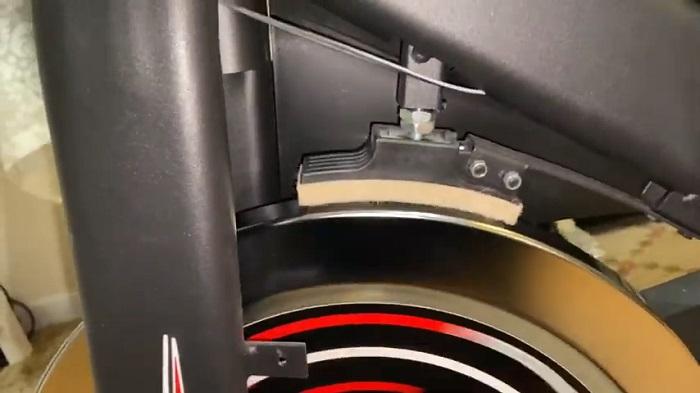 Stability, resistance system, and drive system are the most important features you should look for in this price bracket. The flywheel weight is something else you should consider; just make sure the flywheel weighs over 25lb for a smooth cycling motion.
Other features such as pedals and the seat can be changed if you do not find them suitable. While most people will be happy with the pedals, some more serious cyclists like to change the pedals to SPD's. This is only necessary if you'd like to use your bike with cycling shoes.
To Sum Up
I can understand why people find it hard to find a well built durable spin bike in this price bracket. After months of researching and reviewing bikes under $350, we really only found 5 we could happily recommend.  And the one spin bike that stood out the most has to be the PYHIGH Belt Drive Indoor bike.
The Pyhigh spin bike surpasses everything else out there in the budget range. The impressive powder-coated, heavy-duty frame with solid/professional welds (durable & stable) is better than some bikes twice the cost.
We have a belt drive system plus a 35lb flywheel, allowing for a smooth, un-jerky natural cycling motion.
And because of the Pyhighs advanced features, this bike is suitable for more than just calorie-burning workouts; it also makes for an affordable Peloton alternative and the only bike in this price bracket I'd recommend that's good enough to stand up to the demands of the Peloton trainers.