Only a few years ago, it was impossible to get hold of a decent rowing machine under $500. If you wanted a rower with strong resistance, a high-quality build, and a smooth rowing stroke, you'd be looking at paying $800+.
Thankfully things have started to change, and with the introduction of magnetic resistance, which has slowly filtered its way down to the low price brackets, we are now beginning to see a few excellent rowers.
Quality on offer in this price bracket can vary hugely.
So if you've been looking for the Best Rower Under $500 but still haven't made your mind up yet? You are doing the right thing by researching first.
There are many choices out there right now, but the quality of rowers varies hugely from one company to the next, you need to be careful.
I've been reviewing rowers in this price bracket for years, so I know who builds the best machines and what a rowing machine should offer at this price point, and today we're going to check out the Top 3 on the market right now. All include a high-quality build, whisper-quiet magnetic resistance, a smooth rowing stroke, and a long rail suitable for most sizes.
For those of you in a rush here is a comparison table and if you have a little more time check out our reviews and buying guide
Weight – 66lb

Resistance – Magnetic 14 levels

Weight capacity – 250lb

Max user height – 6'3″

Foldable

Rating – 4.3/5
Our Choice
Schwinn Crewmaster
Weight – 90lb

Resistance – Magnetic 10 levels

Weight Capcity 300lb

Max user height – 6'5″

Foldable

Rating – 4.5/5
Weight – 60lb

Resistance – Magnetic 8 levels

Weight capacity – 250lb

Max user height – 6'5″

Foldable

Rating – 4/5
Best Rower Under $500 Reviews
Schwinn Crewmaster Magnetic Rowing Machine
Schwinn are a company that has been around for over a century. These guys have more experience than anyone in home cardio gear and are known for their quality builds great warranties.
Their Crewmaster rower is a mid-level rowing machine that includes all the essential features for intense full-body workouts at home.
Boasting a 9lb premier weighted flywheel which keeps the magnetic resistance smooth and strong, plus a belt drive system; it's one of the quietest rowers you'll find, making it the perfect choice for home use.
We also have one of the longest rails in this price bracket at nearly 5ft, accommodating users up to 6'4″, which is impressive but perhaps what's most impressive is the Crewmaster's build quality because, at 90lb, it's heavy for a mid-level rower.
Stable heavy build 90lb
Most mid-levels rowers weigh around 70lb which isnt too bad, but the Schwinn weighs in at 90lb. Not only will this extra weight keep the rower planted to the floor it's a telling sign Schwinn has used quality materials for the build.
In addition to the heavy frame, the Schwinn has wide stabilizing feet and adjustable levelers, which you adjust to keep the rower stable on uneven floors. This is a solid rower from Schwinn, and thats exactly what you want from a home rower.
Schwinn hasn't included a ton of tech with this rower. It's a fuss-free well-built machine which is why I like it.
The monitor is easy to use but basic; still, it tracks all the essential workout data such as distance, time, stroke count, pulse and has a large height-adjustable LCD making it easy to read while you workout.
The Schwinn monitor is enabled for the use of a wireless heart rate chest strap, and while it's impressive to include wireless heart monitoring, you'll need to buy the chest strap separately to take advantage of it (uncoded heart rate strap from Polar Electro is recommended $30) 
Fuss Free Solid Rower From Schwinn
If it's quality you're are after and you dont mind missing out on a few monitor features, then the Schwinn is the best buy as it delivers on all the vital features you should be looking for in a quality rower.
Sturdy build can handle up to 300lb
Belt drive and magnetic resistance system make the Crewmaster rower whisper quiet when in operation
Folds for storage and includes transport wheel just tilt and roll to store
Excellent warranty for a $500 rowing machine (10yr frame – 2yr parts replacement and 1 yr labor)
Heart rate monitor enabled
LCD isnt backlit makes it hard to read in low light conditions 
Can not adjust resistance level from the monitor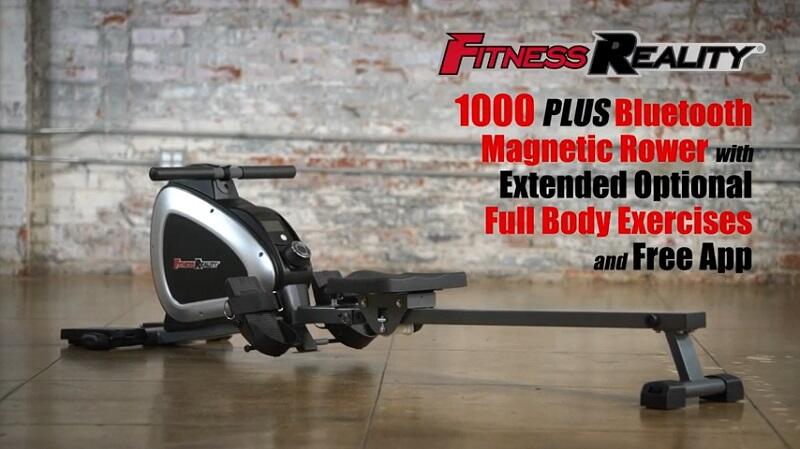 Fitness Reality 1000 Plus Magnetic Rower (best under $350)
I've reviewed a ton of gear from these guys over the years, and they always impress, bang for buck they are usually unbeatable, and their budget rower is my No.1 choice of rowing machine under $350.
Boasting 14 levels of resistance, it has been designed for most fitness levels. Adjusting resistance is easy. Just turn the tension knob situated on the flywheel housing to your desired level.
Just like the Schwinn, it's a magnetic rower that also includes a belt drive system, the perfect combination for a home rower. Both of these systems help keep noise to a minimum so you can watch TV listen to music without being disturbed by the machine.
For a budget rower, the Fitness Reality 1000's rail is surprisingly long and accommodates users up to 6'3″, so an excellent choice for taller users. Minimum height is 4'9″.
Build quality is right up there thanks to its 66lb build, heavy for a budget rower, and again proof these guys are using high-quality materials for the build.
Smooth Rowing Stroke
The feel of rower when rowing (rowing stroke) is the most important thing to consider when buying. A few features really help keep the rowing stroke smooth, such as a premier weighted flywheel, a seat that glides effortlessly across the rail, and a high-quality resistance and drive system. All of these features are included with the Fitness Reality Rower , which is why it's such a good buy and why it's selling so well.
And lastly, the Fitness Reality 1000 includes an extra set of footpads at the front of the rower. The extra footpads are something I know many users love as they allow you to perform upright exercises such as standing bicep curls and upright rows with the rowing handle of the machine.
Great quality for price point
Impressive rail length for budget rower of 39″ allows users up to 6'3″ to achieve full leg extension 
Magnetic resistance + belt drive system make this rower almost silent in operation
Front stabilizer foot pedals allow for additional upper body workouts
Bluetooth enabled sync with MyCloudFitness app
Built-in transport wheels – just tilt and roll to store
No pulse reading function
No pre-programmed workouts
Not suitable for seroius rowers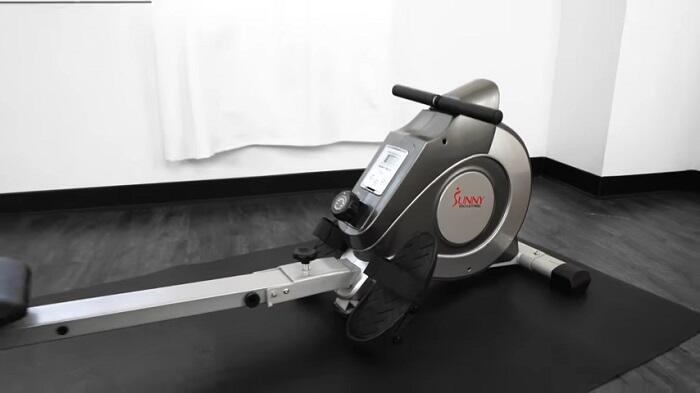 Sunny Health & Fitness SF-RW5155 Magnetic Rowing Machine (best under $250)
Sunny Health & Fitness are the market leaders in affordable cardio gear. This company has been at the top of its game for over 20 years, and its rowers are some of the best on the market.
The Sunny SF-RW5155 is their flagship budget rowing machine priced at just under $250 and has been one of my favorites ever since it was released a few years ago.
This budget rower is so popular because it's one of the only budget magnetic rowing machines thats is capable of providing intense cardio workouts. Many have praised how strong the resistance is in the upper levels, which is unheard of for a rower of this price.
It also boasts the longest rail you'll find for under $250. It can accommodate users up to 6'5″ and has a smooth rowing stroke thanks to a premier weighed flywheel and smooth gliding seat that runs effortlessly across the rail on its high-quality ball bearings and rollers.
The Sunny health SF-RW5155 outsells every other rower on the market apart from the Concept 2 Rower. Thats how popular this thing is. It's a rowing machine that has stood the test of time and continues to impress people years after being released.
Whisper smooth magnetic resistance, a belt drive system, long rail, folds for storage, and quality build, yeah the monitor is basic, but all the essentials are there—great rower at an excellent price.
Excellent build quality for price point
maintenance free belt drive and magnetic resistance systems
Longest rail in price bracket and a 275lb max weight capacity make this rower a great choice for larger users
Built-in transport wheels
Buyers Guide For Rowing Machines Under $500
I thought it was good to put together a short buying guide for first-time buyers as it can be confusing, especially in this price bracket, what to look for from a rowing machine and what you should avoid.
1. Weight
You might be surprised to hear, but a rower's weight is one of the most important things to consider when buying a rowing machine in this price bracket.
The last thing you want to do is buy a rower, set it up and realize it is cheaply built and won't last long. And the easiest way to avoid making that mistake is to check the rower's weight, as it is the weight that gives us the first clue to the overall quality of the rowing machine. The heavier, the better.
Also, heavy machines are more stable because that extra weight will help keep the rowing machine planted to the floor. It's best to look for rowing machines that weigh over 50lb. If you can find a rower anywhere near 100lb for under $500, you're doing well.
2.Monitors/Controle Consoles
For under $500, you might be lucky to find a rowing machine with a few workout programs or BlueTooth. Still, in general, monitors on low-cost rowers are basic and only track essential data such as distance stroke time and calories, etc.
Still, there are a few things you can look for as ideally, you want a monitor with a large screen to read your stats easily while you row and one thats height adjustable.
I've never had an issue with basic monitors. Why? Because rowing machines without all the bells & whistles are usually the best buys,  you save yourself a ton of cash by avoiding the advanced techy stuff, which most people dont use anyways, even if they think they need it when first choosing a rowing machine. Plus they are easy to use and set up, and most come with a tablet or phone holder so you can download your fav fitness app if you want to.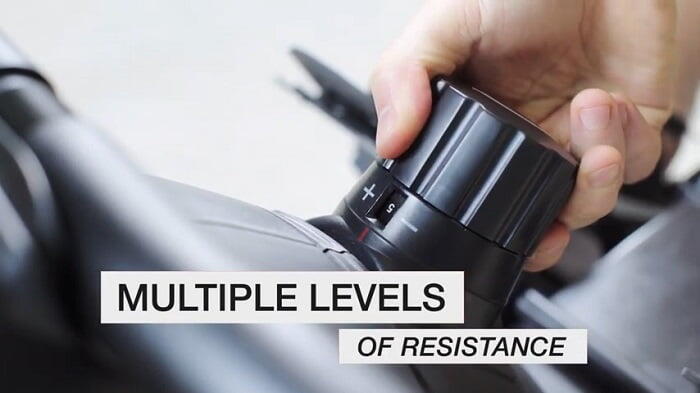 Resistance Type – Magnetic Air or Water?
There are three main types of resistance for rowing machines. The first is air resistance which you have probably used many times in your local gym.
Air resistance uses a fan to create resistance. It's a great choice of resistance for rowing machines because it closely mimics the feel of an actual rower in that the faster you row, the stronger the resistance. This is called a dynamic resistance system.
Air rowers are excellent for a commercial gym environment. Still, they're not ideal for home use because they are so noisy, which usually means you'll need a separate room to house an air rower if you dont want to disturb others around with the sound of your workouts.
The next type of resistance is magnetic. Magnetic resistance is ideal for home use because the magnetic of the resistance system never have to make contact with the flywheel. Thus, it's a frictionless resistance system.
Frictionless means no noise and less maintenance. You can use a magnetic resistance rower without disturbing anyone with the sound of your workouts.
Another benefit of magnetic rowers is that magnetic resistance is constant, which means the resistance strength only changes when you manually change it via the resistance knob. It's not like air resistance, where you row faster to create stronger resistance. Magnetic is controlled by a tension knob or from the monitor.
And because the resistance is constant, it allows you to row at a slow pace on a high resistance level (great for building the legs) and something impossible with air or water resistance as they are both dynamic.
This leads us to water resistance. Water-resistance is similar to air, except the fan or blade is inside a tub of water. I'm not a great fan of water rowers; they are mostly overpriced, but they mimic the feel of rowing the most closely as the resistance is dynamic, and you get the sound of the fan blades going through the water.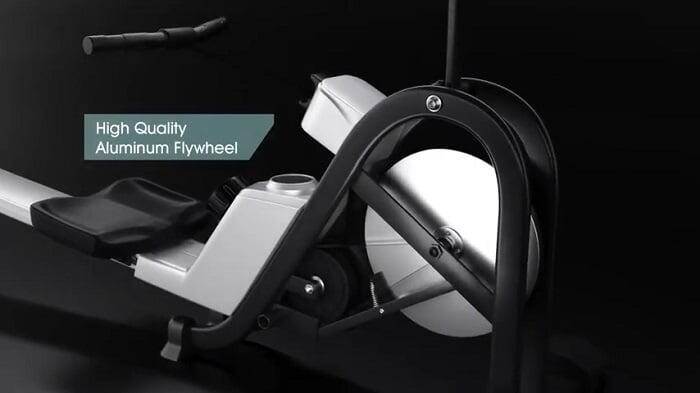 Flywheel Weight
Generally, we'd recommend you look for a heavy flywheel with low-cost rowers, as the extra weight typically provides a smoother rowing stroke and adds something to the resistance strength. It's not always the case, but in this price bracket, a heavier flywheel is more important than with high-end rowers. Rowers under $500 usually have a flywheel weight anywhere from 3lb to 12lb.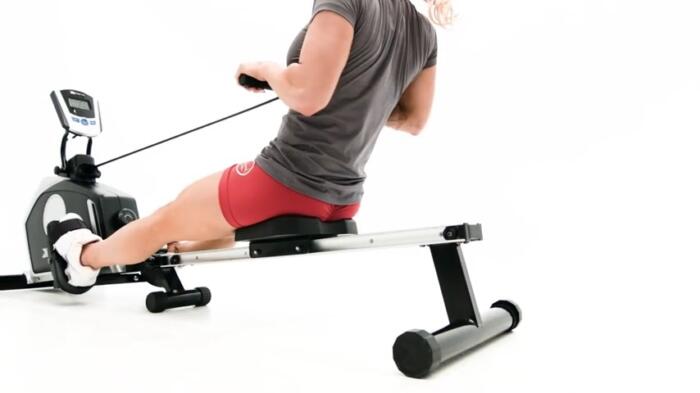 Rail/Beam Length
Somethings thats vital to check before buying if you're tall is rail length. Many rowers in this bracket come with sort rails, some as short as 35″, which will only accommodate users up to 6ft.
To get the most from your rowing machine, you will need to be able to achieve full leg extension or close to it when rowing; otherwise, your rowing form all be negatively affected.
A handful of decent rowers under $500, 3 of which are featured in this review that includes long rails. Look for a usable rail length. Thats the length the seat can slide up and down the rail, of 39″ for users up to 6'3″. Anyone above this height, you'll need a rail length of at least 40″ . You probably to have spent over $500 to find a rower with a rail length longer than 42."
We Need a Stable Rowing Machine
I already mentioned weight plays a vital role in the stability of a rowing machine, but there are a few other features we can check for too. The first is wide stabilizer bars. This helps prevent wobble and can usually be found at the front of the rower. The wider, the better.
Another handy feature are adjustable levelers; some rowing machines have these built into the stabilizer bars. They're helpful because they can be indecently adjusted to keep the rower stable on uneven surfaces.
A few other more minor things to consider. The seat, what's the padding made of? Look for high-density foam as this type of padding isn't too soft to cause stability users or too hard to be uncomfortable.
Even with all the above feature you might find rowing machine slips on polished surfaces? Most rowers do regardless of cost, so it's best to get hold of a cheap rubber floor mat to prevent slips.
To Sum Up
Without a doubt, the Schwinn Crewmaster is the Best Rowing Machine Under $500. Its build quality outshines its competitors, and its resistance strength is suitable for most users except perhaps serious rowers training for competitions. Plus, it has an excellent warranty, so should anything go wrong, you're covered for at least a couple of years.
However, the Schwinn cost nearly $200 more than the Fitness Reality 1000, so we expect it to be the better rower. The Fitness Reality is just as impressive for its price point with a long rail 14 levels of whisper-quiet resistance, belt drive, smooth rowing stroke, and the only budget rower to include Bluetooth.
There is nothing that can match the Fitness Reality on features, price, and quality. It's the No.1 budget rower for those reasons.