If you want a full-body workout, there's nothing better than a rowing machine for the job. These things work 86% of your muscles, boosting your endurance, strengthening and toning the muscles, all while providing a top-level cardio workout.
Thankfully you dont have to spend a ton of cash to get hold of a decent one for your home gym because there are a few low-cost rowing machines such as the Fitness Reality 1000 Rower that comes fully equipped with everything you need for intense calorie-burning workouts at home.
Don't expect Gym Quality.
Yeah, we cant expect gym quality in the price bracket, and I've reviewed many low-cost rowers over the years that lack both quality and durability at this price point, so you need to be careful. Still, a few shine in this price bracket, and the Fitness Reality 1000 Rower is one of them.
This company specializes in building low-cost, high-quality gym equipment, and if you're going to go low cost? Fitness Reality, along with Sunny Health and Fitness, are the two complies to check out first if you're on a budget.
Today, we will take a close look at this impressive budget rower from the guys over a Fitness Reality. We'll cover all the pros and drawbacks, but first, let's check out the 1000's products specs!
Product dimensions –  88.5 x 21.5 x 21.5 inches LxWxH
Resistance type – Magnetic
LCD multi-function monitor tracks –  Distance, Time, Total Count, Calories Burned, Strokes per Minute and Scan to Assist You in Tracking All Your Fitness Goals.
Bluetooth enabled sync with MyCloudFitnessApp
Frame – alloy steel construction
Why Do We Like The Fitness Reality 1000 Rower?
Fitness Reality make a big point that this rower is Bluetooth enabled, which is an excellent thing as it means you can download the MycloudFitness app on your phone or tablet and track all your workouts stats in real-time, plus there's access to studio classes, etc.
And while owning a machine with BlueTooth is a useful feature to have and especially impressive for a rower costing around $300, I dont think it's this rower's best feature. What I like most about the Fitness Reality 1000 is its build quality for the price point.
Weighing close to 70lb, this machine is heavy for a budget rower, which means it's not going to feel cheaply made and unstable, something that plagues most budget rowers.
The Fitness Reality rower feels stable when your rowing which is what we want, plus that extra weight is a telling sign Fitness Reality has used quality materials in the build.
Still, if the rower is going to be placed on a polished surface, it is best to get hold of a rubber floor mat. This prevents any unwanted sliding of the machine when in use.
Long 39″ Rail – Suitable For Users Up To 6'3″
Another impressive feature of the Reality rower is the length of the beam/rail. Most budget rowers have short beams, which usually rule out anyone over 6ft. The Fitness Reality boasts a 39″ beam, allowing users up to  6'3″ to achieve full leg extension on the rower.
Whisper Quiet Magnetic Resistance
Magnetic resistance isnt anything new it's been around for over a decade now and is even starting to appear in commercial gyms.
Magnetic resistance has many advantages, the foremost being it's cheaper to produce than other resistance systems like air and water, so it brings down the price of your rower, which is always a good thing.
Another important advantage is just how quiet magnetic resistance is in operation.
The reason magnetic resistance is so quiet is that the magnets do not need to make contact with the flywheel. It's a frictionless resistance that makes it whisper quiet.
A magnetic resistance rower lets you watch tv listen to music without being disturbed by the sound of the machine. A silent rower is great for apartment living, especially if you dont want to disturb others around with the sound of your workout.
Frictionless also makes this rower's resistance system maintenance-free because there's no wear and tear.
And unlike air resistance which is dynamic, magnetic resistance is constant, so if you want to row on a high resistance sitting but at a slow pace 'perfect for building up the leg muscles', you can with the Fitness Reality Magnetic Rower.
Belt Drive Rower
And let's not forget this rower uses a belt drive system rather than a chain. Not only does this help to keep the noise down, but it also provides a smoother rowing stroke.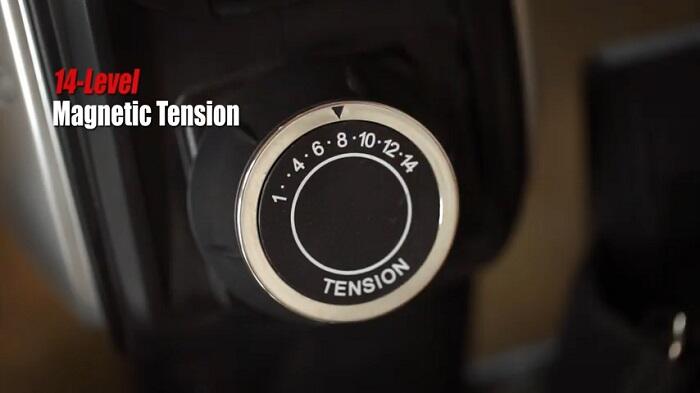 14 Levels of Resistance
This is a budget rower, so there is no selecting resistance strength from the monitor. You change resistance strength using the resistance knob situated on the flywheel housing.
Most low-cost rowers only include eight resistance levels, so seeing 14 featured on the Fitness Reality rower was a pleasant surprise. Many users praised the strength of the resistance in the upper levels saying they could feel the difference from lower to upper, which is reassuring to hear.
However, this is a $300 rower; the resistance strength won't be strong enough for seasoned rowers.
It's great for the price, but Fitness Reality has designed this machine for beginners and intermediates looking to increase fitness levels and burn calories. It's not a machine for advanced users. Pro rowing machines cost at least twice that of the Fitness Reality machine.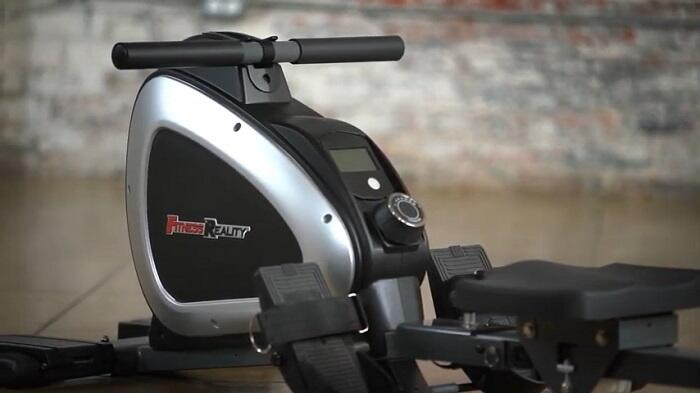 Basic Monitor
As you can see in the above image, we get a pretty simple fuss-free monitor with the Fitness Reality rowing machine. And thats to be expected in this price bracket, and for some people, this is all they want. It is uncomplicated and tracks all the essential workout data such as distance, time, speed, etc.
Still, this monitor is more impressive than most others in the price range because it is BlueTooth enabled.
You can download the free MyCloudFitness app, which lets you track and store all your workout data in real-time, there's a lot of other features of the app you can use some you need to pay for, but most of the useful features of the app are free.
A Couple of Extra Features
The Fitness Really Rower includes a couple more features that may be more useful to some more than others.
The first is the extra footpads at the front of the machine. You can stand on these and use the rowing handle to perform bicep curls, standing rows and raises, and many more upper body exercises.
But perhaps the most valuable extra feature is that the Fitness Reality rower folds for storage.
It's nice and simple to fold. Just remove a pin. It takes a few seconds. Once folded, you can roll the rowing machine on its built-in transport wheels and store it up against a wall.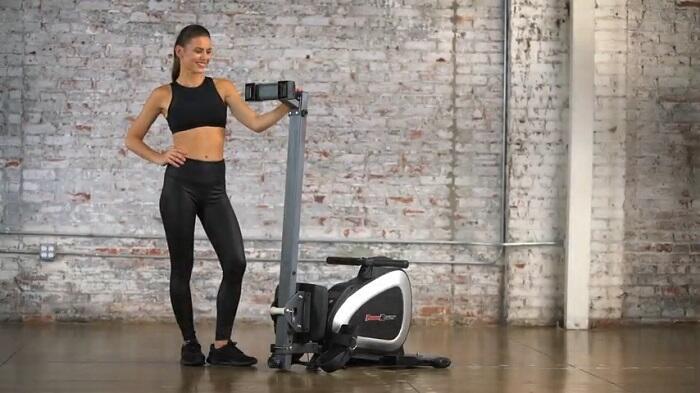 Easy To Assemble
Most people found assembly relatively easy, although two people are recommended as there are some large parts. The average assembly time was 40 minutes. Tools and fully illustrated instructions are provided.
Decent quality for price point
Impressive rail length for budget rower of 39″ allows users up to 6'3″ to achieve full leg extension 
Magnetic resistance + belt drive sytsem make this rower almost silent in operation
Front stabilizer foot pedals allow for additional upper body workouts
Bluetooth enabled sync with MyCloudFitness app
Built-in transport wheels – just tilt and roll to store
No pulse reading function
Not suitable for seroius rowers
No pre-programmed workouts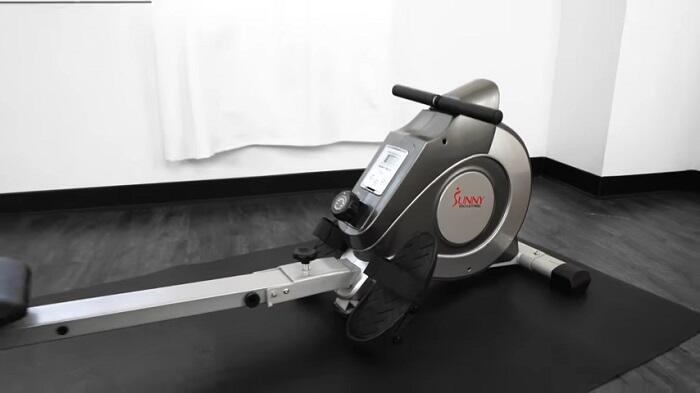 Sunny Health & Fitness SF-RW5515 Magnetic Rowing Machine
I mentioned the other leading company of affordable gym gear is Sunny Health & Fitness. Well, this is their flagship low-cost magnetic rower, and it's thought by many to be the best budget rower out there, and for $250, they might be right.
It's actually very similar to the Fitness reality 1000. Both rowers utilize magnetic resistance, although this machine only has eight levels compared to the 14 of the Fitness Reality. Both include surprisingly long rail lengths, both fold for storage, and both boast high-quality builds for the price range.
The reason the Sunny Health has become so popular is that so many users who own this thing are praising the rowers strength of resistance which is almost unheard of for a $250 rower with a few users comparing it to machines they've used in local gyms.
Also, the Sunny SF-RW5155 has been around for a long time now and has stood the test of time. It's selling just as well now as it was five years ago, which is something not many budget rowers will ever be able to claim.
Considering the Sunny rower costs almost a third less than the Fitness Reality rower, you start to realize how impressive it is. Yes, it doesn't have the Bluetooth option or the extra foot stabilizers for additional exercises. Still, if you want a well-made fuss-free magnetic rower, you might want to check this one out. You won't be disappointed.
To Sum Up
There's really only a handful of good rowers for around $300. Most are disappointing. Thankfully with companies like Fitness Reality, who make some excellent affordable gym gear, we can get our hands on a rowing machine capable of intense calorie-burning workouts for a good price.
The Fitness Reality 1000 Rowing Machine is well built, stable, has an impressive rail length and thanks to its magnetic resistance system and belt drive, it is almost silent when in use. A well-priced rower for beginners or anyone looking to burn calories and increase their fitness levels.