New to the budget market is this impressive rower from Dripex it's built well and includes more resistance settings than most in its price range. The Dripex  Magnetic Rowing Machine is worth some serious consideration.
Designed For Beginners & Intermediates
It's not rower for seasoned rowers, but if you want to burn calories and increase your fitness levels, a well-built low-cost rower such as the Dripex is the perfect choice for a home gym.
I've reviewed a ton of low-cost rowers over the years, and it can be tricky buying in this price bracket because the quality on offer varies so much from one company to the next you need to be careful; thankfully, the Dripex is one of the better foldable rowers for around $300, it weighs 55lb so although it not heavy it's not too light and isnt built from cheap materials.
The Dripex rower feels sturdy and has one of the longest rails I've seen for a budget rower, so it is an excellent choice for taller users.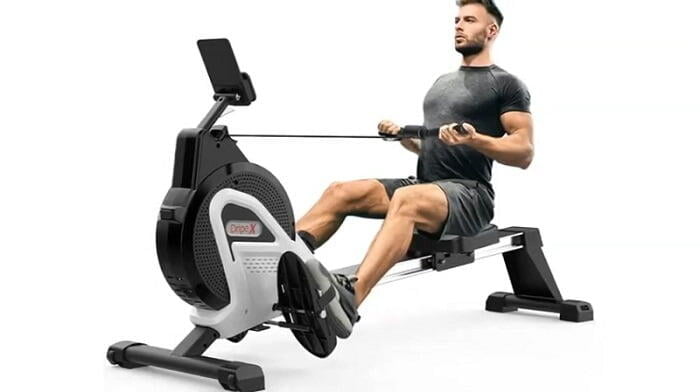 Includes Comparison With Fitness Reality 1000 Rower
In this review, I want to take a close look at everything the Dripex rowing machine has to offer, including its drawbacks. At the end of the review, I'll compare the Dripex with one of the best sellers in this price bracket the Fitness Reality 1000 Plus Rower, another excellent budget rower with the same price tag as the Dripex.
First, let's take a quick look at the Dripex Magnetic rower's product specs!
Product dimensions –   70.47'*20.81'*30.04' inches
Resistance type – Magnetic
LCD multi-function monitor tracks –  time, distance, total stroke count, calories, scan
Why Do We Like The Dripex Magnetic Rowing Machine?
The stand-out feature of this rower has to be the length of its rail/beam, so many budget rowers include short rails, which limits their max user height to around 6ft.
There's only a handful of low-cost rowers with long rails, and the Dripex is one of them with a 42″ rail. It can accommodate users up to 6'3″, which is excellent for a rower in this price range.
There's no lower height limit set for the Dripex, but typically the lower limit is around 4'11" for most indoor rowers.
Folds To Almost Half Its Original Footprint
However, a long rail makes for quite a large machine, so most rowers include a folding system to save space. The Dripex rower takes just a few seconds to fold, all you need to do is pull a pin, and it folds to almost half its original footprint, great for those of you tight on space.
And thanks to the built-in transport wheels, it's easy to move- just fold, tilt and roll the rower on its transport wheels to be stored up against a wall.
Smooth Rowing Stroke
Finding a rowing machine with a smooth rowing stroke in the lower price ranges can be challenging, but it's something we need to consider before choosing any rower.
And it is reassuring to see that the Dripex rower includes a double-sided rail that allows the seat to slide up and down the rail smoothly, the machine also boasts a magnetic resistance system, belt drive system, and 7lb flywheel, all of which contribute to a smooth, uninterrupted rowing stroke. Users have mentioned how good it feels rowing on the Dripex, comparing it to rowers they have used in local gyms.
15 Levels of Smooth Whisper Quiet Magnetic Resistance
It's always best when looking for a home rowing machine to choose one that utilizes magnetic resistance. Why? Magnetic resistance is whisper quiet when in use.
The magnets of the resistance system never have to make contact with the flywheel, resulting in a frictionless resistance system that makes little to no noise and doesn't require any maintenance.
Watch TV – Listen To Music Without being Disturbed by The Sound of The Machine
A magnetic rower won't disturb other people around you. You can watch TV listen music all without the sound of the machine disturbing you.
Plus, we have a belt drive system. This type of system makes much less noise than a chain drive system; combining a magnetic system for the resistance and a belt for the drive system results in an almost silent rowing stroke.
The Dripex rower includes 15 levels of resistance which are selected via a tension knob situated on the rower's flywheel housing.
15 is more levels than most budget rowers, but it doesn't necessarily mean the resistance in the top levels will be any stronger than other budget rowers with 8. The amount of levels just gives you more choice.
Not Suitable For Serious Rowers
As I mentioned earlier budget rowers aren't suitable for serious athletes or anyone training for competitions. The resistance strength is just not strong enough.
You can get an excellent workout from a rower like the Dripex, and it is an great choice for people who want to burn some unwanted fat or need a machine thats low impact on the joints. Still, if you're serious about your cardio, you'll need to spend at least twice that of the Dripex for a Pro rower with stronger resistance and a heavier flywheel.
Basic Monitor – Tracks All Essentials
We cant expect an advanced monitor in this price range. Rather we hope the company spends the money on the rower's build rather than waste any on the monitor in this price bracket, which Dripex has done.
If you want a rower with all the bells and whistles that include built-in programs and fitness apps, you'll spend quite a bit more.
I've always liked basic monitors on cardio gear they're easy to set up easy to use and keep the rower price down.
The Dripex rower monitor tracks all the important stuff such as distance, time, calories, scan, and total rowing strokes per session. There's no option to measure your pulse. No workout programs, but there is a tablet holder.
One feature i did like about the monitor is that it's angle-adjustable, so you can find the perfect position to view the LCD properly while rowing.
Easy To Assemble – Under 40 Minutes
You'll be happy to hear the main body of the machine comes pre-assembled, which includes the flywheel, magnetic brake, belt, and pulling handle.
All you'll have to do is attach the rail, the foot pedals, the monitor, and stabilizing bars. I usually advise two people to assemble any rower as some parts need to be held in place. The average build time for the Dripex is 40 minutes, although some managed to get this thing built in under half an hour.
Illustrated manual and basic tools for the job are provided.
Sturdy build can handle up to 275lb
Surprisingly long rail – accomadates users up to 6'3″
Folds for easy to storage
Whisper quiet magnetic resistance system with 15 levels of resistance
Maintenance-free belt drive system
Adjustable levelers on the stabilizers keep the rower stable on uneven surfaces
Built-in transport wheels
Good quality rower for price bracket
LCD screen is small and hard to read
No pre-programmed workouts
Not suitable for serious rowers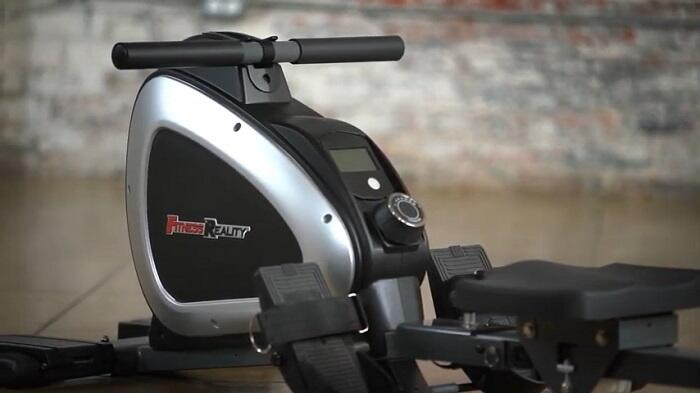 Fitness Reality 1000 Plus Magnetic Rower
Fitness Reality are one of the companies I'm always happy to recommend when looking for low-cost gym gear and cardio gear. These guys specialize in high-quality products at affordable prices, and their 1000 Plus Rower is no exception.
The Fitness Reality 1000 is one of my favorite budget rowers. It's very similar to the Dripex rower in that they both use the same resistance systems, they both have belt drives keeping noise to a minimum, they both fold for storage, and they both include long rails, so they are an excellent choice for taller users.
The Fitness Reality 1000 is priced the same as the Dripex at just under $300, but it includes a slightly better monitor with BlueTooth and FREE access to the MyCloudFitness app.
The MyCloudFitness app allows you to download and store all your workout data, and there's a ton of other feature too many to list here, its a nice option to have and something you dont usually see on a low-cost rower.
Also, there's an extra set of footpads at the front of the Fitness Reality Rowing Machine. The additional pads allow you to use the rowing handle to perform bicep curls and other standing exercises, something I know many uses praised about the machine. 
Overall the Fitness Reality 1000 is an excellent alternative to the Dripex rower. It's still a budget rower, and apart from the Bluetooth option doesn't really offer anything more than the Dripex, but if you were looking for an alternative, you won't go wrong with Fitness Reality. It's one of the best low-cost rowers out there.
To Sum Up
The Dripex Magnetic Rowing Machine is one of only a handful of rowers in the under $300 bracket that can provide a decent cardio workout.
Most importantly, it boasts a sturdy build and smooth rowing stroke, and it's almost silent in operation, so it is a great choice for home use. Yeah, it's not a heavy-duty machine; still, if all you need a rower for is to increase your fitness levels and burn off some calories, you dont need a pro rower. A well-built, low-cost rower like the Dripex should suit your fitness needs just fine.