Working out at home certainly has it's advantages, saving a ton of time is the main one, but before we jump straight in and buy a shiny new piece of equipment for our home gym, we first need to do our research.
You need to make sure you are buying the best equipment you can for your budget, and the right equipment for your workout needs.
Choosing the right piece of cardio equipment for a home gym can be tough, especially when looking at entry levels machines such as the Sunny Health & Fitness SF-RW5515.
Magnetic rowers are quickly replacing air rowers in popularity and there's a load of these things starting to flood the market, some a lot better than others. So it's more important than ever to make the right choice.
Pro-Level Cardio Workout
A rowing machine will always be a fantastic choice for a cardio workout, a decent one will give you a Pro-level cardio workout while strengthening the muscles of your shoulders, back, arms, and quads.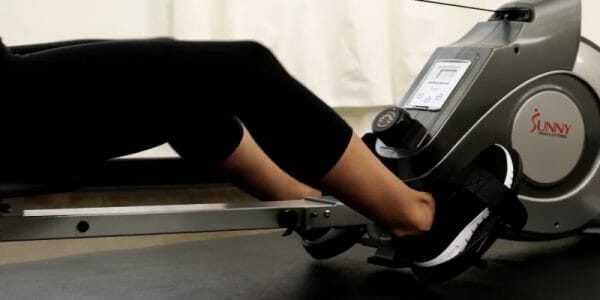 In this review we'll take a close look at the Sunny Health & Fitness magnetic rower, we will also compare it to two other top rowers in this price range and hopefully by the end of the review, you will have a good idea whether this magnetic rower is the right one for you.
Why Choose The Sunny Health Magnetic Rower?
Unlike many of the other entry level magnetic rowers, the SF-RW5515 actually receives praise for the strength of the resistance, even on levels as low as 4-5.
The common problem with many budget rowers around the $200 mark is the lack of any serious resistance for intense cardio workouts, but there's good news when it comes to the Sunny Health Magnetic Rower, it has been quoted by many as having a strong smooth resistance even at the lower levels.
This is very encouraging for an entry level rower, it will leave you a lot of room to grow, set goals and improve fitness levels. It also makes the machine appealing not only to beginners but to intermediate users too.
Can I lose Calories Using The Sunny Health Rower?
To be honest, with most budget fitness machines calorie loss is difficult, yes, they will help improve heart and lung health and tone muscle but on the whole, most do not offer enough resistance for workouts intense enough for significant calorie loss.
But you do have a better chance than most of losing calories with the Sunny Health & Fitness SF-RW5515,  as we mentioned above the stronger resistance of the machine compared to other budget rowers allows for higher-intensity workouts resulting in a greater loss of calories.
Sunny Health & Fitness Magnetic Rower Video
Resistance Settings
With a versatile 8 resistance levels, you'll be sure to find the right intensity for your work out, 8 levels are pretty much standard with most magnetic rowers.
The strength of resistance on the Sunny Health & Fitness Magnetic Rower is changed by turning the resistance knob situated between the footplate pedals.
The main difference between an air rower's resistance and a magnetic rower is the magnetic rower's resistance will only change when you set the level manually yourself. (Constant Resistance)
Air rowers differ because the resistance is determined by how fast/hard you row the machine, in other words, the resistance of an air rower is dynamic.
Many people prefer the constant resistance of a magnetic rower because it allows you to row at a slower pace on a higher resistance level.
Lastly, because we're using magnetic resistance, this rower is going to be whisper quiet in motion, great if you want to watch Tv whilst your rowing or if you train in close quarters, you won't be disturbing others around you with the noise of the rower.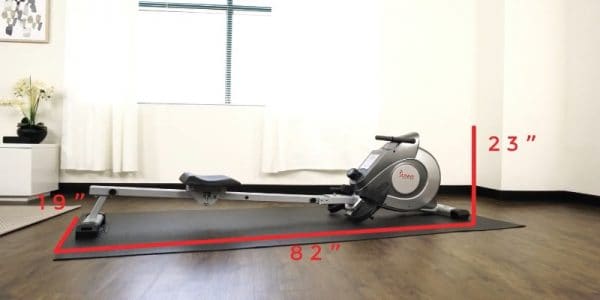 LCD Monitor
It's nice to see a large LCD for keeping an eye on all your workout stats, the LCD will help you keep track of time, count(strokes), total count(total strokes), and calories burnt, but disappointingly no distance measured with this monitor.
When it comes to measuring calories burnt this is where the LCD monitor struggles, it has no idea of your weight, etc, so gives a rough estimate at best. This is a very common issue amongst all entry-level fitness machines.
Most people do not encounter any problems when assembling the Sunny Health Rower, the magnetic flywheel comes fully assembled with rowing strap and handles in place. Completed with 4 simple steps,  all tools, and appropriate parts supplied. Attach supports to seat rail and attach the seat, 30 mins at most.
Dimensions –  82.0″ x 19.0″ x 23.0″ (L x W x H)

Capacity – 250lb

Footplates – Large enough to fit any foot size, with adjustable foot straps which will keep your foot firmly in place
Seat – Comfortable padded seat
Rail – Long rail, allows for users as tall as 6'5″ to fully extend legs.
Warranty – Frame 1yr – parts 6 months
Easy to store/foldable/transport wheels
Affordable well built machine
No way of measuring distance traveled
Alternatives & Comparison Table
Our Choice
Sunny Health SF-RW 5515
Weight – 59lb

Features – Long Rail, 8 Resistance Levels, Foldable

Rating – 4.5/5
Weight – 50lb

Features – Whisper Quiet, 8 Resitance Levels, Compact

Rating – 4/5
Weight – 45lb

Features – Light Weight, 8 Resistance Levels, 40″ Rail

Rating – 4/5
Titan Fitness Magnetic Rower
Titan Fitness is a well-respected company known for making some of the best home gym equipment, they have been around for quite a few years now, and normally receive very high ratings for their products.
The Titan Magnetic Rower is very similar to the Sunny Health & Fitness machine in that it too has 8 resistance levels, an LCD display and is very quiet in operation,  the Titan's slightly more compact design will mean taller people may struggle to achieve a full leg extension on the machine.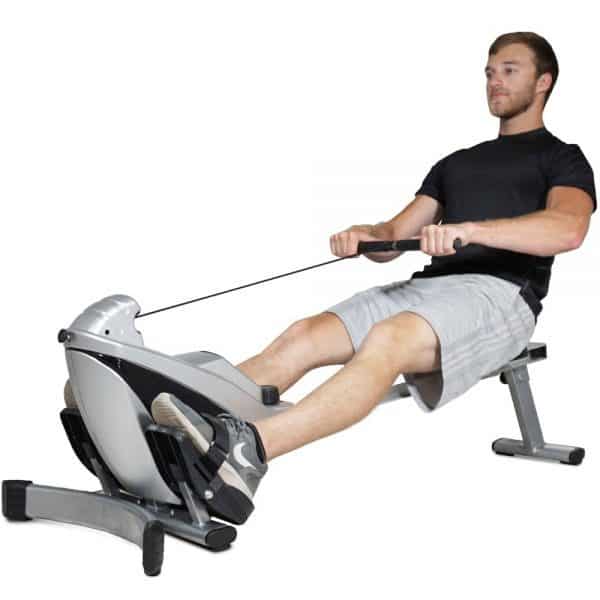 Targeted more toward the beginner, seasoned rowers have complained about the strength of the resistance with this machine, but for me, this isn't a deal killer, what this magnetic rower can be used as is a warm-up machine, it's better than a budget bike because it works both your upper and lower body.
If you have been after a compact magnetic rower for warm-ups and cool-downs, then this very quiet, foldable magnetic rower might be worth a closer look.
EFIT Magnetic Rowing Machine
Efit is another brand offering up an affordable magnetic rower, a robust rower which stands out a little from the others because of the seat design, instead of the usual solid plastic seat, Efit has gone for a wide padded seat, great for beginners or people who prefer some extra comfort when exercising.
This rower also comes with 8 resistance levels a built-in LCD monitor and just like the others it is whisper quiet when in motion. And with a 40″ rail this rower should easily allow people as tall as 6'2″ to achieve full leg extension.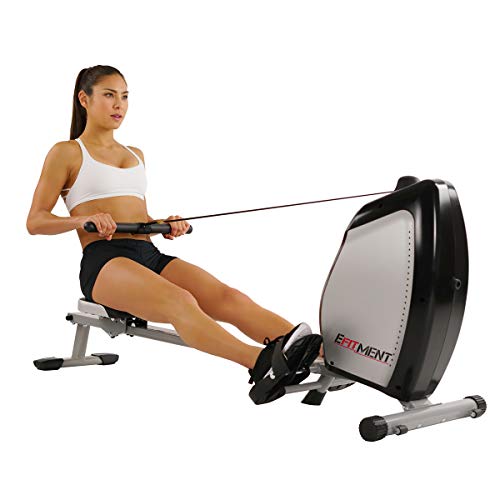 The low profile design and wide stabilizing feet should help keep this rower stable. Although not as popular as the Sunny Health & Fitness Magnetic Rower, mainly due to the fact the Sunny Health Rower has been around a lot longer, this magnetic rower is still one of our favorites in the entry-level bracket and shouldn't be passed by without consideration.
To Sum Up
The Sunny Health & Fitness SF-RW5515 Rower is one of the most popular magnetic rowers on the market today and it's easy to see why, the machine offers a strong smooth resistance from levels 4-8 allowing an excellent scope for growth and goal setting.
A well built durable machine, there's not much else out there that can rival the Sunny Health Rower at this price point.