Not all of us can afford WaterRower prices, and luckily we dont have to because a few companies out there are producing some impressive alternatives. And One of those excellent alternative is the Eriding Water Rowing Machine, and while this rower may not have the advanced monitor of the WaterRower, it does have the build quality. Made from Solid wood weighing close to 30kg the Eriding Rower is reassuringly heavy and sturdy.
Suitable For Any Fitness Level.
And with a long rail accommodating users up to 6'5″ and a 350lb max capacity, it's also a great choice for larger users. Best of all, the Erding rowers utilizes a dynamic resistance system which means it is suitable for any fitness level. It doesnt matter if you're a beginner or a seasoned rower anyone can reap the benefits of rowing using the Erding water rower.
It's undoubtedly a rowing machine worth taking a closer look at, and in today's review, ill be considering all of its pros and drawbacks. At the end of the review, I'll compare the Erding Solid Wood Rower to the best-selling steel frame water rower as it will be interesting to see how it matches up to the slightly cheaper but equally impressive steel beast from Sunny Health & Fitness.
Product dimensions – 2.15 x 0.58 x 0.5 metres
LCD multi-function monitor – time, distance, strokes, strokes/min, room temp, clock, BlueTooth, pulse
Why Do We Like The Eriding Water Rowing Machine?
The dynamic resistance system sells this rower; it mimics outdoor rowing more closely than any other rowing machine type because, just like rowing on actual water, the strength of resistance you feel from the handle only gets stronger the faster you row.
And to add to the natural feel, you have the whooshing sound of the blades pushing through the water in the rower's tank. It's a great sound, soothing, and not too loud.
Quiet workout Just 60DB
Water rowers do not produce much noise, around 60DB. Its quiet rowing stroke is partly thanks to the belt drive system. It's whisper-quiet when in operation, much quieter than a chain drive.  The only noise you will hear is the whooshing of the water in the tank, which I'm sure most of you will love and not find disturbing. If anything, it spurs you to workout harder.
How Water Should You Add To The Water Tank?
As I already mentioned, the primary way to control the resistance strength of your water rower is through the pace of your workouts. Still, the amount of water the blades have to push through in the water tank can also affect resistance strength.
It's best to think of the water in your rower's water tank as people sitting in the boat with you. Fill the tank 1/4 full, and it will feel like you are rowing with three people in the boast, fill the tank half full, and it will feel like you are rowing with a boat full of people.
It's best to experiment with how much water suits your workout needs best. Many people find that 2 gallons of water or around 9 liters provided a strong, smooth resistance at a medium stroke rate. However, we are all different, and if you're a beginner, it's best to start with just 4 or 5 liters while you get used to using the machine and perfecting your rowing stroke.
Stability: Heavy For a Low-Cost Water Rower
We can often tell the quality of any cardio machine by its weight. The heavier the machine, the higher the quality of the build's parts. This thing 28kgs which for the price is heavy. Its solid walnut frame makes up most of the weight, which will help keep this thing planted to the floor.
It's a sturdy rower from the guys over at Eridin, and it's not going to feel any different from a £1000+ WaterRower which boasts a similar frame. Thanks to their heavy builds and low-profile designs, all the solid wood rowers feel solid.
Also, we have four rubber feet; these will help prevent slips, but there are no adjustable levelers built in the base of this machine which is a shame, so you'll need to find an even surface to house the rower to avoid wobbles.
Do you need a rubber floor mat? Rubber floor mats are great for preventing slips and adorning vibrations, and if you live in an apartment id still recommend you get hold of a cheap rubber floor mat to keep the neighbors happy.
Basic but Easy To Use Monitor
If you want a high-quality solid wood rowing machine and you dont want to pay a high price for it, you're going to have to live with the basic monitor. The manufacturers have to cut back somewhere, and with most low-cost wood rowers, it's usually the monitors this is a good thing as it's better they cut on the monitor features rather than the build of the rowing machine.
Wireless Heart Rate Monitoring
Still, for a basic monitor, it isnt all that bad as it includes a couple of decent features such as wireless heart rate monitoring and Bluetooth with access to a couple of apps. And great to see a recovery button so you can monitor how quickly your heart rate returns to normal after your workouts.
The downside is to take advantage of wireless heart rate monitoring. You will need to buy your own HR chest strap. These dont cost much, for a good one around £30
The monitor screen isnt height adjustable, which is disappointing, but it is angle adjustable, and it's nice and large, so it's easy to read while you workout. It doesnt need to be plugged into the wall just needs a couple of batteries.
And lastly, the monitor tracks all the essential workout data such as stroke, intensity, time, calories, and distance.
Any Other Features Worth a Mention?
A few other impressive features I wanted to mention. The first is the seat; it's contoured not only to be comfy but it will also to prevent your butt from slipping in the push phase of the rowing stroke, and it's large and padded well. It's not too soft to cause stability issues which is good news, and not too hard to put you off your rowing session.
Stores Vertically Taking Up Just 0.3 Square Meters of Space
How this rower is stored is another excellent design feature because rather than being foldable like most rowing machines, this rowing machine can be stored vertically it takes up less than a folding rower, just 0.3 square meters of space. And we have transport wheels built into the base tilt and roll to store.
Long Rail
And lastly, the rail is surprisingly long for a low-cost wood rower and can accommodate users up to 6'5″ at full leg extension. And dont worry, if you're petite as the minimum height limit, it is around 4'11".
Build Time 30 minutes
While these machines are large and heavy, they are not complicated to assemble as all the complicated stuff, such as the drive systems and water tank, arrive pre-assembled. You'll just have to attach the rail to the front part of the rower connect the monitor and a few other small parts. Detailed instructions and the tools for the job are provided. Most people took around 30 minutes to assemble.
Sturdy build can handle 350lb
Dynamic resistance system suitable for any fitness level & mimics the feel of rowing outdoors
Quiet smooth belt drive system
Long rail accommodates users up to 6'5″
Contoured seat prevents your butt slipping in push phase of the rowing stroke
Easy to use monitor with BlueTooth &  HR chest strap enabled
Stores vertically – takes up just 0.3 square metres of space when stored
Smooth gliding seat thanks to high grade rollers and ball bearings
Great price for a high quality solid wood water rower
LCD isnt backlit making it difficult to read in low light conditions
Need to purchase HR chest strap seratly (£30 for a decent one)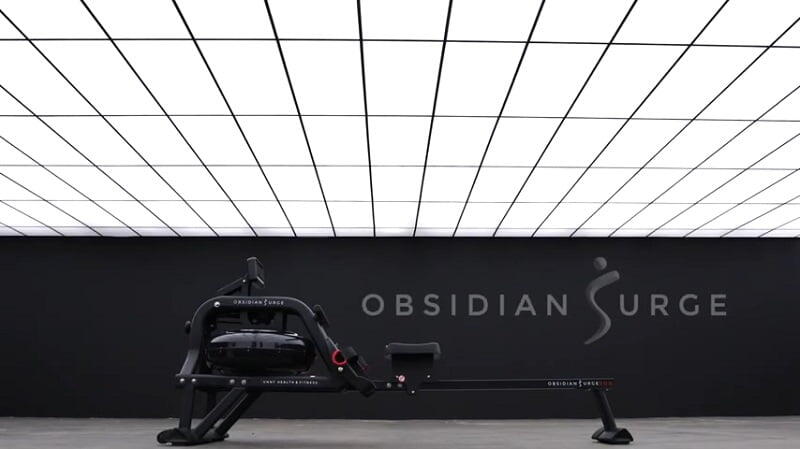 Sunny Health Obsidian Surge Water Rower
Sunny Health & Fitness are a company thats been around for decades. These guys specialize in building low-cost cardio gear, and they are the market leaders in this space. 
Sadly Sunny isn't making any solid wood rower right now, but they do make a couple of excellent steel frame rowing machines, and their Obsidian Surge is the best-selling steel frame water rower out there. It's a beast weighing 91lb (44kg) thats 14 kgs heavier than the Eridan, which tells us the Sunny is a sturdy heavy-duty water rower built to last from quality materials.
Its shares many of the same features as the Eridian, such as the dynamic water-resistance system, the smooth belt drive system, a long rail, vertical storage, and the contoured seat.
The monitor on the Sunny is slightly better as it includes a few workout programs, and it's height-adjustable, great for taller users.
Aesthetically the Edridian outshines the Sunny its a solid wood rower! Looks great anywhere, but the Sunny looks almost as impressive and would suit any modern house or apartment. The Sunny is slightly cheaper because steel is less labor-intensive to work with than wood.
Overall an excellent steel frame from Sunny. If wood isnt for you, and you want to save yourself a few more £'s, it might be worth checking out Sunny's Flagship water rower, the Obsidian Surge.
To Sum Up
It's easy, to sum up, the Eridian Rowing Machine. It's a fuss-free high-quality water rower. There's no fancy monitor with an HD color screen and tons of workout programs. What you get is a well-built, solid wood rowing machine. It's almost half the price of the popular WaterRower and only really differs on the monitor.
If you've been looking for a wooden water rower and dont mind a basic monitor, the Eridian will save you a ton of cash without compromising quality.