It's a myth that water rowers are challenging to maintain, a few people started saying this some years ago when they first appeared on the market, and as with all new things, people were weary, and for some reason, it stuck.
In reality, water rowers require less maintenance than any other type of rowing machine. All you have to do is assemble the thing and then fill the tank with water.
With the Obsidian Surge Water Rower, there are six water level marks on the tank. Make sure you dont fill it over the 6th, and you'll be fine. I recommend you fill it to the fifth mark, which is what I do, and you won't come into any overfilling issues, and you'll keep resistance strong. Now thats out of the way, let's get on with the review!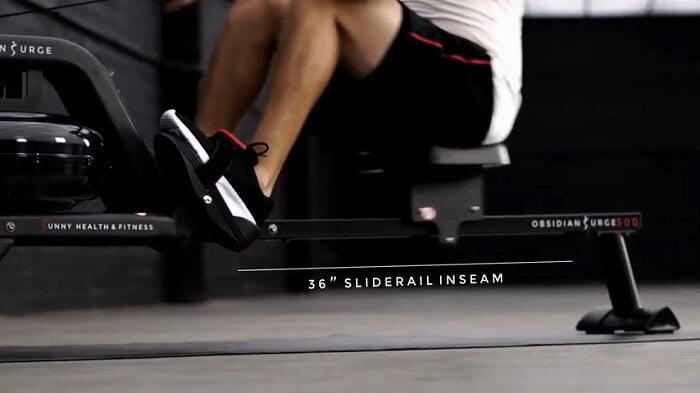 Sunny Health Specialize in High-Quality Low-Cost Cardio Gear
Sunny Health & Fitness are a company known for specializing in low-cost high-quality cardio gear. I've reviewed a ton of their products and these guys rarely disappoint.
Their rowers I can vouch for are some of the best out there, and today we're going to take a look at the impressive entry-level water rower the Obsidian Surge SF-RW5713.
Product dimensions – 80 x 22 x 34 inches
LCD multi-function monitor – total time, 500 M time, SPM, total strokes, calories, hr., ambient temperature
Why Do We Like The Obsidian Surge Water Rower?
What you have to like most about the Sunny Rower is its build quality for the price point.
This machine weighs 91lb thats heavy for a low-cost water rower. The extra weight is a telling sign this rowing machine is made from quality materials. Plus, that extra weight will keep the Obsidian Surge planted to the floor. The heavier, the better when it comes to stability.
Long Rail – Accomadates Users Up To 6'3″
Something else that impressed me about the Sunny Obsidian Surge rower is its relatively long rail with an inseam of 38″, which means it should accommodate users up to 6'3″
Also, the rail is wide, which adds stability to the seat.
How smoothly the seat glides across the rail is also important, high-end rowing machines include enclosed high-quality ball bearings and three sets of rollers for the seat, which I'm happy to say the Sunny also boasts; this allows the seat to glide effortlessly across the rail exactly what we want.
Contoured Padded Seat
The seat is contoured, which is great to see as a contoured seat prevents your butt from slipping in the push phase of the rowing stroke.
The seat padding is made from high-density foam. This is the good stuff. It's not too soft to cause stability issues or too hard to be uncomfortable. It's just right.
Water Resistance Quiet & Dynamic
Perhaps what's best about this rowing machine is its resistance system, water rowers haven't been around all that long, but they are becoming increasingly popular, and the reason why? They mimic outdoor rowing more closely than any other rowing machine.
Resistance Strength Gets Stronger The Faster You Row
The reason water rowers feel so natural is that water resistance is dynamic. By this, I mean the resistance strength only gets stronger the faster you row, just as it does with outdoor rowing. You also get the sound of the blades running through the water, adding to the effect of actual rowing.
Slightly Louder Than Magnetic Resistance
Both water and air rowers utilize dynamic resistance; yes, it's slightly louder than magnetic resistance. Still, if you want to get as close to the feel as possible of outdoor rowing, then an air or water rower is what you need.
Magnetic rowing machines are the alternative. They use a constant resistance system, meaning the resistance strength only changes when you manually select a resistance level via the tension knob.
Magnetic rowing machines are much quieter in use because the resistance system is frictionless, so ideal for home use, but you lose the natural feel that dynamic resistance brings to indoor rowing.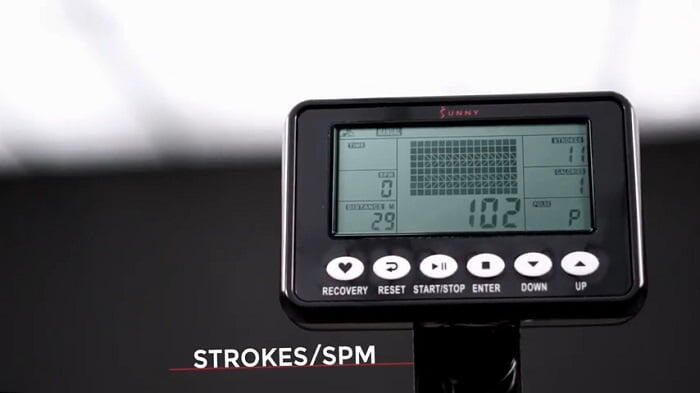 Basic but Easy To Use Monitor
Nearly all low-cost rowers include basic monitors, which isnt always a bad thing as they are easy to use and easy to set up. Still, as basic monitors go, this is quite a good one as its heart rate chest strap, and watch compatible, great news for those of you who love to train your chosen heart rate zones.
The monitor boasts a large LCD, so it's nice and easy to read while you exercise, and tracks all the essential workout data such as total time, 500 M time, SPM, total strokes, calories, hr., ambient temperature.
Stbility – Wide Stabizers + Levelers
As I already mentioned, a rower's weight plays a vital role in its overall stability, and we know the Sunny Obsidian is good there with an impressive 91lb. Still, there are a few other features we need to look for, such as wide stabilizing feet that prevent any wobbles and adjustable levels that keep the rower stable on uneven floors. Thankfully the Sunny SF-RW5713 Surge includes both of these features.
Cheap Rubber Floor Mat
Stability is important; it can be a deciding factor when buying any cardio gear, and I'm happy to say the Sunny comes up trumps with their water rower. The only other thing you might want to consider when thinking about stability is a cheap rubber floor mat to place under the rower to prevent slips.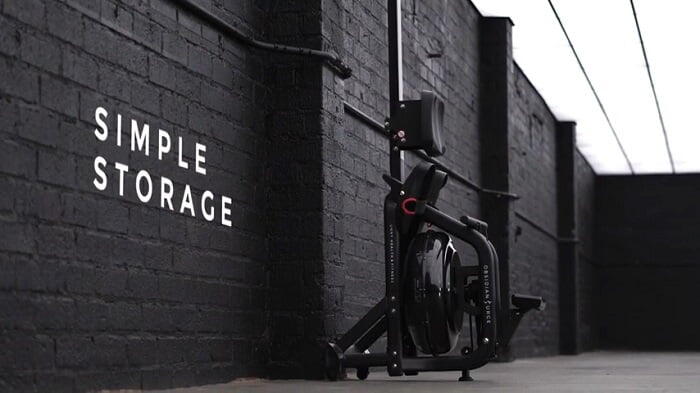 Assembly & Maintenance
Most of the complicated stuff already comes pre assembled, such as the rower's water tank, its protective frame, the other elements of the drive system, and footrests. All you'll need to do is connect the rail, attach the seat to the rail and attach the monitor and stabilizers. Detailed illustrated instructions are provided.
And for maintenance, remember to add a few water purification tablets in the water tank every six months. And check for loose bolts and parts after each workout to be on the safe side.
Sturdy build can handle 300lb
Dynamic resistance system mimics the feel of outdoor rowing
Good length rail can accomnadate users up to 6'3″
Can be stored standing against a wall – takes up less room than a folding rower
Wide stabilizers and adjustable levels help with stability
Great looking rowing machine looks more expensive than the price tag
Decent monitor with wireless capabilities
Quiet & smooth rowing stroke
Monitor isnt backlit so its hard to read in low light conditions
Some users found it tricky to assemble 
No hear rate chest strap included they cost around $30 for a good one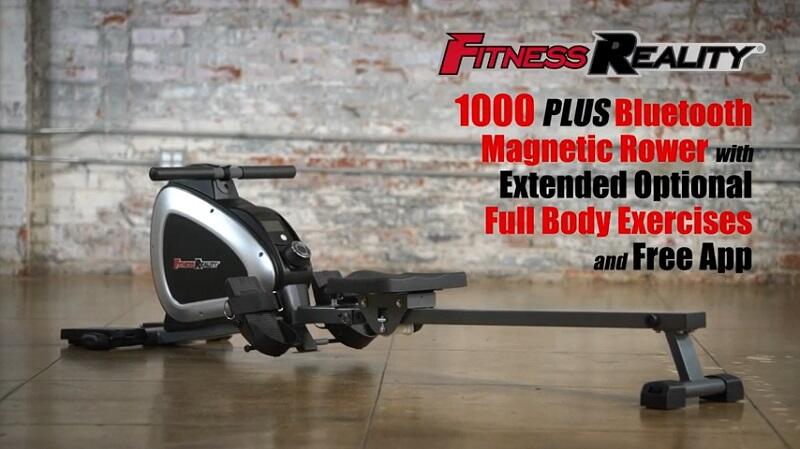 Fitness Reality 1000 Plus Magnetic Rowing Machine
Without a doubt, the Sunny Obsidian Surge is the best low-cost water rower, so I thought it might be interesting to compare it to the best low-cost magnetic rowing machine, the Fitness Reality 1000 Plus.
Just like Sunny Health, Fitness Reality has been around a long time, these guys build a lot of quality gym gear, and their prices are always competitive. Their low-cost rower is an impressive well-built rowing machine. Still, we need to bear in mind that it costs almost $200 less than the Sunny, and thats because magnetic resistance is cheaper to produce than water resistance.
The Fitness Reality 1000 includes 14 levels of magnetic resistance thats more than most in its price bracket, a whisper-quiet belt drive, a long rail with 39″ inseam, and weighs 66lb, a good weight for a budget magnetic rower.
But what's most impressive about this rower is its smooth rowing stroke, and thats thanks to the 7lb premier weighted flywheel and smooth magnetic resistance system.
The main difference between this rower and the Sunny are the resistance systems and how they work. Magnetic is constant, which means you adjust resistance settings manually, which has its benefits. It allows you to row at a slow pace on a high resistance setting, something thats impossible with water resistance because it's dynamic.
Another benefit of magnetic resistance is how quiet it is in operation. And when combined with a belt drive system, it makes for the quietest combination you'll find on any rowing machine. Perfect for home use and those of you who don't want to disturb others with the sound of your workouts.
Other features include Bluetooth and free access to the MyCloudFitness app, a quick-release folding system that takes just a few seconds to fold. And an extra pair of footpads at the front of the machine you can use with the rowing handle to perform standing exercises such as bicep curls, a feature I know many users loved about this rower.
The Fitness Reality 1000 Plus is an excellent magnetic alternative to the Sunny water rower. If you think you might prefer the near-silent rowing experience of a magnetic rower and want to save yourself a few hundred dollars, I highly recommend you give the Fitness Reality 1000 some serious consideration.
To Sum Up
Five years ago, you'd have to spend close to $1k to get hold of a decent quality water rower, so, unfortunately, they were out of reach for most people. Thankfully a few years later, companies such as Sunny Health and Fitness, which specialize in high-quality, affordable cardio gear, have managed to produce a water rower that is of high quality but doesn't break the bank. The build quality of the Sunny is surprisingly good for the price bracket much higher than similar low-cost water rowers, and it looks great too.
The Sunny Health SF-RW5713 Surge Rower includes all the essential features you'd expect from a good quality home rowing machine, such as a study build, smooth rowing stroke, long rail, decent monitor, and most importantly, a resistance system thats suitable for any fitness level because it's dynamic. It's about as close as you'll get the feel of outdoor rowing indoors.