There's no other machine that can provide an effective low impact cardio workout that involves the whole of your body better than a rowing machine, these awesome machines are suited to both steady-state and interval-based training.
When we look at bikes, steppers, treadmills, and ellipticals there is no clear single choice for performance, and durability, there is however with rowing machines and the one that stands a mile out from the crowd is the Concept 2 Model D Rower.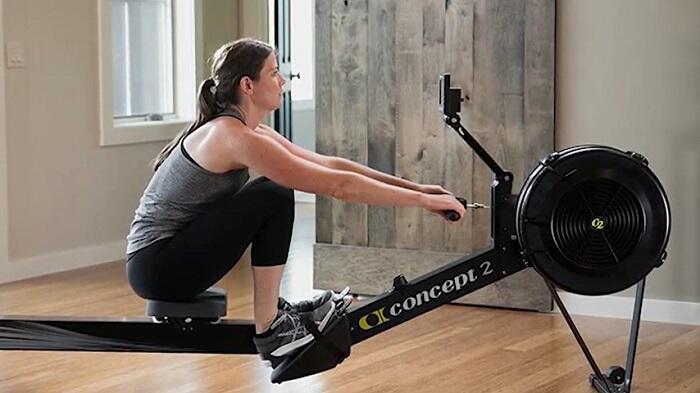 Since 1981
The first rowing machines from this company were designed in 1981, by two brothers, both professional rowers, although the company was established in 1976, it wasn't until five years later the Modal A was born.
After huge success with their early model indoor rowers, it wasn't until 2003 that the Model D came along which is now their flagship rowing machine.
The Concept 2 Model D is the best selling indoor rower in history, there simply is nothing on the market that can touch the Concept 2.
You will be hard pressed to find another indoor cardio machine that can match the Concept 2's performance and durability, this machine will go on for years without breaking down.
Every university, professional sports facility worth their salt will have at least a couple of these, Olympians have trained on them for decades. The British Indoor Rowing Championship, CRASH B Sprints, and the World CrossFit Games all involve a rower, rowing on a Concept 2 machine.
Dimensions –  L, 96 in (244 cm) Seat height, 14 in (36 cm) W, 24 in (61 cm)
Rail length – 54 in (137 cm)
Maximum user weight – 500lb
Construction – Powder coated, aluminum front legs, steel rear legs
Space recommendations – Assembled: 8 ft x 2 ft (244 cm x 61 cm)
With Clearance for Use: 9 ft x 4 ft (274 cm x 122 cm)
For Storage: 25 in x 33 in x 54 in (63.5 cm x 83.8 cm x 137.2 cm)
Dynamic Resistance (air)
The Concept 2 Model D rower utilizes air to create resistance, how does it work? You pull the handle, the force spins the fan/flywheel and as the flywheel spins, it starts to move the air in the front and side of the flywheel.
The air around the flywheel causes a drag effect, which we call resistance, the harder you pull the more drag you create. (row fast, strong resistance, row slow, weak resistance, it's that simple)
Air resistance is by far the biggest selling feature of the Concept 2, many users praise the rower's strong, smooth rowing stroke.
Air resistance will always be popular among the more serious of rowers, because the resistance felt mimics that of rowing on water, something you can not achieve from magnetic rowers.
Magnetic rowers have many upsides but because their resistance is constant i.e. the resistance strength only changes when you select a higher/lower level manually from the resistance knob, the natural feel of the rowing stroke is somewhat hampered.
Dynamic resistance(air) has been the popular choice for gyms and pro rowers for decades, an air rower is not restricted by a given amount of resistance levels, unlike magnetic, air rowers are great for HIIT workouts and most importantly allow for the natural feel of rowing on water.
Quick Look – Model D Video
Monitor
The Concept 2 features one of the most advanced monitors we have seen on any rower, and unlike many, the PM5 monitor is nice and simple to use, so what does this advanced monitor offer you?
The PM5 monitor offers "just row mode" or allows you to set up a variety of workouts including my personal fav the "race boat", this option wasn't available on the PM4, it allows you to race against a boat on the monitor's screen or even better you can race against yourself from a previous session, cool!
The PM5 also tracks pace, watts, stroke rate, and calories, you have the option of storing all of the information in the monitor's internal memory or an optional USB flash drive.
Most of the time this monitor will be powered by the flywheel, but you will need two D-cell batteries to use the monitor when you are not exercising on the machine.
And a nice feature of the monitor is the Bluetooth and ANT options, this allows you to connect with most heart rate straps, fitness devices, and apps. 

The free 

Concept2 ErgData

 app helps you track your workouts and can sync with the 

Concept2 Online Logbook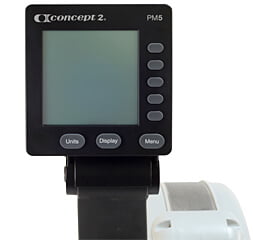 Stability
With a seat height of just 14.5″ the Concept 2 model D rower has a low profile design, a low center of gravity always helps with stability, and let's not forget the wide front and rear stabilizers capped in rubber, great for keeping this thing stable and the rubber capped feet will help with any slippage issues on hard surfaces.
With weight also comes stability, the Concept 2 is a heavy beast, coming in at 57lb, not only does weight help with stability, but it also gives us a good clue to the overall quality of the machine.
Heavy-Duty Build – Durable
The model D is built like a tank and has been designed for hard, constant punishment, and they have to be. Some of the top Olympic rowers train on Concept 2's and their training demands a tough machine that can withstand rigorous use.
There's no hassle with maintenance either,  yearly maintenance on one of these is as simple as oiling the chain (every 40 hours of use).
In the unlikely event anything was to break, parts are available for all models.
Nickel-Plated Chain
Worth a quick mention is the chain on this rower, first it's a lot more durable than nylon which we see a lot of in the budget to mid-range rowers and secondly, because the Concept 2's chain is nickel plated you won't have to oil it so often.
Durable powder coated, commercial grade build, aluminium front legs, steel rear legs
One of the only rowers that can provide a pro-level cardio workout
Will suit anyone from beginner to seasoned rowers
Advanced monitor, wireless Bluetooth + ANT – heart rate monitoring – (heart rate strap bought separately)
Includes damper to control amount of air flow, levels 1-10
Noisy compared to magnetic rowers
Not much else bad I can say about this rower, it's that good on every level, although, some may have a problem with the height of the machine as it's quite low to the floor, could cause some issues when getting on and off of the machine. The guys at Concept recommend the Concept 2 E rower for those with mobility or flexibility issues, same rower just 6″ higher off the ground.
You will be glad to hear the Model D is nice and easy to assemble, most of the rower is delivered pre-assembled, all you have to do is attach the front legs using a total of 8 screws. Tools and clear instructions are provided.
Storage, most of us know by the very nature of rowing machines it's going take up a hell of a lot of floor space, but we can almost half the overall footprint, the Concept 2 features a quick release frame lock so you can separate the machine in two pieces for storage.
Caster wheels on the front make it easy to roll the machine into position.
Alternative
I felt it only fair to feature the best magnetic rower in this review, yeah maybe I'm throwing a spanner in the works, but magnetic rowers are growing hugely in popularity right now, some of the top gyms are even replacing their air rowers with magnetic.
While many of the budget magnetic rowers suffer from resistance issues (not enough strength) there are a couple of awesome heavy duty rowers which offer strong enough resistance for even seasoned rowers.
The best magnetic rower currently available, the Stamina Avari is $300 cheaper than the Concept 2! And well worth some serious consideration.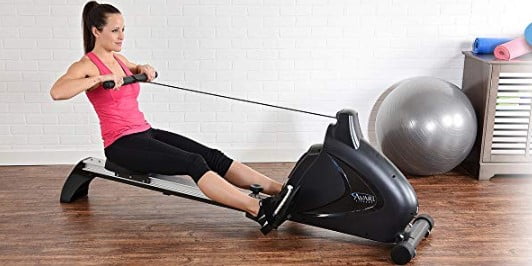 Stamina Avari Magnetic Rower
Here we have another tank of a rowing machine, top quality build, strong smooth rowing stroke but this time we are looking at magnetic resistance.
Magnetic resistance has many benefits but the one that stands out most is just how quiet some of the top-rated magnetic rowers are.
The Stamina Avari is almost silent in operation, great stuff if you don't want to disturb others around you or you like to watch tv while you row.
What's also very handy about magnetic resistance is that it allows you to row at a slow pace with strong resistance, something that's impossible with an air rower.
Why is the Stamina so much better than other magnetic rowers? Build quality, commercial grade, maybe, it doesn't claim to be, but what it is, is solid, stable and provides very strong resistance in the uppers levels.
The advanced monitor includes 12 workouts programs and features the heart rate mode, which is very useful for optimizing your workouts within your target heart rate zone. (heart rate strap included)
Just like Concept, Stamina is a company you can trust, they produce excellent quality fitness products, have a fantastic reputation and one of the most helpful customer services I have come across. If you're after a pro-level cardio workout but don't want to pay Concept 2 money the Avari shouldn't disappoint!
To Sum Up
The Concept 2 Model D Rower is one of the most reliable, well-built pieces of indoor cardio equipment out there, sure it might set you back a grand but there's no other machine that can provide you with decades of intense full body workouts without breaking down.
A rock-solid machine for serious rowers.