Many people make the mistake of thinking you have to be a competitive rower to reap the benefits of rowing.
The truth is anyone can benefit from choosing rowing for their workouts, it's easy to learn, and thanks to machines such as the Circuit Fitness Rowing Machine that boasts variable magnetic resistance, it's suitable for any fitness level.
Heavy Duty 90lb Build – Folds For Storage.
Magnetic resistance isnt the only impressive feature of the Circuit Fitness rower. This thing shines when it comes to build quality with a hefty 90lb in weight and includes a handy folding system so you can store it quickly after use.
It's definitely one of the better rowing machines in this price bracket. Okay, it's still a long way off commercial grade, but for home use, it's easily good enough and certainly worth taking a closer look at.
Review Includes Comparison With Best Seller the Sunny Health SF-RW5515
Today I want to look at all the pros and drawbacks of this new rower from Circuit Fitness.
I'll also compare the Circuits Fitness rowing machine to one of its closest rivals in this price bracket, the Sunny Health SF-RW5515 Rower. So make sure you read to the end if you want to see how it matches up to Sunny Health & Fitness's best seller.
First, a quick look at the Circuit AMZ-979RW product specs!
Product dimensions – 91 x 20.5 x 31.5 inches LxWxH
Resistance type – Magnetic
LCD multi-function monitor tracks –  speed, distance, time, calories burned, SPM, date and ambient temperature
Frame – heavy-duty aluminium
Why Do We Like The Circuit Fitness Rowing Machine?
What I like most about this rowing machine is its weight because at 90lb, this thing is heavy for a low-cost rowing machine. And it's not surprising, considering it includes a heavy-duty aluminum frame.
We don't usually use words like heavy-duty for a rowing machine in this price bracket. Usually, I'm reviewing rowers costing twice as much that have similar weights.
A heavy rower is a good thing. The extra weight will help keep the machine planted to the floor. It's not going to feel like some cheaply built unstable rowing machine.
The Circuit Fitness rowing machine will feel solid, and thats what you want from a rower for home use.
Also, the weight gives us a good clue to the overall quality of the materials used in the build. The heavier, the better.
Yes, heavy machines can be more tricky to move. But because this rowing machine comes with built-in transport wheels, all you have to do is tilt and roll to store.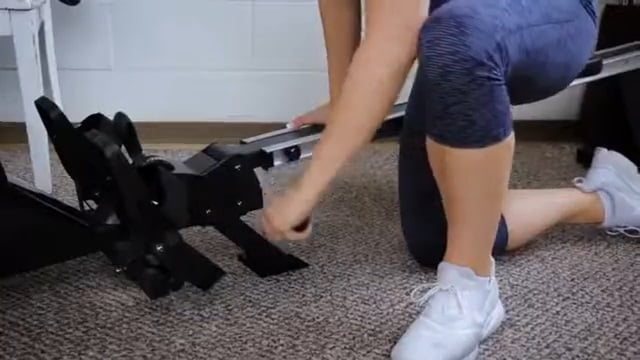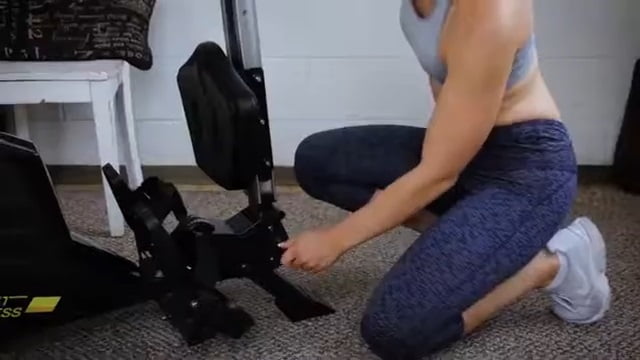 Easy To Fold 
And thanks to its folding system, the Circuit rower doesn't take up a ton of room. Simply remove a single pin to fold the machine. It takes a few seconds.
Fold, then roll the machine on its transport wheels and store it up against a wall. A handy feature indeed.
8 Levels of Whisper Quiet Magnetic Resistance
Magnetic resistance has featured on rowing machines for a few years now, and they're even starting to appear in commercial gyms.
The main advantage of magnetic resistance is that it's quiet in operation.  These machines are so quiet because the magnets do not have to make contact with the flywheel. It's a frictionless resistance system which makes it a perfect choice for home use.
You won't disturb others with the sound of your workout, and you can watch your fav Netflix show or listen to music without being annoyed by the sound of the rowing machine.
And no friction means no wear and tear, so you won't have to replace parts every few months.
Constant Resistance
Another positive of magnetic resistance is that it's a constant resistance. The resistance strength only increases or decreases when it's adjusted via the resistance knob.
Constant resistance lets you work out at a high resistance level at a low pace, an excellent option to have if you want to build your leg muscles.
The Circuit rower is a low to mid-level rower, so we can't expect too many resistance levels. 8 levels is the norm in this price bracket, and thats what we get with the Circuit AMZ-979RW.
If this is your first rower, I'd suggest you start on resistance level one or two. This will get you used to the resistance strength, and it's always better to practice your rowing form on a weak resistance level.
Once your fitness level improves and you've got used to the rowing machine. You can move up through the levels for higher resistance and more intense calorie-burning workouts.
However, the resistance strength of this machine isnt strong enough for seasoned rowers. It's strong for the price point, and many have praised the resistance strength, which is reassuring, but it hasn't been designed for serious training.
The Circuit rower is a great choice for beginners and intermediates who want to increase their fitness levels and burn calories.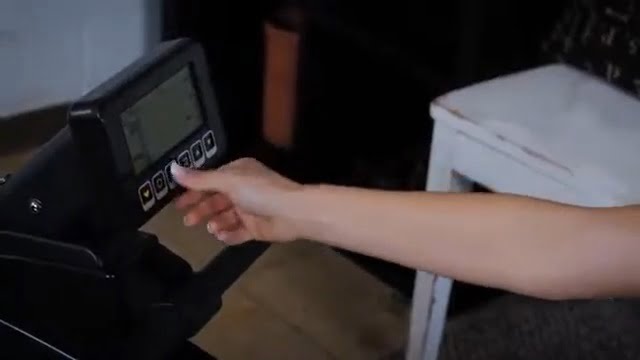 Easy To Use Monitor
Monitors in this price range are basic. Still, I liked the circuit monitor more than most I've reviewed around the $400 mark. As it includes a few cool features, one of them is race mode, where you select a difficulty from 1-15 and race against the computer, an impressive feature at this price.
Another helpful feature is goal setting for your workouts. You can choose distance, time, or pulse. For example, you could set the goal to a 1000m row for your workout, etc., or select a pulse rate and try and keep to your chosen pulse rate for your workout.
Sadly, there are no apps with this rower, and it doesn't have the tech to download any either. Plus, there are no workout programs.
However, I was happy to find the monitor is compatible with heart rate chest straps, which is a big plus for those who love to workout in their chosen heart rate zone.
Heart rate chest straps are an invaluable bit of kit for your workouts, and most importantly, they're accurate. The only downside is that you have to buy the chest strap separately. They cost around $40 for a decent one.
Long Rail Suitable For Taller Users
Another feature that impressed many users was how long the Circuit Fitness rail is (38″)
This length rail will allow users up to 6'3″, maybe 6'4″ depending on your inseam, to achieve full leg extension. Still, this does give the machine quite a large footprint so make sure to measure your workout space before purchasing.
Heavy duty frame can hold up to 300lb
High quality build for price point
High density foam seat – mould injected for extra comfort
Easy to use monitor that includes goal setting, race mode, and wireless capabilities for a chest strap
Smooth whisper quiet magnetic resistance
Monitor doesnt include workout programs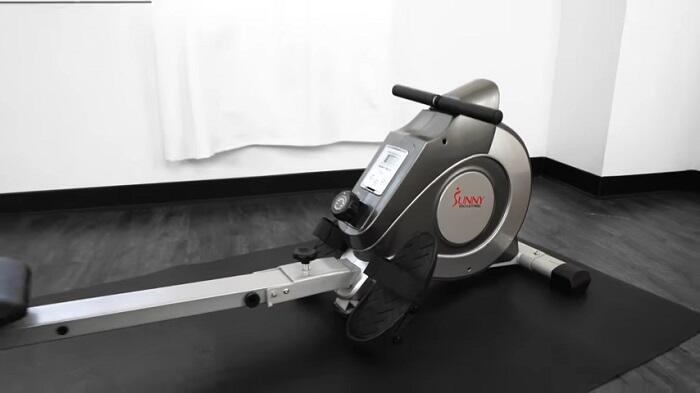 Sunny Health & Fitness SF-RW5155 Rowing Machine
Sunny Health & Fitness specializes in building high-quality gear at affordable prices, these guys have been at the top of their game for over 30 years, and their rowing machines are some of the best in the budget price range.
The SF-RW5155 is a well-respected rowing machine, with many people believing this is the best budget rower on the market. And I'd have to agree with that, as it's currently our favorite magnetic rower under $300.
Whys is it so impressive? Resistance strength: One of the only budget rowers people have commented how strong the resistance is in the upper levels, with many saying it feels like a rower they've used in their local gym. This is unheard of for a budget rower.
Also, the build quality is impressive. Many people have owned this machine for years and still praise how well its works.
The Sunny is a cheap rowing machine thats stood the test of time and still outsells everything else in its price range.
Let's compare the Sunny Rower to the Circuit Fitness Rower. It's very similar as both machines boast eight levels of magnetic resistance, both fold for storage, and both include long rails that can accommodate users up to 6'3″.
However, the build quality of the Sunny isnt quite as good as the Circuit Fitness rower. The Sunny weighs 30lb less, and the Sunny's monitor doesn't include as many features.
But we need to remember the Sunny costs just $250, so although it lacks a few monitor features and weighs less. It's still an excellent buy.
To Sum Up
For $400, the Circuit Fitness Rowing Machine is impressive. It's not cheaply made like so many rowers in this price range. The heavy-duty frame will help keep the machine planted to the floor, and it will feel stable even when performing intense 30 strokes per minute workouts.
And I was surprised with the monitor as it includes some extra features we usually dont see on low-cost rowers like the cool race mode feature and the useful goal-setting features.
Overall it's a great choice for a home gym, quick to fold and store away, plus it's nice and quiet thanks to its smooth magnetic resistance system.
A well-made rower built to last. I dont think many people will be disappointed with the Circuit Fitness Rowing machine.