Simple home gym equipment is often the best choice for getting the most out of a workout; complicated machines take up a ton of room and are difficult to use, and most importantly, they can interfere with your form and your muscle gains.
Add Lower Pec and Tricep Muscle Mass Fast With a Set of Dip Bars.
If you want to put on some tricep and lower pec muscle mass fast, the best way to achieve it is with compound exercises using a set of dips bars or a dip station.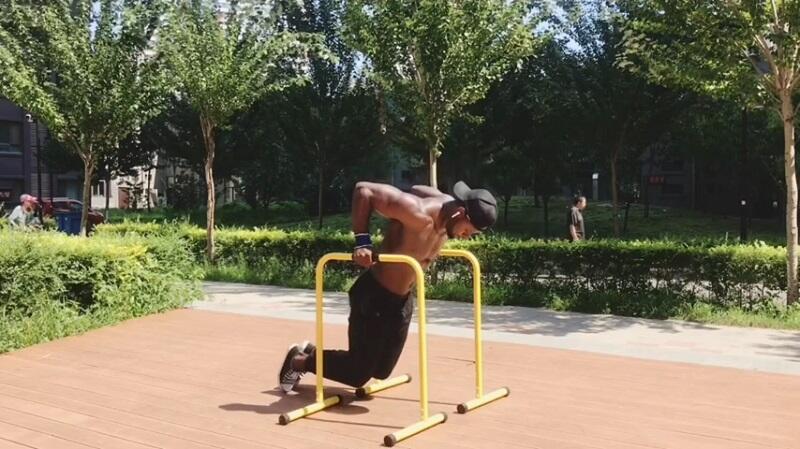 Dips – Squats For The Upper Body
Dips are the squats of the upper body, and they are one of the best compound movements for adding mass to all three heads of the tricep and lower pectorals. I've always included dips into my training routine as they are the best movement for developing the triceps.
I currently use a set of dips bars that attach to my power rack, but if you haven't got a power rack, a portable set of dips bars or a heavy-duty dip station are both excellent alternatives and affordable.
Today I want to take a look at the 7 best dips bars on the market. Including parallel dips bars and the more heavy-duty dips stations.
We'll cover all the pros and cons of owning one of these things and find out why dips should be an essential part of your training routine.
Quick Look – Top 3 Comparison Table
Best Overall
Xmark Dip Station
Weight – 57lb

Height – 51″

Rating 4.8/5
Titan Fitness Dip Station
Weight – 19lb

Height – 39″

Rating 4.5/5
Ultimate Body-Press Dip Station
Weight – 17.8lb

Height – 36″

Rating 4/5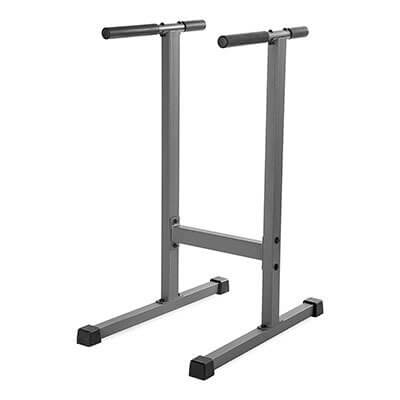 1. Xmark XM4443 Dip Stand
Xmark is one of the most respected brands in the home gym industry, very well known for producing top-quality heavy-duty products. I've had the pleasure of reviewing their weight bench, and I can tell you that thing is built like a tank, one of the toughest home gym benches out there.
Their dip station weighs 57lb, almost three times that of the Ultimate and Titan stands, and with weight comes stability and quality. There is no other dip stand available right now that can match this stand for quality, durability and price.
Built from 2″ x 3″ heavy-duty steel, the Xmark stand wins the commercial-grade badge, it will take anything you can throw at it and will last a lifetime.
But as you may have guessed weighing 57lb this dip station is not a portable option. And the design does not allow for many exercises, this dip station has only been designed for chest and tricep dips and knee raises.
It's the tallest of all the dip stations in this review so dips belt will not be a problem. Some people may even be able to achieve full leg extension for knee raises, great for activating your entire core.
If you're lucky enough to have space and do not need to move or store a dip station after use then I highly recommend taking a closer look at the awesome XM-4443 from Xmark, this dip station will not disappoint!!
Uniquely engineered angled uprights measure from 21″ to 23″ 
Heavy duty 2″ x 3″ steel tubing
Rubber capped feet, prevents slips, protects floors
Excellent price for commercial grade dip stand
Difficult to find anything negative to say about this stand, it's that good! It is, however, a lot less portable than the other stands, so not best suited for people who need a stand which is easily stored and moved, plus exercises on this station are limited compared to the walkthrough and two bar designs
2. Titan Fitness Dip Station
Titan is a company well known for producing heavy-duty gym gear at low prices, and the Titan Fitness dip stand is no exception.
This stand comes with a huge 750lb weight capacity, one of the highest I've seen for any portable dip stand.
And because this is Titan, you know it will take it, they don't just throw numbers out there to sell their products, all the products I've reviewed from Titan fitness are solid heavy-duty beasts. Okay, this is a dip station, but it has a stable, one-piece design and a Titan badge! If they say it will take 750lb, I assure you it can.
One of the tallest portable dip stands we have seen, with a height of 39″  users with a height of up to 6'5″ should be able to perform dips with ease.
And yes, it's tall enough for a dip belt, as long as you remember to shorten the chain you should have no issues with bumping up your resistance. If you do not want to pay out for a belt you can always hold a dumbbell between your legs or use a backpack with weights in it.
For around $50, you get a hell of a lot for the money, angled grips, robust and durable build, walk through design, and massive weight capacity. By far, the best portable dip station in this price bracket.
Simple to assemble, easy to store, and let's not forget very stable thanks to the one-piece design and the four rubber pads. The rubber pads are great for protecting your floors and stopping the stand from sliding on hard/polished surfaces.
Solid construction 1.5″ steel tubing
Great price for a quality dip station
Angled uprights with high density foam grips
Large 750lb weight capacity
Stable one-piece unit includes 4 stabilizing pads (stops slippage, protects floors)
A few complaints of bolts which did not tighten properly or align correctly. Great customer service at Titan so if you run into any quality issues just contact them and your issue should be dealt with swiftly.
3. Ultimate Body Press Dip Station
Made from 1.5″ thick steel tubing, the Ultimate body dip station has been built to last, designed as a stable, one-piece unit, you will have no issues with this station toppling when performing dips.
But what we like about this dip station are the angled grips.
Angled grips are great for keeping correct form; they help align your wrists with your shoulders. This reduces strain and lets you target the intended muscles safely for maximum gains.
Many of the portable dip stations suffer from height issues; you'll see a ton of complaints from taller users saying their knees hit the ground when performing dips, which is very true if you are over 5'10" you're going to need a dip bar that's at least 29″ in height.
The Ultimate Body press has a height of 36″ this is an excellent height for a portable, lightweight dip station it will allow users of up to 6'4″ to dip comfortably and also with a 36″ height a dip belt can be used, remember to shorten the chain on the belt.
And lastly, the Ultimate dip station is super easy to store. I think this is the only dip station I have seen that folds flat for storage, it's light at 18lb, so you'll be able to move it to any part of the house to exercise with ease.
An excellent dip station with enough height for a dip belt (Ultimate have designed their own unique resistant belt for this dip stand). And thanks to the walkthrough design, you'll be able to perform a whole host of other exercises, including inverted rows, great for developing the back and shoulder muscles.
A nice bit of kit from Ultimate, you won't find much better out there for the price.
Angled grips ergonomically reduce strain and support proper form 
Adjustable width bars – Can be adjusted from 19″-24″
36″ tall can fit users up to 6'4″
Walkthrough design – Increases the amount of exercises
A few users complained of quality issues when the item arrived at ' significantly different angles in the bars'. This is a fault, it has only affected a handful of users but if you encounter this problem the product should be returned and replaced.
4. Lebert Fitness Equalizer Bars
The Lebert dip station is the first dip stand in our review to feature two separate bars.
Is the two bar design better than the one-piece unit? It depends, yes, two bars provide an absolute ton of different bodyweight exercises. I think there are over 100 different ones you can perform with two bars.
But with this much versatility, we do run into a few issues, and first and most important is stability; having separate bars can lead to movement and, at worst, toppling, which could cause some serious shoulder problems.
To avoid stability issues, I would only recommend the 28.5″ yes, the bar height is low, but the 28.5″ Lebert bars have nice wide stabilizing feet, enough width to cope with most exercises, and keep you stable throughout.
Lebert does offer a 31″ set of bars for taller users, but it seems the stabilizing feet are of the same width as the lower height bars, which I feel will cause a few stability issues.
So yes, the flagship equalizer (28.5″) bars are a fantastic bit of kit and probably one of the most versatile pieces of home gym gear you can get your hands on.
Their only drawback is the low height of the bars; however, you will not run into any issues with the bar height if you are under 5'10".
The Lerbert Fitness equalizer bars are a very popular option for people looking for a portable dip station, and for a good reason, this bit of kit offers a complete upper and lower body workout with 100+ exercises, very easy to store and move thanks to the two-piece design, each bar weighing just 8lb.
If bar height doesn't prove to be a deal killer and you are 5'10 or under, I think the Lebert bars are worthy of some serious consideration.
Simple design, solid construction
Comfortable padded 2″ grips
Lightweight portable 8lb per bar
No height adjustment for bars
5. Fuel Performance Dip Station
The Fuel Performance Stand isn't too bad for one piece unit and currently, under $50 it's a good buy, designed purposefully for tricep and chest dips, the tough powder-coated steel frame should have no trouble coping with its max weight capacity.
Again we see angled grips, great for form, and dense foam padding for the handles to reduce friction, it's not the best looking dip stand in the world but its simple design will get the job done.
What also is nice to see is the walkthrough feature, you don't often see this on the upright single units so you will be able to benefit from inverted rows, press ups and their Olympic style rings for chest flys.
No significant height restrictions with this one, 36″ the same as the Ultimate Body Press stand.
A competent dip station at a very reasonable price. No folding feature for storage, but at 25lb, it shouldn't prove to difficult to move.
I like this dip stand, it doesn't have any remarkable features, but it's simple, built well, and will prove to be a great addition to your home gym — an excellent cheap option for tricep and chest dips.
Top handles are 16 3/4 inches apart on the far/back end and 20 1/2 inches apart on the near front.
Durable powder coated frame
Nice and sturdy one piece unit
For some very strange reason, the stand does not come with all the bolts needed to put the thing together
6. ProSourceFit Dip Stand
One of the major problems with the two-bar design is stability. Thankfully ProSource has dealt with the design flaw and has thought to include a connector that connects the two bars to increase stability. This is an excellent design feature, and it will stop any unwanted wobble when using the two bars together. You'll be happy to know the connector is adjustable, so it should suit most body sizes.
Also, to help with stability, ProSource has included rubber feet on each corner of the stabilizing feet. This will help prevent movement on shiny surfaces.
Another impressive feature of the ProcourceFit parallel bars is that they adjust in height from 30″ to a whopping 35″, making them one of the highest two bar designs on the market. Great if you want to use a dipping belt.
The Prosource bars are light at 24lb, so they will be easy to move and store. There is no assembly required, so you should be able to get exercising as soon as they're delivered.
One of the most popular sets of parallel dip bars on the market and an excellent low-cost alternative to the Lebert Fitness parallel dip bars.
Extendable safety/stability connector
Lightweight design easy to move and store
Adjustable bar height upto 35″ is tall enough for a dipping belt
Suitable for beginner calisthenics
Rubber feet prevent movent on polished surfaces
Comes in 3 different colors
Can use the bars separately which opens up many more exercises.
Large users have mentioned it can get a little shakey when set to its maximum height
7. Balance Form Heavy Duty Dip Stand
From its looks, you would think this thing was made from heavy gauge steel but is not. It's relatively light, weighing just 30lb, so it's a long way off the quality of the Xmark, but it's still an excellent solid dip stand with some impressive features.
The best feature of this dip stand is its height-adjustable feature, adjusting to a max of 40″, which is perfect for taller users, and great for those who want to perform weighted dips with a belt.
It boasts a 500lb weight capacity, so it should suit all levels of lifters and is stable thanks to the one-piece design and rubber-capped feet. I prefer this type of design for a dip station. It's more solid and can handle more weight than most dip bars, especially the two separate bar designs.
Still, the main drawback with this dip station is that the handles are not adjustable in width, and because the handles are set quite wide, the Balance Form station's appeal is limited, making it suitable for larger only.
If you're a large guy/woman, this is a fantastic bit of kit for the price. And a dip station I highly recommend you check out! But for smaller guys, you're going to find this one uncomfortable, and it will have a negative effect on your form.
Can be used with a dipping belt – 40″ max height
Wide space between handles, makes unsuitable for smaller users
Stability
One of the most important aspects of any dip stand is the overall stability of the piece. A common complaint that comes from users of dip stations is a wobble or some movement from slippage; an unstable base causes most of this. What do you need to look out for?  To ensure the least movement possible, it's best to look out for a wide base.
It is far more difficult to topple over a structure if the base is wide, the wider the base, the more stable the structure, this is why the one-piece unit (Titan, Ultimate Body Press) is, in theory, a lot more stable than the two-bar design.
Although the two bar designs try their best to be stable with wide stabilizing feet, they are often not wide enough to keep the bars steady when dipping; this can cause injuries.
Some dip stations include rubber pad stabilizers. These are fantastic for grip and help with slippage, and if you're fortunate, you might find one with adjustable pads, great if you have uneven floors, and want to get rid of the troublesome wobbles.
Capacity
Many people forget when buying a piece of gym equipment, especially weight benches and dip stations, that the max capacity includes your own body weight.
If you are a 300lb guy and you are going to dip with a 60lb weight belt you will need at least a 450lb weight capacity. I say at least, because you always need to leave some room in there for growth. You will get stronger, lift more weight and add muscle, gain weight etc.
Durable
Most dip stations under a $100 are not going to be made of heavy gauged steel, they say heavy-duty on the pack, but in reality, a 50-60 dollar dip station will be made from cheap Chinese steel.
This is by no means a deal stopper. Some of these frames are tough; they will take a lot and last a good ten years if you do not overload them. Just make sure to look out for powder-coated steel, this protects the steel and prevents rust.
I know many of you will be thinking I don't like the idea of cheap steel, but if you want portable and lightweight, you will inevitably get light gauged steel.
If you are really after durability, and you have the room to house a heavy-duty dip station like the Xmark, made from 2″ x 3″ heavy gauged steel, you'll never need to worry about durability, a sturdy heavy stand like this will last a lifetime.
Portability & Storage
If you already have a dedicated space for your home gym, you will not need to worry about storage; you can assemble and leave it there for your workouts. For those who are not lucky enough to have a home gym set up, storage can be a fundamental issue.
If you have to store away after use, a lightweight design is always easier to move and store. Most of the dip stands in this review only takes a couple of minutes to disassemble. If disassembling after use sounds a bit much to you, then a folding design such as the Ultimate Body Press could be a handy option.
The two bar designs (Lebert Equalizer) are also very easy to store, light, at 8lb each, and you can place one on top of the other to save space.
Top 4 Exercises You Can Perform With Your New Dip Station
The absolute best thing about buying a dip station is being able to perform compound exercises on it. Compound exercises use multiple muscle groups and joints simultaneously for a multitude of benefits.
As well as adding muscle mass fast, they raise your heart rate to improve cardiovascular health, they burn a load more calories than isolation exercises and lastly will help improve your balance and coordination.
So let's take a quick look at a few of the top ones you can perform on your dip station!
Chest Dips
When it comes to building your chest muscles most people think of bench pressing, but dips can be far more beneficial than the overrated decline bench press for lower and outer pec development.
During dips, you have to remember the bench is not there to support your upper body, and your feet are off the ground, this requires more stabilization and activates more muscle groups.
To target the chest muscles you must lean forward with your elbows slightly wider than your shoulders and knees slightly forward.
Tricep Dips
Tricep dips are another variation of the dip and an excellent exercise for adding mass to the tricep, this time you need to keep the torso back almost upright and elbows closer to the body. One of only three exercises that work all 3 of the tricep heads.
Inverted Rows
The inverted row is another awesome compound exercise, great for building up the back and shoulder muscles it will also give the biceps a bit of workout too.
Knee Raises
Knee raises are one of the best ab exercises that activate the entire core by not only working your lower abs but your upper abs too.
Weighted Belts
Dips are challenging enough by themselves just using your own body weight for resistance. But it won't be long until you outgrow your own bodyweight and you will be looking to add some extra resistance to your workout to keep the gains coming.
This is where the weight belt comes in, some of the dip stations do offer attachments such as dipping belts which use resistance bands, the bands attach to the belt and the lower part of the station to create resistance, most use four bands with resistances from 10-80lb.
While resistance band-belts are a great bit of kit, if you already own some free weights, I think you would be better off buying a dip belt with chain, here you can add as much weight as you wish, just make sure to buy a decent one which provides a wide space between chain and weights – You should be able to get a good one for $20 – $40 (all good dip belts will state their load capacity).
To Sum Up
To get the most out of a dip station you are going to need a stable, solid stand that's comfortable to use and helps you to keep strict form. If we all had a dedicated gym space I would be urging you to buy the heavy duty Xmark XM-4443 a serious stand that's never going to let you down.
I know many people need something a little more portable and lightweight, and the best lightweight stand that can offer you the most stability is Titans Dip Station and surprisingly it's one of the cheapest stands out there.