Xmark Dip Stand
A dip station such as the Xmark XM-4443 is an excellent alternative to the lofty power towers. You can work your chest, triceps, and shoulders all with a dip station, okay, you won't have the pull-up option, but for chest and tricep development, a dip station is an awesome bit of kit for your home gym.
Xmark Known For Heavy Duty Gym Gear
Xmark is well known for producing heavy-duty, top-quality home gym gear. I've had the pleasure of reviewing their weight bench, and I can tell you that's one tank of a weight bench, probably the toughest bench on the market.
I've also reviewed their rubber gym flooring, half-inch thick, unmatched quality, and again right up there with the best, you can find.
Heavy Duty 2″ x 3″ Steel Tubing
The Xmark dip station just like their other gear is heavy duty, I'd say almost commercial grade, this thing weighs 57lb, that's 3 times heavier than the similarly priced Ultimate body press dip stand.
And with weight comes stability, you don't want the dip stand to wobble or move in any way when you're training on it. A solid, heavy stand will always be better than a lightweight cheaply made stand, it's worth paying a few more dollars for stability.
A pain in the butt to move around compared to lighter stands, but if you are serious about muscle growth and your training you need a serious dip stand.
This tank of stand surprisingly doesn't set you back serious dollars, around $112 at the time of writing this review, once you get this one home I'm sure you'll agree, you get a ton of stand for your money.
I've seen quite a few stands offering less and costing almost twice as much. The one thing I've always liked and respected about Xmark is, they offer heavy duty kit, at affordable prices.
Why Do We Like The Xmark Dip Staion?
Angled uprights – (21" to 23") The angled uprights will help you keep strict form, strict form is essential when lifting weights or your own body weight, having correct form will prevent injuries and allow you  to target the intended muscle groups for the specific exercise you are performing in a pain-free way. How do angled uprights help when performing dips? By 

aligning your

 hands and wrists with your upper arms, this really helps to reduce strain

Great height for dips – Many dip stands suffer slightly from being too low, taller users can bang knees on the floor and wearing a dip belt with a chain can be problematic. The Xmark dip station stands at 53", high enough for users of 6'5" to dip comfortably, and if you are 6′ or under you may be able to perform full knee raises, an excellent exercise for strengthening your core
Rubber capped feet –  Rubber capped feet on home gym gear is more important than people think, not only do they protect your hard floors they also stop the stand from slipping on polished surfaces
Build Quality – Tough, durable, heavy duty 2 x 3″ steel frame, and importantly a comfortable padded 2″ grip rather than the 1″ we see on most dipping stations
What Users Had To Say About The Xmark
"Heavy duty, I weigh 235 and wear 40 lb vest with no issues. Arrived quickly, easy assembly and the hardware is beefy like the stand. Like having two sides with handles at different widths. Great deal for $117 with no shipping cost"
"Excellent dip stand. Very stable and stout. Very close to commercial quality. Perfect height and able to handle body weight + a chain of plates. If I had to attempt to find a con…it would be the finish. When compaired to my Body Solid brand equip doesn't seem as nice. But it didnt cost as much either."
Great dimensions even for taller users
A whopping 500lb weight capacity
Awesome build quality for price
Uniquely engineered angled uprights
Nice and heavy/stable 57lb
Hard to find anything negative to say about this stand apart from the grey finish, this may not be appealing to everyone
Ultimate Body Press Dip Bar
One of the most popular dip bars on offer right now is the Ultimate Body press dip station. A compact dip stand with a height of just 3′ it's just high enough to accommodate users of up to 6'3″.
Super easy to store as it folds flat for storage in seconds, nice to see soft grip angled handles on this one, you can be sure to train with correct form.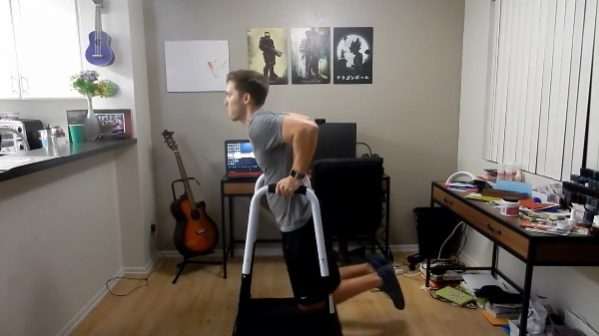 Weighing just 18lb this is somewhat of a portable dip stand that you could take to work or easily move to any part of the house to train.
For lightweight stands, it's usually best to buy an anti-slip mat especially as many of them do not have any rubber feet to keep them from moving around.
On the whole, a very capable dip bar stand with a capacity of 350lb, it should suit most users.
And lastly the best selling feature of this dip bar station is that you can adjust the bar width, anywhere from 19″ to 24″.
If the Xmark is a little too heavy duty for you, the lightweight portable design of the Ultimate stand is an excellent alternative, made from thick 1.5″ steel this thing should last a few years, it's nowhere near commercial grade but for a lightweight stand it's definitely one of the best out there.
To Sum Up
The Xmark Dip Station is without a doubt one of the best available right now, heavy duty, stable and at a price most can afford. The huge 500lb weight capacity of the Xmark should meet most people's needs. 5/5 from me.