Ultimate Body-Press Dip Bars
Dip stations have been around for a few years now, and they are a great alternative to the standard pull up/dip stands, why? The space-saving design, the Ultimate Body Press Dip Bar stands at 3′, less than half the height of your pull up/ dip station, they can be folded and stored in seconds and cost a fraction of a full pull up station.
I'm not knocking the standard pull up stations they are an awesome bit of kit in their own right, but if you haven't got a ton of space to work out, a 3-foot dip stand is your next best choice.
In this review we're going to take a close look at the excellent Body Press fitness station, I'll also compare with  another top-rated similarly priced dip station, by the end of the review you should have a good idea if this dip station is worth spending some of your hard earned dollars on
Why Do We Like The Ultimate Body Press Fitness Station?
It can be super tough trying to put on some lower pec muscle mass, and if you haven't got a weight bench with a decline option (decline presses) then there really aren't many other exercises out there to choose from to build your lower pecs.
Dips are one of the fastest options to develop lower pec mass and IMO are far more beneficial to overall pectoral development than the overrated decline press.
Owning a dip station opens up a huge opportunity for you to increase your strength and upper body mass. Dips are one of only a few closed kinetic chain exercises (CKC).
A CKC exercise involves moving your body while your hands or feet are in a fixed position, this allows you to work opposing muscles while lifting and lowering, increasing the forces on your joints thereby improving stability.
One of the biggest pluses of having your own dip station is the room for growth, okay, dips can be extremely challenging at first using just your body weight, but as your strength increases, body weight dips will become too easy and you will need some extra weight to overload the muscle for continued growth.
Which is where the dip belt comes into play, here you can add as much extra weight as you like, many people see mini dip stations and think, you can not use a dip belt because of the height of the stand, thankfully there should be no problems at all using a dip belt, just make sure you shorten the chain.
If you don't want to splash any cash on a dip belt, grab a dumbbell instead and hold it between your legs, no dumbbells? You can wear a backpack with weights in it.
When we buy a dip stand ideally we look for a tough, well-built station, one that can withstand a lot of weight, because remember as you progress, you're going to be adding that extra weight. Over 300lb weight capacity is recommended.
Built from thick 1.5″ steel the Ultimate Body Press stand is solid, it should be able to take its 350lb max capacity with ease, and unlike many other dip stations the Ultimate body press stand is adjustable, the bars can be adjusted from 19 to 24 inches to provide a proper fit for you and anyone else who wishes to use it.
Angled grips
Form, form, form, this should be the first thing you think whether you're lifting weights or even your own body weight.
The correct form is essential to avoid injury and to allow you to target intended muscle groups for the specific exercise you're performing in a pain-free way. Which is why the angled grips of the Ultimate station are such an important design feature.
The angled grips of the Ultimate Body Press help you keep strict form by aligning your hands and wrists with your upper arms, they also help to reduce strain.
It's Not All About Dips!
While most of us will buy this dip station because we want to add mass to our triceps and lower chest muscles, (lean forward to work chest upright for triceps) there are a couple of other exercises that can be performed on this versatile dip station.
The exclusive walk-thru design of the Ultimate Body press allows for full bodyweight rows, the bodyweight row is one of the best, most effective exercises you can do for your "pull" muscles, working your back, biceps, and your forearms
The dip station is also an excellent piece of equipment for leg and knee raises, knee raises work the entire core by working out not just the lower abs but your upper abs too. Knee raises also help improve the stability of your shoulders and upper back
Push up rings, you have to buy a pair of these separately, (quick connect 'S' hooks) provide another dynamic challenge to your upper body workout
If you do not want to buy the regular dip belt with chain, Ultimate Body Press has their own special belt designed to work with the stand, it uses four sets of bands to provide resistance of up to 80lb. (sold 

separately)
Made from thick 1.5″ steel, solid stable build
Suitable for users up to 6'5″ 
Angled grip to reduce strain and encourage proper form
Super quick to put together
Much cheaper than buying a full pull up/dip station
Useful attachments available, increase the amount of exercises
A couple of users complained of quality issues when the item arrived
Assembly
Most people got this body press up quickly, there are no tools needed for assembly and should take you no longer than 5 minutes. A basic set up diagram is included. Everything is color coded, simply match up the colors and you are done!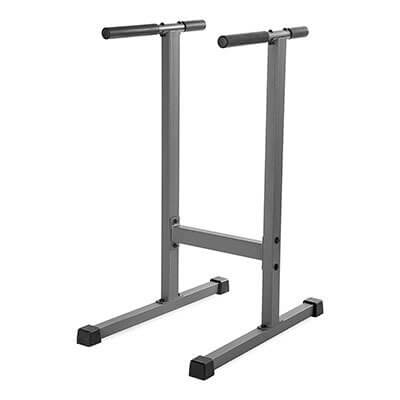 Xmark Dip Station (XM-4443)
Xmark a company known for producing heavy duty home gym equipment.
I've had the pleasure of reviewing their adjustable weight bench and I can tell you that thing is built like a tank, probably the toughest weight bench on the market.
When you buy anything from this reputable company you know it's going be durable, well-built and top quality and their dip station is no exception.
Made from heavy-duty steel, the dip bar has an impressive 500lb weight capacity.
There be no slipping on hard surfaces either, all four corners of the stabilizing feet are capped in rubber, great for protecting your floor and prevents any slippage issues.
If you have been looking for a heavy duty option with angled uprights and comfortable cushioned grip there are not many out there better than the Xmark.
To Sum Up
The Ultimate Body Press Station is a very useful piece of home gym equipment, it will help you strengthen and add mass to your upper body.
If you are training in tight quarters a dip bar stand such as the Ultimate Body Press will be a fantastic alternative to the larger dip/push up stations, it doesn't have the build quality of the Xmark but for the price, you shouldn't be disappointed.