Titan Dip Station
A stand such as the Titan Fitness dip station allows you to perform tricep dips, chest dips, vertical rows, press-ups, and many more bodyweight exercises, it's lightweight, portable and best of all, once built it's a one-piece dip unit which makes this thing a little more stable than the two-piece bar stands.
Titan is a well-respected brand known for producing top quality gear at affordable prices.
I've reviewed many of their products including their power racks, all of which are heavy-duty, durable and well built, and it seems the Titan dip station is no exception.
Why Do We Like The Titan Fitness Dip Station?
With a height of 39″ this dip station is slightly taller than most in this price range, which is a good thing, many of the two-piece dip stands suffer from a low height, the very popular Lebert equalizer bars are only 29″ in height, which leads to a ton of complaints because anyone over 5'10" has issues with their knees hitting the floor when dipping.
39″ is a great height for dips and should allow you, if you wish to, use a dip belt with chain, just remember to shorten the chain to prevent it from hitting the ground.
It's also surprising to see such a high weight capacity on a mid-price stand, a whopping 750lb, 200lb more than the commercial grade Xmark dip stand, and this is Titan, so it's not just a number they have thrown out there if they say it can take 750lb it will.
And lastly, it's nice to see the angled uprights, they will help you keep correct form while preventing strain on the wrists and shoulders, the comfortable high-density foam grips should also help increase friction and minimize arm strain for a stronger grip.
What Exercises Can I Do With The Dip Stand?
Chest Dips
Pec dips are the most popular exercises performed on parallel bars/dip stands, they are an excellent exercise for developing the lower pec muscles, they will put on mass much faster than the overrated decline press and best of all you do not need a weight bench or any weights to perform them.
Tricep Dips
The Tricep dip is one of only 3 exercises that can work all three of the tricep muscle heads, this is one of my favorite exercises to perform on the dip bars, an excellent exercise for adding mass to the triceps.
Keep the body upright for triceps, and for chest lean forward to engage the pectoral muscles.
Inverted Rows
Thanks to the walkthrough design of the Titan fitness dip station, we can perform inverted rows, a fantastic bodyweight exercise which works the back, shoulders and bicep muscles.
Knee Raises
Knee Raises are one of the best exercises to activate your entire core by working not only your lower abs but also your upper abs. 
Compound exercises
There's a whole host of other bodyweight exercises that you can perform on the Titan fitness dip stand, the exercises above are the most popular because they are compound movements which are generally much better at adding mass quickly because they involve using  3 groups of muscles at once. Compound exercises like dips will always add mass a little faster than isolation exercises.
Stability
To avoid injury and to keep correct form we need a stable dip station, the lightweight, portable dip stations have two different designs, the first is the one piece unit, and the second is the two-piece, which consists of two separate bars.
Both designs have their own benefits (two pieces wider choice of exercises)  but if you are looking for stability the one piece will always champion the two.
A one-piece design ' Titan dip stand' has far less chance of toppling than a two-piece design, I've heard of many people injuring shoulder muscles and joints from one of the bars toppling over while they are dipping.
If you are considering buying a two pieces design, make sure to look for wide stabilizing feet capped with rubber, both of these features will help with toppling and slippage.
And what's also nice to see on the Titan Fitness HD dip station are the 4 stabilizing pads, not only do they stop the stand sliding on polished surfaces they will also act as a protector to your floors.
Solid construction, 1.5″ steel tubing
Stabilizing pads, protect floor and prevent slippage
High capacity 750lb, highest I have seen in this price bracket
Affordable price for a quality dip station
A few complaints of bolts which did not tighten properly or align correctly, Titan Fitness has great customer service. If you happen to run into any issues, they are fast to respond, just send them an email.
Assembly
Most users found the Titan Fitness HD dip station is very easy to assemble, there are four parts in total with four bolts, a how-to diagram is also included. The build takes users no longer than 15 minutes with an average build time of 10 minutes.
Ultimate Body Press Dip Stand
The Ultimate dip stand is another well-built single unit station.
And one of the most popular choices for people looking for a lightweight, stable dipping stand.
Built from 1.5″ thick steel this one is going to be tough and should take its 350lb weight capacity with ease.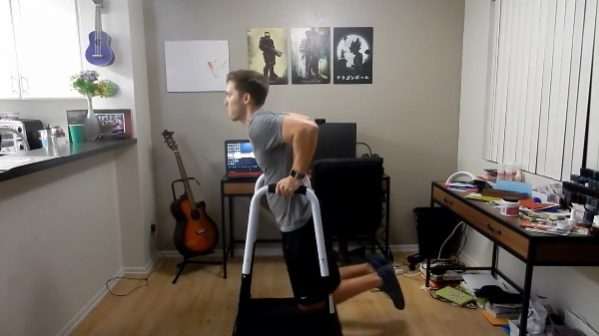 Unlike many of the other dip stations I've looked at, the Ultimate is adjustable in width, the bars can be adjusted from 19″ – 24″ to provide a proper fit for you or anyone else who wishes to use it.
Again it's nice to see angled grips on the Ultimate body press stand, essential for you to keep correct form and avoid injury while performing dips.
There are a few very handy attachments you can buy for this dip station, the one I particularly like and one I feel most of you will get a lot of benefit from is their dip belt, specially designed for the stand.
It's not the conventional chain and belt, this belt uses resistance bands which you attach to the station and the Ultimate belt. The belt uses 4 sets of bands to provide resistance of up to 80lb. A nice option to have as your training and strength progresses.
One of the better stations out there with an attractive price, stable build and adjustable uprights, it's easy to see why this dip stand is so popular.
Xmark Dip Station XM-4443
If you are looking for a dip stand that is solely designed for chest dip and tricep dips then there is no better than the Xmark XM-4443, this thing is built like a tank.
Made form 2 x 3″ steel tubing and weighing a whopping 57lb, nearly 3 times the weight of Titan and Ultimate body press stands.
Super stable, you will have no issues with stability.
Built by one of the most respected companies around, Xmark is known for building heavy-duty, durable top quality home gym products at great prices.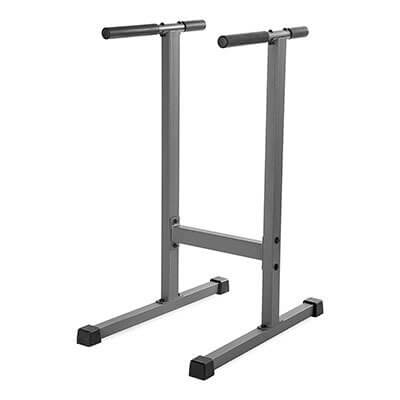 The Titan Fitness and Ultimate body press are portable stands, easy to take apart or fold for storage. The Xmark is a heavy duty stand and will take a lot more effort to move and store if you have space there's no better stand for dips, but if you workout in tight quarters and need to store the dip station after use then the Xmark is not for you.
You get a lot for the money with the Xmark Dip Station, a stand like this will last a lifetime of training, it's my personal fav out of all the dip stands available, the build quality is unmatched for the price point.
If you have been looking for station solely designed for building tricep and pectoral mass then I'd urge you to take a closer look at this one.
To Sum Up
I've been a fan of the Titan fitness range for some time now, Titan offers some really tough, good quality gym gear at low prices, their dipping station for the price is better than anything else available, with a massive 750lb weight capacity, angled uprights, and padded foam handles, you'll be hard pushed to find another stand to rival the Titan HD Station for around $50.