RitFit Weight Bench
It seems like every other week there's a new budget weight bench in town trying to outdo the rest, while some miss the mark by a long, long way, there are a few that come up trumps and I'm happy to say the RitFit Adjustable Weight Bench is one of them.
A full FID weight bench (flat, incline, decline) is always nice to see at entry-level,  a decade ago you would have been looking at spending $250+ to get a decent FID bench and now thankfully you can pick one up for under $150.
Great For Dumbbell Workouts
Okay, a budget bench is never going to be great for heavy rack work but for dumbbell workouts, a bench such as the RitFit is perfect.
5 adjustable back pad positions, an adjustable seat, dense foam padding and a max weight capacity of 510lb, sound appealing? Well if it does read on.
We're going to take a close look at this excellent entry level bench form Ritfit, I'll also compare it to two other top benches in this price band and by the end of the review, you should have a good idea if this is the right bench for your workout needs.
Dimensions: 48.8 x 18.5 x 45.5 inches
Max weight capacity: 510lb
Back Pad positions: 5 – Including decline 
Covered by a 3-year warranty
Weight Capacity
I'm glad to see RitFit didn't go crazy and throw out a huge max weight capacity on this bench, some of the budget benches claim a whopping 1000lb, these sort of weight capacities are reserved for heavy-duty benches, made from thick 11 gauge steel( not budget), I know for one I wouldn't want to risk putting a budget bench under that kind of stress daily.
The 510lb weight capacity of the RitFit sounds more realistic, yes, the lower weight capacity limits the appeal of the bench for serious lifters but for beginners and intermediate lifters, a 510lb weight capacity is enough.
Note –  Remember to include your own body weight when deciding if a bench has a high enough max capacity for your workouts, also figure in growth, you'll be surprised how quickly your strength increases as your training progresses, you will be lifting heavier and gaining body weight.
Adjustability
With 5 adjustable back positions, the RitFit bench shines with enough versatility to provide a full upper body workout, I have to admit I never use the decline angle myself but if you are looking to put on some lower pectoral mass fast decline pressing is the next best option to a dip station.
The bench looks to have a very near to vertical angle ( 90 degrees) which is great for shoulder presses, a bit of a shame there's not a full 90 but we can't expect too much at this price.
What this bench does have is an adjustable seat, very important to keep yourself stable when incline pressing at low angles, the last thing you need when pressing heavy dumbbells is for your butt to slip down the seat, thumbs up for the 4 position adjustable seat!
The adjustment system on the RitFit bench is the pull pin type adjustment system and it's probably my only real negative of the bench, these systems are much weaker and less sturdy than the ladder adjustment systems.
I've never liked the idea of putting holes in cheap steel which has to bear a lot of weight, I've seen holes rip under heavy loads, I'm not saying it's going to happen with this bench it's just something to keep in mind if you are thinking of lifting heavy with the RitFit.
Build Quality
Most users who have bought this bench have praised the build quality saying it was great for the price. Great to see dense foam padding, this should keep you nice and stable when pressing.
It's best not to have a too comfortable bench, over padded benches are unstable and dangerous, you really don't want anything over 2.5″, RitFit has gone with 2″ which is just about right.
When it comes to stability I'd normally be shouting the heavier the better, but we can't all own weight benches built like tanks, for one thing, they cost $300+ and for another, not everybody has a dedicated gym space to keep the bench, which is why the foldable lightweight design is becoming very popular among people looking for a home gym bench.
A lightweight foldable bench may not be as stable as a heavy duty bench but they are super easy to store, and the Ritfit is probably one of the easiest out there, all you have to do is remove one pin and fold the bench, it's that easy. The bench is quite light at 33lb this will make moving the bench a breeze.
Surprisingly, some of the lighter benches are very stable the RitFit included, many users mention the RitFit to be a stable, sturdy bench when assembled. It's nice to see rubber capped feet on the Ritfit adjustable weight bench this really helps to stop the bench from slipping on polished/hard surfaces.
Versatile 5 adjustable back pad positions, adjustable seat
Excellent bench for dumbbell workouts
Not suitable for seasoned lifters, low max capacity 
A few users mentioned some quality issues once the bench was assembled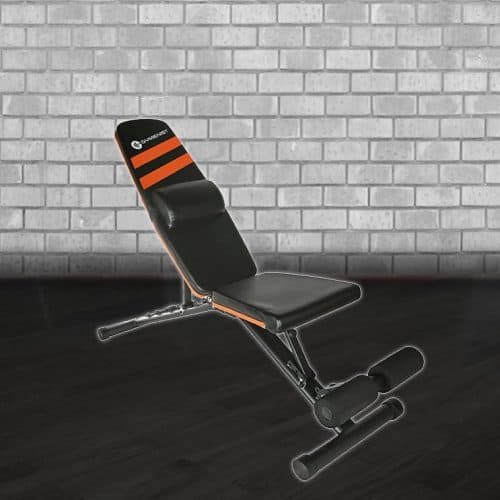 Gymenist Adjustable Bench
The RitFit has some very tough competition with weight benches such as the Gymenist around. The Gymnenist is another foldable, lightweight bench.
It's currently a best seller and it's easy to see why with 6 adjustable back pad positions an adjustable seat and a 600lb weight capacity, the Gymenist bench boasts some impressive specs.
Again another really good bench for dumbbell workouts, it's a budget bench so no heavy duty frames but for a lightweight bench, many users have commented that it feels solid and stable under heavy loads.
No need to assemble this one, the Gymenist comes fully assembled when it arrives at your doorstep, one of the best budget foldable options available.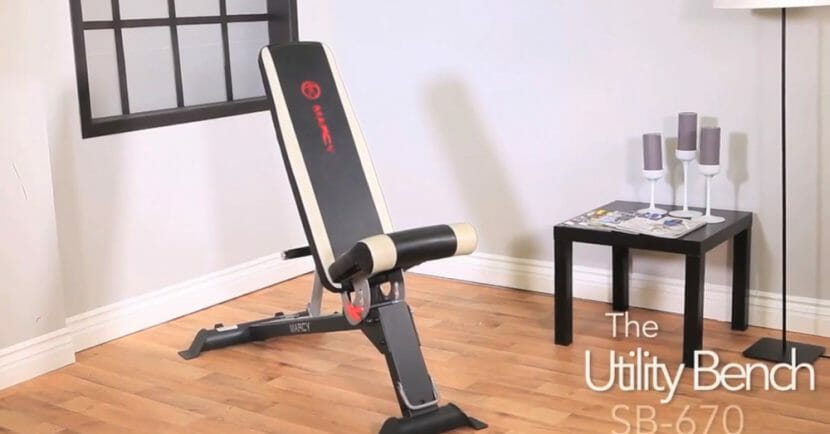 Marcy SB – 670 Adjustable Weight Bench
With 6 adjustable back pad positions and an adjustable seat, the Marcy SB 670 is as versatile as any of the others out there, and with its solid frame and ladder adjustment system it should take the 600lb weight load with ease.
Two-toned upholstery with high-density padding, the gold standard for weight benches, this bench not only looks good it's built so well it should have a price tag with an extra $100 added on.
The Marcy is our favorite budget bench under $150, its only drawback being, you will not find Marcy SB-670 easy to store, unlike the RitFit and Gymenist.
If you don't need a folding feature then I urge you to take a closer look at this one.
Our Full Review: Marcy SB-670 Detailed Review
To Sum Up
I'll have to put my hands up and say, I'd never heard of RitFit before the very nice design of their adjustable bench caught my attention, and from what I have seen of their website they look to be a professional company that knows their stuff, yes, they are quite new to the home gym market but if their weight bench is anything to go by there soon be up there challenging some of the top guys.
The RitFit weight bench is as good as anything else out there in the budget range, it's well built, designed well for dumbbell workouts and has a realistic weight capacity.
An excellent weight bench for beginners or anyone looking for a stable, versatile dumbbell bench.
Easy to store and quick to assemble the RitFit Adjustable Bench should prove to be a very welcome addition to your home gym.