With 7 adjustable back pad positions, including decline, high-density foam padding, and a decent weight capacity, the Pasyou Adjustable Weight Bench boasts a few impressive features for the price bracket. And if you have been looking for a dumbbell bench? One that folds easily for storage. This could be the bench for you.
Great For Dumbbell Workouts But Missing A Few Features.
The Pasyou, just like most adjustable benches in this price bracket, does have its drawbacks, such as the lack of an adjustable seat, and sadly there's no near-vertical or full incline.
Still, we can't expect gym quality or features for under $100. At best low-cost benches should be well built, include enough back pad positions for all of our pressing needs, and be stable with wide stabilizing feet, and thankfully the Pasyou ticks all of these boxes.
However, there are many excellent low-cost benches out there right now, so the Pasyou, although cheap, has to impress if it wants to challenge the top 3 benches in this price bracket.
Today I want to take a close look at everything the Pasyou has to offer. Also, I'll compare the Pasyou with one of the top-rated benches in this price bracket, and we can see how it matches up.
First, a quick look at the Pasyou product specs!
Product dimensions – 55.12 x 15.75 x 20 inches
High density foam padding
Why Do We Like The Pasyou Folding Weight Bench
The main selling feature of this bench is that it folds for storage. This thing folds to half its height and a 3rd of its length, making it super easy to store. With just a 10″ folded height, it can be stored easily under a bed.
But it's not just the fold feature I like about the Pasyou bench. What surprised me is that Pasyou thought to use high-density foam padding.
High-density foam padding is the gold standard for weight benches. This stuff is usually reserved for high-end benches, so it's great to see it featured on a low-cost bench.
What's good about high-density foam padding is that it's not too soft to be unstable and not too hard to be off-putting. There are too many benches that use overly soft padding, which causes stability issues when performing pressing exercises, so if you can always look for high-density padding when choosing your weight bench.
Versatility – 7 Bckpad positions – But No Verticle?
I love that the Pasyou boasts 7 adjustable back pad positions that includes a decline for decline presses and sit-ups.
7 positions is more than enough for our bench pressing needs. It allows you to start a chest workout at a steep angle and work your way down to the flat position so you can target all areas of the pectorals.
While the Pasyou is an excellent bench for bench pressing both in flat and incline. The Pasyou bench only lets you down when you want to perform seated dumbbell presses:
Why? Because sadly, this bench only adjusts to a max of 65 degrees which is slightly too low to target the shoulder, yeah fully, you'll give them a good pump. Still, to target the shoulders fully, we need a near vertical or full vertical anywhere between 80-90 degrees is best for shoulder presses.
And another slight letdown is the lack of an adjustable seat.
Adjustable seats stop your butt from slipping down the bench in low incline positions. A bench without an adjustable seat is only a deal killer if you're planning to press heavy weights at low incline angles, as this is where you really need the support of an adjustable seat.
500lb Weight Capacity
500lb weight capacity is an impressive amount for a budget folding bench. Whether it can take it or not is another question, so many benches in this price bracket boast high capacities, yet their frames are lightweight and the welds low quality. Still, this is, unfortunately, what you would expect in this price bracket. We're not going to see heavy-duty 11 gauge steel frames.
Therefore I wouldn't risk taking a lightweight foldable bench to its max capacity every day. These types of benches aren't built for heavy barbell lifting. Yes, a bench like this might take the max capacity and more for a few weeks, but it won't last long.
If you want a low-cost foldable bench to last? Keep way below its max capacity. I'd recommend 400lb at most for the Pasyou bench, and remember that 400lb max includes your own body weight.
400lb should be enough for most, even when using a set of heavy dumbbells. If you're a 200lb guy, thats still leaves you an extra 200lb to play with.
Arrves 90% Pre-Assemebled
I'm sure you'll be happy to hear the Pasyou Adjustable Weight Bench comes almost fully assembled. All you need to do is attach the rear and front stabilizers and the foam rollers, it takes just a few minutes, tools and assemebly instructions are provided.
Also, make sure to tighten any other nuts, bolts, etc., before first use.
Stable – wide front and rear stabalizers
High-density foam padding – provides stability when pressing
Lightweight build makes it easy to move from one room to another or for storage
7 adjustable back pad psotions- great to see on a low cost bench
Ladder adjustment system quick and easy to adjust back pad positions, also more study than the pull-pin type
No near-vertical or vertical incline angle for seated shoulder presses
Seat has no adjustment angles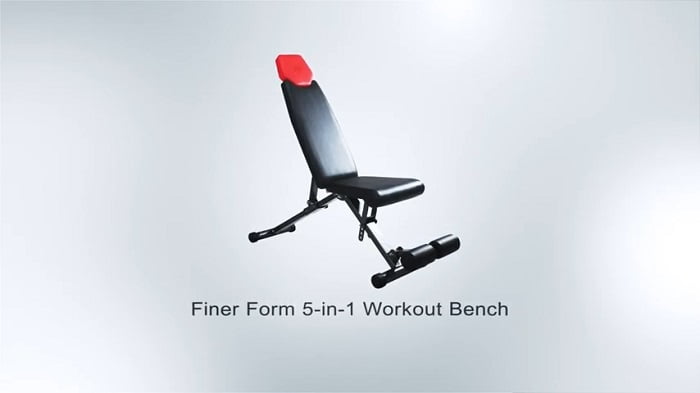 Fine-Form Adjustable Bench
The Fine Form Weight Bench has been around for a few years now, and it's proving a popular choice for people looking for a versatile, cheap folding bench. It's a good-looking, stable bench that reminds me very much of a Bowflex bench with its red and black upholstery.
And the reason this bench is a good buy because, just like the Pasyou bench, it includes a ton of back pad positions, high-density foam padding, and the fold for storage feature.
But what makes this bench more appealing than the Pasyou is that it includes the near-vertical for seated shoulder presses and the all-important adjustable seat.
The Finer Form is a little more expensive than the Pasyou at around $140, but this is cheap when you consider you're getting a full FID Bench (Flat, Incline, Decline) and an adjustable seat.
One of my favorite benches under 150 and a bench worth some serious consideration, especially if you think your workouts will benefit from an adjustable seat.
To Sum Up
I couldn't find much to fault about the Pasyou bench. I loved the high-density foam padding. I was impressed with the 7 back pad positions and that the back pad uses a ladder adjustment site. I prefer ladder systems over the pull pins as they are much quicker to adjust and sturdier.
It's also nice to read the user reviews of the Pasyou, as it receives an average of 4.5 from over 2000 reviews, which's excellent for a budget bench, and proof it shines with quality for the price point.
The only real letdown was the seat, its a shame it doesn't adjust, but I guess I was guilty of expecting too much from a bench costing under 100.
Overall the Pasyou Adjustable Bench is a great bench for dumbbell workouts, and if you're careful not to overload it and keep well below the max capacity,  it's a bench that should last years of use.