Known as the Impex Competitor Olympic Weight bench, this bench also goes under the Marcy brand name. Impex owns Marcy, Steel Body, and a few other smaller companies.
Still, for today's review, we'll call it the Impex Olympic weight bench, as thats the name you'll see stitched into the back pad of the bench.
A Long Way off Commercial Grade but High Quality For Price Point.
As Olympic benches go, this is a decent one. It weighs 62lb so it is pretty heavy for the price point.
The CB-729 includes an easy-to-use ladder adjustment system for fast adjustment times and has five adjustment angles for the back pad with decline and near-vertical. It boasts an impressive combined weight capacity of 600lb.
It's still a long way off commercial grade, but this thing shines both on features and quality for the price bracket. And today, I'm taking a close look at everything the Impex Competitor Olympic Weight bench has to offer, including all of its drawbacks.
But first, let's take a quick look at the Compeititors product specs!
Product dimensions – 67 x 45 x 50 inches
5 position back pad includes decline
High density foam padding
Running belt size – 16″ X 43.3″
Why Do We Like The Impex Competitor Olympic Weight Bench?
What you have to like most about this bench is the quality for the price. This thing weighs 62lb thats reasonably heavy for a low-cost bench. Over the years, I've reviewed a ton of budget Olympic weight benches, and most of them are cheaply built, weighing between 40-50lb.
That extra weight will help keep the bench stable. It's also a telling sign this bench is made from quality materials. Okay, dont expect gym quality, but for under $200, 62lb is impressive.
Another feature that stands out about this bench is the ladder adjustment system of the back pad.
Ladder adjustment systems are much faster to adjust, sturdier, and can handle more weight than the pull pin type systems, and it's always a nice surprise to find them featured on a low-cost bench.
Versatile – 5 Back pad positions Include decline.
It's great to see that the back pad of the Impex weight bench includes decline and the all-important near vertical for seated shoulder presses.
While you'll find many Olympic benches in this price bracket include decline for decline presses and sit-ups, hardly any of them includes the near-vertical for seated shoulder presses.
Most Olympic benches Under $200 only adjust to a max incline of 70 degrees which is too low to target the shoulders fully. If you want to hit the shoulders hard, you need a bench that adjusts to a near-vertical. 85 degrees is best.
And thankfully, Impex thought to include this angle with their bench. 85 degrees is better than the full vertical (90 degrees) because when the bench is inclined at 85 degrees, it allows you to arch your back slightly, which puts you in the best position to press from.
So a big thumbs up to Impex for the adjustment angles of the bench, and as I already mentioned, we have the ladder adjustment system, so the back pad is easy and fast to adjust.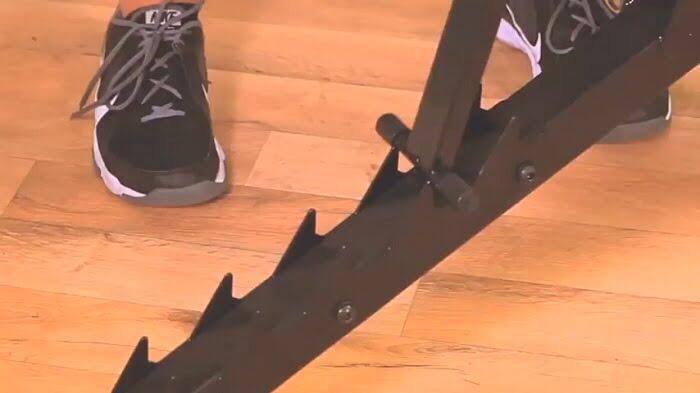 Impressive 600lb Weight Capacity
Nearly all Marcy/Implex weight benches have a max capacity of 600lb, and that's because they all share the same quality frames, which are made from 14 gauge powder-coated steel.
They're not heavy-duty as such, but they do have high-quality welds better than most in this bracket, and Impex has over three decades of experience building low-cost gym gear. These guys know how to get their frames right. So to answer, will the Impex bench handle its 600lb capacity claim? I'd probably agree it could.
Still, this is a low-cost bench, and I always recommend staying at least 100lb under the max capacity of any low-cost weight bench.
I don't think it will break under 600lb of weight, but it will become unstable, which is dangerous. It just doesn't have the heavy-duty build to cope with such weigh loads regularly. If you want this thing to last and be safe, it's best to stay under the max capacity.
We also need to remember max capacity is your weight and lifted weight combined. So it's 600lb combined for the bench and 300lb for the rack crutches.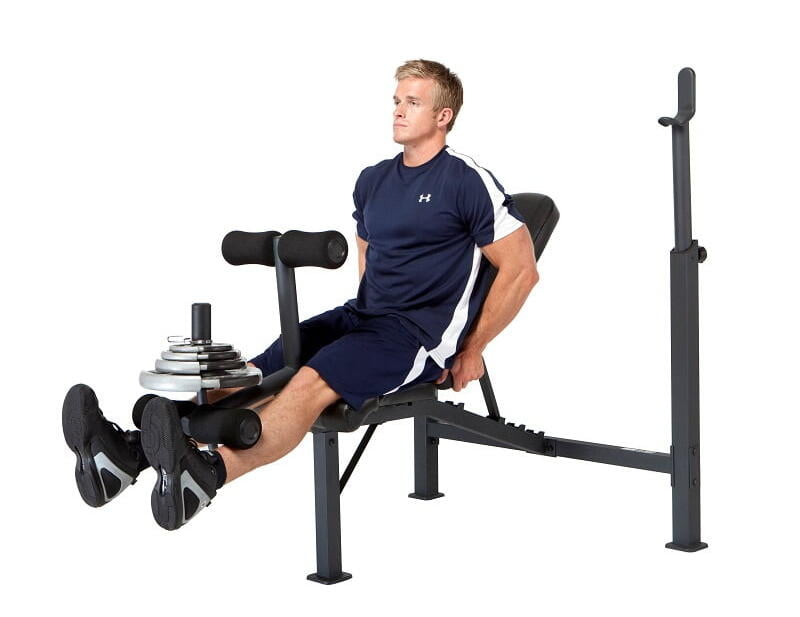 Any Drawbacks?
However good this Olympic bench is for the price, there are always drawbacks when buying low-cost Olympic benches. The drawbacks I'm going to mention now plague most budget Olympic benches, not just the Impex.
The first drawback is that there's no adjustable seat. Adjustable seats stop your butt from slipping down the bench in low incline angles. They provide a  stable base to press from, thus increasing pressing power.
This isnt a huge deal stopper as it only affects incline pressing, plus it's more of an issue if you're pressing super heavy weights because you need the support more. If you're not going to press super heavy in incline, then the lack of an adjustable seat shouldn't be too big an issue.
Something else I found disappointing about the Impex Olympic weight bench is that there are no storage horns welded to the back of the uprights. This is frustrating as storage horns/pegs are great for keeping your plates off the floor and closer to the barbell on the rack. Plus, loading the plate horns with weight plates will add some much-needed weight to the bench, giving the bench more stability.
 Zero Saftey When Pressing
And lastly, as with all Olympic benches under $200 except the Gold's Gym XRS 20, there's zero safety on offer for bench pressing.
Yep, there are no spotter bars included with this bench, so if you fail on one of those presses, you're going to get pinned under the barbell. There's no easy fix for this one.
However, a spotting partner is the best idea if you want to bench heavy on chest day. The only other alternative is to spend more and buy an Olympic bench that includes safety bars.
High-Density Foam Padding
On the positive the Implex Competitor Bench is fitted with high-density foam padding, the gold standard for weight benches; it's great because it's not too hard to be off-putting or too soft to cause stability problems. This stuff is just right and excellent to see featured on a $200 bench
High quality build for price point
5 position adjustable back pad – includes decline and near-vertical for seated shoulder presses
600lb combined weight capacity
Adjustable height crutches
High density foam padding
Easy Assembly – Under 1 Hour
Most people found this bench easy to assemble. All parts come numbered with easy-to-follow illustrated instructions. Tools for the job are provided, but I recommend using a crescent wrench to secure the locking nuts correctly.
Average build time – under an hour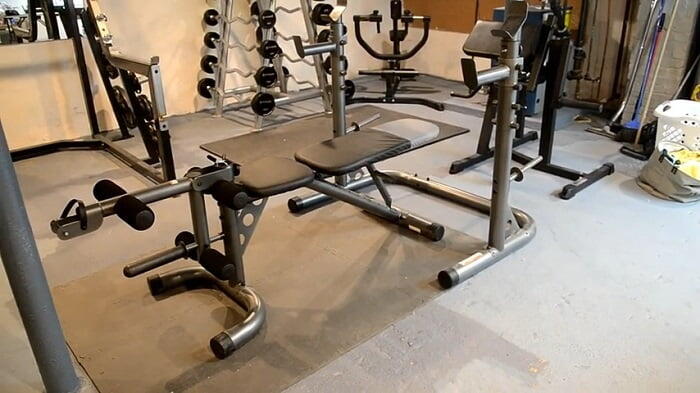 Gold's Gym Olympic Weight Bench XRS 20
I've never been a big fan of Gold's Gym Equipment. The quality of their budget gear is questionable, but the XRS 20 is an exception. This little gem is a great buy when you consider what is on offer, and the quality is almost up there with the Impex.
I decided to show you guys the XRS 20 because it includes a few features that the Impex doesn't, and its the only Olympic bench is this price bracket to feature the safety bars.
Owning an Olympic weight bench with safety bars will allow you to lift in solitude safely, and this is what training at home is all about. You can lift heavy weights and not have to worry about getting pinned under the bar or having to ask someone to come and spot you.
Also, the Gold's Gym Bench includes the weight plate horns,  you can load the storage horns to add some extra weight to the bench giving it more stability. This is a big plus and something sadly the Impex lacks.
Still, this bench isnt perfect. It's a little high off the ground for my liking, which means shorter uses will have trouble placing their feet flat on the floor, and the back pad doesn't adjust to the near-vertical for seated shoulder presses. It adjusts to a max of 70 degrees.
However, we do benefit from a few other features, such as a preacher curl attachment, and the most useful feature of this bench is you can use the barbell rack as a walk-in squat rack because this is a two-piece setup. You can use the bench and rack independently, which opens up a load more exercises.
Overall an excellent bench from Gold's Gym. Yes, it's not heavy-duty, nor does it shine with quality, but it does offer the beginner and the intermediate lifter a lot of options. It's the perfect starter bench for people wanting to barbell lift at home safely.
To Sum Up
Without a doubt, the Impex Competitor Bench CB-729 is one of the best budget Olympic Weight benches, and it should be considering Implex has 30 years of experience in this space.
I was impressed that the Impex bench included decline and near-vertical adjustment angles. The high-density foam padding was a surprising bonus, and the fast-to-adjust ladder adjustment system is what you want for a home gym bench.
The build quality isnt heavy-duty, so dont go expecting gym quality, but it's good enough for a home gym and should last a few years if you keep below the max capacity.
Yes, this bench does have its flaws, such as no safety bars or an adjustable seat, but it shares these flaws with all the other Olympic benches under $200, so it didn't come as a surprise.
Overall if you're a beginner, you should get a lot of use from this bench, especially if you want to introduce barbell compound movements into your lifting routines. Just make sure you're careful when lifting heavy.