With six different adjustable back support positions, 5 adjustable seat positions and a high quality build, it's no wonder that the Steelbody weight bench is a popular choice amongst strength trainers.
800lb Capacity Heavy Duty Frame – Suitable For Beginners & Advanced.
An 800lb weight capacity will ensure this bench is attractive to beginners and the more serious of weight trainers, and at an affordable price to match this bench deserves a closer look.
One of the first things you need to do before you buy any piece of home gym equipment is to have a quick measure of your gym space and see if the weight bench is a good fit for you and your home.
The Steelbody Deluxe Utility Bench is an exercise bench that can be used for lifting weights and strength training.
Assembled dimension: 47" x 25.5" x 45"
Maximum weight capacity (including user weight): 800 lb.
6 adjustable back support positions
5 adjustable seat positions
Who's This Bench For?
This bench is for anyone looking for a versatile bench for upper body workouts, with a weight capacity of 800lb the bench can be used for heavy power rack workouts, which is great to see from any bench in this price bracket.
Normally, budget to midpriced weight benches have a weight capacity of around 400-600lb which is fine for medium to heavy dumbbell workouts.
For serious lifters looking for a bench that can take the weight of some heavy rack work, you would typically have to pay a lot more than what they are asking for the Steelbody weight bench.
So for under $200 with an 800lb max capacity, price wise, the Steelbody bench isn't too bad at all.
To note: Amazon has this bench advertised with a maximum weight capacity of 300lb but I had a good look at the PDF instructions for the bench and it clearly states this bench has a maximum combined user and weight load of 800lb, you can check out the PDF here
Adjustability
If you are looking for versatility then the Steelbody bench has it in spades, featuring 6 adjustable back support positions that will allow a variety of incline angles for bench pressing and other exercises, but what this bench lacks is a decline position, this is not a biggy for me personally as I feel decline pressing is overrated.
A great alternative to decline presses is dips, you will build lower pec mass faster with some dips in your chest workout. But if you are after a bench with a decline angle then I would highly recommend the Marcy SB 670 which also has 6 adjustable back support positions of which one includes a decline.
READ NEXT: Best adjustable Weight Bench Under $350
A ladder-type adjustment system has been used in the design of the bench, this is, in my opinion, the most durable and solid adjustment system available.
The alternative is the widely used pin lock system where you use a pin to lock in the adjustment angle but this system is well known for its stability issues  plus the ladder system is a heck of a lot faster to adjust.
Steelbody Weight Bench Video
Adjustable Seat
I think at this price (anything over $150) we should see an adjustable seat offered with a weight bench, without an adjustable seat your incline workouts will suffer because of the unstable base you are lifting from.
An adjustable seat stops your butt slipping down the bench in high incline positions, in turn, giving you maximum support for benching the weight.
Having an adjustable seat also helps to relieve the pressure on your lower back.  So it's great to see the Steelbody weight bench has a total of 5 adjustable positions for its seat, which is more than enough for any lifters' needs.
On the negative, the Steelbody bench doesn't have a full incline position, which is a bit of a letdown, 70 degrees being its highest incline position. The preferred angle for seated shoulder press is 90 degrees.
Not having a full incline position shouldn't be a deal breaker but it is something worth considering when buying a weight bench, with no decline or 90 degrees adjustment angles this bench does lose some of its appeal.
Tools required for assembling the bench: Adjustable wrench and Allen wrench.
NOTE: It is strongly recommended that this equipment be assembled by two or more people
to avoid possible injury.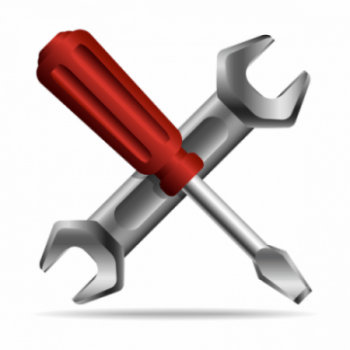 Build Quality/Warranty
Powerdercoated heavy duty steel frame with quality welds should be enough to ensure this bench can take its max capacity weight. Would I want to take a $170 weight bench to its max capacity? Probably not, I'd perhaps stay shy of its max by 100lb.
I say this only because cheaper benches' welds tend to break under very heavy loads, I'm not saying this is going to happen with the Steelbody, but it's something to bear in mind.
What's reassuring about this bench is its warranty, a whopping 10-year guarantee which I thought was excellent to see, most benches in this price range come with a 2 year guarantee, this shows Steelbody has a lot of confidence in its product.
Another useful feature of the Steelbody weight bench is the way the transport wheels are integrated into the rear stabilizer, this will make moving the bench in and out of a power rack that much easier.
Highly versatile bench, 6 adjustment angles, and 5 seat angles
Powder coated heavy duty frame
Great height for flat pressing
No full 90 degrees incline
Does not fold flat for storage
Bench Height
The height from the padded upholstery to the floor is 18″, similar to that of an Olympic flat bench at 17.5″. Why is this important? The height of a weight bench determines how well you can plant your feet on the floor. Anything over 22″ and shorter people will start to have trouble with keeping their feet flat on the floor.
A higher bench will affect stability and power efficiency because of the unstable nature of your foot placement.
Some of the best adjustable weight benches out there costing $300-500 have floor to cushion height of around 22″, although these benches are fantastic as incline benches they suffer most when you want to use them for flat pressing.
I was surprised to see an 18″ height from Steelbody, this height will ensure the Steelbody Benchwill make an excellent flat bench…Big thumbs up here to Steelbody.
To Sum Up
Overall an excellent versatile weight bench from Steelbody, it's great to see an affordable bench which is solid offers a wide range of adjustment angles and has a weight capacity large enough to attract seasoned weightlifters. A well thought out design that has all you need for a complete upper body workout