When I see a weight bench advertised for under a $100 I'm always suspicious of the weight benches overall quality, the Gymenist exercise bench almost seemed too good to be true.
An adjustable seat, 6 adjustable back support positions, a 600lb combined weight capacity and foldable, features like this are normally reserved for benches costing double this.
Check out our comparison table below to see how the Gymenist matches up against 2 of its closest rivals, you can see a summary of both the Marcy and Bowflex weight benches at the end of this review.
Comparisons With Bowflex & Marcy
Weight Capacity – 600lb

Adjustable Seat

Back Pad Positions – 6

Warranty – 2 yr frame

Assembly Required

Folds For Storage
Weight Capacity – 480lb

Adjustable Seat

Back Pad Positions – 3

Warranty – 15 yr frame

Assembly Required

Folds For Storage
Weight Capacity – 600lb

Adjustable Seat

Back Pad Positions – 6

Warranty – 2 yr frame

Assembly Required

Folds For Storage
The Gymenist bench has become very popular and with a 4.5 out of 5-star rating on Amazon resulting from over 250 reviews this bench certainly warrants a closer look, in our detailed review were take a close look at just what this bench offers and any downsides of the bench we can find.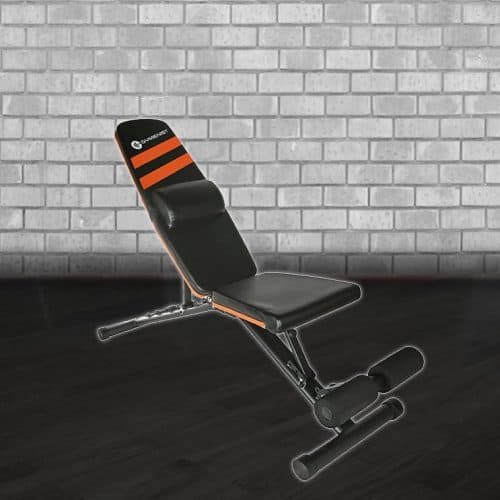 Who Is This Bench For?
However good you might think this bench is, it's defiantly not for serious lifters, it's been built and designed with the beginner to intermediate weightlifter in mind.
The weight capacity of a bench is normally the first indicator as to who the bench was built for. 600lb is a hefty capacity for an affordable bench which puts it in the medium weight range.
But what you need to remember is the weight capacity includes your own weight, so a guy weighing 300lbs could only bench press another 300lb and you would be at maximum capacity.
You might think you'll never bench press that much weight and most people will not, but serious lifters do and if you are a guy whos looking to getting into lifting seriously you may find you outgrow this bench fairly soon.
So yes it's a great bench for the beginner to intermediate weightlifter or anyone who needs a bench for resistance exercises in their workouts, but for power rack and heavy barbell lifting, you will need a sturdier heavy duty weight bench.
I think you would have to be brave to test a budget bench like the Gymenist to full capacity…Take it up to 500lbs but 600lb for a lightly constructed bench could be risky.
Design
The Gymenist exercise bench has been designed to be light, one of its main selling features is that it is foldable, being foldable makes it portable and to be portable the bench must be light.
Having a foldable weight bench is great if you lack a dedicated workout area, foldable benches are becoming increasingly popular because they are easy to store in small places and very easy to take out again for each workout.
It's also nice to see they have designed this bench with all four corners of the bench making contact with the ground.
This is generally a more stable design than the tripod design where you have a single center support post at the front and two at the rear of the bench. The tripod design can become unstable in higher degree incline positions.
The Gymenist exercise bench features a ladder-type adjustable back support system, with a pin to lock in the adjustment angles of the ladder, not the best of designs as the pin-lock takes up extra time for adjusting the back support angle, but for a budget bench, it should prove solid enough.
The Gymenist comes with a leg holder for decline workouts, a nice feature for the price but anyone wanting to do a serious workout may find that the leg holder gets in the way of foot placements.
When I first started training, any bench I got hold of with a leg holder was taken off, firstly because I find them awkward to train with and secondly I think decline bench pressing is overrated, if you want to add mass to your lower chest, dips are best and will add mass faster.
No need for any tools, this bench comes fully assembled.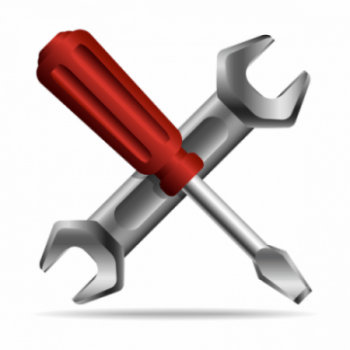 Gymenist Exercise Bench Video
Adjustable Seat
The biggest selling point of this bench for me and I have to say I was impressed to see it on a bench at this price, has to be the adjustable seat!
An adjustable seat is a must for anyone wanting to perform incline workouts, why? Because it stops your butt from slipping down the bench, giving you the support needed for benching the dumbbells from a stable position, it will also relieve the added stress on your back.
Adjustability
A full FID weight bench is what you have with the Gymenist (Flat, incline and decline) 6 adjustable positions in all, this is only matched by the Marcy adjustable weight bench which hovers around price bracket.
Making the Gymenist adjustable bench a very versatile option especially considering you also have the adjustable seat.
The Marcy comes in under £150 and the Gymenist at the time of writing this article comes in at under $100, you really are getting a lot of value here for your money!
6 adjustable back support positions
Pin lock adjustment system slows adjustment times
Staples on padding tend to come lose some owners have reported
A $100 bench is a $100 bench, lightweight benches will always have some stability issues under heavy loads
Made from powder coated 14 gauge steel with a durable high density two-toned upholstery this bench shines quality, a heavier bench than the Gymenist it may not appeal to people who need a bench that's easily moved and stored, but when it comes to weight, heavier benches are normally better, more weight equates to increased stability and stability is what you get with the Marcy in spades.
Just like the Gymenist, the Marcy SB670 has a 3-way adjustable seat and 6 adjustable back support positions which makes this bench a highly versatile option for the price bracket.
And whats great to see on the Marcy is the high-density foam used to cushion the upholstery, it keeps the padding firm and not too comfortable. The firmer the padding the more stable the lifting platform.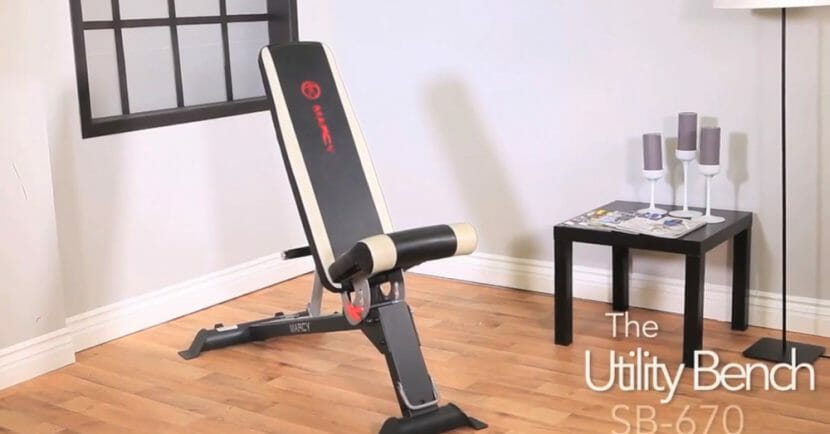 If you have a little extra space and don't need to fold away your bench after each use, then this is one bench I highly recommend you check out.
When you buy any piece of fitness equipment from the reputable company Bowflex, you expect to receive a high-quality product and there's no exception with the Bowflex 3.1 adjustable weight bench.
Made from high-density heavy duty steel this bench has been built to last, it boasts a 15-year warranty and build quality is second to none in its class.
This bench does have the lowest weight capacity out of the Marcy and Gymenist at only 480lb but you can rest assured this bench will take its maximum load.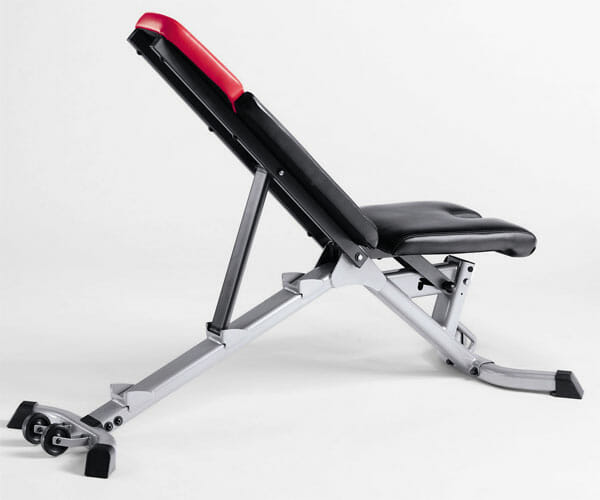 The bench features a full incline 90-degree adjustment angle which is always good see, some of the cheaper benches only go to near full incline and many people end up having to buy another bench for this angle alone.
A versatile very well made bench that will prove to be a durable purchase, the only thing holding the Bowflex 3.1 back is the lack of an adjustable seat, but if you can live without one, this bench is certainly worth every penny.
To Sum Up
Overall you will not find a much better weight bench for the price, the Gymenist Weight Bench is a very capable, versatile weight bench for the beginner and intermediate lifter.
If you are looking for a weight bench that's easy to store away after use and light enough to carry to any part of the home to train, then I think most people will be happy with their purchase.