Going low cost on a weight bench does have its drawbacks. One is stability, cheap benches are light, and the other is versatility as most low-cost benches do not include enough positions for the back pad for a full upper body workout.
The Weider Pro 225L bench is about as low cost as you're going to find for an adjustable weight bench.
 Includes 5 Back Pad Positions
This thing costs around $60. Yet surprisingly, it includes 5 positions for the back pad, which is more than enough for your pressing needs, and an inclined seat that provides support when incline pressing.
Light Weight But Stable Workout Bench
For $60, dont go expecting gym quality. This bench isnt going to feel rock solid when you're on it, its a lightweight bench made from light gauge steel, so it's a long way off anything you might have used in a local gym.
Still, it's more stable than most budget benches, thanks to its low profile design and extra-wide stabilizing feet. Yes, it's not going to appeal to seasoned lifters. But, for beginners and even intermediates, it's an impressive little bench for dumbbell workouts and sit-ups.
And thats what the Weider Pro 225L has been designed for, light to medium dumbbell workouts and decline sit-ups, so if you've been searching for a cheap bench for dumbbell workouts, the Weider might be the best choice for your needs.
Today I'll take a close look at everything this bench has to offer. I'll also compare the bench with its main rival in the price bracket, the Yoleo Workout bench, another impressive low-cost workout bench.
Before we get on with the rest of the review, let's take a quick look at the 225 pro's product specs!
Several foldable positions – flat incline and decline
Comes with a step by step exercise chart
Compatible with a wide range of Weider racks and cages
Why Do We Like The Weider Workout Bench?
The first thing you have to love about this bench is the price. You're are getting a fully adjustable weight bench for under $60.
When you consider even low-cost, flat benches (weight benches without an adjustable back pad) start at $50. You start to realize what a great buy this bench is.
And with 5 adjustable back pad positions, the Weider 225L Pro allows you to train all parts of your pectoral muscles. You can incline press to develop your upper pec, flat press for overall chest development, and decline press to develop your lower pecs.
Plus, we have an inclined seat. The incline of the seat will stop your butt from slipping down the bench when low incline pressing. It gives you a stable base to press from, thus increasing your pressing power.
Another positive of the Weider bench is that the back pad adjusts to a near-vertical for military press. You'd be surprised how many adjustable benches do not include this angle. Many of them only adjust to 70 degrees which isnt high enough to target the shoulders fully.
If you want to hit the shoulders hard when military pressing, you need a bench that adjusts to near-vertical or vertical. Thankfully, Weider thought to include this important angle even with their budget bench, the Weider Pro 225L.
Unboxing And Assemebly – Weider 225L
Any Stability Issues?
As I mentioned, this is a lightweight bench, so it's not going to feel rock solid. Still, stability shouldn't be an issue because of the wide stabilizing feet at either end of the bench.
The stabilizing feet are wider than most benches, and thats great to see it should prevent a lot of the wobble, which is known to plague most cheap weight benches.
Also, this bench is low profile in design. The low center of gravity will help keep things stable.
And another big plus of owning a low-profile bench is that it will allow shorter uses to place their feet flat on the floor when performing pressing exercises such as the bench press.
Having your feet flat on the floor when bench pressing allows you to push through your legs, increasing your pressing power.
Weight Capacity & Who Is The Bench For?
The Weider Pro has a weight capacity of 410lb. This includes your own body weight.
410lb for a $60 bench is impressive, but we need to remember this bench is a budget bench. It hasn't been designed for heavyweight loads, so although this bench states 410lb its best to stay 100 or so pounds below its max capacity.
It's always best to stay below the max capacity of any weight bench, especially cheap ones, as they can become unstable when they start to get close to their max capacity.
Plus, this bench uses a pull pin type adjustment system. This type of adjustment system can snap under heavy weight loads, so best to think on the safe side, and stay below the max capacity.
And because of the Weider Pros light weight build, it's only suitable for light to medium dumbbell workouts.
Perfect For a First Bench
The Weider is a great first weight bench for anyone who wants to start resistance training at home. If you own a set of dumbbells and want to transition from floor exercises to bench, but dont want to spend a lot of cash, this is a good first choice.
It also works great as an Abs bench because of the decline feature and the padded rollers to supper you while you perform your decline sit-ups.
Anything I Didn't Like?
The main drawback of the Weider workout bench is that the seat does not adjust to a flat position.
It's great we have an inclined seat for support when incline pressing, but if you want to perform flat workouts, the angle of the seat is going to be uncomfortable.
Another issue with the bench is the length of the back pad. As with most budget benches, the back pads are too short, limiting the bench's appeal for taller users. Max user height for this bench is 6'1″.
And lastly, well its not a draback, but it's something people should realize, and thats not to expect too much from a $60 bench. This thing is low cost, so it doesnt include high quality welds or a super stable frame or back pad.
Light gauge steel and low-quality welds is why I recommend staying well under its max capacity.
It's a great workout bench for light to medium workouts. Just Don't push a budget bench because they can break easily. (if you want something more solid for the price, check out the Yoleo bench at the end of this review)
Assembly
Looks like you have to put this one together yourself, but not to worry, should take no longer than 30 mins, it's fairly easy and all you need is a few simple tools. Allen Keys, sockets and a wrench.
Sturdy frame – low and stable
Firm but comfortable wide saddle
A 90-degree range of adjustability
Free shipping for Prime members
Light, easy to move around
Pads under knees may be too narrow
Back support is short limits use to 6 foot, but some reviews of this bench say they are 6'2 and found it ok
Not made for serious weight lifting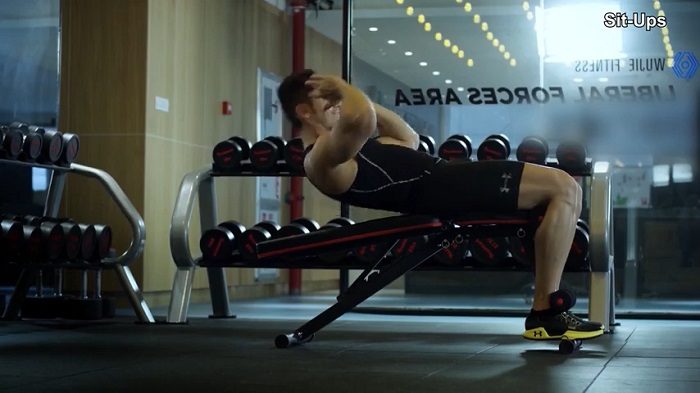 Yoleo Adjustable Weight Bench
The company Yoleo hasn't been around for decades like Weider has, but this small company produces some impressive low-cost weight benches which receive high praise wherever they are sold.
Their lowest-priced bench, the Yoleo Adjustable workout bench (around $50), is one of the most popular benches you'll find in this price bracket and a good reason why:
The Yoleo boasts 7 positions for the back pad that include decline and a near-vertical, plus flat, and many other incline angles.
We also get high-density foam padding for the seat and back pad. This is the good stuff usually reserved for high-end benches. This type of padding isnt too soft to cause stability issues or too hard to be uncomfortable. It's just right.
And what I like most about the Yoleo bench is that it uses a ladder adjustment system for the back pad. Ladder adjustment systems are much faster to adjust than the pull pin type. They're also sturdier and can handle heavier weight loads.
Still, just like the Weider, this bench is low cost, so it's light and doesn't include the adjustable seat.
Instead of the seat being fixed at a permanent incline like the Weider bench, the Yoleo seat stays in a flat position,  which some users may prefer.
The Yoleo comes fully assembled and includes an easy-to-use folding feature. Just remove one pin, and you can fold this bench to be stored under a bed or up against a wall.
Do I prefer the Yoleo bench to the Weider? Yes,  as it boasts more back pad positions, includes high-density foam padding, and is a little safer and easier to use thanks to the ladder adjustment system.
The Weider is still a great buy for the price point, but the Yoleo outshines it both on quality and features.