Darcy Adjustable Bench
Fairly new to the Market is Deracys Adjustable Weight Bench this version of the bench boasts a considerable max capacity of 660lb it's the most popular bench these guys produce and for the price it's worth taking a closer look at.
Mid-Level Bench Heavy-Duty Frame
The Dearcy is a heavy-duty bench; no, it's not commercial grade, so dont go expecting Rogue quality, but it's not far off.
For around $200, you're looking at a mid-level weight bench. It's got a nice heavy frame that will aid stability, a ton of back pad positions, and thankfully an adjustable seat for low incline support.
And something I really liked about this bench is it's great in flat with a floor to pad height of 18″ not too bad for an adjustable bench.
Today we're going to take a close look at everything this impressive bench from Deracy has to offer, including its drawback, and at the end of the review, I'll compare the Deracy with Fitness Reality's heavy-duty offering, the Supermax 2000, another great heavy duty bench costing around $200
First, let's take a quick at the Deracy Adjustable Weight Bench Product Specs!
Product dimensions – 47.6 x 18.3 x 6.7in
Adjustable back pad positions – 7
Transport wheels and handle
Why Do We Like The Deracy Adjustable Weight Bench?
The standout feature of the Deracy Bench has to be its frame. This thing weighs close to 50lb which is heavy for a mid-level weight bench. We want our weight bench to be as close to being built like a tank as possible the heavier, the better.
The extra weight will help keep the bench planted to the floor, especially important when the bench is at a high incline angle. The weight is also a telling sign this bench is made from quality materials. It's not going to feel like some cheaply built unstable bench. This bench is solid.
Another great feature of the Deracy bench is its height in flat of 18″. Similar to the height of a commercial flat bench, which is around 17.5″ from pad to floor.
This is great news for shorter uses who usually have trouble placing their feet flat on the floor when pressing. It's rare to find an affordable adjustable bench that works just as well in flat as it does in incline.
Versatile – Full FID (Flat, Incline Decline)
There's a lot of adjustable benches out there, even a few costing over $300 that dont include a near-vertical or vertice for seated shoulder presses.
Many of them stop short at 70 degrees which is slightly too low to target the shoulders fully. Thankfully this bench includes this important adjustment angle.
There are 7 adjustment angles in total for the back pad, which is more than enough for all our pressing needs, and it's nice to see a ladder adjustment system. I prefer ladder adjustment systems. They are quicker to adjust than the pull pin type studier and can take heavier weight loads.
Not all pin pull adjustment systems are weak, but they tend to be on cheaper benches. I've known many to snap, which is why it's best to avoid pin pull adjustment systems on low-cost benches.
They work okay on commercial benches because the quality is there, but I'd stick with ladder adjustment systems for home benches or any bench costing under $300.
Adjustable Seat
Adjustable seats are important because they stop your butt from slipping down the bench in low incline positions. They are a vital feature if you want to press heavy safely.
The good news..the Deracy includes a 3-way adjustable seat giving you the support you need and a stable base to press from.
Is there anything Not To Like About The Deracy Bench?
For price so far, the Deracy bench has impressed, but even mid-level benches will have a few drawbacks, and something I didn't particularly like about this bench is the cheap vinyl upholstery. This isn't the good stuff and may ruin the feel of the bench somewhat, but it shouldn't affect your workouts negatively.
However, what's most important about this benches upholstery isn't the low-quality vinyl covering? It's the padding, and luckily Deracy has got this part right. The padding isn't too soft to cause stability issues nor too hard to be offputting. It's just right.
Solid, well built bench durable
Suprisgnly good flat bench 17.8″ in height from floor to top of pad
Adjustbale seat – Provides support for low incline pressing
Easy to move – Carry handle & transport wheels
Vinyl upholstery lets the bench down a little but it's not a deal breaker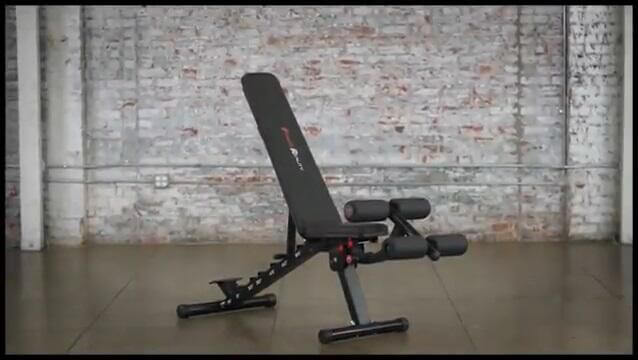 Fitness Reality Super Max 2000
Normally I'm not a fan of foldable benches. Most of them are cheaply built nasty things, but the Fitness Reality 2000 is one exception. This bench is built from heavy-duty 2″x3″ steel and weighs 65lb.
It's 15lb heavier than the Deracy and comparable in weight to the Rep AB-3000 and Ironmaster Super bench. Surprising for a foldable bench and one that cost just $200.
Another cool feature of this bench is that you can flip the back pad, useful for larger guys who need a wider back pad for support. And just like the Deracy, it's highly versatile with 7 adjustable back pad positions that include the near-vertical for seated shoulder presses and decline. Plus a 3-way adjustable seat.
And if those foam roller leg supports are worrying you? Dont worry, they are detachable, so do not get in the way when setting up for pressing exercises.
Just like the Deracy, it's another great bench in flat, which is one of the reasons I've included the Supermax 2000 in this review, with a floor to pad height of 18″.
For the price, there isn't another foldable bench that comes near the Fitness Reality. These guys have got everything right with the Super Max 2000.
If you lack space and think a foldable bench might suit your needs better than the Darcy, make sure you give the Fitness Reality some serious consideration. It's well worth its price tag.
To Sum Up
What's not to like about the Deracy Weight Bench? It surpasses nearly everything else out there in its price bracket. The heavy-duty 50lb build sells this bench as it ensures stability and a quality build capable of taking heavyweight loads regularly.
Darcy seems to be a company that really thinks about the designs on their benches, and this shows with the height of the bench in the flat, the number of adjustment angles for the back pad, and the quick and easy ladder adjustment system.
If I was really picky, I could say the bench is slightly let down by the upholstery. Still, we cant expect the quality of a high-end bench at this price level, they have to cut somewhere, and it's the upholstery that suffers with the Deracy.
However, they did get the thickness of the padding-right too soft, and we would have stability issues when pressing something a lot of benches in this price bracket sadly get wrong.
Overall, a solid bench great for dumbbell and rack work.