There's a lot of these budget foldable benches around at the moment, and the degree of quality can vary hugely from one company to another.
Thankfully the Magic Fit Adjustable Weight Bench has been around for a couple of years now, so we do have the test of time on our side with this bench, with many people still praising the bench, having owned it for over a year. This is great news and a telling sign that the Magic Fit is one of the higher quality, low-cost foldable benches.
Perfect Dumbbell Bench For Beginners & Intermediates
However good the Magic Fit is, it will always be a low-cost lightweight foldable bench. It's a 100 buck bench, so we can't expect too much.
What the Magic Fit is best suited for is light to medium dumbbell workouts. This isn't a bench for heavy barbell lifting, so if you're just bought yourself a shiny new power rack and are looking for a suitable bench, this isn't the one for you.
The Magic Fit is a perfect match for people who train with 50lb dumbbell sets; it's great for beginners and intimidates, and provides all the back pad positions for flat and incline pressing.
So if you have been looking for a low-cost well build foldable bench for dumbbells workouts? The Magic Fit could be the right bench for your lifting needs.
Today I'll take a close look at everything the Magic Fit has to offer, including its drawbacks. I'll also compare the Magic Fit with its closest rival in this price range, the Gymenist Foldable Workout bench, and we'll see how it matches up.
First a quick look at the product specs!
Product dimensions – 36.22 x 14.96 x 9.84 inches
3 position adjustable seat
Why Do We Like The Magic Fit Adjustable Weight Bench?
What I love about the Magic Fit is just how versatile the bench is. The Magic Fit includes 7 adjustable back pad positions. This is more than enough angles for all of your pressing needs.
And to include a near vertical for seated shoulder press is impressive.
There are so many cheap benches that fall short of the near vertical for seated shoulder press and only provide a 70-degree angle that is slightly too low to target the shoulder muscles fully.
You need to choose a bench that includes a max incline anywhere between 80-90 degrees if you want to hit the shoulders hard, and thankfully the Magic Fit includes this all-important angle.
The Magic Fit bench also boasts decline, which is great for decline presses to add muscle mass to your lower pecs or for decline sits ups.
Decline isn't a must for a weight bench as you can develop your lower pectorals with dips, but it's still nice to have and great to see on a budget bench.
3-Way Adjustable Seat – Incline Pressing Support
And let's not forget the Magic Fit includes an adjustable seat. 
An adjustable seat is something I think is vital when choosing a weight bench for home. Why? Because an adjustable seat will prevent your butt from slipping down the bench in low incline angles. It gives you the support you need and a stable base to press from.
550lb Weight Capacity – Can It Handle It?
Can a budget foldable bench take a 550lb weight capacity? Not really it may take it a few times, but on a regular basis, I wouldn't risk it. Benches like Magic Fit just aren't designed to take heavy weight loads.
Poor welds, light frames will always plague low-cost benches, especially foldable ones.
And while a lightweight frame makes the bench a breeze to move and store, it won't stand up to super heavy sessions. 450lb is the max I'd be happy to take this bench up to; anything more than that, I feel it will get on the dangerous side.
Look for heavy gauge frames and benches weighing over 60lb. If you plan on lifting heavy, you can get hold of commercially rated benches for under $300. It's worth saving for a heavy-duty bench if you plan on buying a power rack or half rack. 
So as I mentioned, the Magic Fit is not a bench for serious lifters but for light to medium weight dumbbell workouts. It's a great choice.
Stability
Surprisingly this bench shines when it comes to stability, which is unusual for a bench this light. And thats because these guys have thought to include extra-wide stabilizers at the rear and front of the bench, which really helps prevent any wobble and keep things solid.
I haven't heard of any problems with the back pad moving when pressing either, which is a common concern even with high-end benches. Thumbs up for stability.
Come 99% Pre-Assembled
You'll be happy to hear there isn't much assembly to do once this bench arrives at your doorstep. All you really need to do is make sure all the nuts and bolts are tight before its first use. Thats it.
To pack away after use, remove a pin, and its folds to nearly half its original footprint. It can be stored up against a wall under the bed, and few people have managed to store it in large cupboards. The bench is light and comes with a handle to make moving it even easier.
Versatile – 7 back pad positions & Adjustable seat
Stable for a lightweight bench with wide stabilizing feet
Great price for a decent dumbbell bench
Foam padding not too thick to be unstable nor too thin to be uncomfortable
1 year warrant for replacement parts
Wide gap between seat and back rest
pull-pin adjustment system slower to adjust than ladder adjustment systems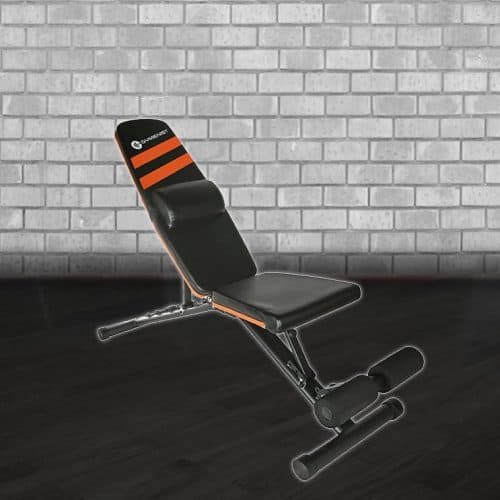 Gymenist Foldable Workout Bench
The Gymenist bench has been one of the most popular folding benches for the past few years, and it's easy to see why as this bench boasts some impressive features, including a 3-way adjustable seat 6 pad positions and its folds for storage.
The Gymenist, just like the Magic Fit, includes a fairly high weight capacity of 600lb. Still, again I'd be cautious about taking the Gymenist to its max weight capacity as it's similar in build quality to the Magic Fit. The Gymenist weighs just 28lb.
There aren't any real differences between the two benches, both use the same adjustment systems, and both include a near-vertical angle and decline, as well as an adjustable seat; plus, both benches have been around a while and continue to receive high user ratings.
The Magic Fit includes one extra back pad position, but this doesn't really add any extra appeal. The 6 positions of the Gymenist is more than enough for our pressing needs.
Overall the Gymesist, just like the Magic Fit, is an excellent low-cost bench that offers everything you could want from a dumbbell bench for home use.
To Sum Up
It was hard to find any real faults with the Magic Fit Bench as for the price. You couldn't expect more.
The Magic Fit Bench includes more than enough back pad positions for pressing. We have the near vertice for seated shoulder presses, and great to see the adjustable seat to give support while incline pressing.
And importantly, these guys thought to include extra-wide stabilizing feet keeping the bench stable. For the price, I think the Magic Fit is right up with the best low-cost foldable benches. If you dont go too heavy on this bench, it should last years of regular use.