Body-Solid are known for building some great power racks, high quality, heavy-duty and durable, I've reviewed a ton of their gear, and for most, I was impressed. The Body-Solid Best Fitness gym gear is a line of their products built specifically for beginners and intermediates.
And while the budget range of Body Solids products lack a few features, they still carry the quality you'd expect from this company.
The Body-Solid Best Fitness BFOB10 Olympic Weight Bench is cheap, but it's a solid bit of kit, boasting a durable 73lb steel frame, an adjustable bench, a fold for storage feature, and a leg developer.
Comparison with Marcy MD-879 Olympic Bench at The End of The Review
Today I want to take a close look at everything this budget folding Olympic bench from Body-Solid. I'll compare the Body-Solid Best Fitness with one of the best sellers in this price bracket, the Marcy MD-879 Olympic Weight Bench, which offers something a little different from the Best Fitness bench.
First, a quick look at the Body-Solid Best Fitness BFOB10 product specs!
Product dimensions – 68 x 41 x 58 inches
3 position back pad – flat and decline
Suitable for 6 and 7ft barbells
Why Do We Like The Best Fitness Olympic Weight Bench?
The main selling feature of this Olympic weight bench is that it folds for storage. The Best Fitness Bench is the first Olympic bench I've reviewed that includes this handy feature, and if you haven't got a permanent space to store a bench of this size, this feature is essential.
Still, this thing is compact even when it's not folded at only 68″ in length compared to heavy-duty Olympic benches that are closer to 90″, so it shouldn't take up a huge amount of room.
Something else that impressed me about this compact bench is its weight because, at 73lb, it is reasonably heavy for a budget bench. That extra weight will help with stability, and it's a telling sign this Olympic bench by Body-Solid is made from quality materials.
3 Back Pad Positions – Lacks Adjustable Seat
Disappointingly the BFOB10 Olympic bench isnt a full FID bench (flat, incline, decline). There's no decline with this bench which means no decline pressing or sit-ups.
It does include a couple of incline angles, yet it lacks the important near vertical for seated shoulder press.
Max's incline for the Best Fitness bench is around 70 degrees, slightly too low to target the shoulders fully. We need a max incline closer to 85 degrees if we want to hit the shoulders hard.
Still, many of the budget Olympic benches dont even include an incline feature, so at the very least, we have a couple of incline angles to develop different areas of the pecs.
Probably what's most disappointing thing about budget Olympic benches like the Best Fitness is that they don't include an adjustable seat.
An adjustable seat stops your butt from slipping down the bench when pressing in low incline angles, and it provides a stable base to press from, thus increasing pressing power.
The need for an adjustable seat increases as we lift heavier weights. But as you won't be lifting super heavy on the Best Fitness bench, it doesn't have the build for that; the lack of an adjustable seat shouldn't be a deal killer.
Still, it's something you'll need to think about as your strength increases and something you should look for when upgrading to a more heavy-duty Olympic bench.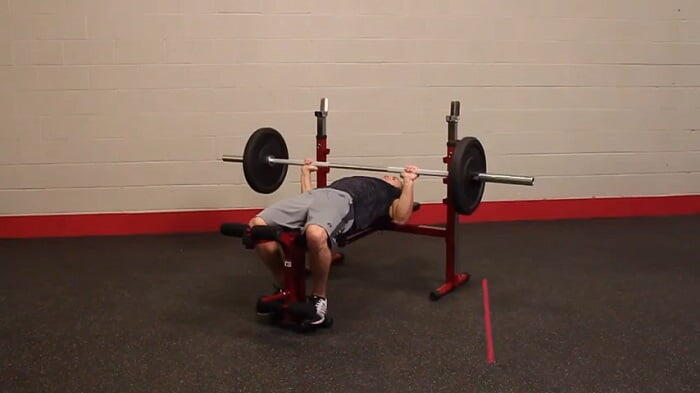 Stability
Many people who own the Best Fitness Olympic Bench praise how solid this thing feels, which is great to hear, But don't go expecting gym quality, it's a long way off being built like a tank.
Still, at 73lb, it's a decent weight which will help with stability, and its compact build should contribute to the solid feel.
Also its a one piece unit; by this, I mean the rack is attached to the bench. One-piece units are always a more stable option than two-piece units.
Two-piece units usually suffer from rack wobble, which can be off-putting, especially budget two-piece units because of their lightweight build.
Difficult to Squat With a One Piece Olympic Bench
The only problem you encounter when the rack is attached to the bench is that one-piece units can't really be used for squats, as the bench gets in the way, plus the bar catches aren't really high enough for taller uses to use as a squat rack.
And I'm surprised to see this bench doesn't come with any storage horns for the weight plates. Most budget Olympic benches include these.
Storage horns are great for adding some extra weight to light Olympic benches.
Once loaded with your weight plates, you can easily add an additional 100lb of weight to the bench which helps a ton with stability plus it keeps your plates off of the floor and closer to the barbell on the rack.
However, if you have some DIY skills, I've known many guys to simply make their own storage horns and weld them onto the back of their power racks for plate storage; there's no reason you couldn't do the same on an Olympic bench.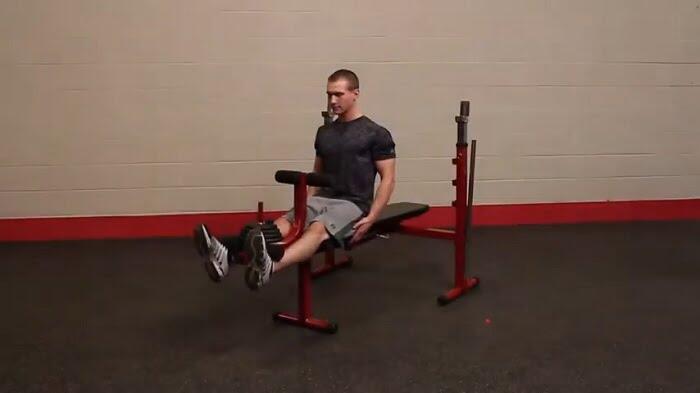 Weight Capacity – 300lb?
Body-Solid has stated a 300lb max capacity. When I first saw this, I thought they must mean the max load weight, not including body weight. But when you consider this is a budget bench for beginners 300lb starts to sound realistic?
However 300lb is on the low side even for a $250 bench Olympic bench. I've searched everywhere for an official weight capacity for this bench but got nowhere, and getting hold Body-Solid is notoriously difficult sometimes. They take months to answer if they do.
The only advice I can offer you on this bench's capacity is that I've seen Olympic benches with lower-quality builds than this one that offer higher weight capacities of 500-600lb. So I'd think this bench should go beyond 300lb with ease.
A few guys out there have taken the Body-Solid Best Fitness BF0B10 over 450lb and haven't had any issues.
No Safty Features!
Sadly you won't find spoter bars on this Olympic bench or most of the other budget Olympic benches, which means zero safety; you'll need to spend around $100 more if you want a bench with spotter bars and an adjustable seat. The Marcy Diamond Elite is a good choice.
So you'll need to be careful if you dont want to get pinned under the barbell when pressing, or you could train with a spotting partner.
Assembly
Most people found assembly to be easy with all the parts fitting together perfectly. Detailed illustrated instructions are included. Average build time between one and two hours.
High quality build for price point
Great low-cost choice for beginners who want to add some compound barbell movements to their workout routines
Relatively easy to assemble
Accommodates 6ft and 7ft barbells
No adjustable seat for support when incline pressing
No spotter bars for safety
No decline or near-vertical for seated shoulder presses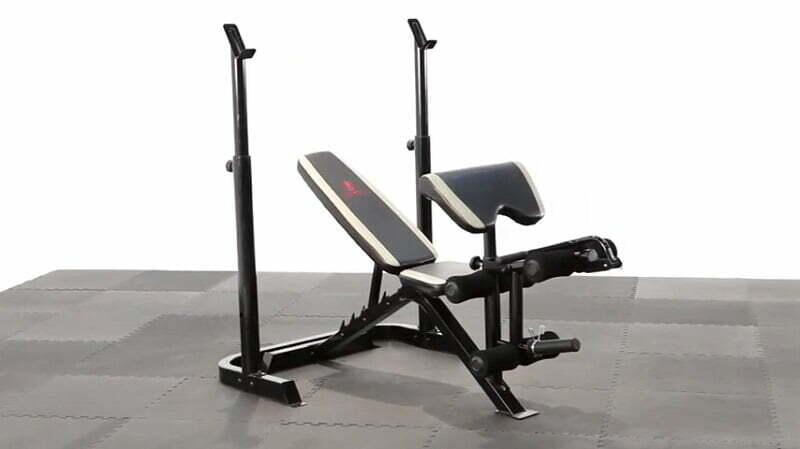 Marcy MD-879 Olympic Bench
Marcy are a company known for building high quality gym gear at low prices these guys are the king of budget. I've always liked their gym gear because it offers excellent value for money and the Marcy MD-879 is no exception.
This Olmjyic bench is a little different from the Body-Solid because it's a two-piece set which means the rack and the bench are separate.
Having a separate bench and rack has a couple of benefits. You can use the rack separately for walk-in squats, and two, you can also use the bench independently from the rack, which opens up a few more exercises.
But what I like most about this bench is it's a full FID bench. We have decline, flat, and near-vertical for shoulder presses, plus the bench uses a ladder adjustment system.
Ladder adjustment systems are faster to adjust,  sturdy, and can handle heavier weight loads than the pull pin type, great to see featured on a budget Olympic bench.
We also have high density foam padding for the beach. This is the good stuff its not too hard to be off-putting or too soft to cause stability issues. It's just right for our pressing needs.
The Marcy bench boasts a  600lb weight capacity, 600lb combined for the beach and 300lb for the rack. And with a 97lb weight and decent quality welds I'm sure the Marcy could handle close to its max capacity.
This is another excellent Olympic bench for beginners and intermediates. It won't quite have the stability of the one-piece Body-Solid bench, but you do get the option of having a separate squat rack which I'm sure may persuade a few people to buy this instead of the Body-Solid.
Plus, the Marcy bench is more versatile than the Body-Solid, with six back pad positions.
Price, surprisingly, the Marcy costs slightly less than the Body-Solid bench. A bargin or for any beginner or intermidate looking for their first two-piece Olympic weight bench.
To Sum Up
The Body-Solid Best Fitness Bench BFOB10 is excellent value for money. It lacks a few features, which is to be expected in this price bracket, such as an adjustable seat and spotter bars, but makes up for it with the usual impressive build quality you expect from these guys.
And heck, if you want a folding Olympic weight bench, I've never come across another one, so if you need that feature, this bench is your perfect low-cost choice.
The only disappointment worth a mention was the number of back pad angles. 3 is disappointing even for a cheap bench. It's not a deal-breaker, but when you compare it to benches like the Marcy that offer decline, a near-vertical and boast lower price tags, you feel Body-Solid may need to update this bench to catch up with the competition.