Body-Solid Pro Lat Machine GLM83
There's a whole load of people weight training in their garages and basements who are missing out on a few essential constant resistance exercises.
Lat pulls, cable rows, tricep pushdowns are excellent exercises for adding mass to the back and triceps; exercises you do not want to miss out on just because you're weightlifting at home.
Usually, I'd recommend buying a power rack that comes with a high/low pulley built-in.
But if you don't own a power rack with a pulley, or you bought a power rack, and there's no option to add a pulley, you're going to need to get hold of a separate lat pulldown machine to reap the benefits of constant resistance.
Luckily there are a few decent ones for under $600, even commercial grade at this price.
One of those machines is the commercially rated Body-Solid Pro Lat Pulldown Machine, one of the best lat pulldown machines for under $1k that comes with a full lifetime commercial warranty. Today we're going to take a close look at this capable machine.
Product dimensions –    60″ L x 32″ W x 82″ H
Compatible with- standard 1″ plates
Frame – Heavy duty steel tubing
Warrany – Lifetime on everything
Why Do We Like The Body-Solid Pro Lat Pulldown Machine?
One of the most useful features that comes with the Pro lat machine is the no cable change technology. It's a time-saving feature that allows you to quickly move from high pulls to low pulls without the need to mess around changing over the cables.
The no cable changing feature keeps training on this thing simple and thats what we like, simple, is always best when your lifting.
Lifetime Warranty on Everything
What I was impressed to see was the lifetime warranty on everything. Typically, companies that produce gym gear such as power racks, smith machines, lat pulls, only provide lifetime warranties on the frame, but to include the pulley's, etc. is excellent.
Once you got this thing home and built, you'll never have to worry about paying out for expensive repair bills.
And surprisingly the warranty doesn't end at home. The Body-Solid Pro Lat Pulldown GLM83 warranty is also valid for commercial use.
Both full warranties show the confidence Body-Solid has in their gym gear; it's not often you come across a company that backs their products to this extent, it's great to see and should give you a lot of reassurance when purchasing.
Weight Capacity
300lb weight capacity is impressive for a machine costing around $600; it makes the GLM83 not only appealing to beginners but also seasoned lifters.
Some lat pull machines come with low max capacities heck, I've seen a few with 160lb max capacity, which is ok if you are a beginner, but even then, you need to remember as the months go by your strength will increase.
So, yes, cheap low capacity machines may be ok for a few months, but if you have the budget and take your lifting seriously, I'd recommend to at least go for a machine that can take 250-300lb of weight.
Pulley Cables can Break!
Unless your going to splash out a couple of grand on a lat pulldown machine, you will without a doubt at some point in the life of your lat pulldown machine have to deal with the odd broken cable.
This isn't a huge deal and shouldn't put you off buying a lat pulldown machine, yes when a cable does decide to go, and it's loaded with your weight plates, it can be a little scary, but it's not something that happens very often and its an easy fix.
One user of the Body-Solid saw his first cable break after six years of use, that's impressive for a machine costing under $1k and the cable was replaced by Body-Solid no questions asked.
Even if you don't have an excellent warranty as you do with the Body-Solid, cables aren't overly expensive and only take an hour two to replace.
So, if you hear horror stories of cables breaking and people in shock that a cable could break on their precious machine, take most of what you hear with a pinch of salt. Cables break, bushings wear, it's all part of owning Lat pulls and smith machines, etc.
Like I said, if you're not prepared to pay $2k +, you need to expect to carry out a little maintenance on your gym gear! At least with the Body-Solid, you'll never have to pay another cent for replacement parts. Nice!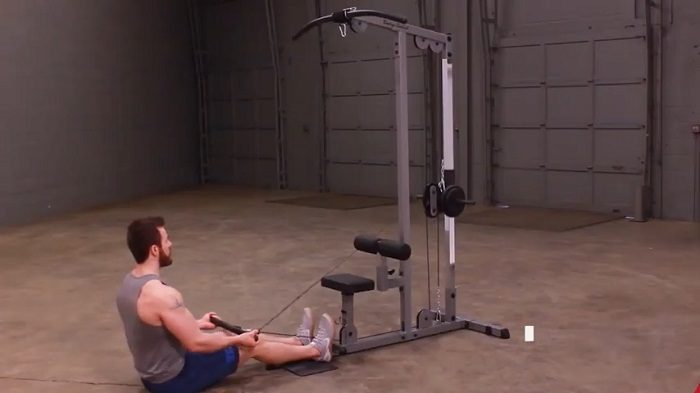 When it comes to building an impressive physique, your lats should be your primary focus. You'll see a ton of guys with huge arms and chest but an undeveloped back.
If you want the powerfull V taper look, you'll need to work your lats hard, the same for goes for women as nicely developed lats give the illusion of a slim waistline.
Chin-ups are an excellent exercise for building up your lats, especially wide grip chin ups but form can be comprised when performing chin-ups.
A lat pulldown machine forces you to train using correct form. If you want to build enviable lats. The pull-down is the exercise for you.
Lat machines are also great for beginners who haven't quite built the strength up to perform chin-ups or wide grip lat pulldowns; why? Because you can perform underhand grip pulldowns.
Underhand grip pulldowns engage the biceps, which aids with pulldowns until you have built up the strength to go wide grip.
Low Pulley
If you can get hold of a machine that includes both a high a low pulley, it will open up a few other invaluable exercises such as seated rows, standing bicep curls, and front raises.
Seated rows work your traps, lats, rear deltoids biceps, and forearms. If you want to build some thickness to your back to pronounce detail in a lat spread, seated rows are one of the best exercises for the job.
Height Restrictions
Around 6'1″ is the height restriction of the Body-Solid Pro Lat Pulldown machine. Full range of motion is of the utmost importance when exercising on one of these things, so you have to make sure you buy one which fits your body height.
Its a pain in the backside sending stuff back, so make sure to get it right the first time.
NB. One user said he's 6'4″ and had no issues achieving full range of motion for all exercises. Although from the research I have done, 6'1″ seems to be the upper limit.
No-Cable-Change Technology
Thick, comfortable DuraFirm™ seat pad
Seated Row Foot Brace for low pulley
8 position adjustable foam rollers. Help keep your feet planted to the floor and legs locked down (keep correct form) for high pulley lat work
Commercially rated + full lifetime warranty on everything
More expensive than the others but doesn't offer more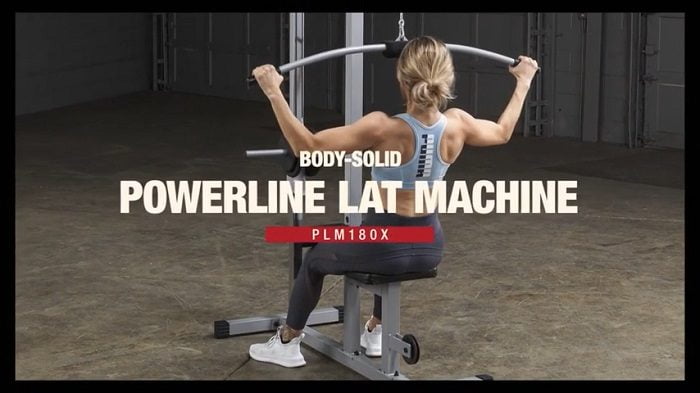 Powerline PLM180X Lat Machine
Powerlines 180X doesn't include 'no cable change technology,' but, for the price, the Powerline 180X lat pulldown is unbeatable. For around 300 bucks, this thing boasts a high/low pulley system, a 250lb weight capacity, and a nice solid build.
Many users have praised the smooth action of the pulley system, which is reassuring to hear, you should be able to get a clean and uninterrupted motion.
You haven't got the full lifetime warranty for this one; Powerline offer ten years frame 1-year parts. For an entry-level lat machine, that's sounds about standard.
Just like the Body-Solid, the Powerline can be plate loaded, and just like the Body-Solid, the weight plates are not included. 1″ plates are to be used with 180X although 2″ plates adapters can be used for your Olympic plates (sold separately)
A decent machine for beginners and intermediate, what sells this machine is the build quality and weight capacity. Many machines at this price usually suffer from unstable builds and low weight capacities.
The only real let down I can see for this machine is the leg holders for the Lat pull with only two positons. It's not a deal-breaker, but for bigger guys, this could be quite uncomfortable.
To Sum Up
The Body-Solid Pro Lat Pulldown Machine has everything you want from a lat pull machine, including adjustable leg supports for the Lat Pulldown, 300lb weight capacity, and a high/low pulley. You don't even have to mess around moving the seat to access the low pulley.
Plus, the addition of the 'no cable change tech' makes this one of the fastest machines to go from high to low exercises.
Body-Solid is a trusted company in the home gym space they've been around for years and are well known for their excellent customer service and generous warranties.
A full lifetime warranty on everything only means one thing! You'll never have to buy another lat pulldown machine.