A heavy-duty slick-looking lat pulldown machine is my first impression of the Powertec Lat Pulldown Machine.
Built from heavy gauged steel and boasting the highest weight capacity of any lat pull under the $1k mark, the Powertec P-LM  lat pulldown machine offers all levels of user from beginner to the more serious the option of adding content resistance exercises to their weight training routines.
Constant Resistant Exercises Essential For Maximal Hypertrophy.
There's a ton of weight trainers lifting at home who are missing out on constant resistant exercises.
Many of you will know just how beneficial constant resistant exercises can be to any weight training routine. Still, because you made the transition from local to a home gym, you are missing out on a few vital exercises for back, shoulders, and triceps.
If you want ultimate success in hypertrophy training, you are going to need to weave both modes of resistance Free weights and Cable into your routines. You can only achieve this if you get hold of a decent pulley system for your home gym.
High weight capacity is essential when we look for a lat pull, so to is a stable heavy gauged frame. Thankfully the Powertec incorporates both. And for those very two reasons, the Powertec lat tower is worth taking a closer look at.
In this review were take a close look at the capable Powertec lat pulldown. I'll also compare it with a similar spec rack. First, let's take a quick look at the product specs!
Product dimensions –  (LxWxH): 55.3 x 39.3 x 82.1
Compatible with- Olympic 2″ plates
Max lifted load weight – 500lb
Frame – Heavy duty steel tubing
High & Low pulley stations – bearings & bushings
What Do We Like About The Powertec Lat Pulldown Machine
Powertec has been around for a couple of decades; they're known well for building high-quality home gym gear. I've reviewed a few of their products, and they never fail to impress. Most of their gear is just off commercial-grade, heavy-duty but never quite close enough to earn a commercial badge, and the Powertec lat pull is no exception.
This thing has been built to take pretty much anything you can throw at. It has a heavy-duty 12 gauge steel frame, quality steel bearing pulleys, and an impressive max capacity of 500lb.
In other words, the Powertec has been built for people serious about their weight training. The best feature of this rack is its solid build. It weighs close to 170lb, which is good going for a lat pull machine.
Extra weight not only helps a ton with the stability; it's also a telling sign of the quality of materials used in the build. The Powertec is 50lb heavier than both the Body-Solid Pro and the Xmark lat pulldowns. (Powertecs closest rivals)
We want to get as close to tank-like as possible when buying any heavy-duty gym gear. The Powertec is about as near to commercial-grade as you are going to get in the under $1k. With a few users praising the machine saying it felt similar to the lat pulldowns they have used in their local gyms. Good to hear!
Plates Vs. Stacks
Weight stacks are the gold standard when we look at lat pulldown machines for our home gyms. Why? Because they allow us to quickly change the weight by removing the selector pin.
This is great if you want to incorporate advanced training techniques such as drop sets into your routine, but and its a big but weight stacks are expensive.
Not only are weight stacks expensive, nearly all weight stacks top out at around 200lb, which ok if you are a beginner or intermediate lifter, but for many seasoned lifters, a 200lb max capacity won't be enough.
Plate loading machines, although slower to adjust, almost always come with higher weight capacities. Heck, you can even pick up a budget plate loaded lat pull machine which has a 250lb capacity.
If your serious about lifting and want a machine to grow with your strength gains, you are going to be looking for a machine with a minimum of 300lb, so for many of you, weight stacks are out.
However, even the Pros among us don't need over 200lb for all exercises, which is why I kind of like the option Powertec has with their machine.
The Powertec not only has an impressive max plate load capacity of 500lb; they also give you the option of buying a 190lb weight stack. For those of you who can't live without cable drop sets, at least the weight stack option is there if you should need it.
For most of us who can live without cable drop sets, the 500lb max capacity should prove enough for any level weight trainer. It's the highest in this price range, and you'll need your own set of 2″ Olympic plates; no 1″ option with this machine.
Assembly
Assembly shouldn't take to long with this one a few basic tools a couple of hours work, and you should be done. Two people recommended, clear instructions are included, but just in case you're finding it hard going, here's a build video!
High quality pulley – smooth motion
Impressive max capacity 500lb
Adjusted lower seat – Increased range of motion even for tall users upto 6'3″
Stacking system too expensive
Alternative & Comparison Table
Editors Choice
Powertec Lat Pulldown
Weight – 175lb

Adjustable Leg Holders – Yes

Max Weight Load – 500lb

Rating – 4.5/5
Weight – 101b

Adjustable Leg Holders – Yes

Max Weight Load – 300lb

Rating – 4/5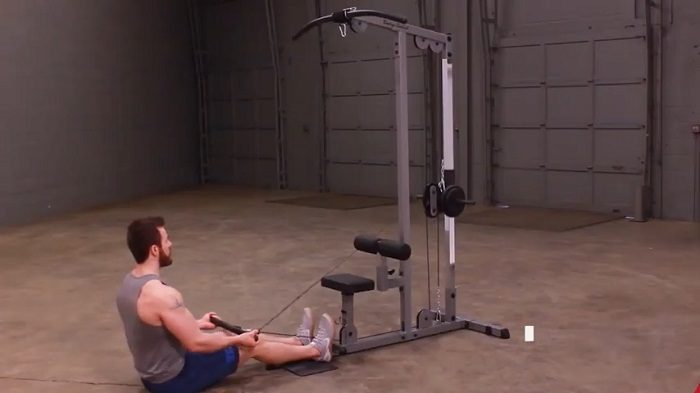 Body-Solid Pro Lat Machine
For under $700, you will not find much better out there than Body-Solids GLM83 Lat Pulldown Machine. Just like the Powertec the Body-Solid Pro boasts a solid build, high-quality pulleys and has been designed to accommodate users up to 6'3″,
This one doesn't quite have the heavy-duty feel of the Powertec, but it's still one of the most robust lat pulls your going to find, backed by a full lifetime warranty on everything, yes, everything even the pulleys! The Body-Solid Lat Machine offers a lifetime of cable exercises.
Not only that, Body-Solid even rate this thing good enough for commercial use, so they have given it a full commercial warranty too. Sure does show the confidence Body-Solid has in this machine.
There no option for a weight stack with GLM83; you'll have to be happy with plates for this one, but its been designed to take both 1″ and 2″ Olympic plates. (Olympic adaptors available separately)
What I liked most about the Body-Solid Lat Machine is the 'no cable change technology,' you won't have to mess around changing over cables in the middle of your workout, you can go from high to low pulley effortlessly.
The only drawback of the Body-Solid is the 300lb max load capacity; for most, this shouldn't be an issue. 300lb is easy enough for most beginners and intermediate weight trainers. If you are a seasoned weight trainer, you may be better off with the more heavy-duty Powertec.
To Sum Up
There wasn't much I didn't like about the Powertec Lat Pulldown Machine, ok it's expensive, but you pay for what you get. The Powertec weighs 175lb its heavy-duty and going to last. The 500lb max capacity means you won't be outgrowing the Powertec anytime soon.
People who have purchased it love it, praising the sturdy feel and smooth pulleys.  Nice to have the option of a weight stack, but frankly I'd save a few bucks this thing works well as it is there's no real need to throw any more cash at.