The shoulders and back can never be overworked! You'll see a ton of guys with disproportionately large arms and pecs, but when it comes to the back, it's usually this area where they lack any true development.
The V taper looks to distinguish the best physiques from the shapeless masses.
For decades guys have sweated hard in the gym so they can show off their impressive lat spreads. But free weights movements alone are not enough. If you want to achieve the V – taper look, you're going to need a mix of constant resistant exercises (cable) and free weights.
Lat pulldowns are one of the best cable exercises for achieving the desired V-taper physique, and it's one of a few back exercises many of us miss who have gone from training at a local gym to training a home.
A decent cable pulley system for home is a must if your serious about your weight training and developing impressive lats.
Best Mid-Level Lat Pulldown Machine?
Something like the Valor Fitness CB 12 should do the job well, it's not commercial grade nor is it a lightweight budget lat pulldown machine, this thing sits in and around the mid-level range. The CB 12 is one of the best I've come across in the under $300. The Valor offers more than some machines costing twice as much.
Before we get into the review, let's take a quick look at the product specs.
Product dimensions –  57.5″L x 23.5″W x 80″H inches
Compatible with- standard 1″ plates – Olympic 2″ adaptors available (sold separately)
Max Lifted load weight – 250lb
Frame – Heavy duty 2″ x 2″ 12 gauge powder coated steel 
High – Mid – Low pulley stations
What Do We Like About the Valor Fitness CB 12?
I've reviewed a whole load of Valor fitness gear, and what usually stands out most from this company is just how well built their gym gear is. Their power racks are a cut above the rest in the entry-level range, and so too is this lat machine.
Ok, this lat machine isn't commercial grade, but it's not far off, 12 gauge steel isn't bad at all at this price it will give the CB 12 lat pull enough weight to help with stability and will prove to be far more durable than the cheaper light gauged budget lats pulls.
Powerlines PLM180X comes in at around the same price as this one and weighs 20 pounds less because it uses 14 gauge steel for the build. 20lb doesn't sound like much, but it does make a difference.
We want as much weight as possible when buying a lat pull machine because not only does the extra weight help with stability, but it's also a telling sign of the quality of the materials used for the build.
Plate Holders
And what I really liked about the Valor is thought to include weight plate holders, something both the Powerline PLM180X and the Body-Solid Pro lack.
Why are plate holders so important? Firstly they help keep your plates off the floor, and secondly, you can load them up with your weight plates (evenly each side) to add some extra weight and stability to the machine.
The last thing you need is for your pat pull to be sliding or lifting off the ground when you're in the middle of the workout — big thumbs up to Valor for a solid build and the inclusion of plate holders.
Stacks Vs. Plates
The gold standard for lat pull machines is weight stack systems. However, as they say, there is no free lunch. Weight-stack systems are far more expensive than their weight plate counterparts.
Additionally, most of the home-based weight stack units top out at 200lb, which is 50lb less than the CB-12's 250lb capacity. So, although faster to adjust, home stacking systems come with their drawbacks. Save yourself a few hundred bucks and stick with weight plates and higher capacity machines!
Adjustable Seat
I was surprised to see an adjustable seat at this price; usually in this price bracket, we only see the adjustable leg rollers. The seat adjusts to four height positions allowing for users with a height of 6'3″ to achieve full range of motion.
Another nice touch from Valor is the high-density duel layered padded seat – High density is the keyword here!
High density is the gold standard of padding for weight benches lat pulls etc. Its the good stuff, it's not too hard to feel uncomfortable or too soft to cause stability issues, high-density padding provides you a stable base to weight train from.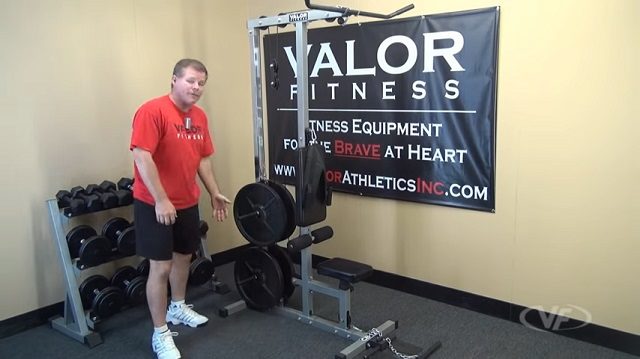 High & Low Pulley System
Not all us can afford a seperate low and high pulley machine for our home gyms, so the next best thing we can get our hands on is a cable machine that includes both an upper pulley for lat pull downs and tricep pushdowns plus a low pulley for seated rows etc.
Thankfully the CB-12 incorporates both, but that's not all; this versatile machine also includes a mid-level pulley and the ab crunch station with a harness. 
Yes, this machine offers a ton of features-an impressive weight capacity, a light commercial build, but there are always a few issues when buying home pulley systems, especially when we are paying low prices.
Cables break, bearings, bushings wear and need replacing, this is something that will happen to CB 12 lat pull at some time in its lifespan. It's not a deal killer, but its something you must expect when paying low prices for home gym gear. And pulley systems are notorious for operating issues.
On the positive side, cables are easy to replace as to are the bearing and bushing systems. Two hours' work one afternoon is all it takes. It's not something that will happen every month, more like once every few years or so.
From the many hours of research I have put into the CB-12, it seems to have fewer issues than most regarding the pulley systems, with most users praising the smooth feel of the pulley system, which is great to hear, and no one so far reporting cable breaks.
And for a lat pull at this price to receive a 4.5-star average from over 120 users is in one word 'excellent.'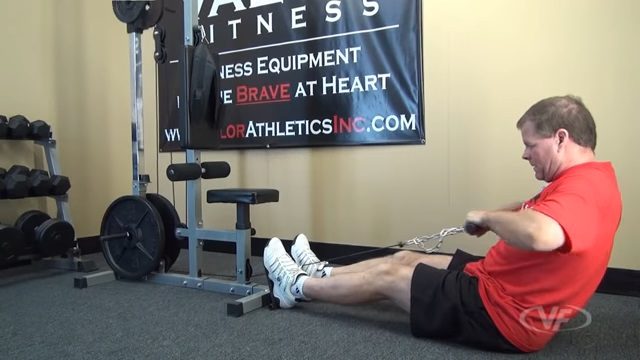 Will The CB-12 Suit My Needs?
The CB-12 is a cable pulley system that allows us to perform a large variety of exercises for the back, arms, and shoulders using constant resistance. If you want to have success in hypertrophy training, you will need both free weight (accommodating) and cables (constant).
So yeah, owning a high low pulley station such as the Valor Fitness CB-12 should suit most people's needs if you're looking to add muscle mass and thickness to your back. Weaving both modes of resistance into your training is one of the keys to ultimate success in muscle building.
Weight capacity is also important when choosing one of these things as the more you train, the stronger you will get. You want a machine that can grow with you. You don't want to be left having to buy another lat pull a year down the line.
A 250lb weight capacity should be enough to keep most beginners and intermediate weight trainers happy for many years.
Seasoned lifters may need to look for a commercial grade machine with a 300lb+ capacity.
Excellent load capacity of 250lb
High – Mid – Low pulleys, including an AB crunch station
Heavy-duty nylon pulleys, with sealed ball bearings
Versitile perform more than 25 exercises
Come with weight plate holder (increase machine stability & keeps plates close to loading points)
Olympic sleeve adapters for the load carriage are not included
Alternative & Comparison Table
Editors Choice
Valor CB-12
Weight – 84lb

Adjustable Seat

Max Weight Load – 250lb

Rating – 4.5/5
Weight – 69lb

Adjustable seat

Max Weight Load – 250lb

Rating – 4/5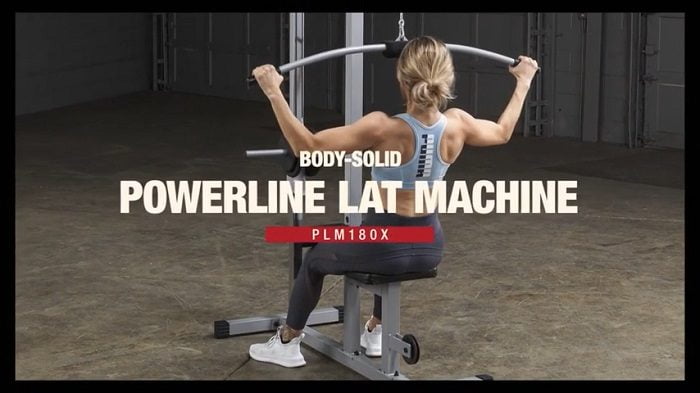 Powerline Lat Machine PLM-180X
Powerlines PLM180X is the Valor's closest rival both in price and features. The Powerline is very similar to the Valor. Both boast high and low lat pulls both are of similar build quality, and both machines come with long warranties.
However there are a few essential features the Powerline is missing, there's no adjustable seat with the Powerline, all you have here is a dual position leg holder, which could be limiting for some users.
If you're after comfort, an adjustable seat is always a better choice. Full range of motion is particularly important when performing lat pulldowns; finding a machine that fits your body height is key.
Another important feature the PLM 180 lacks is any plate holders, as we mentioned earlier plate holders are great for giving the lat pull the extra stability it needs.
But when it comes to building quality, this thing shines. Powder-coated heavy-duty steel frame, 250lb capacity, decent pulleys, and a comfortable padded seat. All backed by Powerlines in house warranty.
The PLM180 has been around for a few years now, and the majority of people who have purchased it have left positive reviews. There's 3 or 4 very good lat pulls in this price bracket, and the Powerline is amongst them.
The Plm180X doesn't quite match up to the Valor when it comes to features, but overall it's a solid piece of equipment at a very reasonable price.
To Sum Up
To see such well-built lat pull in this price range was a surprise.
A 12 gauge powder coated heavy duty frame for under $300 is excellent; not only is the build robust, but the features are also strong selling points with high, low, and mid pulleys plus an ab cruncher thrown in. You get a lot of bang for your buck with the Valor.
If you have been looking for a lat pull machine to add constant resistance exercises to your workout routine, there is no better out there in this price range than Valor's CB-12 Lat Pulldown. Excellent build quality, useful features, and built by a reputable company. I'm sure once you get this one home and built, you will not be disappointed!