PowerLine PLM180X Lat Machine 
Seated cable rows are an exercise that builds thickness in your lower and upper back as well as the width of your back (lats). It's an exercise that should be part of everybody's bodybuilding routine, especially those who want to build a powerful physique.
For most of us who made the transition from working out at our local gyms to lifting at home, exercises such as the seated row, lat pull, and tricep pushdowns are exercises many of us miss.
Yeah, we got away from crowded gyms, but the last thing we want to do is go backward with our weight training; after all the key to ultimate success in hypertrophy training is being able to weave the two modes of resistance into our training programs free weights (accommodating) and cable (constant)
However, we can only combine both modes of resistance training if we get hold of a decent cable-based pulley system for our home gyms.
Like many when I moved from a commercial gym to lifting at home I thought a cable machine (a decent one was going to set me back a couple of grand) Thankfully that wasn't the case, in fact, there are a ton of well-built cable machines out there for under $500.
And one of the best entry-level cable machines I've come across is the Powerline PLM180X lat pulldown machine.
High Duty Build – Best Under $300
Being able to get your hands on a machine with both a high and low pulley for under $300 is a great deal. It opens up a whole load of constant resistance exercises, even for those on a budget.
Let's take a quick look at the product specs then we'll take a closer look at the capable PLM180X.
Product dimensions –  80″H x 48″L x 25 W
Compatible with 1″ standard weight plates (Olympic adaptors available)
Frame – Heavy duty steel tubing
Warranty – 10yr frame 1 yrparts
Why Do We Like The Powerline PLM180X Lat Pulldown Machine?
The weight capacity is what sells the PLM180 for me. 250lb for a budget-friendly lat pulldown machine is impressive. I've seen machines costing twice as much as the Powerline only offering 200lb max capacity.
And the guys over at Body-Solid (powerline) aren't the sort of company that throws out high weight capacities to sell their products. If Body-Solid says it will take 250lb worth of loaded plates, then it will.
The Powerline PLM180 has a surprisingly sturdy frame for the price, with many users praising how solid this thing feels when they are lifting heavy. Ok, it's not a commercially rated machine, it's far from that, but for home use, it's easily good enough and will last years of heavy use.
Weight Plates
The Powerline uses 1″ weight plates to create resistance which need to be purchased separately unless you have a load at home. It can also be used with Olympic plates. You'll have to get hold of a couple of 2″ Olympic adaptors.
At this price, you won't come across weight stacks for resistance. Weight stacks are the gold standard for pulley machines, but you'll need, in most cases, a grand or so for a machine with a weight stack system.
The downside to a weight plate set up is speed (the amount of time it takes to change over weight plates) it's a pain if you want to incorporate drop sets into your routine.
Weight stacks are super quick to adjust. Just pull out the selector pin to change resistance strength; weight stacks are the preferred choice for advanced lifters, especially those who wish to perform drop sets or Russian ladders.
On the flip side, weight plate systems do have their advantages. Not only is a weight plate system around 3rd of the price of a stacking system. Most home gym stacking systems total out at a max capacity of 200lb, even the ones costing 2k or so!
So when we look at a $300 machine such as the PLM180X, it offers the same if not more weight capacity than most high-end stacking machines. This makes the 180X appealing not only to beginners but to seasoned lifters aswell. We can live without cable drop sets!
High & Low Pulleys
If you haven't got the cash to buy separate high and low pulley machines, the next best thing is a machine that offers both. If you want to add thickness to your back, then a low pulley is essential for performing seated rows.
The back can be notoriously hard to develop; it takes more work than the biceps or chest. Wide grip pull-ups are great for building up strength and size in the lats, but form is often compromised when performing pull-ups.
A wide grip using a lat pulldown machine will work the same muscles as doing a pull up except you are forced to keep correct form.
Also, a lat pulldown machine can be handy for those of you who haven't quite built the strength up to perform pull-ups or wide grip pulldowns.
Using the lat pulldown, you can instead use an underhand grip. This exercise engages the biceps, which aids in the pulldown. Its excellent preparation for anyone who wants to build themselves up to pull-ups and wide grip pulldowns.
Lat Pulldowns and seated rows are probably the two most important constant resistant exercises that add muscle mass fast.
There are still numerous others to take advantage of. Tricpe pulldowns are one of my favorites. The pushdown is a great exercise that works all three heads of the tricep and an exercise you can not duplicate with free weights.
There's an excellent book written by Bill Pearl, "Keys to the Inner Universe, where he provides illustrations and descriptions of hundreds of cable-based exercises. It's well worth a look when you have the time!
Stability
This isn't a tank of a machine, nor is it commercial grade. What it is, is a well built durable machine. Powder costed heavy-duty steel, well Powerline says heavy-duty, this thing only weighs 69lb so its made from light gaged steel not heavy.
Heavy gauge steel is 11 gauge and under, this looks more like 14 gauge, which is fine for home use and strong enough to take most you can throw at.
Stability-wise we'd like to see it a little heavier. Weight is a deciding factor when it comes to the stability of home gym gear, especially stuff like power racks, lat pulls, smith machines, etc. at 69lb we're on the light side.
However, the PML180X does have wide stabilizing feet at either end of the machine. This is going to help a lot with any wobble; the feet are also capped to hep stop the machine sliding on hard floors. The capped feet also do a good job of protecting your hard floors.
Most users have praised the machine saying it's a solid piece of equipment for the price, with a few saying you only run into problems when performing standing curls as the frame tends to lift a little. This is a known issue with lightweight lat pulls its not a deal killer by a long way.
Its a shame there aren't any weight plate holders because not only do they keep your plates off the floor, they also add some extra weight and stability to the machine, but at this price, we can't expect too much.
Height Restrictions
A quick mention of the height limit. From the research I've carried out on this machine and few very similar ones, the height limit seems to be around 6'2″ although a couple of 6'4″ guys said they could achieve full range of motion for all exercises.
Returning these things is a pain in the butt, so make sure you purchase one that fits your body well. Remember, the PML180X doesn't include an adjustable seat.
Solid build for price point
Includes wide-grip pulldown bar and low row bar
Olympic sleeve adapters not included
Not suitable for users over 6'3″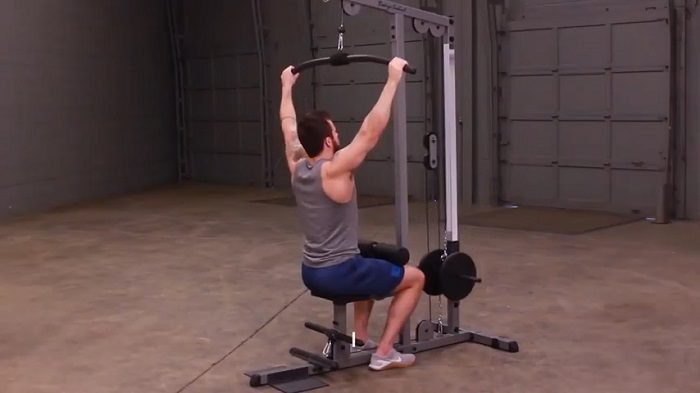 The Body-Solid Pro Lat Pulldown Machine
The Body-Solid Pro lat Pull is the next step up from the PLM180X. The Pro version features a heavier more robust frame, the frames weighs around 100lb and gives the Body-Solid Pro a more solid feel.
But the main selling feature of the Pro is its no cable change technology. If you want to change quicky from high to low pulls you can theres no messing around switching cables.
What's also handy about the Pro is not having to move the seat when you want to perform low pulley exercises. These extra features save time when you're working out which is appealing to many lifters who like their training to be as simple and hassle-free as possible.
Another useful feature is the 8 position leg holder, far more versatile than the dual position of the Powerline. Allowing for a comfortable fit for all users.
And lastly, the Body-Solid Pro comes with a lifetime warranty on everything. You'll never have to pay for any expensive repair bills when owning this excellent pulley station.
One of the best high/low pulley available Body-Solid's warranty for this machine is also valid for commercial use which surprised me. These guys certainly have a lot of confidence in their gym gear. It's not often you see a company offering such generous warranties.
$600 for the Pro is a great price for a lat pull with a full lifetime commercial warranty.
To Sum Up
The Powerline PLM180X Lat Pulldown Machine is an affordable choice for weight trainers at home who are missing constant resistance exercises from their lifting routines.
For an entry-level machine, this thing boasts an excellent 250lb weight capacity and a surprisingly smooth running pulley system. I couldn't find many bad points about this machine apart from the short warranty on parts. I would have liked to of seen a 3yr instead of a 1yr.
Overall a well-built, solid lat machine the best in its price bracket? Yes!
An impressive high/low lat pull that should last years of heavy use.