Smith Machines are our Spotters
Home Gym Smith Machines are, in a sense, our spotters or training partners, smith machines are purposefully built to let you lift heavy in relative safety.
Not only do most smith machines include numerous catch points for the bar, but they also include a secondary safety feature the catches. If you want to lift super heavy, you can…with no fear of the bar crushing you.
Beginners will love them too. There's no need to worry about balance "keeping the bar steady."
Smith machines provide all who use them a safe and steady option for compound lifts. "And we all know there's no faster way to add muscle mass than with compound exercises."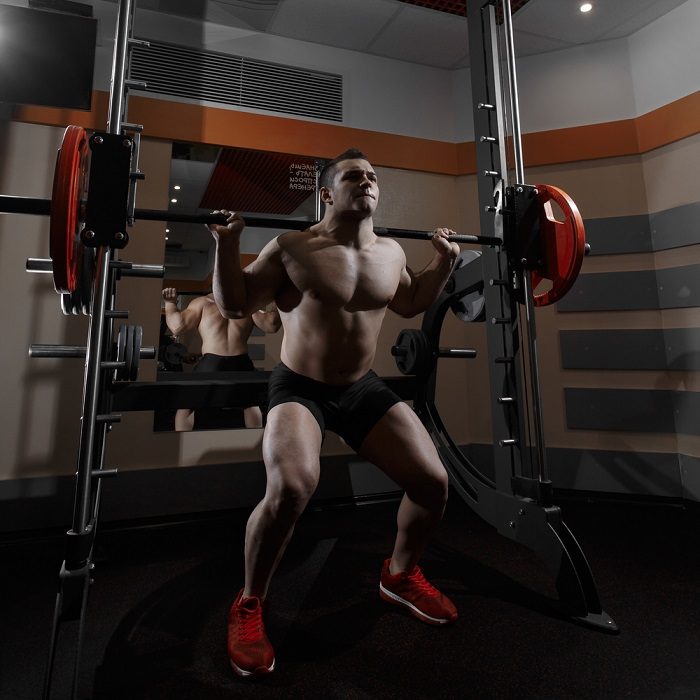 Smooth Gliding Barbell – Essential For a Commercial Feel.
 You'll be amazed how many people buy a smith machine or an all-in-one jobby only to realize they purchased a smith machine with a sticking bar; the No.1 problem we run into when purchasing home gym smith machines.
A smooth gliding barbell is vital if you want your smith machine to feel anything close to a commercial grade.
I've used a ton of smith machines over the last twenty years or so, and I can tell you the difference between a smith machine with a smooth gliding barbell, and one that starts to stick is huge!
Linear bearings are what we look for; they are the gold standard for smith machines. They allow the bar to travel smoothly across the guide rails and give the commercial feel we're looking for.
Avoid bushings if you can, bushings are the nasty operating systems that are responsible for the barbell sticking on many budget machines. Not only dangerous but can be downright offputting when lifting.
Gun Racks
Many smith machines also come equipped with gun racks (free weight racks) at the front. These allow you to add a few free weight exercises to your routine, essential for activating your stabilizer muscles something a smith machine on its own can not do.
 Comparison Table & Reviews
Today we're going to have a look at the best smith machines on the market right now!
We take a close look at the best Stand-Alone Smith Machine. Stand Alone machines are for you guys who are looking for just a smith machine, old school, no-fuss, heavy-duty smith machines.
We will also look at the best All-In-One- Package. The All-In One packages are the smith machines that come kitted out with a ton of other stuff such as pulleys, benches, pecs decs etc. Also, known as All-In- One Home gyms
And Lastly, we'll look at the Best of The Rest, a few excellent machines that didn't quite make it to the top spots.
Best Stand Alone (our choice)
Valor Fitness BE-11
Weight – 258lb

Linera Bearings – Yes

High/Low Pulley – No

Weight Capacity – 1000lb
Best ALL-In-One
Body-Solid Series 7
Weight – 743lb

Linera Bearings – Yes

High/Low Pulley – Yes

Weight Capacity – 600lb
Best of The Rest
Inspire Fitness Ft2
Weight – 825lb

Linera Bearings – Yes

High/Low Pulley – Yes

Weight Capacity – 420lb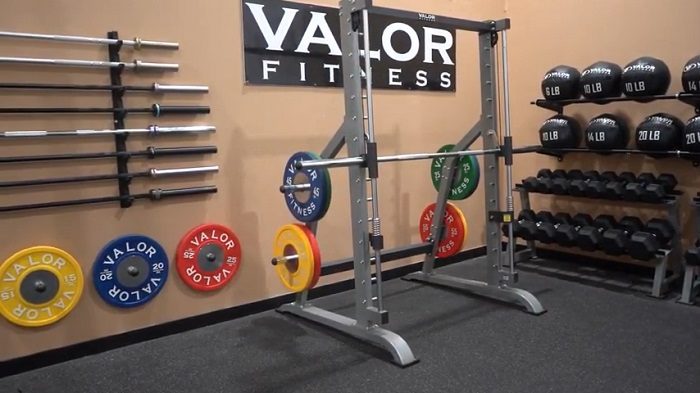 1. Valor Fitness BE-11 Smith Machine
By far, the best stand-alone smith machine out there ( for under $1k). The BE-11 is a no-fuss heavy-duty smith machine made by a company with a ton of experience in building high quality, heavyweight beasts for your home gym.
The Valor Smith Machine is much more like something you would see in your local gym. Its old school design is its selling point. A simple no bells and whistles machine, you get one thing only with this one, and that's a quality, light commercial grade machine.
What I liked most about this machine is it's weight capacity because at a 1000lb this thing has been built to suit all users from beginners to the more serious lifter. They'll be no outgrowing the Valor anytime soon.
Weighing in at 258lb; for a stand-alone machine that's pretty heavy and that's precisely what we want, the weight helps with stability. It is also a telling sign that this machine is built from quality materials. A 4″ x 2″ 12 gauge steel frame is evidence of this.
And another nice feature is the weight plate holders, you can load these up evenly with your weight plates, this will add extra 200lb-300lb weight to the Valour, the extra weight again will help with stability.
And if you want this thing rock solid, it wouldn't take too much hassle to bolt it to the floor, although I think by adding the weight plates, the Valor should be stable enough on its own.
One of only two stand-alone smith machines (under $1k) I've come across that utilizes liner bearings for a smooth traveling barbell, an absolute must if your serious about your lifting.
Many users praise how similar the Valor feels to machines they have used in commercial gyms, so a big thumbs up to Valor for providing linear bearings, and for under $1000, you start to realize what an excellent smith machine the Valor is.
The Valor provides a versatile 14 lockout points for the smith barbell, just a twist of the wrist on your final rep, and the bar will lock in place.
Most of the time, when it comes to weightlifting, simple is best, no pulleys to maintain and no unnecessary add-ons bumping up the price: nothing to distract you, just compound barbell lifting.
If you haven't got one already, try and get hold of a decent, heavy-duty bench and a set of dumbbells. You'll then have all you need for a full-body workout, at a 1/3 of the cost of something like The Inspire FT2 smith machine.
If you have been looking for a serious bit of kit to help you bulk up, you won't find much better than the Valor Fitness BE-11. Old School gym gear at its best!
Great price for a light commercial smith machine
Counter balance system sold separately
Only 80.5″ tall. Thus, taller users (over 6'5″) may not be able to perform proper calf raises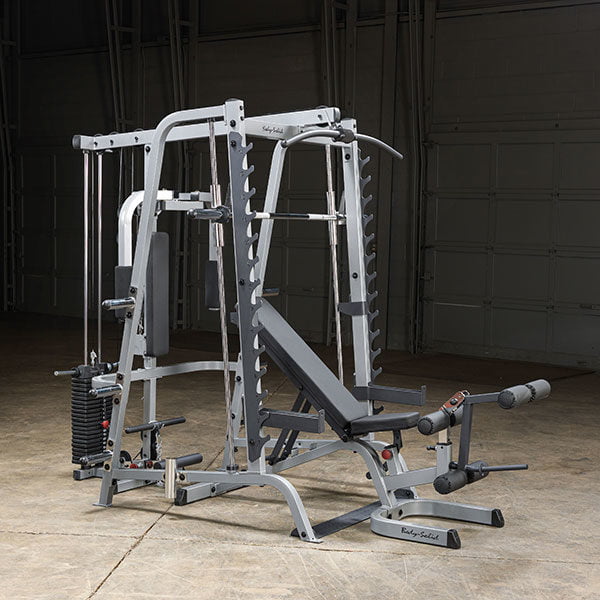 2. Body-Solid Series 7 Smith Machine
There's no denying it. This thing is huge! Make sure you measured out a suitable space for this beast. And it's heavy, really heavy at 743lb there's going to be no need to bolt this to the floor.
Plus, you have six weight plate holders; once they're loaded up, you're going to have a 1000lb monster of a home gym. You'll never have to worry about stability issues with this one!
All that weight means one thing, and that's quality! And the Body-Solid machine has it spades; the Series 7 is a commercial smith machine it's going to take all you can throw at it and more.
Built from 2″ x 3″ 11 gauge steel if you didn't know that's standard for commercial-grade, and to be honest, we should see that kind of quality at this price!
The smith machine on the Body-Solid Series 7 is excellent, linear bearings and 20 cross-member lock-out points for safety, it's all you can ask for and need. And unlike the Valor, the Series 7 has a gun rack built-in. Very useful if you want to combine some free weight compound lifts with assisted lifts from the smith.
600lb is the max capacity on the Body-Solid smith machine and for a home gym that's a high capacity with many home gym smith machines, only boasting 300-400lb max capacity on the barbell. Lifting heavy on this machine will not be an issue.
So far we know this machine is rock solid we also know it comes with a fantastic smith machine and gun rack, but it doesn't stop there.
You also get a high low pulley excellent for developing your back, plus they include a tricep bar for the upper pulley. You can perform tricep pushdowns, one of the best exercises for working all three heads of the tricep.
And what sets the Series seven apart from the other home gyms is the quality of the weight bench. Body-Solid is known for building robust, stable weight benches. I've reviewed a couple, and they never fail to impress, and the bench that comes with the Series 7 is no exception.
The Series 7 weight bench is a Full FID (flat, incline, decline) adjustable bench. Commercial grade with a 1000lb capacity a ton of back pad angles and the all-important adjustable seat.
Great to see an adjustable seat; this is going stop your butt from slipping in low inclined pressing angles, giving you a stable base to press from enhancing your pressing power.
The bench also comes with a leg curl attachment and preacher curl attachment.
Lastly, a full lifetime warranty on everything.
It's not often you see a lifetime warranty on everything, at best companies provide lifetime on the frame. Still, Body-Solid has gone one step further and provided a lifetime warranty on everything. Certainly shows Body-Solid has a lot of confidence in their products. Nice!
The Series 7 is a serious bit of kit, excellent for a full-body workout. It's also a machine that can grow with you, a 600lb capacity that should be enough to last most users a lifetime.
The Series 7 is the best home gym with a smith machine. I haven't come across anything else out there in the under 4k that comes close to this one — excellent machine from a well-respected company.
11 guage steel heavy duty frame – Solid, stable machine
Linear bearing smith machine – 600lb capacity
20 lockout point on the smith machine – 14 on the gun rack
High and low pulley system with 210lb weight stack + option to add more weight
Lifetime warranty on everything
Heavy duty FID weight bench with attachments
Adjustable safty catchers for both smith machine and free weight station
Large footprint takes up a lot of room
Assembly difficult takes two people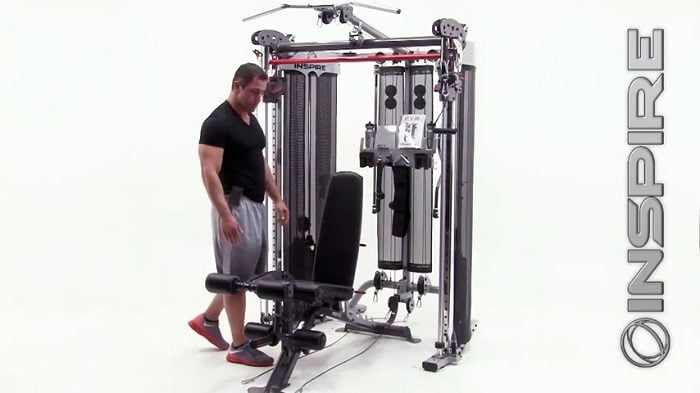 3. Inspire Fitness Ft2 Functional Trainer
This was the first time I'd seen a smith machine that uses weight stacks and pulleys to create resistance! No weight plates to load with this one; just use the magnetic selector pins to select your desired weight, and off you go!
So, weight stacks for the smith that's cool, yes, saves a ton of time loading the plates, it's a great feature unique to the Inspire Ft2, but and there's a but, this thing has 1:2 ratio for the smith pulleys. Basically a 1:2 ratio means you could be benching 140lb, but it will only feel like you're benching 70lb.
However Inspire do have another neat little feature that lets you double the weight of the weight stacks its called the multiplier, you hook on a couple of extra pulleys and it doubles the weight of each stack – so in real terms, each stack now weighs the advertised weight of a 165lb per stack.
Slightly complicated, I know, but without the multiplier feature, the Inspire Fitness Ft2 would only appeal to beginners, even with the multiplier attached the Ft2 only has a max capacity on the barbell of 330lb and for $5k machine that's pretty low. 50lb additional weight packs are available but at extra cost.
On the positive side, the Ft2 uses linear bearings for the smith, so no worries about a sticking bar. And with 32 pulley positions and eight pulley locations, the Ft2 will prove to be versatile if nothing else.
When it comes to build quality, the Ft2 is second to none, built from heavy-duty 11 gauge steel this beast of a home gym weighs 730lb including the bench.
Stability won't be a problem with the Ft2; many uses have praised how solid this machine feels when lifting heavy.
Just like the Series 7, this monster of a home gym includes a commercial quality weight bench, 1000lb weight capacity built from heavy 11 gauge steel. A tank of a weight bench that has enough adjustment angles for all of your pressing needs. Plus, the all important adjustable seat.
Overall a versatile piece of kit for your home gym-the Ft2 takes the place of multiple machines and offers more exercises (well over a 100) than any other home gym out there.
If you like the idea of using pulleys for all of your resistance training you won't find a better machine for the job than the Ft2
Heavy duty, 11 gauge steel frame
Duel weight stack smith machine 165lb each
Multipler-doubles the max capacity of smith machine
32 pulley position – 8 pulley locations
Lots of attachments including EZ curl bar and duel hook straight bar
Over a 100 exercises to choose from
10 year warranty on frame and parts
All pulleys no free weight options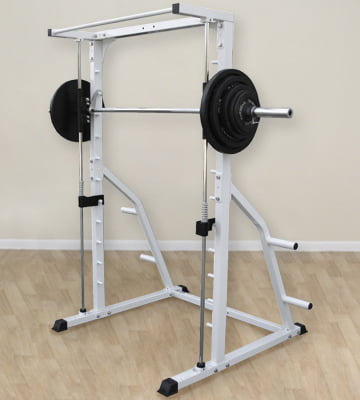 4. Deltech Fitness Linear Bearing Smith Machine
Our second stand-alone smith machine in this review is the Deltech. Built from a mix of 11 gauge and 14 gauge heavy-duty steel, the Deltech carries some serious weight for a stand-alone machine. At around 270lb, this thing boasts a top-quality build.
Surprisingly you can get hold of the Deltech for $750; that's a gem of a deal for a heavy-duty smith machine that includes linear bearings. If it wasn't for the 700lb capacity, the Deltech might be pushing the Valor off the number 1 spot!.
And just like the Valor, the Deltech includes four weight plates holders, these help keep the plates off the floor and close to the bar and again are great for loading up with plates to give the machine some extra weight and stability.
Nice to see a pull-up bar with this one something the Valor is missing! 
Build quality is top-notch even the welds have been welded to American Welding Society specifications (AWS), and you'll get a lifetime warranty on the frame.
Receiving 4.5 out of 5 on average from its users, the Deltech will undoubtedly take some beating in its price range.
An excellent no-fuss smith machine, if a 700lb weight capacity is enough for your training needs, the Deletch shouldn't disappoint. This one is a winner at a great price.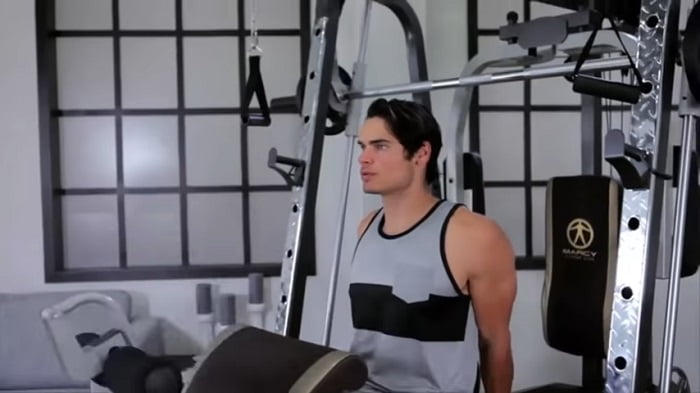 5. Marcy Diamond Elite Smith Machine
It seems a little unfair for the Marcy to be sat down here in the 5th position, so lets put in a bit of perspective. There are two stand-alone smith machines in this review, so you can't compare the Marcy to those two, and the other two home gyms in this review cost over 3k, so it's almost impossible for the Marcy to compete with the Body-Solid and Ft2!
The Marcy Diamond Elite is, however, the best home gym with a smith machine you are going to find under 1k.
The Marcy offers a high-quality smith machine with linear bearings, a free weight station with movable safety catches, a weight bench, low and high pulleys, and a pec dec all for under 1k. It is a great deal.
What you won't find at this price is quality pulley systems, If you include pulleys on a home gym at this price, you'll find even after a few months cable may break bearings will wear quick, etc.
But unless you are prepared to pay for a top-level machine such as the Series 7 dealing with a couple of low-quality pulleys is a price you'll have to pay.
Replacing pulleys, bearings isn't a hard job; it takes a few hours, and if you only have to do it every six months or so, it won't seem a huge deal. Especially when you consider everything else you get with a machine such as the Marcy.
This is a great all-round machine with a top-quality angled smith machine. If you're just starting out lifting or you have been at it a couple of years, the Marcy should offer enough scope to fit most of your lifting needs.
A 300lb max capacity on the barbell is a little low, so if you are benching or squatting anywhere near that, you might have to save up for a few months and buy a heavier capacity machine.
I really like the Marcy Elite. I think it is a capable low-cost alternative for beginners and intermediates. Great for free weight lifting and assisted lifts. High/low pulleys may not be the best quality, but there'll get the job done.
A versatile machine at an affordable price.
What To Look Out For When Buying A Smith Machine
Size
The first thing to consider when purchasing a smith machine is the footprint of the smith machine. Some of these machines have very large footprints so you need to make sure you have a dedicated space at home to house one.
Always measure first before you buy it. Another thing lots people forget to account for is the height of the machine some of these machines will need at least 8-foot ceiling heights a little more if you consider the pull-up bars. Allow an extra 12″ above the pull-up bar height if you are thinking of buying a machine with a pull-up bar.
Weight Limit
All good smith machine should come with a weight limit of the smith barbell. Think of how much you lift now and how much you think you are gong to be able to lift in the future.
Budget smith machines and home gyms usually have a smith bar capacity of around 300-400lb, mid-level around 600-700lb and top-end smith machines anything from 800lb to 1500lb.
Also, many of the all in one packages includes a weight bench, make sure the bench has at least 500lb max capacity. You need to remember the weight bench max capacity includes your own weight.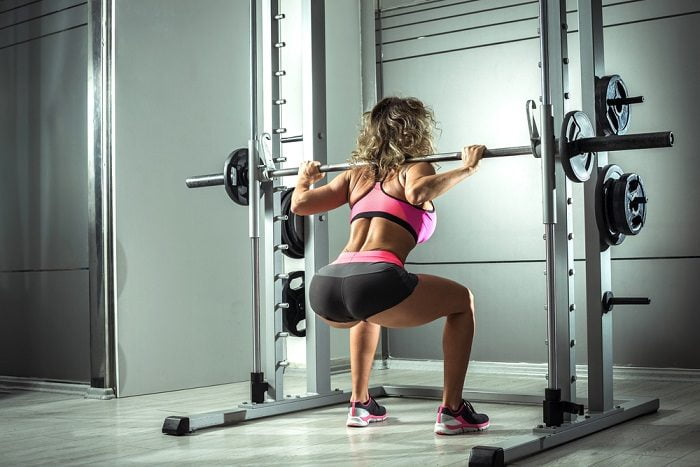 Linear Bearings
The most important feature of any smith machine is a smooth gliding barbell.
If you want to own a smith machine that feels anywhere close to the ones you have used in your local gym, you'll need to get hold of a smith machine that uses a linear bearing system. You might have to pay a little more for a machine that uses linear bearing, but it's worth it in the long run.
The last thing you need once you have set your smith machine up is a sticking barbell; they are a headache to train with and can also be dangerous when lifting heavy.
What causes a sticking barbell? Bushing! Bushings are the systems used by nearly all budget smith machines. They have been around for decades and surprising you'll not only find them on budget machines, but I've also run into a few smith machines in commercial gyms that still use this system for bar travel. Avoid if budget allows.
Stability
A heavy-duty steel frame is key for stability, the heavier and more tank-like we can get for our budget the better, weight is a massive factor when it comes to stability.
You want to feel like you are training inside a tank. 11 gauge 2″ x 3″ is commercial grade for both smith machines and power racks. If you have the cash try and get hold of a smith machine built from 11 gauge steel, you won't regret it.
Budget machines build from light 14 gauge steel feel unstable when in use, its always best to bolt a budget smith to the floor. If you haven't got any DIY skill, ask a friend because the last thing you need when lifting heavy weights is an unstable machine.
Quick Reminder of The Benifits of Owning A Smith Machine
Allow you to train at home without a spotter in complete safety so you can lift heavier and push yourself further without risk

They provide a superb range of effective exercises especially with cable stations built into them

Perfect for starters as they have a fixed path of motion to keep your form solid

Allow you to train most of your major muscle groups with compound movements for muscular development
To Sum Up
I hope we have gone some way in helping you find the right smith machine for your lifting needs. After researching over 30 smith machines, two machines stood out from the crowd.
The first was the Valor Fitness Smith Machine; this machine just looks menacing with its heavy-duty build and old school simple design. An awesome machine for those of you who are serious about moving forward with your lifting.
And then there's the versatile heavy-duty Body-Solid Series 7 Smith Machine. I'm not usually a fan of the all in one package, but the build quality on show was so good even I was impressed. A commercial-grade home gym for under $4k with a lifetime warranty shows great value for money. You'll never need to pay repair bills. You'll have a home gym for life!