Valor BE-11 Smith Machine
Old school is one word that comes to mind when I look at the Valor Fitness BE – Smith machine, and I mean that in a good way. The Valor looks far more like a smith machine you would see in your local gym. It's not crowded with attachments and cheap pulleys.
The Valor BE is one thing and one thing only a well-built stand alone smith machine.
Heavy Duty 4″x2″ Gauge Frame – 1000lb Capacity
This thing just looks solid! Built from heavy-duty 4″ x 2″ 12 gauge steel. Valor's menacing steel beast looks like it can take anything you can throw at it. Boasting a 1000lb capacity, there's nothing else out there that can match the Valor BE in the under $1000 price bracket.
In this review, we are going to take a close look at the Valor Fitness smith machine, I'll also be comparing the Valor against two other similar priced smith machines, so if you have a few spare minutes, it's well worth reading through to the end.
Product dimensions –  53″D x 73.25″W x 80.5″H inches
Precision Linear Roller Bearings
Frame – Heavy duty steel – 4″x 2″ – 12 gauge
Extras – Weight plate holders
What Do We Like About The Valor Fitness BE – 11 Smith Machine?
The first thing I liked about the BE -11 has to be the quality, heavy-duty 4″ x 2″ tubing gets this machine close to commercial grade. Valor does mention the BE – 11 can be used for light commercial. So for a home gym, it's more than adequate.
And secondly, the Valors broad appeal. I've seen numerous smith medicines in the under $1000 bracket that only appeal to beginners or intermediate lifters because of their low max capacity, some with as little as 300lb.
The Valor offers you a whopping 1000lb capacity, appealing to most weightlifters and bodybuilders, and I have no doubt this thing can take it.
Smooth Travelling Barbell
A smooth traveling bar is essential to reap the most from your smith machine, there's an absolute ton of smith machines out there that still use bushings for a smooth glide across the rods, but from experience, I can tell you that bushings give a far from smooth experience!
What you want are linear bearings, and thankfully the Valor Fitness comes with them built-in as standard, many users have commented on how smoothly the barbell travels across the vertical steel guide rods using the Valor bearing system.
I reviewed the Yukon Caribou III smith machine last week, and yeah, not a bad machine for the price, solid, versatile. Still, if you wanted linear bearings, you had to hand over an extra $200 for the privilege, something you shouldn't have to deal with on a machine costing over $1000.
It starts to make you realize what good value for the money the Valor BE – 11 is.
Stability
It goes without saying if you're going to lift heavy, any piece of home gym gear you buy needs to be stable. And with 258lb of steel, the Valors weight should help to keep it steady when in use.
As you might have noticed, the Valor includes weight plate holders at the rear of the machine; these are not only good for keeping your plates off the floor. They are also another excellent way to help you keep the smith machine stable.
Load the weight plate holders up with all your weight plates, and you will be adding an extra 200 – 300lb of extra weight to the machine, helping to keep it fully planted on the floor. (make sure to load each side evenly)
The Valor machine also has rubber capped feet. The capped feet will go a long way in stopping any unwanted slippage issues on hard floors…they also do an excellent job of protecting the floors.
And if you really want this thing to be rock solid and your not scared of a little DIY, bolt it to the floor!
Will It Suit My Needs?
Smith machines have shown to be just as effective as free weights in developing muscle mass, and its for that reason the Valor fitness machine will suit most people's needs.
Break it down a little, and we can see the appeal of a smith machine such as the Valor for helping beginners and intermediate users lift progressively heavier weights in a safe, steady way.
It can be tough for beginners starting out with a barbell at home taking on compound lifts without a spotter, which is why a smith machine is an excellent option for beginners who want to move up to heavy barbell work but don't quite have the confidence or experience for free weight barbell workouts.
The main reason an experienced lifter might buy a smith machine is that they can lift super heavy in relative safety, no need to worry about balance or the bar crushing you. And with a 1000lb weight capacity and an affordable price, the Valor is going to be a safe bet for most.
Smith machines certainly have their benefits in the bodybuilding and weightlifting world, but be advised don't do all your training on a smith machine, while they are excellent for pressing and squats. They do leave out the stabilizer muscles, so to activate those, remember to mix it up a little do some compound dumbbell exercises too.
And never deadlift using one of these things, the range of motion is too limited. It will teach you bad form and, at worse, cause an injury.
So – Valor smith machine excellent for pressing – squats –lift heavy – Bad for – deadlifts and remember to incorporate other dumbbell exercises in your routine.
Durable, heavy duty steel frame
Affordable price for a quality light commercial smith machine
Counter balance system sold separately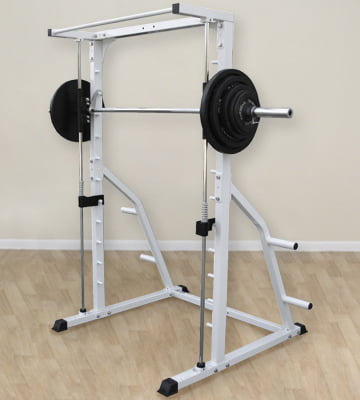 Deltech Fitness Linear Bering Smith Machine
The Deltech is another excellent no-fuss stand-alone smith machine. Built from heavy-duty 11 and 14 gauge steel, the Deltech Fitness smith machine is a durable machine that has enough going for it to rival the Valor BE – 11.
A surprisingly heavy smith machine at 271lb, considering it costs $200 less than the Valor. The weight is a telling sign that the Deltech is made from quality materials and has been built to last.
Deltech offers a lifetime warranty on the frame, which is impressive at this price and shows the confidence Deletch has in their smith machine.
Just like the Valor, you shouldn't have too many issues with stability. The Deltech includes four weight plates holder that you can load up to add extra weight and increase stability, again we see rubber capped feet to help with slippage and floor protection.
No bushings here for bar travel either, thankfully the Deltech ensures a smooth gliding barbell thanks to the Liner bearing system. The addition of a pull-up bar is a feature the Deltch can boast over the Valor.
I'll admit I can't find any bad points to mention about this machine. It's a cracking smith machine with a smooth gliding bar and excellent build.
The only thing that may deter some users is the slightly lower max capacity 700lb for the Deltech vs. 1000lb for the Valor. If you can live with the 700lb max capacity, which I'm sure most can, the Deletch should make it to the top of your list.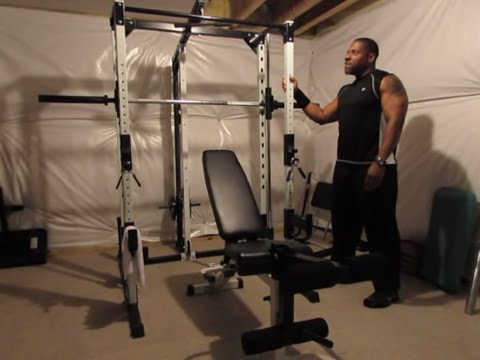 Yukon Fitness Caribou III
You do get a lot for your money with Yukon although you won't catch me shouting praises from the rooftops, but for the price, I can't really fault it. And there are a few features I really like about the Yukon.
Firstly the Yukon is not just a smith machine this thing also has a free weight station at the front of the machine allowing you to perform bench press, deadlifts etc.
A high and low pulley is included plus an adjustable bench which is a full FID bench (flat, Incline, decline) and whats nice about the bench is they actually thought to include an adjustable seat, very useful to stop your butt sliding down the bench in low incline positions.
And this machine is heavy at 455lb, about 390lb if you don't include the bench, so stability shouldn't be an issue. 
But if you want to get the Yukon feeling anything like a smith machine you have used in your local gym, I'm afraid you will have to hand out another $200 to upgrade the Bushings to linear bearings.
Not a hard job, many users who have purchased the Yukon have done the swap and said it was pretty easy. They also mentioned it made all the difference and turned the Yukon into a machine that felt of commercial quality.
If you have been looking for a smith machine that offers a little more than most and don't mind splashing a bit of cash for the bearing upgrade the Yukon might be worth a closer look.
To Sum Up
I've reviewed a few products from Valor Fitness, and they never fail to impress, most of their gear receives highs rating 4/5 and 5/5 from users and the Valor Fitness BE-11 Smith Machine is no exception. A well-designed piece of heavy-duty kit for your home gym.
The 1000lb capacity of the Valor will ensure you won't outgrow this machine anytime soon. It's the best stand-alone smith machine under $1000 available right now. With the Deltech Fitness Smith Machine coming in at a very close second.