With well over 100 different exercises to chose from, the Inspire Fitness Ft2 Functional Trainer manages to fit all your workout needs into one very capable functional trainer.
8 Pulley locations, Duel Weight Stacks, 11 Gauge Steel Frame.
It really is like packing an entire gym load of equipment into one machine; there's nothing else quite like the Inspire Ft2 on the market right now. Eight pulley locations, duel stacks with a whopping 32 pulley positions, and a weight multiplier for the smith. A feature exclusive to the Inspire Brand. All sounds pretty cool, right?
It should do! This thing costs close to $5k with the bench, is it worth it? Let's find out, but first, a quick look at the product specs.
Product dimensions –  61″ wide x 58″ deep without bench; 61″ wide x 89″ deep with bench; minimum height 83″; maximum height 88″
Weight capacity – 460lb on the smith bar
Linear bearings for smith machine
Frame – Heavy duty 11 gauge steel tubing
Included extras – Tricep Rope, 2 x Rubber D Handles, Dual Hook Straight Bar, EZ Curl Bar, Ankle Strap, 2 x Water Bottles, Multi-Function Belt, Sport Handle, 2 x 5 lbs Add-On Weights, & Exercise Booklet
Why Do We Like The Inspire Fitness Ft2 Functional Trainer?
Versatility is what sells this machine. It offers you a ton of different options for your workouts.
And we love the smith machine with the dual weight stacks. Smith machines allow you to perform compound exercises in relative safety thanks to the safety catchers acting as spotters.
Compound Lifts – Quality Duel Stack Smith Machine 330lb
We all know compound exercises are the best and fastest way to add muscle mass, and that's what most people are looking for when they purchase a machine like the Ft2. They want to build some quality muscle mass fast!
The Inspire Fitness smith machine is not only suitable for beginners; it is excellent for intermediate lifters as well.  The Inspire Ft2 allows seasoned lifters to lift heavy (no balance to worry about) and provide the support and safety features for beginners who want to start their progression from dumbbell workouts to heavy barbell lifts.
I don't know about you, but nearly every smith machine I've come across and used in the past 20 years was loaded with Olympic weight plates to produce the resistance needed.
But not here. The Inspire Fitness Ft2 boasts dual weight stacks 165lb each side. So a total of 330lb. I'll admit the first time for me seeing a smith machine with weight stacks, heck, its a good thing, I guess, no need to load the plates every time.
Although don't let the Inspire smith machine fool you into thinking you're lifting super heavy? The Ft2 pulleys uses a 1:2 ratio. You might think you're benching 180lb, but in fact, its only 90lb.
Don't fear tho, Inpsire designed a clever little feature that allows you to attach a couple of pulleys to double the weight (aptly named the Multiplier)
With the multiplier pulleys attached, each stack totals a real weight of 165lb. Extra weight 50lb packs are available if that's not enough!!
Linear Bearings
Any smith machine worth its salt utilizes linear bearings for a smooth traveling barbell. Its the number one feature to look out for when you purchase a smith machine
Many smith machines use bushings, bushings tend to get stuck on the guide rails after a few months of use, and even after lubing they continue to cause hassle.
Linear bearings are used on nearly all commercial smith machines and top quality standalone smith machines for home use. You will be happy to hear the Inspire Fitness takes full advantage of a linear bearing system, with many users praising the smooth gliding feel of the bar.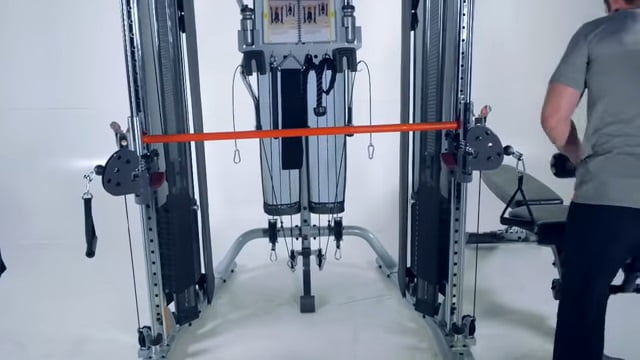 Stability
Often something people overlook when choosing a home gym/smith machine is stability, it's easy to get caught up checking out all the latest features some of these things offer, but we can't forget the basics.
The first basic we looked at was the Inspires smith machine, and the Ft2 came up trumps there with a top-end smith machine. The next is stability.
Stability is often determined by how much a piece of equipment weighs; weight benches, power racks, half-racks, smith machines all come in at various weights. In general, the heavier, the better.
We want to feel like we're training inside a tank. Heavy-duty beasts should boast a considerable weight, especially if they are constructed using thick 11 gauge steel such as the Ft2; for a smith machine, we want over 500lb, and this thing weighs 730lb.
730lb is going to help a ton with stability; at this weight, the machine shouldn't even wobble when performing pull-ups. The Ft2 also has nice wide stabilizing feet to aid stability.
Commercial Grade?
You would think at 730lb (without bench) the Inspire Fitness Ft2 Smith Machine might have earnt its commercial badge.
And in a sense it has, the frame could be considered commercial grade 11 gauge steel is industry standard for commercial grade. So what's keeping the Ft2 from being rated commercial?
It is most probably the pulleys that stop the Ft2 from being commercially rated. While they are built to a high standard, pulleys, on the whole, are not rock solid the bearings can wear, the cables can break. And if a company is not used to building commercial-grade gear, then they are going to be hesitant to stick a commercial badge on a machine that relies totally on pulleys.
However, from the hours of research, I have done on this machine. I haven't heard anything bad about the pulleys.
I've read no horror stories of any brakes in the cables or bearings wearing out in a few months, which tells me one thing the pulleys on this machine are of top quality!
Commercial badge or not, the Inspire Ft2 is going to be durable; it been built to very high standards, and the user's reviews reflect this.
And what I like most is the company's confidence in their machine. They are offering ten years warranty on the frame and all parts. So no need to worry about anything when you get this beast assembled, you'll be covered for a decade should anything (pulleys) fail.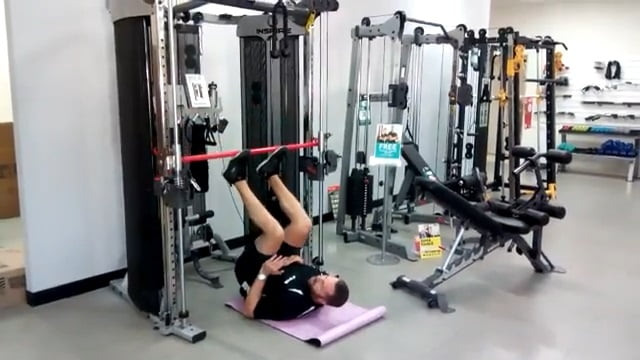 The Bench
A surprisingly good adjustable bench is included when you purchase the full package! The Inspire bench boasts numerous back pad angles, including flat and a full 90 degree, you will have all the angles you'll need for your pressing.
The bench also includes the all-important adjustable seat.
Adjustable seats are a must if you want to get the most from your pressing.
Without an adjustable seat, your butt will slip down the bench in low inclined angles; this creates an unstable base resulting in reduced pressing power.
A big thumbs up here to Inspire to include an adjustable seat with the bench.
The frame of the bench is heavy 11 gauge steel, allowing for a nice beefy feel to the bench. And with a 1000lb weight capacity, no one's going to be outgrowing this bench any time soon
The bench comes with a leg curl attachment, which can be linked up to the pulley of the machine. So no need to add plates for resistance. Overall a robust, heavy-duty, tank-like bench, good stuff from Inspire!
Duel weight stacks – 165lb each
Multipler-doubles the max capacity of smith machine
Loads of attachments and accessories including EZ curl bar and duel hook straight bar
Over 100 exercises to choose from
10 year warranty on frame and parts
Super heavy which is a good thing, but it makes it hard to move once built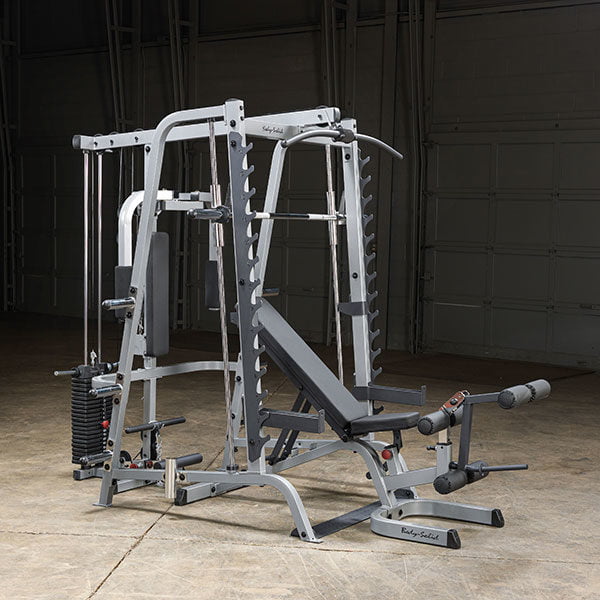 Body-Solid Series 7 Smith Machine
The Body-Solid Series 7 is one beast of a home gym, this thing weighs 800lb and is built from 2 x 3″ 11 gauge heavy-duty steel tubing. Just like the Inspire Ft2, you won't have to worry about any movement or stability issues when lifting heavy.
Another bonus is being able to store your Olympic weights on the weight plate holders; not only does this keep your plates off the floor, and near to the bar, it will also add another 200-300lb of weight to the machine. That's 1100lb this smith machine will weigh when loaded! If its stability you're after you have it in spades with the Series 7.
For pressing Body-Solid provides a linear bearing smith machine so no stressing about a smooth gliding barbell, the smith has 20 lockout points and includes safety catches for added security.
And what's useful about this the Series 7 is the inclusion of the gun rack (free weight station) at the front of the machine. Smith machines have been proven to add muscle mass as quickly as free weights, but what a smith machine can't do is activate the stabilizer muscles.
To activate the stabilizer muscles, you must use free weights. The inclusion of a free weight station with 14 lift-off and racking positions is a major selling point for this machine.
You get the best of both worlds with this one. Assisted compound lifts with the smith and free weight station to work all muscles, including your stabilizers. Nice!
A full FID bench comes as standard with the Series 7 another excellent bench from Body-Solid with a 1000lb weight capacity which includes an adjustable seat and leg curl attachment.
Pec dec, Low /high pulleys are just a few of the other features included with this light commercial grade smith machine.
The Series 7 is a machine for serious lifters that has a higher weight capacity than the Inspire and a lifetime warranty on everything!
If you are undecided on the Inspire Ft2? It's certainly worth taking a closer look at the Body-Solid Series 7. The Body-Solid is nearly a grand cheaper than the Inspire, which leaves you some cash to buy an awesome set of weight plates to go with it.
To Sum Up
The Inspire Fitness Ft2 Trainer is an excellent bit of kit for beginners and intermediate lifters. It won't appeal to a few seasoned weight lifters -there's not enough poundage on offer with a complete max of 400lb for squats. But for most us, outgrowing the Inspire shouldn't be an issue.
Is it worth $5k? Maybe, especially when you think about how many separate machines you would need to replace it! For versatility and build quality the Ft2 scores 10/10
Do I think it's better than the Series 7? No, but that's because I prefer using weight plates and free weight training. But for those of you who love the idea of doing all of your lifting with pulleys, there no better-engineered machine than the Inspire Ft2.