We're not talking commercial grade when we look at the Body-Solid Powerline Smith Machine for that you'd have to pay a couple of grand more. What we have here is a heavy-duty, well-built smith machine for home use.
Purposefully designed for a full-body workout Powerlines PSM1442XS smith has been equipped with all the right tools. This isn't just a smith machine; it's an all in one home gym with over 50 exercises to chose from.
Review: Includes Comparison With Marcy Diamond Elite
In our review, we're going to take a close at Powerline's entry-level smith machine; I'll also compare the PSM1442XS with the similarly priced Marcy Diamond Elite. You should, by the end of the review, have a good idea if Powerlines steel beast is the right choice for your lifting needs.
First, let's take a quick look at the product specs!
Product dimensions –  85″H x 45″L x 76″W
Weight – 437lb without weight stack
Bushing system (for smith)
Frame – Heavy duty steel tubing
Extras – Pec dec, lat pull with weight stack, adjustable bench
Why Do We Like The Body Solid Powerline Smith Machine?
There's a lot of reasons to like this capable smith machine, although I feel the machine's versatility it's most attractive selling feature. You can do so much with these all-in-one home gyms.
Let's start with compound exercises. Compound exercises, if you don't already know, are the fastest way to pack on muscle mass. With exercises such as bench presses, squats, shoulder press, etc.
Having a smith machine in your home gym arsenal is going to let you perform compound exercises without a spotter.
You won't need to worry about the balance of the bar thanks to the assistance of the smith machine or the bar crushing you as the Powerline is equipped with 14 lockout points and safety catches. You can lift heavy in safety on your own! When you are completing your last killer rep just twist your wrist and lock the barbell in place.
Pulley With Stack
And at this price to include a weight stack with a high/low pulley system is excellent value for money. It's hard to find a decent pulley system in this price range, let alone one with its own weight stack, so a big thumbs up here.
Mix Up Your Workouts
Although we need to remember, however good a smith machine is for adding muscle mass, the one thing it won't do is to activate your stabilizer muscles. For this, you need to use free weights. You mustn't perform all of your lifting exercises using the smith machine.
Thankfully, the weight bench of Body Solid Powerline smith machine is not attached to the machine itself. You can pull out the weight bench and add in some dumbbell workouts. There are numerous compound lifts you can perform with dumbbells, which all activate the stabilizer muscles.
Mix up your workouts with dumbbells and barbell lifts. That way, you get the most from each workout. e.g., chest day could include flat presses with the smith machine and incline dumbbell presses outside of the cage.
Stability
As you would expect with any gym gear being produced under the Body Solid franchise, the PSM1442XS is going to be well built. Most of their stuff is heavy duty and sturdy.
And heavy is a good description of this machine. It is not made from cheap, light gauged steel.
This thing has a considerable weight, and with weight comes stability, the weight of the machine is also a telling sign the product is made from quality materials. With an overall weight of 550lb, the Powerline smith machine should prove to be stable even when lifting heavy.
There are a few weight plate holders at the front of the machine; you can load these up with plates (evenly) each side to add even more weight and extra stability. Saving the need to bolt the Powerline to the floor.
The Bench
Body Solid produces a few awesome standalone weight benches, I've reviewed one and hands down it was the best in the price range. Versatile, stable, and heavy-duty. And by the looks of it, the bench supplied with the Powerline machine is of similar quality.
The bench includes a heavy-duty frame, and is labeled full FID (flat, incline, decline) excellent news! You should have all the pressing angles you'll need for your workouts.
I was happy to see a ladder adjustment system for the bench. A ladder adjustment system is much quicker to adjust and far more stable than the pull pin type so another big thumbs up here.
And what impressed me most about the bench is the inclusion of an adjustable seat! An adjustable seat will give you the support you need in low incline angles. Without one, your butt would slip down the bench reducing your pressing power. A stable base is a must when pressing heavy!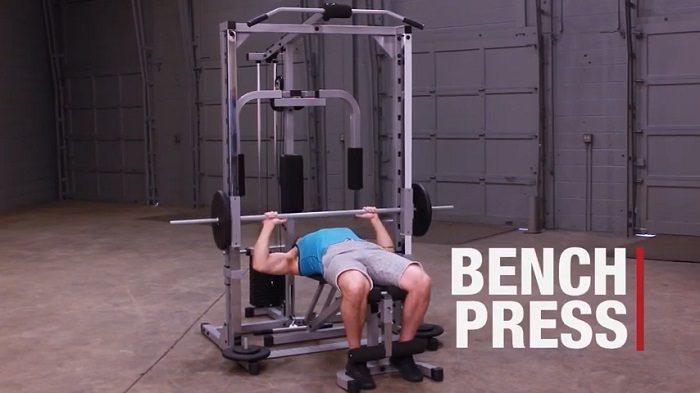 Linear Bearings?
Up until this point, I've been very impressed with Powerlines smith machine you seem to get a lot of bang for your buck.
But and this is a big BUT, the Body Solid Powerline smith machine does not take advantage of a linear bearing system. A linear bearing system allows the barbell to glide smoothly across the guide rods.
Unfortunately, the Powerline utilizes old school bushings, while they may work ok for a few months bushings have a tendency to stick, which can be very off-putting and when lifting heavy can be dangerous.
Every high-quality home and commercial smith machine, uses linear bearings.
The most important feature of any smith machine is a smooth gliding barbell, and if you own one which uses bushings, you're going to run into problems at some point. And from what I have read, Body-Solid does not offer any upgrades so that you could do the change over yourself at a later date.
It's not a complete deal killer, and you could somewhat help the issue by lubing the guide rods every once in a while. It's the only real flaw i can find with this smith machine.
Versatile well over 50 exercises to choose from
High quality weight bench included
Decent high low pulley system with weight stack (150lb)
400lb max capacity on the barbell
2″ smith adaptors not included
Smith machine uses bushing and not linear bearings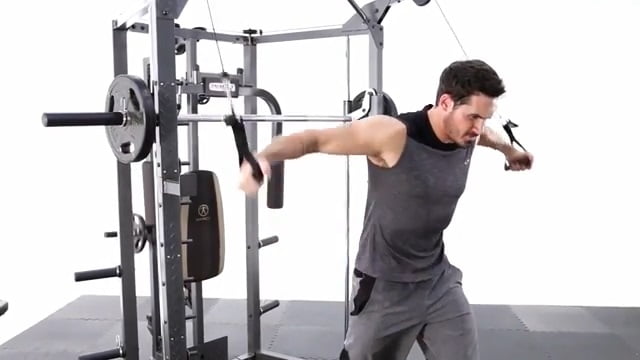 Marcy Diamond Elite Smith Machine
The Marcy Diamond Elite Smith machine offers everything the Powerline does and more, you can even perform cable flyes with this one. Built by Marcy, a company known well for producing high-quality products at an affordable price.
The Marcy Elite machine is one of the top-selling smith machines currently available for under $1000, and it's easy to see why. The Elite comes with a linear bearing smith machine and a free weight rack. Giving you the option of assisted presses with the smith machine or unassisted using the free weight rack; great for activating those stabilizer muscles.
Weighing around 430lb so a very similar frame weight to that of the Powerline this thing is going to be stable it also comes with six weight plate holders so you can keep your plates off of the floor and give the machine some extra weight and stability.
The pulley system on Marcy is not as good as the one supplied with the Powerline, and there have been a few complaints regarding the cables breaking, etc.
Also, there's no adjustable seat with the supplied bench, which to me, was a big disappointment. But to include a linear bearing system is a big plus and makes up for the few downsides of this machine.
If you would like to read a full review for the Marcy Diamond Elite Smith Machine, please click the link below.
To Sum Up
The Powerline smith machine tho far from commercial-grade is still a solid machine for the price. Nice and heavy means this smith machine isn't going to move around when you're in the middle of a lift.
The Powerline offers you everything you need for a full-body workout, the pulley system looks to be surprisingly good for the price, and the weight bench is versatile enough for all of your pressing needs.
If you can live without the linear bearing system? The Powerline smith machine should make it to the top of your list