The Deltech Fitness Linear Bearing Smith machine is what I like to call a stand-alone smith machine. Stand-alone means you haven't got a ton of other stuff such as extra attachments and pulleys etc. The Deltech Fitness machine in a no-fuss, steel beast made in Kentucky.
This thing isn't commercial grade, but it's pretty damn good for the price bracket, weighing in at 271lb you get a lot of steel for your money. Built from heavy 11 and 14 gauge steel, the Deltech machine should have no trouble taking its max weight load of 700lb.
Receiving top ratings where ever the Deltech is sold, it looks like the Deltech is proving to be a winner among its users, which persuaded us at JHG to take a closer look at this capable smith machine.
Before we get on with the review, let's take a quick look at the product specs.
Product dimensions (outside) –  81″ H x 49-1/4″ W x 49″ L 
Precision Linear Roller Bearings
Frame – Powder coated, Heavy duty steel tubing (11-14 gauge)
Extras – Weight plate holders – pull up bar
Why Do We Like The Deltach Linear Bearing Smith Machine?
The most important feature of any smith machine is a smooth gliding barbell. A smooth traveling barbell is a must if you want a smith machine that feels anything close to what you've been used to at your local gym.
We were surprised to see linear bearings being used on a machine costing under a 800 bucks. Linear bearings are a series of ball bearings that connect the barbell to the supporting bars. Without these, the barbell will not run smoothly across the vertical bar.
You'll see a ton of smith machines in the same price range as the Deltech that do not provide this smooth operating system; they run a bush system that tends to get stuck, especially if not maintained regularly. I recommend if you can, to avoid such machines.
Many users of the Deltech have praised how smooth the bar on the Deltech travels, and many have compared it to the machines they have used in their local gyms. Great to hear, and the first big thumbs up for the Deltech smith machine.
Built Like A Tank?
If anyone asks me, "Jay, what's the one thing I should look out for when buying say a power rack, a weight bench, smith machine, etc." my reply would usually be, try and get as close to being built like a tank as possible.
The quality and weight of the frame are critical when it comes to most home gym gear. We want heavy gauged steel (11 gauge if budget allows), quality welds, and high-grade materials.
You want to feel like your training inside or on a tank when your lifting weights. Stability should be your number one concern.
The last thing you need when lifting heavy is your equipment moving around. It's not only dangerous, its off-putting and will take away your focus from the workout.
Is the Deltech built like a tank? Heck for around $750, it's trying its hardest. You have 271lb of steel with a mix of 11 gauge and 14 gauge. As I mentioned above, this isn't a commercial standard, but for a home gym, it's certainly good enough!
The weight of the thing should help a lot with stability. It's also a telling sign that the overall quality is high. The feet are not particularly wide, but they are covered in rubber, and this will help with any slippage issues. The rubber feet will also help to protect your hard floors.
I usually recommend to bolt down racks/cages, and smith machines as many come with pre-drilled holes, sadly the Deltch doesn't but nothing an hour or so of DIY cant sort.
You don't have to bolt it down, but when you're doing pull-ups on one of these, they do tend to wobble a little. And don't forget to load the weight plate holders that come with Deltech, they are positioned at the rear of the machine and when loaded will help to keep the machine stable ( load evenly each side)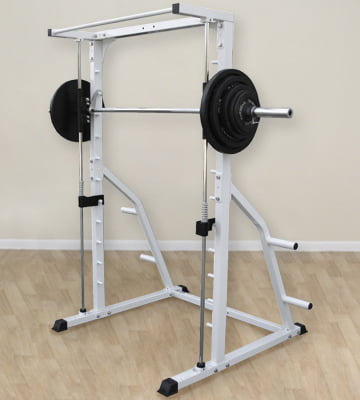 Will It Suit My Needs?
The Deltech Linear Bearing Smith Machine has been built for most weight lifting levels. 700lb capacity of the barbell should be heavy enough for most lifters except maybe for a few pros.
The Detech machine is an excellent machine to add mass to the chest or legs quickly. Smith machines have been proven to add mass as fast as free weights. And because you don't have to worry about balance as you do with free weights, you can lift heavy.
There are a few reasons why people opt for a smith machine. The first is you don't have to worry about having a training partner to spot you, the second, as we mentioned, you can lift super heavy in relative safety.
And thirdly, these machines are fantastic for beginners and intermediate lifters as they offer a safe and steady option to perform compound lifts at home, and we all know compound lifts are the fastest way to add quality muscle mass!
Build Quality
At this price, you're not going to find much better. The Deltech uses heavy gauged quality steel for the frame, not the cheap, lightweight Chinese stuff I see quite regularly being used for budget power racks.
You shouldn't have to worry about weak welds either. The Deltech has been welded to American Welding Society specifications (AWS)
And the barbell is solid, which is also really nice to see, with a weight of 35lb or around 40lb if you add in the bearings system. Something many beginners may take a little time getting used to, but seasoned lifters will appreciate.
Ok, putting this thing together once it's been delivered to your doorstep has, by many accounts, been tricky. The main problems arise if you try and do it on your own.
Getting the rods straight when assembling a smith machine is a tough job for one person. So if you want to avoid a lot of assembly hassle, ask a friend or family member to lend you a hand.
Durable, powder coated, heavy duty steel frame
Lifetime warranty on the frame
Solid, high quality Olympic barbell
Users have commented on great customer service
Assembly can be challenging
Purchace weight plates seperatly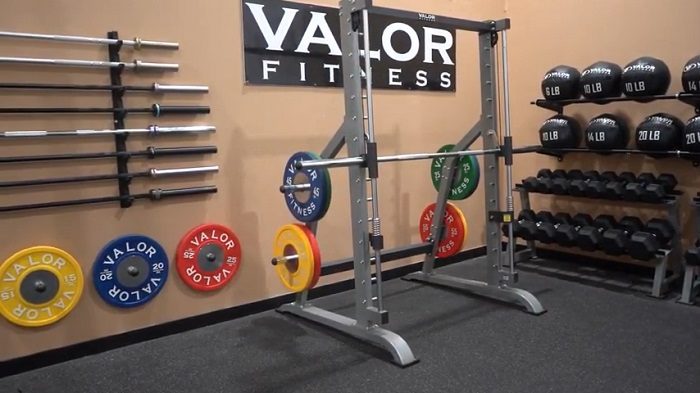 Valor Fitness BE-11 Smith Machine
Another stand-alone no BS smith machine, this time from the guys over at Valor Fitness. Valor Fitness has been around for a while and is known well for its quality power racks. I've reviewed some of their gear, including their power racks, and they very rarely disappoint when it comes to the heavy-duty home gym gear.
And by the looks of it, the Valor BE-11 is no exception to the rule, it's a high-quality no-fuss smith machine, and just like the Deltech is equipped with the all-important Liner bearing system. So, a guaranteed smooth sliding barbell with this one.
Probably the best smith machine you will find in the under $1000 bracket. Solid build, with nice wide feet and a 280lb frame weight that will help keep this thing stable.
Boasting a 1000lb capacity is impressive for the price range, and there's no doubt this tank of a smith machine can take it. We're still not quite at commercial grade here, but it's about as close as you are going to get in the under $1000 price bracket.
Geared toward the more serious of lifters with the higher weight capacity and heavy-duty 4″ x 2″ 12 gauge steel build, the Valour Fitness Smith Machine shouldn't disappoint.
To Sum Up
The Deltech Fitness smith machine is somewhat overshadowed by the Valor Fitness's BE -11, yes, the Valor Fitness machine is the better out of the two, but not by much with the Deltech costing almost $300 less offers you practically the same quality for the price.
If you have been looking for a heavy-duty smith machine for home use, I'd highly recommend the Deltech Fitness Smith Machine. Just like the Valor, the Deltech boasts linear bearings. Both smith machines are of similar weight; therefore, both machines will offer similar quality and stability.
If your training needs or future training calls for a 1000lb weight capacity, then, by all means, go for te Valor Fitness Smith Mchine. But beginners, intermediates, and serious lifters who's weight lifting will never reach the heady heights of a 1000lb (most of us) The Deltech Fitness will do the job and do it well.
Plus, the Deltech has a lifetime warranty compared to 3 years for the Valor. I always like to see a company that has a lot of confidence in their gym gear, and a lifetime warranty is solid proof of the faith Deltech has in their smith machine.