Let's hope you have a ton of room in your house or garage because the Marcy Diamond Elite Smith machine is a beast of a home gym.
This thing weighs 430lb and measures  95" high by 79" wide by 86" deep, so before you read the rest of this review, it might be a good idea to go check if you have enough space to house Marcy's heavy-duty steel monster!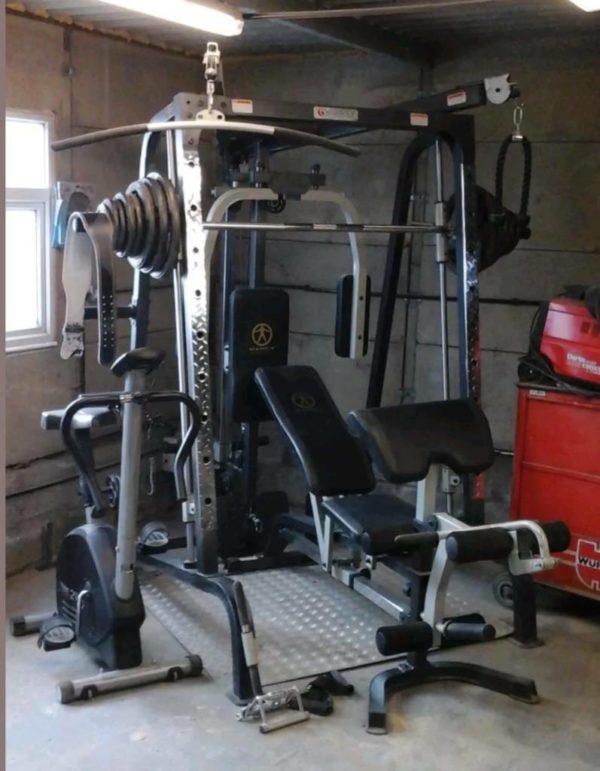 Marcy MD-9010G is a Mid-Level Smith Machine
Marcy has been around for years, they are known best for producing high-quality budget gear, I've reviewed a load of their stuff, and most of it for the price was impressive with an average score of 4.2 out of 5.
Marcy builds various smith machines; some targeted at beginners others at seasoned lifters. The smith machine we are reviewing today is the Marcy Dimond Elite MD-901OG smith machine.
Commercial grade? No! I'd put this machine at hotel standard. You know the sort of quality you would run into when staying at a hotel. It's good, but it's not that good.
Yes, it's a heavy beast at 450lb, but some smith machines weigh twice that and cost 4k + if we put the Elite machine in perspective, it's a low to mid-range smith machine.
Excellent for home use and can offer you just about everything you need for a full-body workout. For around a grand, it's priced extremely competitively.
Let's take a quick look at the product specs then were take a much closer look at the Marcy!
'Read through to the end where I'll be comparing the Marcy Elite with another similar priced smith machine.'
Product dimensions –  95″H x 79″W x 86″D
Weight capacity – 300lb on the bar 600lb on the bench
Frame – Heavy duty steel tubing
Extras – Weight bench, high/low pulley, pec dec, cable crossover
Why Do We Like The Marcy Diamond Elite Smith Machine?
If you're looking to put on muscle mass fast there is no better machine than something like the Marcy Why? Because the Marcy allows you to perform compound exercises both assisted and with free weights. Compound exercises add muscle much faster than any other form of exercising.
You can perform bench presses, shoulder presses, squats all using the smith machine, and if you want to do some free weight compound movements you can with the free weight rack at the front of the machine.
Smith machines have shown to be just as effective as free weights in developing muscle mass which is all well and good, but what a smith machine can not do is activate the stabilizer muscles! For this, you have to use free weights, thankfully you have the best of both worlds with the Marcy smith machine.
Also, the adjustable bench is not attached to the Marcy smith machine, which is a good thing, you can pull it out and add dumbbell exercises to your workout again dumbbell exercises will activate your stabilizer muscles.
All in all an excellent machine for building muscle mass.
Another advantage of owning a smith machine is being able to lift super heavy in relative safety, there no need to worry about balance or the bar crushing you thanks to the safety catches and bar stoppers.
Stability
Stability is one of the most important things you should be thinking about when buying any piece of home gym gear. Stability is especially important if you are planning on lifting heavy, the last thing we need is for the machine to move or wobble.
Commercial smith machines are usually rocked solid 1. because they are super heavy beasts and 2. Many of them are bolted to the floor.
So Marcy already has one thing it can boast for increasing stability, and that's it's weight at around 400lb if we take away the benches weight. The Marcy is quite heavy for a budget-friendly smith machine.
Secondly, it doesn't take amazing DIY skills to bolt this machine to the floor. Once you bolt it to the floor, the Elite will be rock solid.
Lastly, let's not forget this thing has six weight plate holders, load them up (evenly) with 200-300lb of Olympic plates, and you will be adding a lot of extra weight, which should help keep the Marcy stable. And will undoubtedly lessen the need to bolt it to the floor.
Overall once you have added your plates to the plate holder, the Marcy smith machine should have no stability issues. Although watch your hard floors, there's no rubber capped feet with this machine, so be careful or buy some rubber flooring if you're scared of marking your floors.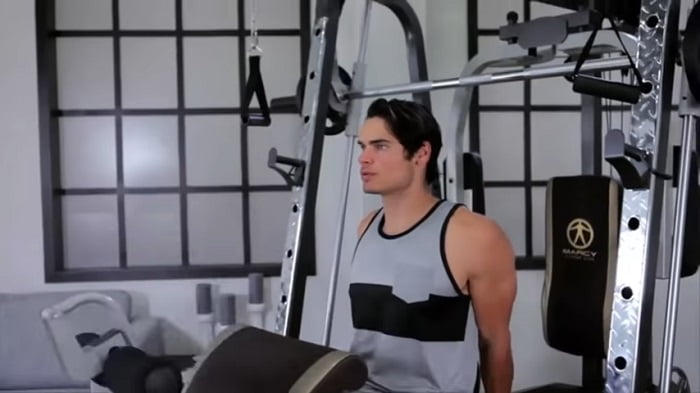 The Bench
The Marcy Diamond Elite comes equipped with an adjustable bench. Marcy has a history of building some excellent stand-alone benches in their budget range, so I was hoping to see a capable bench included with this smith machine.
The bench isn't a disappointment, built from heavy-duty steel, with a max weight capacity of 600lb, preacher curl attachment, and leg curl attachment, so far so good.
But then we look at the seat – the only real let down thus far from Marcy with this machine, why? The bench doesn't include an adjustable seat! Adjustable seats are essential, especially if you plan on low incline pressing with the Marcy smith or free rack.
Adjustable seats prevent your butt from slipping down the bench in low inclined positions without one the base from which you press will be unstable, reducing your pressing power.
It's not a deal-breaker, but its something I know would bother me and might be a concern to you. Other than that, it is a well built solid bench.
Linear Bearings
The most important feature of any smith machine is a smooth gliding barbell. A smooth gliding barbell is key to getting this thing feeling anywhere close to a commercial machine. Without linear bearings, a smooth traveling Olympic bar is not possible.
Yes, there's a ton of machines out there that use bushings, but I can tell you now bushings are a nightmare they stick after a while which not only interrupts your workout it can also be dangerous. I've seen smith machines costing 2k which still utilize bushings.
All quality smith machines both for home and commercial – use a linear bearing system to ensure smooth bar travel and thankfully the Marcy Diamond Elite takes full advantage of this system
Great for compound exercises, both smith machine and free weight rack
Versatile over 100 exercises to choose from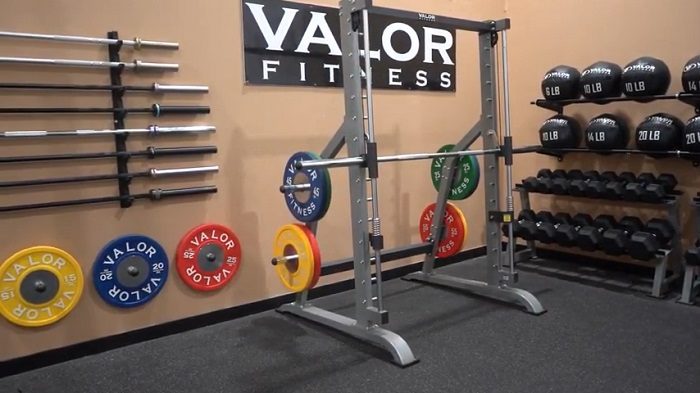 Valor Fitness BE-11 Smith Machine
I know, I know, this isn't a complete home gym like the Marcy, but stand-alone smith machines such as the Valor are well worth some serious consideration!
One of the biggest problems with budget to mid-level home gyms such as the Marcy is the pulley systems, the quality is usually low, and after few months they become unusable, the cables break the cheap bearings wear out, etc.
This is sadly a common problem with budget home gyms. You can replace them all, but it takes time hassle and more money.
A stand-alone smith machine doesn't include all the bells and whistles. A smith machine such as the Valor is a no-fuss heavy duty beast for serious lifters. No messing around with pec decks and cheap pulley systems, this thing is one thing and one thing only a smith machine.
The Valor Fitness Smith Machine is the best you will find for under $1000.
A solid machine that will last for decades. Smooth gliding barbell thanks to the linear bearing system and four weight plate holders to keep your weight plates off the floor and add that extra bit of stability to the smith machine.
Plus, the Valor offers up a 1000lb weight capacity on the bar, that's 3x the capacity of the Marcy! There'll be no outgrowing this machine any time soon.
If you can live without all the extra attachments of the Marcy, and are serious about your weightlifting. The Valor Fitness BE-11 will not disappoint.
NB, if you don't already own a weight bench, there are a few awesome benches you can buy for under $200, which all include adjustable seats.
To Sum Up
A thousand bucks for a home gym that can offer you over 100 exercises is not a bad deal. The Marcy Diamond Elite will prove to be a worthwhile buy for beginners and intermediate lifters.
I was impressed with the heavy-duty frame and the fact they included linear bearings for the smith machine. You can be sure you'll have an excellent smith machine with Marcy Elite.
The only real disappointments were the lack of an adjustable seat for the bench and the low weight capacity of the Smith machine barbell at 300lb. The 300lb max capacity is going to limit the appeal of the Marcy for the more serious of lifters.
Overall, an impressive machine for the price.