Updated February 18, 2020 
Are you looking for the best adjustable weight bench? We have reviewed the top 5 adjustable benches under $150.
Whether you have just started training or you are tired of the busy commercial gyms and like the freedom training at home offers, one of your first and most important purchases will be the weight bench.
As well as our short reviews, we have taken the time to write full in-depth reviews for each weight bench giving you all the information you will need, this will help you make your mind up fully before purchasing.
One of the first pieces of equipment any self-respecting home gym will need is an adjustable weight bench. 
Adjustable weight benches allow you to expand all of your standing and floor-based presses (press-ups) into a bench press.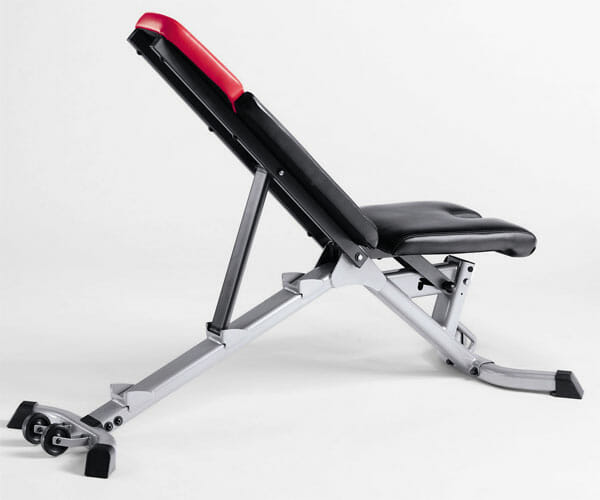 Editors Choice
Marcy SB-670
Weight – 51lb

Back Pad Positions – 6

Weight Capacity – 600lb

Adjustable Seat

Rating – 4.5/5
Weight – 55lb

Back Pad Positions – 4

Weight Capacity – 480lb

Adjustable Seat

Rating – 4/5
Weight – 28lb

Back Pad Positions – 6

Weight Capacity – 600lb

Adjustable Seat

Rating – 4/5
Marcy SB 670 Adjustable Weight Bench
There's not much I can say this bench doesn't feature. With an adjustable seat, fast to adjust ladder adjustment sytem, 6 adjustable back support positions and a believable 600lb max capacity.
This bench is by far the most versatile of all the weight benches in this price bracket.
The 670 is made from high-quality powder coated steel and will prove to be a durable weight bench.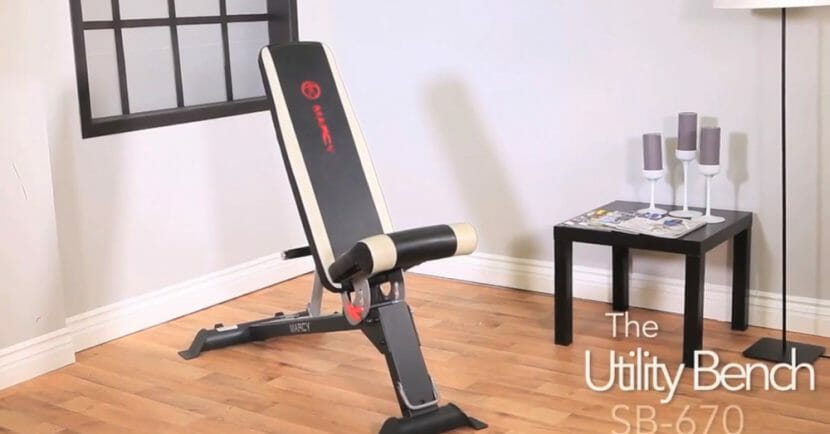 Well made quality 2 toned upholstery with high-density foam, gives this bench the right amount of comfort and padding, it's a nice looking bench too.
A wide rear stabilizer bar makes sure the Marcy SB-670 does not move around while you are pressing heavy weights.
The Marcy adjustable bench will appeal to the beginner through to the more seasoned lifter, with a maximum weight load of 600lbs, it's sure to last a while before you grow out of it.
Our only adjustable bench with an adjustable seat, an important feature most serious weight trainers will not go without and great to see in the under $150 bracket. It will stop your butt sliding when pressing in the lower incline positions.
No leg holder for decline training but to be honest, decline bench pressing is overrated, I'd recommend you do some weighted dips for this, you'll add mass quicker, and if you are wanting to do some decline situps you should be able to hook your feet under the seat.
It's hard to separate the top two benches. The 3.1 has the awesome build quality vs the versatility of the Marcy, Bowflex has the reputation for making some of the best-engineered home gym equipment out there and with a 15-year guarantee I like their confidence.
Marcy offers a 2 year frame warranty but the build quality is great and it has the adjustable seat, that I personally wouldn't go without, this is the main selling point of the Marcy for me,  and don't forget the user and weight load.
The Marcy promises 120lbs more than the Bowflex, so depending on how you are training and how quickly you will be adding muscle and increasing the weight load, the Marcy may be the best option if you are thinking of lifting heavy in the future.
A solid, stable good looking weight bench the Marcy offers you the user a great deal of versatility for the price, compatible with many smith machines and racks, it's certainly the 3.1's closest rival.
Full FID capability… flat inline decline, 6 adjustable back support positions in total!
Firm but comfortable wide saddle
Well made high quality, stable, solid
Powder coat finish will help reduce wear and tear
Durable high density, two-toned upholstery
600lb user and weight load
Adapts to fit most squat racks, half cages, and Smith machines
Frame warranty only 2years
No padded rollers for decline situps/presses? This might be a pro not a con for some
Bowflex 3.1 Adjustable Weight Bench
The Bowflex 3.1 weight bench shares joint top of our list with Marcy SB 670. The Bowflex's 3.1 is a high-quality versatile bench at a low price, made from high-density heavy duty steel.
The Bowflex 3.1 has been built to last and the 15-year frame warranty reflects this.
The 3.1 will suit most beginners and intermediate weight trainers with its maximum user and weight load of 480lbs, it's the 3rd highest in this price bracket.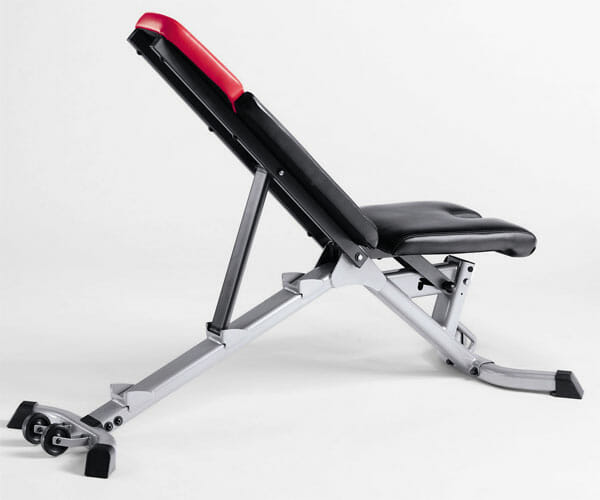 The reason the Bowflex 3.1 shares the number 1 spot is the benches awesome build quality. I trained on this bench at a friend's house and I was surprised how solid this bench was.
There's no frame or seat wobble, the back support tapers slightly which I think is a great design feature included in this price bracket.
A tapering back support will allow for more freedom of movement when doing certain exercises like presses and flys.
With 90 degree, flat and incline adjustment angles it should be versatile enough for most users, it's always good to see a low priced bench with the 90 angle for seated presses.
The bench has a decline too with the support pads to help for stability and thankfully they are detachable.
The seat is comfy and not too hard, it has just the right amount of padding in my opinion, but sadly is not adjustable!
If you are looking for a very well made adjustable solid bench then you will not go wrong with the Bowflex, a well known and respected company in the fitness industry.
How fast will you grow out of it? Id say for most, this bench will be sufficient and last you a few years but the 480lb weight load will be limiting for some bigger guys who may want to consider the Marcy with its 600lb weight load.
4 positions, 45, 90 flat and decline
Frame made of heavy-duty commercial quality steel – durable long lasting
Leg brace support for decline workouts
15-year frame guarantee and 1-year upholstery
The seat is fixed no adjustability
A surprising stable weight bench considering how light it is. Many users have praised how stable this bench feels when bench pressing.
A bench that only weighs 28lb is sadly going to be made from cheap materials, which will affect the overall durability of the thing.
Although it may not last a decade or two, the Gymenist bench does offer a lot of versilityfor the price, including the all-important adjustable seat, great for stopping your but slipping off the bench when incline pressing.
There are a few light benches around at the moment but none are as good as the Gymenist, the Fitness Reality bench comes close but doesn't feature an adjustable seat and also the Fitness bench suffers from having a narrow back pad.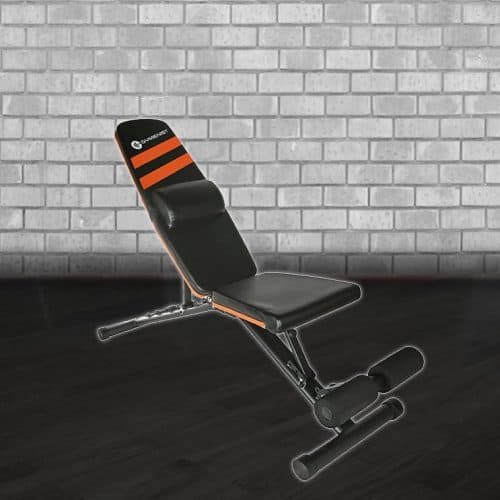 All in all the Gymenist is the best-priced bench for dumbbell workouts. Stable, versatile, and light enough to easily move and store, there is no better bench around the $100 mark.
6 back pad positions and adjustable seat
pin lock adjustment system slower to adjusat than ladder
Some users mentioned staples coming out of padding
Body Solid Powerline PFID125X Weight Bench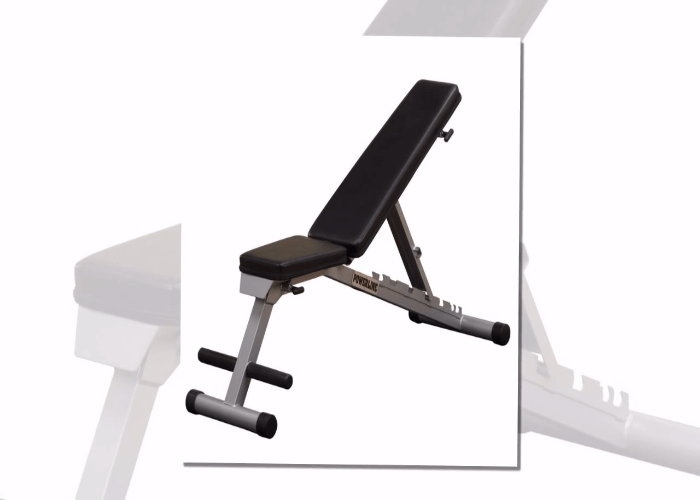 It is difficult to fault Body-Solids Powerline bench, my only concern is the price, costing nearly $50 more than the Marcy and Bowflex's 3.1.
This bench does not offer anything extra. It's solid, it doesn't wobble, it has the most back support positions, 7 in total but lacks an adjustable seat and with a combined user and weight load of 500lbs, it is 100lbs less than the Marcy and similar to the Bowflex.
The metal adjustable bar is a great feature for this bench, we prefer this to the pin locking system, feels more rigid and sturdy.
I like to see long frame guarantees with weight benches and I'm happy to see Body Solid offers a 10yr frame warranty.
Another handy feature, this bench is that it folds flat for storage, a nice option to have, this allows the bench to be easily stored under a bed (23cm when folded flat).
The Body Solid bench has the built-in transport wheels in the rear stabilizer. Great for ease of movability around your home gym.
An excellent bench that is more than stable enough for some heavy dumbbell and barbell work.
Coming from a reassuringly trustworthy company who have been around for the last 20 years, they make some of the best home gym equipment on the market.
Included with this weight bench are the front support braces, useful for keeping your back straight when decline pressing, but awkward for some when trying to keep your feet in the correct position for flat and incline bench pressing.
If you are familiar with the company and love their products then this is another well made and designed bench from them, good enough for some rack work but for the extra $50 I think they should have included an adjustable seat.
With its max weight and user load of 500lbs, it should suit most beginners and intermediate weightlifters.
500lb max user and weight load
Come ready to use out of the box
Folds flat for easy storage
Small gap between seat and back support
The seat is not adjustable
Universal 5 position Weight Bench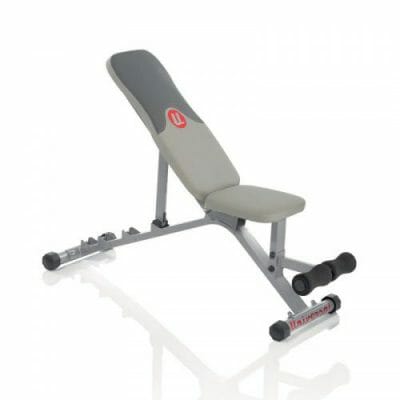 I'm surprised to see such a well made bench for under $100, front and rear stabilizer bars insure Universals bench stays stable, no wobble with seat or frame.
The low profile design of the bench helps with stability and with the right amount of thickness for the padding, Universals bench gives you the comfort you need when exercising.
Universals bench features the front foam stability rollers for decline exercises and im happy to say they are detachable so they won't get in the way of foot placement when bench pressing.
The back support tappers slightly as mentioned early this will help with freedom of movement when working your chest with flys and presses.
A bench best suited to beginners I feel, although with its limiting 430lb user and weight load it will still allow for some heavy dumbbell work.
Universals bench will not fold completely flat but this bench is light, weighing 39lbs (17kgs) so if it needs to be moved for storage it shouldn't take too much effort to move. No rear rollers with this bench.
5 adjustable back support positions make this a versatile bench for the price, I didn't expect to see an adjustable seat for a bench under a $100, but the stability and design of this bench should make it a popular choice.
Universals 5 position weight bench, is a quality well-made weight bench, one I'd certainly recommend for a beginner who just starting out lifting weights. It is a great bench to get you started while you save for a more commercial type weight bench.
Affordable price, under $100
No wobbles when lifting heavy weights
Lightweight, but remains sturdy
Padding upholstery is comfortable but firm faux leather
Low stable profile you want from a bench
Cannot be folded completely flat for storage
May not be suitable for people over 6 foot
No 90-degree angle for shoulder press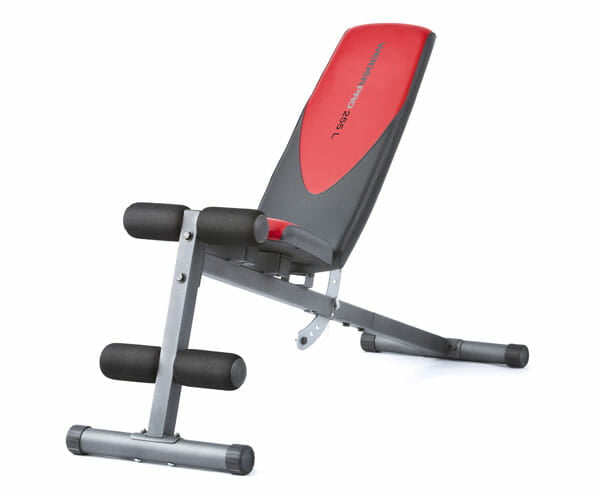 Weiders 225L is the best budget weight bench on the market, this bench has been designed for the beginner, and for the same price as a flat bench ($50), Weider offers you an adjustable bench with several positions including decline flat and incline.
Nearly all weight benches in this price bracket suffer from some sort of wobble either seat or frame or both.
And you will be glad to hear Weider's offering is solid and with no reports of unwanted wobble under weight load. Thanks to wide stabilizer bars to the front and rear and with rubber capped feet this bench should prove to be very stable.
The angled seat will help with inline pressing, but keep in mind this seat is not adjustable, so the seat will not lay flat.
This may cause some awkwardness with flat pressing, the angled seat also eliminates seated should press with the bench.
We are talking $50 here, so don't be put off by the seat angle, this is a great price for a sturdy adjustable bench.
Weider are not known for high-quality gym equipment, they are known for well-made gym gear on a budget.
And if you are just getting into training or you are not going to be lifting too heavy then this is great starter bench for your home.
The back support may be a little short for people over 6feet and the front roller are not detachable but choosing between a Weider adjustable bench and flat bench at a similar price I know which one id choose.
It has a 410 max weight and user load and honestly I think it should take it and if doesn't well ask for your money back, it comes with a 2-year frame guarantee.
Sturdy frame – low and stable
Firm but comfortable wide saddle
A 90-degree range of adjustability
Free shipping for Prime members
Light, easy to move around
Pads under knees may be too narrow
Back support is short limits use to 6 foot, but some reviews of this bench say they are 6'2 and found it ok
Not made for serious weight lifting
Size Stability & Capacity
In this price range, we should be able to find a bench that is sturdy, solid and heavy duty.
Ideally, we are looking for a minimum of 450lbs weight plus user load, 1000lbs would be the absolute ideal but then we'd be looking at benches two-three times the price.
Remember as you train you will be growing so you need to take that into account, you will be adding body mass and starting to lift heavier weights so the higher the user and weight load the better.
I cannot stress enough how important it is for your bench not to have a wobble, each of the benches we have reviewed are the sturdiest in their price range, wobbles can cause injury! A solid sturdy weight bench is a must.
Another important aspect when buying your bench is taking into consideration how wide the bench is.
If it's too wide it can interfere with bench pressing and flys, a tapering back support helps, but try to avoid any bench that widens at the top of the back support rather than tapers.
If you're a tall guy, back supports on some of the cheaper budget benches are too short, some people even struggle to fit at 5'10 so don't be caught out, the height of the bench is just as important as the length.
A comfortable height for a bench would be anywhere between 19-23, any higher than this, the average size man will struggle to keep his feet flat on the floor when the bench is in its flat position.
Most bodybuilders will look for a bench similar to what they have used in their local gym.
A commercial weight bench will more than likely include up to 7 adjustment angles for the back support, the more adjustment angles a home bought bench has is generally better, especially if you wish to have options for incline and decline workouts that a flat bench cannot offer.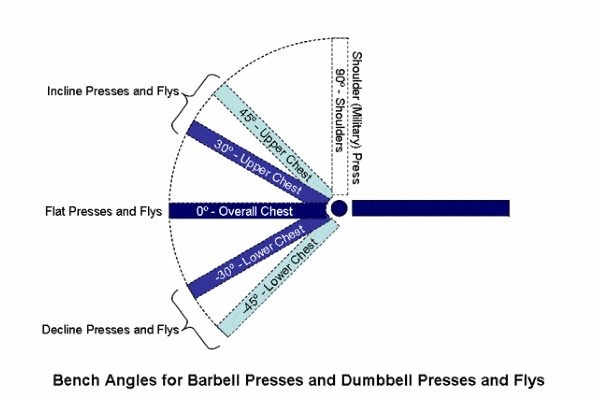 One of the main features to look out for, and yes it's available in this price bracket, is a bench that will go from flat to vertical. You don't want to have to buy another bench just for the vertical.
If the bench lacks a decline option it's not a deal breaker, decline pressing is overrated and nothing you can't achieve by doing some weighted dips.
Lastly, an adjustable seat, a feature well worth considering when choosing your bench.
You might find without an adjustable seat your butt starts to slip down when in low incline positions, important because this will affect pressing power and add additional stress to your lower back.
I bought a bench many years ago and like many of them the seat was much wider where you place your knees, this can be off-putting and uncomfortable and can affect your workout.
The bench seat should be slightly narrower at the back and only slightly wider where it meets your knees. Avoid benches that go from very narrow to wide.
The cushion of the seat should not be too soft that it's off-putting, and not too hard to make you uncomfortable. A tip is to look out for high-density foam for the upholstery.
You will find most of the weight benches come with rollers (wheels) integrated into the rear stabilizers.
This feature can prove to be a big help as adjustable benches tend to weigh in around 50-90lbs and if you're using the bench for rack work and dumbbell workouts you will be moving the bench around a lot.
Rollers make it so much easier to move the bench to different workout areas of your home gym and for ease of storage.
A bench that comes with attachments can be a welcome addition such as a leg extension curl, preacher curl or sit up stabilizer pads.
You find many of the benches in this price range come with these attachments without the option of removing them.
I'd recommend you do not buy a bench with these permanently attached, you need to have the room for proper foot placement for presses and having a bench with these attached permanently will get on your nerves and can negatively affect a serious workout.
By adding a bench to your home gym set you will vastly expand the number of exercises you can do.
Incline dumbbell bench press
Alternating dumbbell bench press
Dumbbell chest supported row
Its a close call between the Marcy and Bowflex, if you want the reassurance of a long frame guarantee and the assured quality that comes with a Bowflex product then you will not be disappointed with the 3.1.
The Marcy SB-670 bench shines with versatility, a very useful adjustable seat, and 7 back support positions the bench offers you a wider range of exercises to choose from.
And with its 600lb weight load, it might be this feature that may just sway many buyers over the Bowflex.