Yoleo Weight Bench
You won't see many seasoned weight lifters pushing to the front of the queue to get hold of a Yoleo adjustable weight bench! And for a bench costing under a $100, you wouldn't expect to.
If you are a serious lifter, you best skip this review because the Yoleo bench hasn't been designed with you in mind! (check out our best adjustable benches under $350)
Great Cheap Bench For beginners and Dumbbell Workouts.
The Yoleo weight bench has been designed solely for beginners or anyone looking for a light dumbbell workout, and the 330lb weight capacity is solid proof of that.
A 330lb weight capacity isn't a deal killer by a long way; all it does is limit the appeal of the bench. For the majority of people after a bench for dumbbell workouts or just starting with weight lifting, the Yoleo might prove to be an excellent choice.
Before we get on with the review, let's take a quick look at the product specs.
Back pad – 7 adjustable positions
Frame – Light gauged steel tubing
Upholstery –  PU leather, high density foam padding
Why Do We Like The Yoleo Adjustable Weight Bench?
The main selling feature of this bench is that it folds easily for storage, if you are training in tight quarters, a foldable bench can come in very handy.
When you fold this thing, it almost halves its overall footprint. You can slide it under a bed or store it way in a wardrobe.
It's super easy to fold, remove a couple of locking pins and done!
One other thing worth noting you don't usually find high-density foam padding being used on budget benches. High-density is the good stuff, its the padding they use on top-end weight benches, and I was surprised to see it being used for the Yoleo.
High-density padding is not too soft nor too hard; it feels just about right and provides you enough comfort not to feel uncomfortable and enough stability as not to interfere with your lifting.
Well done to Yoleo for using the best padding for their bench!
And something I know many people will like about the bench is how easy it is to move. This Yoleo adjustable weight bench only weighs 22lb. It's the lightest weight bench I've reviewed. Great for picking up and moving but not so great when it comes to stability.
Stability
Stability should be the main concern for anyone when looking at buying home gym products, and I usually  recommend the heavier the bench, the better why? Because weight is a significant factor in aiding stability, it is also a telling sign of the overall quality of the weight bench.
Expect a few wobbles from lightweight budget benches, especially in high inclined positions. At this price, you can not expect heavy gauged solid benches. At least Yeloe thought to add the anti-slip roller pads to the feet of the bench.
Anit-slip roller pads will help somewhat with slippage issues, and the wide feet should counteract any serious wobble or toppling concerns.
Versatility
The absolute minimum amount of back pad positions I would recommend is three when buying an adjustable bench. Thankfully that Yoleo provides you with seven.
Seven adjustable positions are more than enough angles for incline bench pressing and shoulder presses. The bench also includes a decline, great for decline sits up, etc.
Sadly there is no adjustable seat with the Yoleo. Depending on your training, having an adjustable seat can be a deciding factor in choosing a suitable weight bench.
If you're after a weight bench for incline pressing, then I'd have to say an adjustable seat is a must!
An adjustable seat will prevent your butt from sliding down the bench in low inclined positions. Without an adjustable seat, the base from which your press will be unstable and will reduce your pressing power.
Weight Capacity
The weight capacity for the Yoleo is the lowest I've come across on any adjustable bench. At 330lb, this bench, as we mentioned above, is only suitable for dumbbell workouts; for heavy rack work, you'll need a heavy-duty bench.
What you need to remember here is that the max capacity of 330lb includes your own body weight, so if you weigh 200lb, it leaves you room to lift 130lb.
Low max capacities do not allow heavier guys much room for growth. You'll get stronger the more you train and will add muscle mass and weight.
You don't wont to get caught out having to buy another bench six months down the line because you have outgrown this one!
Assembly
You'll be happy to hear, there isn't much to do once the Yoleo arrives at your doorstep. The Yoleo comes 98% assembled. The only assembly needed is attaching one leg across bar and popping in 3 loading pins. It should take you 5 minutes at most.
Well built for price point
7 adjustable back pad positions
High density foam padding
Ladder adjustament system for back pad – fast to adjust
Great Bench for beginners and dumbbell workouts
Super light bench – easy to move but being so light will affect the stability of the bench especially in incline positions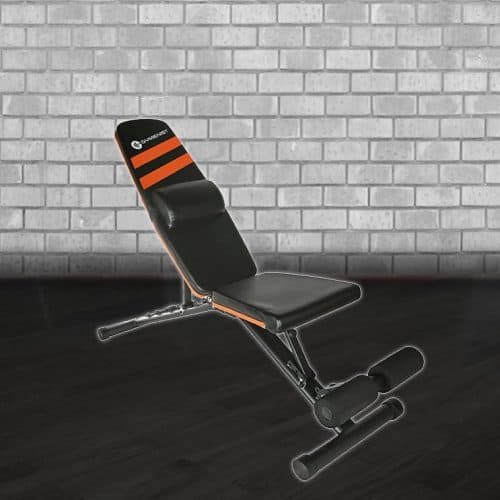 The Gymenist Exercise Bench
The Gymenist bench is the most popular choice for a budget folding bench, and there's a good reason why. The Gymenist includes a few essential features the Yoleo lacks. The first being an adjustable seat.
It's tough to find a decent budget bench that provides a foldable feature and allows for an adjustable seat. The Gymeneist is one bench that can boast both! And for under $100
The Gymenist doesn't quite match the Yoleo when it comes to adjustable back pad positions. Still, with six, the Gymesist has enough back pad angles for all of your pressing needs.
Just like the Yoleo, the Gymenist uses a ladder system for the adjustments of the back pad. The ladder adjustment system is faster to adjust than the pull pin type and in my opinion, is a more robust system, cheap pull pin systems can be unstable and break easily.
There's no high-density foam for the padding of the Gymenist the Yoleo has the Gymenist beaten in this respect. However, the Gymenet hasn't received any negatives for the padding, with many stating they felt stable when pressing.
And lastly, the Gymenist has a 600lb weight capacity nearly twice that of the Yoleo. A 600lb capacity will attract a few intermediate lifters while providing many beginners much more room for growth without the need to replace the bench.
The Gymenist has been around for a while and still receives high ratings wherever it is sold. It's hard to fault a bench that provides so much at such little cost!
For the price, the Gymenist is unmatched! A well-built bench that includes an adjustable seat and a decent weight capacity. It's certainly worth a closer look. If you would like to read our full review for this bench, please click the link below.
To Sum Up
The Yoleo Adjustable Weight Bench is very close to being one of the top entry-level adjustable benches, for the price, this thing boasts a lot of excellent features, 7 adjustable back pad positions, high-density foam padding, a quality frame and it looks good too.
Its a shame it lacks the adjustable seat for low inclined pressing support and its a shame about the weight capacity but for under $100 I still think it's a good buy and will do well for many beginners looking for a well-built dumbbell bench.
Yoleo's New 550lb Capacity Bench
As I was researching this bench I was happy to come across the upgrade or pro version of the Yoleo. It looks to be a real improvement, with a 550lb weight capacity and the all-important adjustable seat!
Their new bench includes all the good stuff from their previous bench, 7 back pad positions and the high-density foam, etc and now has the two key features it was missing. With a price rise of only $20 I was impressed. Seems as though Yoleo has built a bench to compete with the best out there in this price range.