8 Top Tips To Help You Choose an Olympic Weight Bench. 
The great thing about Olympic weight benches is that you dont have to spend a ton of money to get hold of a decent one.
Still, with so many Olympic benches on the market right now, it can be challenging trying to choose the ideal bench for your home gym, especially if it's your first Olympic bench.
I've been reviewing weight benches for over a decade, and from experience, I can tell you the quality and features for each bench can vary hugely from one company to the next, even in the same price bracket.
So knowing what to look for is essential if you want to get the most for your money.
To help you, I've put together a detailed buyer's guide explaining all the features you should look for when choosing an Olympic weight bench for your home.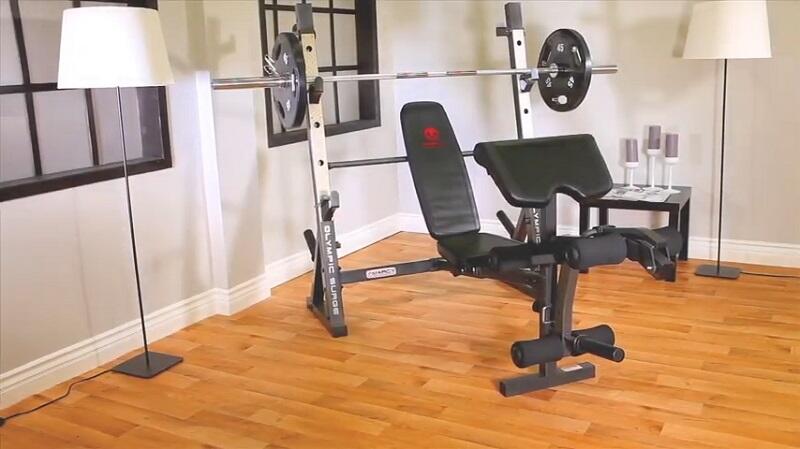 1. Is The Weight of the Bench Important?
The weight of an Olympic bench is important because the heavier the bench, the more solid it's going to feel when you are using it for your workouts. Stability is a must when lifting heavy barbells.
You dont want a cheaply built lightweight bench. They're unstable and can be dangerous.
We need a heavy bench, so it stays planted to the floor. Also, the bench's weight gives us a good clue to the overall quality of materials used in the build. The heavier the bench, the higher the quality of materials.
Cheaply made Olympic weight benches weigh anything from 30-60lb. You need to look for at least 100lb in weight.
And thankfully, you dont have to spend a load of cash to find a heavy Olympic bench. You can find some impressive Olympic benches under $300, like the Marcy MD-857 and Xmark Internation XM-4424 that weigh over 100lb and are solid examples of affordable, high-quality Olympic benches.
2. Olympic Bench Attachments
The majority of low-cost Olympic weight benches come with attachments such as  leg developers, preacher curls, and a few come with fly arms. It's really up to you whether you decide to keep them attached or not.
I find the attachments get in the way of foot placement when setting up for presses, so I leave them unattached. However, many people get a lot of use from the attachments. It depends on your training schedule and what exercises you like to perform.
3. Weight Capacity – Can My Bench Handle its Max Capacity?
Max capacities of Olympic weight benches and standard benches can be tricky.
There's a ton of companies out there that love to boast high weight capacities, but in reality, their products just don't have the heavy-duty build to support such weight loads regularly.
And while we can find some great Olympic weight benches for under $300 with decent frames and welds, they're still a long way off commercial grade, so it's best to be careful when lifting heavy on any low-cost bench.
If you're spending under $300 on an Olympic weight bench? It's best to stay 100lb below its max capacity just to be on the safe side.
I'm not saying all budget Olympic weight benches will break under their max capacity, but when you take a cheap bench to its max, it starts to become unstable, which can be dangerous.
If you want your bench to last a few years, stay well below its max capacity unless you have the money to go heavy-duty.
And lastly, the max capacity of an Olympic bench includes your body weight plus weight lifted.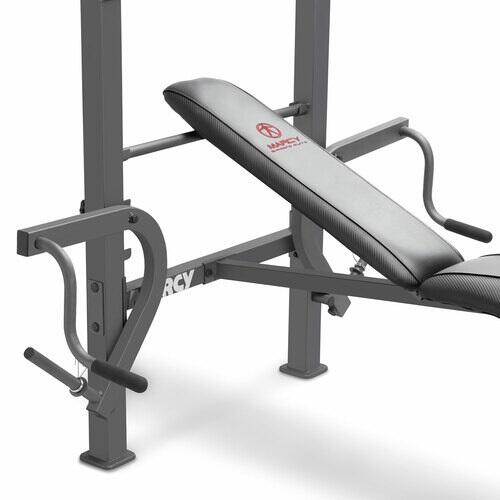 4. Back Pad angles, How Many Do I need?
The amount of back pad angles is important as it will determine what exercises you can perform and, most notably, what areas of the pectorals we can develop.
I recommend you choose an Olympic weight bench with at least 4 back pad angles.
Ideally, these angles will include a decline that allows you to perform decline presses, which will help develop your lower pectorals. Flat – great for flat presses working your lower and upper pecs evenly together, and we need an incline for incline presses to build your upper pectorals.
And if we're lucky, a near-vertical for military presses. I say lucky because most budget Olympic benches do not include a near-vertical for seated shoulder presses. They only adjust to a max of 70 degrees which is too low to target the shoulders fully.
We need an angle of 80-85 degrees to hit the shoulders hard.
An angle of 85 degrees (near vertical) allows you to arch your back slightly, putting you in the best position to press from, its better than a full vertical (90 degrees) as this doesn't allow you to arch your back.
5. Adjustable Seat
If you're serious about your lifting and planning on lifting heavy, you'll need an adjustable seat. Surprisingly you'll find a few Olympic benches in the low price ranges that include adjustable seats.
Why do we need an adjustable seat? An adjustable seat stops your butt from sliding down the bench in low incline positions. It provides you a stable base to press from, thus increasing your pressing power. It's a vital feature for those of you who want to press heavy in incline.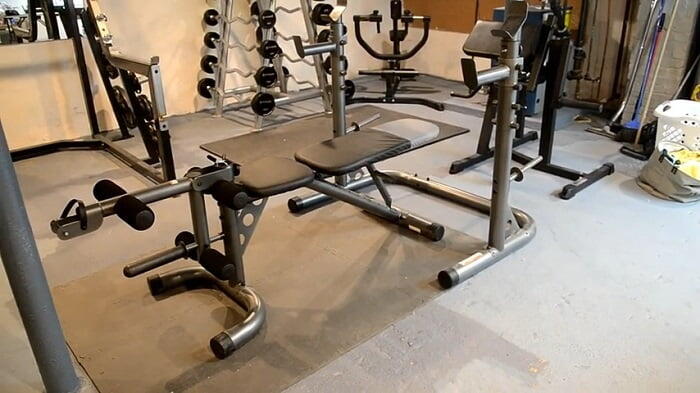 6. One Piece units Vs. Two-Piece Sets
You may have noticed there are two types of Olympic weight benches? The first type and most popular is the one-piece Olympic Weight Bench. This is where the bench is attached to the barbell rack.
The main advantage of the one piece Olympic weight bench is that it is more stable than the two-piece design. The rack being attached to the beach creates a more solid unit.
However, the two-piece Olympic bench sets where the bench is separate from the rack also have their advantages, such as being able to use the bench independently from the rack, which opens up more exercises, plus you can use the barbell rack as a walk-in squat rack which is a very appealing feature for many.
Still, the big drawback of two-piece sets is the lack of stability, as many people find issues with rack movement.
You can prevent most movement if the barbell crutches/rack include built-in weight plate holders? We can load the plate storage pegs with plates to give the barbell crutches some much-needed extra weight, which helps with stability.
7. Safety – Spotter Bars
Sadly you'll find most budget Olympic benches (under 3000) offer you zero safety which is a big concern, especially if you want to press heavy barbells on your own at home.
This usually means you need a training partner to spot you on chest day or when squatting heavy, otherwise you'll have to hold back on those heavy lifts.
Thankfully it's not all doom and gloom in the lower price brackets. There are a few Olympic benches that include spotter arms for safety.
Adjustable spotter arms will stop you from getting pinned under the barbell if you fail on one of those presses they are an essential bit of kit if you want to lift safely in solitude at home, and I highly recommend you choose an Olympic weight bench that includes this useful feature.
The Gold Gym XRS 20 is the only budget bench under $200 to include spotter's arms, and the Marcy Md-857 is the only Olympic bench to have spotter arms as well an adjustable seat for under $300
Plate Storage
On the positive, most Olympic benches do include storage pegs/horns to store your weight plates. These are usually situated on the back of each upright on the barbell rack.
Storage pegs are useful because they keep your plates off of the floor and closer to the barbell on the rack, but what's best about this feature is that the storage pegs, once loaded with your weight plates, add some additional weight to the bench. This extra weight will increase stability.
Just remember to load the plates evenly on each side.
To Sum Up
What most important is to take your time when choosing an Olympic bench. Go through this checklist and see if your bench includes all of these useful features.
The weight is most important as this typically ensures a quality build and stability.
Safety is also essential. We train at home because we want to train on our own at any time we choose to. So an Olympic bench with the proper safety features (spotter bars) will allow you to achieve this, and thats what training at home is all about being able to lift heavy, at home, safely in solitude.