Universal 5 Position Weight Bench
Nautilus, the guys who built the Universal UB300 Adjustable Bench, have been building high-quality gym gear for decades.
Their UB300 bench has been around for nearly 10 years now, and it still receives high ratings wherever it's sold.
And even though there's a ton of other excellent benches that have hit the market since then, the UB300 continues to hold enough appeal thats it's worth taking a closer look at.
Solid Bench For Dumbbell Workouts.
The 5 position UB300 adjustable bench isn't a heavy-duty bench, and we wouldn't expect it to be at this price point. Still, it's well built, has a decent combined weight capacity of 450lb, a 5 position back pad that includes decline, and comfortable 2″ foam padding.
Not a bench for heavy barbell workouts, but it's perfect for light to medium dumbbell work.
Still, this bench does come with a few drawbacks, like the lack of an adjustable seat or a near-vertical for the back pad, which we'll cover later.
First, let's take a quick look at the Universal 5 Position UB300 product specs!
Product dimensions – (L x W x H) 51″ X 17″ X 25″
Adjustable back pad positions – 5 in total ( -10° / flat / +15° / +30° / +45°)
Warranty – Frame: 2 years Upholstery: 30 days
Why Do We Like The Univeral 5 position Weight Bench?
The best feature of this bench is that it's stable, with many uses praising how solid this bench feels even in incline angles. This is mainly thanks to the wide stabilizing feet at the rear and front of the bench, helping to prevent any movement.
Okay, it's not going to feel like you're training on a tank. This thing is light at 33lb, so dont go expecting gym quality, but for a light bench, it's not too bad.
And at least the guys at Nautilus thought to keep the bench low, the center of gravity will help keep the bench stable and allow shorter uses to place their feet firmly on the ground when bench pressing.
Another positive of this bench is the padding. Too many benches get the padding wrong. How? They make it too soft, which can cause stability issues when pressing, Thankfully the padding of the UB300 isn't too soft nor too hard. It's just about right.
Adjustable Back Pad Positions – No Full Incline?
In total, we have 5 back pad positions for the Universal bench, which includes decline, flat, and a few incline angles. It's great to see a -20 for decline presses, and sit-up, plus this bench is excellent in flat thanks to its low profile.
The only problem with the back pad is that it doesn't adjust anywhere near to a full incline, with its highest angle being 45 degrees.
You want an angle of anywhere between 80-90 degrees to hit the shoulders hard. 45 degrees is too low for seated shoulder presses as you will not target the shoulders fully. If you're not interested in shoulder presses, then the lack of near-vertical for the back pad won't bother you, but for some, this could be a deal-breaker.
Something I liked about the back pad is that it uses a ladder adjustment system. Ladder adjustment systems are much faster to adjust than the pull pin type, handle more weight, and are sturdier, so a big thumbs up for the adjustment system.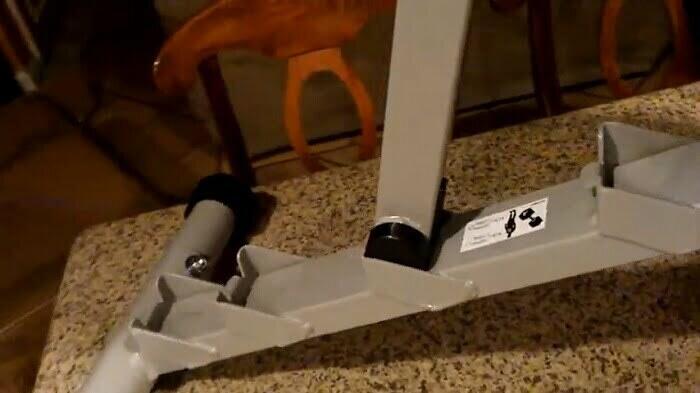 Adjustable Seat
The biggest drawback of the Universal bench is the lack of adjustment angles for the seat. I normally recommend when choosing an adjustable bench to look for a bench with at least one adjustable angle for the seat. This bench has none.
What does this mean? It means you'll have minimal support when pressing at low incline angles. The job of an adjustable seat is to stop your butt from slipping down the bench at low incline angles. They provide you a stable base to press from.
For light dumbbell workouts, you'll probably be okay when low incline pressing, but as soon as you start to lift heavy, an adjustable seat is essential for support. Otherwise, you'll lose pressing power because you're pressing from an unstable base.
430lb Weight Capacity – Can It Take it?
A 430lb weight capacity for an adjustable bench in this price bracket is quite realistic.
You see so many cheap benches boasting huge capacities (1000lb) when they dont have the frame nor the quality to handle it. So it's refreshing to see a company label their entry-level bench with a realistic weight capacity. And with the Universal bench's solid construction, it shouldn't have issues coping with someone near that capacity regularly.
But we need to remember 430lb includes your own body weight. In this case, Nautilus recommends 250lb max bodyweight, which leaves 180lb for lifting.
Solid But Light – Easy To Move & Store
Solid is a good word for this bench. Actually, it's a good word for any weight bench. One guy's review said it felt like he was sitting on a tank… a slight exaggeration, maybe, but because of the design of this bench, it is sturdy and solid, and that's surprising for such a light bench.
The bench weighs in at 33lbs, so can be moved around quite easily. Especially handy if you are challenged for space and need to pack it away after use.
Bear in mind the Universal bench will not completely fold flat and does not have wheels, but it shouldn't pose too many problems when moving it because it's weight.
Assembly
Wouldn't it be nice if everything came preassembled? But sadly, this bench doesn't! Whilst it's not going to take you all day to build ( most people who bought this bench found it relatively easy), it certainly won't be as difficult as some of the heavy-duty benches that weigh 100lb+.
This UB300  will take 30-40 mins max for construction, and you need a few tools to fix it together.
No wobbles when lifting heavy weights
Lightweight, but remains sturdy
Padding upholstery is comfortable but firm faux leather
Low stable profile, exactly what you want from a bench
Cannot be folded completely flat for storage
May not be suitable for people over 6 foot
No 90-degree angle for shoulder press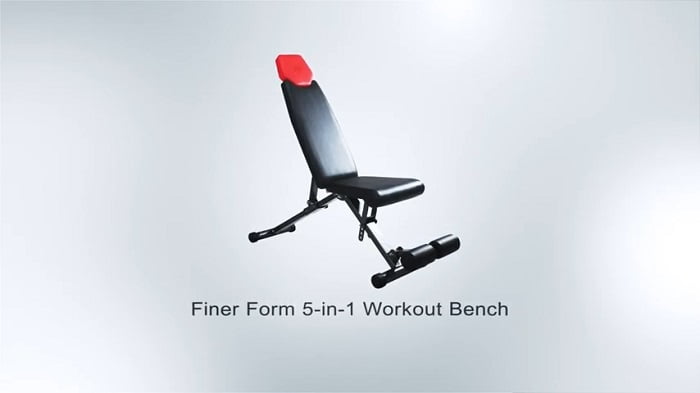 Finer Form Adjustable Bench
The Finer Form hasn't been out all that long, yet it's already proved to be one of the best sellers in this price bracket, and there's a good reason why because this bench is the most versatile bench you'll find for Under $150.
The Finer Formn bench boasts an impressive 8 back pad positions, including decline, flat, a number of incline positions, and the all-important near vertical for seated shoulder presses.
The padding is great too on this bench as it's made from high-density foam, the gold standard for weight benches, and surprising to see featured on a low-cost bench. Plus, we have a 3-way adjustable seat for support when low incline pressing. 
And the Finer Form 5-1 is super easy to store thanks to its folding feature. You simply remove a pin, and its folds to nearly half its original footprint.
Easily one of the most impressive foldable benches on the market, and if you think your training needs an adjustable seat and a near-vertical incline? You might want to check this bench out.
A good-looking, well-built, versatile folding bench. The Finer Form offers a lot of bench for the price tag.
To Sum Up
The Universal UB3000 is an uncomplicated, well-made, affordable weight bench for the beginner. If you are looking for a durable bench on a budget, the Universal 5 Position Weight Bench isn't a bad choice.
However, I feel the competition has somewhat passed the Universal in the last five years or so, especially when you consider a bench like the Finer Form that offers so much more versatility and costs the same.
Still, the Universal has been a best seller for years, and for good reason-  it is a solid bench that will last, and if you can live without an adjustable seat, there's no reason why the Universal should disappoint.