There are over 30 budget benches out there right now and we've reviewed most of them here at JHG. The quality on offer can vary massively from one entry-level bench to another. This is why it's a good idea to do your research before buying any entry-level weight bench.
Versatile Foldable Bench With 8 Back Pad Positions
The Finer Form 5-1 Adjustable Weight Bench is another entry-level bench, but it is, thankfully, one of the better ones.
This thing boasts more back pad positions than any other weight bench in its price range and the all-important adjustable seat vital for support when incline pressing.
The Finer Form also includes a foldable feature that almost halves its overall footprint and carries an impressive 660lb max weight capacity.
It's certainly a bench worthy of some serious consideration, and today I want to take a close look at everything this budget bench from Finer Form has to offer.
At the end of the review, I'll also compare the Finer Form with one of the most popular entry-level benches on the market, the Gyemnist Weight Bench.
First, a quick look at the Finer Form 5-1 Foldable Bench product specs!
Product dimensions – 41.3″ x 13″ x 49.6″ at Max
3 position adjustable seat
Why Do We Like The Finer Form Adjustable Weight Bench?
What I find most impressive about this bench is its versatility, its great to see an affordable bench offering so many adjustable positions for the back pad and an adjustable seat.
Usually, I'd recommend a minimum of 3 incline positions for the back pad. This allows you to target the upper and lower muscles of the pectorals and a near or full incline for seated shoulder press.
So many cheap benches disappointingly adjust to a max of 70-degrees for seated shoulder press, this is too low to hit the shoulders hard we need a bench that can provide a near verticle to give the shoulders a really good pump, and the Finer Form provides an 85 degree which is perfect for seated shoulder presses.
8 adjustable back pad positions is slight overkill. You'll probably never need all of them, but it's still nice to have the options, and to include decline is also a bonus, allowing for decline sit-ups and decline presses to add some mass to your lower pecs.
Still, what's best of all is the Finer Form includes an adjustable seat. An adjustable seat is more important than most people think.
An adjustable seat is going to give you the support you need for low incline pressing. It will stop your butt from slipping down the bench, providing you a stable base to press from.
It's A Dumbbell Bench, Even Though It Has A 660lb Capacity?
If you just bought yourself a shiny new power rack and you're thinking of getting yourself a bench to go with it. This ain't the bench for you.
The Finer Form is not a bench suited for heavy barbell lifting. This bench is designed for light to medium dumbbell workouts, even though it boasts a substantial weight capacity.
If you're after a weight bench for heavy rack work, you need to look for a heavy-duty bench made from heavy gauge steel something like the Xmark XM7630 or Reps AB-3000 bench.
The Finer form is a lightweight bench. This thing weighs just 30lb. It's not going to take heavy loads on a regular basis. A more realistic max capacity for a foldable lightweight bench is 400lb, and remember that includes your body weight.
Plus, the Finer Form foldable bench uses a pin pull-type adjustment system.
Pin adjustment systems work fine on high-end expensive benches because the quality is there. But when used on budget benches, they tend to break under heavy loads, which is why I wouldn't risk taking this bench up to its max capacity or any cheap bench with this type of adjustment system.
Still, the adjustment system shouldn't be a deal-killer, nor should its lightweight build. Use the Finer Form Foldable Bench for light to medium workouts, and it should last years of use.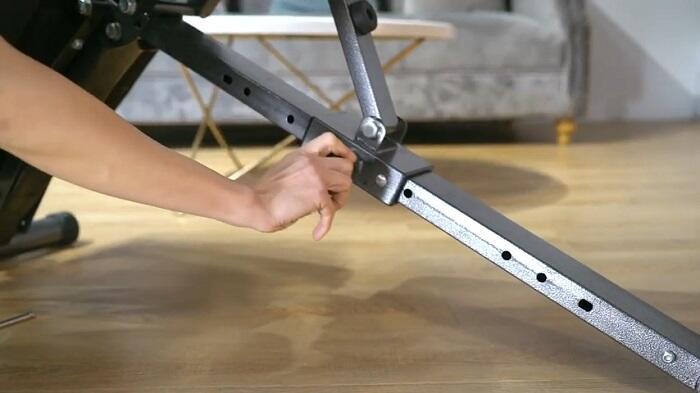 Folds For Easy Storage
One of the best features of this bench is that it folds for storage. This allows the bench to be stored up against a wall under a bed or in a cupboard. The folded dimensions for the bench are 11″ x 33.5″ x 13″.
And this bench is light. It's the one time that being light is going to work in its favor. Making it easy to move and store.
Finer Form Bench Comes Fully Assembled
There's no messing around with assembly when the Fine Feather 5-1 arrives on your doorstep. This bench comes fully assembled. However, instructions are provided for the pins.
When a piece of gym equipment comes fully assembled, it's still a good idea to make sure all the nuts and bolts ext. are tight.
Versatile – 8 back pad positions & adjustable seat
Padding isn't too soft to cause stability issues or too hard to be uncomfortable
Good looking weight bench, similar to Bowlfex
Wide front and rear stabilizers keep the bench stable
Light weight build – not suitable for heavy lifting
Some people had trouble aligning pins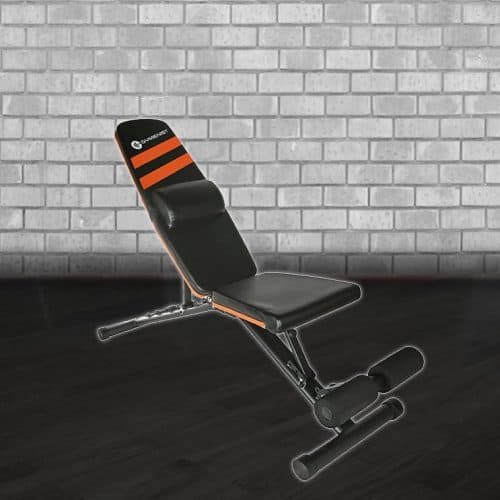 Gymenist Foldable Workout Bench
The Gymenist was for a long time one of the only benches under $150 that provided an adjustable seat. And it's one of the reasons this bench became such a popular, affordable bench.
Fast forward a few years, and we see adjustable seats featured on many of the entry-level benches, which has diminished the appeal of the Gymenist a little.
Still, this is a great bench that has many features in common with the Finer Form bench. Both benches are foldable, so easy to store. Both include a ton of back pad positions for all your pressing needs, and both can be purchased for under $150
Like the Finer Form bench, the Gymenist is another bench designed for dumbbell workouts because of its lightweight build. However, I do prefer the adjustment system of the Gymenist over the Finer Forms.
The Gymenist uses a ladder adjustment system. Ladder adjustment systems are better suited to cheap benches as they are easy to adjust, sturdier, and can handle more weight.
The only real negative of the Gymenist is its upholstery; as many users have mentioned, it wears quickly and rips start to develop just a few months after use.
Apart from the upholstery, the Gymensit has for years been unbeatable for the price point, but with benches like the Finer Form out there, it won't be long until the Gymenist is knocked off of its top spot as the No.1 foldable bench under $150
To Sum Up
The Finer Form Foldable Bench offers more than most in this price bracket. Yes, its lightweight build prevents it from being a bench suitable for heavy workouts with a barbell, but we can't expect too much at this price.
This is a great bench for light to medium dumbbell workouts. It has more than enough back pad positions for all your pressing needs, including a near-vertical for seated shoulder press, and thankfully includes a three-way adjustable seat for low incline pressing.
There's nothing I can really fault about this bench. It ticks all the right boxes for an affordable foldable bench. Keep well below the max capacity of the bench, and I'm sure this foldable bench will last years of use—definitely one of my favorite foldable benches under $150.