Xmark Olympic Weight Bench – XM-4424
Xmark has been building high-quality gym gear for our homes for over two decades. These guys are known for their heavy-duty builds and durable equipment.
I've owned one of their benches, and I've reviewed a ton of their gear over the years, and they very rarely disappoint.
Xmark is the company you go to if you want heavy-duty, high-capacity gear, but you dont want to pay Rogue prices.
Mid-Priced Olympic Bench –
The Xmark Olympic weight bench is a mid-priced bench suitable for most levels. It's still a way of commercial-grade because of its 14 gauge steel frame, but it's not a mile away, especially when we consider it weighs 130lb twice the weight of a budget Olympic bench.
And we want heavy—the heavier, the better when it comes to benches and racks because weight gives us stability.
The Xmark bench has more than enough going for it to warrant a closer look, and today we'll take a look at all of its pros and drawbacks plus, I'll compare it with the best budget Olympic bench available, the Body Champ.
But first, let's take a quick look at the Xmark XM-4424 product specs!
Product dimensions – 59 x 18 x 9 inches LxWxH
6 back pad positions for weight bench which includes decline
Includes leg developer and preacher curl for the bench
Weight capacity – 700lb combined – (user plus weight load)
Olympic and standard weight plates can used
Olympic adaptors provided
Why Do We Like The Xmark Olympic Bench?
Safety is a big concern when you buy an Olympic bench, especially if you're training on your own.
Nearly all the low-cost Olympic weight benches do not include spotter bars which means they offer zero safety. So if you fail on one of those presses, it's going to hurt.
Thankfully spending a few more bucks on a bench as the Xmark allows for a few extra features, and one of those is spotter bars, which I think is a must.
Spotter bars allow you to lift heavy without the worry of getting pinned under the bar. You can actually train with true intensity with a barbell in solitude. This is how to train at home.
Another positive of the Xmark bench is that it's a one-piece unit.
One-piece units are much more stable than two-piece sets. With the two-piece sets, the rack is separate, and it tends to wobble, and in general, it's just not as stable as having the rack attached to the bench.
Still, the two pice sets do have their pros, such as using the bench separately, and you can treat the racks as walk-in squat racks, which allow for a wider range of exercises.
However, having a rock-solid Olympic bench is more desirable, and thanks to the height of the uprights, the Xmark Olympic bench can be used for squats.
The Bench – Includes an Adjustable Seat
The bench is something you can be sure Xmark won't get wrong.
Xmark builds some of the toughest benches out there, and the quality is usually better than most. The XM44-24 is no exception. It's a high-quality, versatile bench that includes decline flat and a few incline positions.
It's great to see the bench includes a near-vertical for seated shoulder press. Many benches in this price bracket stop at 70 degrees which isn't high enough to target the shoulders fully. The Xmarks near-vertical is just about right. It allows enough room to arch your back, so you're in the best position to press from.
Also, we get decline for decline presses a useful option if you haven't got a dip station, as decline presses will help help you develop the lower pecs quickly.
But my favorite feature of this bench is that it includes an adjustable seat.
Adjustable seats are vital as they stop your butt from slipping down the bench in low incline angles. They provide you a stable base to press from, thus increasing your pressing power.
The Xmark is the only Olympic bench apart from the Marcy Diamond Elite in this price bracket to include an adjustable seat. Big thumbs up.
And lastly, Xmark uses high-density foam padding for this bench. It's the gold standard for weight benches. This stuff isnt too soft to cause stability issues or too hard to be uncomfortable. It's just right.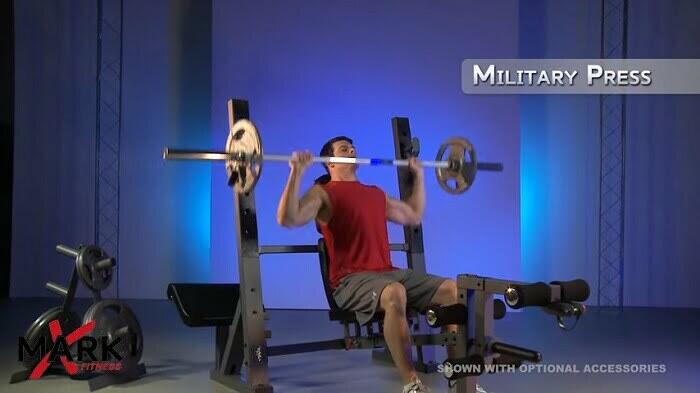 Stability – Weight – Design
I've already mentioned that one piece units are more stable than the two pieces sets, but another factor contributing to the stability is benches weight.
And while this bench isnt super heavy. It does weigh more than anything else in this price bracket.
130lb is heavy for a bench that costs under $400—twice the weight of the Body Champ, which costs $350. You start to understand how much bench you get for your money.
This extra weight will help a ton with stability. The closer we can get to being built like a tank, the better.
Also, the weight is a telling sign as to the overall quality of the bench. And at 130lb, this bench shines more quality than its competition.
If we want to add even more stability to the bench, we can load the storage horns with our weight plates because not only does this keep the plates off of the floor and closer to the barbell on the rack it also adds extra weight to the bench which again helps keep the thing planted to the floor.
Okay, we can't get too excited. We haven't got an 11 gauge commercial quality bench here, but at this price, we cant expect to.
If this were built from heavy-gauge steel like Xmarks other benches, we'd be looking at a much higher price because the bench and the rack would need to be made from the same gauge steel, and it would put this Olympic bench over the $600 price mark.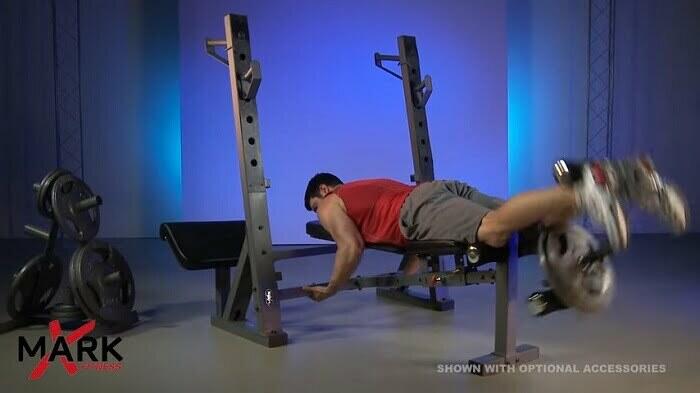 Capacity – And Barbell Length
The Xmark Olympic Bench max's out at 700lb. An impressive capacity considering its price, and because it's Xamrk, we know this bench will take it.
Still, always best to keep slightly below the max capacity of any bench just to be on the safe side, and if you want the bench to last, it's best not to push it to its max regularly.
700lb is a combined weight of both user and weight load. The spotter bars have a max of 300lb. 
Sadly we can't use standard length barbells with this Olympic bench: just Olympic-sized barbells 7 and 8ft. You can choose to use standard or Olympic plates with the leg developer or preacher curl as Olympic adaptors are included.
Anything I didn't Like?
The only real issue I found with this bench is that the attachments are not easily detachable. You need to unbolt them. Preacher curls and leg developers are a pain in the butt when setting up for presses etc. They get in the way of foot placement.
If I owned this bench, I probably wouldn't bother with the attachment as they're more trouble than they are worth, but if you are planning on using them, the hassle of detaching them is something you should consider.
If you're serious about your lifting, the last thing you need is stuff getting in your way when lifting heavy.
Bench includes flat incline and decline
2 way adjustable seat for support when incline pressing
High density foam padding used for the seat and back pad of the bench
Most people will be able to use the uprights for squats
Storage horns will allow to add some extra weight to the bench increasing stability
Comes with Olympic adaptors
Rack too wide for standard sized barbells
Holes for the spotter bars need to be a little lower to be perfect for bench pressing.
A few people found the bench tricky to assemble. Best to allow an afternoon for this one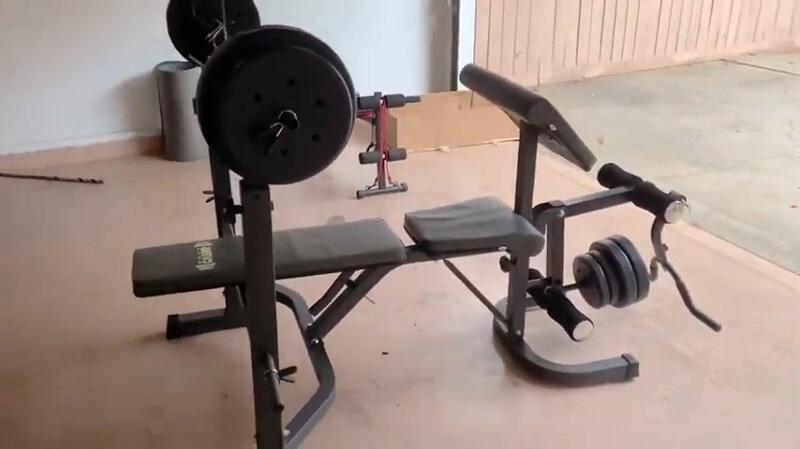 Body Champ Olympic Weight Bench
This is the Body Champ, the most popular budget Olympic bench on the market, and for the price, it's a bargain.
By looking at the picture, you can tell it's not in the same league as the Xmark, but it hasn't been designed for serious lifters. This is an impressive little bench for beginners who want to get into barbell lifting at home.
It makes a great first Olympic bench. It boasts some useful features for the price, such as 7 adjustable back pad positions that include decline and a full incline, 600lb combined weight capacity and unlike the Xmark, it can be used with both standard and Olympic barbells.
The Body Champ only weighs 78lb, so it's a long way off commercial grade, but it's a one-piece unit, so it will feel stable enough and comes with storage horns so we can add some extra weight to keep things more stable.
The drawback to owning a budget Olympic bench isnt really the build quality because some benches such as the Body Champ are easily good enough for home use, yeah they don't scream quality, but the Body Champ isnt cheaply built either. It's an excellent well-built choice if your budget is tight.
The drawback is not having any safety features and the lack of an adjustable seat.
Still, even though the Body Champ lacks a few important features, the positives of the bench make up for them.
To Sum Up
You need to be realistic with the Xmark bench. It might look like a commercial-grade bench in the pictures, but in reality, it's a mid-level Olympic weight bench. Gym quality Olympic benches cost almost twice that of the Xmark.
However, for the price, the Xmark Olympic Weight Bench is impressive, I think it's great  we can get hold of an Olympic bench with an adjustable seat in this price bracket, and we can train safly thanks to the spotter arms.
130lb, 14 gauge steel frame, is more than enough for a home gym, it's nothing to complain about, and I've never heard of anyone complaining about the welds of Xmark products so you shouldn't have to worry about this bench breaking under heavy weight loads.
Overall you'll be hard pushed to find anything better in the mid-price range.
The Xmark has everything you'd expect from an Olympic bench, its study, simple in design and durable, and best of all its built by a company with a great reputation. Yes, it would have been nice to of seen 11 gauge steel for the frame but then we'd be looking at much higher price tag.