There's a ton of entry-level benches flooding the market right now, or so-called dumbbell benches, basically, benches that are best suited to beginners and intermediate lifters. While some are way below par when it comes to both build quality and versatility, there are a couple that are worth taking a closer look at.
Heavy Duty – Affordable – Versatile
The Vanswe is one such bench, heavy-duty steel frame, 7 back pad positions an adjustable seat, and a weight capacity of 800lb; the Vanswe bench seems to offer a lot of bang for your buck.
Today we're going to take a close at the pros and cons of the Vanswe Adjustable Weight Bench. And at the end of the review, I'll compare the Vanswe 800lb bench their lesser priced foldable bench, which is another excellent entry-level bench from Vanswe, a bench well worth taking a look at if you're tight on space.
First lets take a quick look at the Vanswe 800lb product specs.
Product dimensions –  61 x 22.2 x 18.1 inches
Adjustable backrest positions – 7
Frame – Heavy-duty  steel tubing
Why Do We Like The Vanswe Adjustable Weight Bench?
What sells this bench for me is its versatility, with 7 adjustable back pad positions that include both 85 degrees for military press and a -20 decline for decline presses, the Vanswe bench has more than enough adjustable angles for any lifters needs.
I've reviewed benches costing twice as much that don't include the 85 degrees for military presses; some people have to buy a sperate bench just for this angle as many adjustable weight benches only go up to 70 or 75 degrees, which is too low for military presses.
Another great feature of the back pad is that it uses a ladder adjustment system. I've always felt the ladder adjustment system to be more stable than the pull pin type, especially in the entry to mid-level range.
Also, ladder adjustment systems are super fast to adjust; just lift and place it back to the angle you want, takes a couple of seconds.
One more positive for the bench is the adjustable seat.
Owning a weight bench with an adjustable seat is essential if you want to get the most from your incline pressing; why?
Because an adjustable seat stops you butt slipping down the bench in low incline positions, the last thing you need is an unstable base to press from. An adjustable seat will give you the stability you need, thus increasing your pressing power.
The seat has three adjustment angles from 0-20 degrees.
Weight Range
The Vanswe weight bench boasts an 800lb max capacity, remember this is to include your own body weight. I have my doubts about whether or not a weight bench costing 200 bucks could actually take an 800lb weight load daily? Maybe a few times it might, but I wouldn't want to risk it.
600lb sounds more realistic for a bench in the entry-mid level range, and that's still easily enough for most beginners intermediates, heck even advanced lifters needs.
And after all, this bench is built from heavy-duty steel and weighs a reasonable amount for an entry-level bench at 51lb, so it should feel stable under heavy loads. Still, its the quality of the welds that counts, so if you are going to risk lifting seriously heavy on this bench, make sure you check them out first.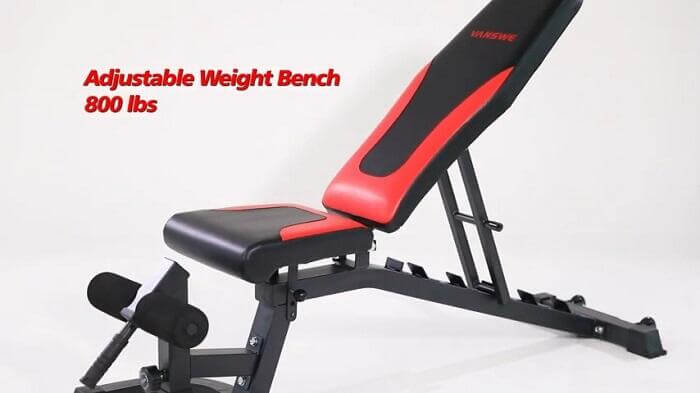 Build quality
You can tell a lot about the build quality of an adjustable bench by the weight of the thing. The bench's weight is usually a good clue to the overall quality of the materials used in the build.
Yes, the heavier, the better, or as close to being built like a tank as we can get to for the price.
And I'm impressed with this bench for the price at 51lb; it weighs a substantial amount for an entry-level adjustable bench. Not only will the weight help a ton with stability, but it will also give you that feeling of quality when you are using it, something we all like when we buy home gym gear.
Owners of the Vanswe bench have mentioned the padding to feel comfortable but not too comfortable, which is important. Why? An overly comfortable bench will affect the stability when your pressing,
What we need is a padding that's not too soft to cause stability issues nor too hard to be off-putting, and by the looks of it, Vanswe has got this right with their multiple layers pads.
While most people who have purchased this bench praise it saying they were surprised by the quality of the bench for the price, a couple of people are disappointed with the paddings fabric, saying it ripped just a few months after purchasing.
Ripped upholstery is sadly a common problem for most weight benches, even the expensive ones, it's the first thing to go on your weight bench, and of course, it's the thing that has the shortest warranty, I think 90 days for this bench which is disappointing.
Ripped pads aren't going to happen to everyone in the first few months of use, but its something you can expect to happen somewhere down the line of owning any weight bench; it's more likely to happen sooner with cheaper weight benches.
Assembly
Thankfully this bench is simple to put together, I havent heard of any horror stories, the majority of it comes preassembled. Takes on average, about 30 mins to an hour to build, and the bench comes with concise, clear instructions.
Heavy-duty frame 51lb, stable
Versatile – 7 back pad positions including decline and the all-important 85 degrees for military presses
3 position adjustable seat – keeps you stable in low incline positions
Ladder adjustment system for back pad – sturdy and fast to adjust
A few users reported rips in the upholstery after only a few months
Tapering back pad may put larger users off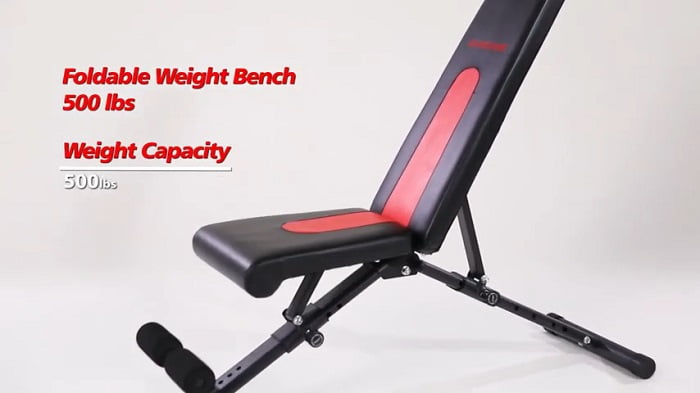 Vanswe Folding Adjustable Bench
This entry-level bench even has an adjustable seat! That's impressive for a folding weight bench, especially at this price and it too just like its bigger brother the Vanswe 800lb bench has the important 85 degrees for military presses and includes a couple of decline angles. Plus, it boasts the same quality layered padding.
Not many folding benches can provide such versatility, yes there's a few around but cost double that of the Vanswe bench.
So whos it for? People who are going to get the most from this bench are people who are tight on space as this bench folds to almost half its original footprint allowing you to easily store away after use.
The Vanswe is best suited for dumbbell workouts its not a heavy-duty rack bench. It's perfect for beginners and intermediates looking for a decent dumbbell bench for home use.
It is a light bench at 31lb, but surprisingly users have said it felt stable when in use, and that's thanks to the wide front and rear stabilizing feet. Its never going to feel like a rock-solid commercial bench, still at this price we don't expect to see any benches built like tanks!
I've reviewed a number of foldable benches, and this one is right up there with the best it certainly offers more than most for the price point. For $160, you get 7  back pad positions, which include decline, an adjustable seat, and the useful fold for storage feature.
A well designed foldable bench from the guys over at Vanswe.
To Sum Up
I think most people who purchase the Vanswe 800lb Adjustable Bench are going to be happy with their purchase, these guys have really thought about what lifters need from a bench.
This impressive adjustable bench provides all the necessary pressing angles, including decline, you have a 3-way adjustable seat to keep you stable in low inclines and a heavy-duty frame that's going help keep the bench stable.
If you have been looking for an adjustable bench for dumbbell and barbell/rack workouts at home, one that's both versatile and well built the Vanswe 800lb adjustable weight bench shouldn't disappoint.