The market is crowded with lightweight dumbbell benches; there's a ton of Chinese companies flooding sites like Amazon with their take on an adjustable dumbbell bench.
If you don't know what you're looking for, it can tough trying to pick out a decent one from the wide choice on offer.
Thankfully for the past few years, AtivaFit has been building itself a good reputation in the home gym market.  I reviewed their dumbbell set a few months ago, and it seems these guys really know what they're doing when it comes to building quality home gym gear at affordable prices.
Versatile – 7 Adjustable Back Pad Positions & Folds Flat For Storage.
The AtivaFit Adjustable Weight Bench, while not perfect (lacks a few features), is, on the whole, a capable weight bench, boasting seven adjustable back pad positions, high-density foam padding – that's the good stuff, the gold standard for weight benches. Plus, a handy fold-flat for storage feature.
Yes, the AtivaFit bench ticks most of the right boxes.
In this review, we're going to take a close look at the AtivaFit adjustable dumbbell bench, all its pros, and cons. But first, let's take a quick look at the product specs!
Product dimensions –  17″L X 45.3″W X 43.8″H
Adjustable backrest positions – 7
Frame – Light gauged steel tubing
Why Do We Like The AtivaFit Adjustable Weight Bench?
What I really like about this weight bench is that it includes decline for decline presses and sit-ups, plus an 85 degree for seated shoulder press.
So many of the cheap weight benches do not include a near verticle for seated shoulder press; what they do include is an angle of around 70 degrees, which is too low for seated presses as it doesn't allow you to engage the shoulder muscles fully.
80-85 degrees is just about right, which is what we find on the AtivaFit bench; this angle allows you to fully engage all the shoulder muscle plus its a more shoulder-friendly angle than the full 90 degrees, which can cause you to cheat your form and arch your back slightly.
Another thing I like about their adjustable back pad is that it uses a ladder adjustment system.
A ladder adjustment system is much faster to adjust then the pull pin type; all you have to do is lift and place the adjustment bar back to the angle you wish to use. Not only is the ladder faster to adjust, but the ladder system is also sturdier, especially when it comes to entry-level benches like the AtivaFit.
Pull pin types systems can literally snap under heavy loads. I've heard about this happening many times on cheap pull-pin adjustment systems, so I recommend if you are paying less than $200 for a beach, always pick one with a ladder adjustment system for the back pad.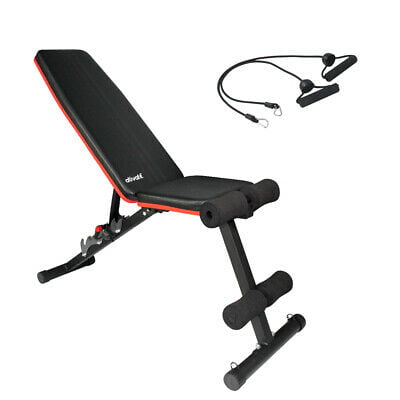 Weight Capacity
This is where some of you might hit a few problems when it comes to this bench. The AviaFit bench only has a max capacity of 330lb, which is one of the lowest I've seen on any weight bench.
Ok, it's not going to be a deal killer for most of you, but when you consider the max capacity includes your own body weight, it's going to be limiting for some of the bigger guys out there.
Just think if you already weigh 220lb and you bench press 150lb, you're over the max capacity of this bench! For bigger guys, this bench is out. For serious lifters, this bench is out.
The AtivaFit bench is aimed towards beginners and the female market. It's not a bench for heavy barbell/rack work, its lightly built bench for dumbbell workouts.
What I like about AtivaFit is their honesty, they didn't go out a stick an unrealistic 800lb max capacity on a lightweight bench like so many of the other cheap benches do.
AtivaFit have given you a realistic max capacity to suit the build of the bench, yeah this thing could probably take a bit more weight, but for a weight bench that only weighs around 20lb, a 330lb max capacity sounds about right.
There's No Adjustable Seat?
When researching the AtivaFit bench, it was a surprise not to find an adjustable seat. Most benches in this price range do include an adjustable seat.
Adjustable seats are important for bench pressing in low incline angles. Why? Because they stop your butt slipping down the bench.
Not having an adjustable seat gives you an unstable base to press from, thus reducing your pressing power, ok you can still flat bench press, which is great.
Yet, for many of you who want to develop your upper pectorals, an adjustable seat is important. Maybe not such a deal killer as its more of an issue when lifting heavy, still it's disappointing not to include one.
Build Quality
People seem really happy with the quality of their AtivaFit adjustable weight bench; this thing receives excellent feedback wherever its sold with an average of 4.5/5, which is excellent for an entry-level bench.
Their AtivaFi Adjustable Dumbbells receive similar ratings, which is a good sign as it looks like this company shines when it comes to the quality of their home gym gear.
And yes, I was impressed to read this bench includes the high-density foam padding, this stuff is great and usually reserved for top-end benches.
High-density foam impresses because it's not too soft to cause stability issues nor too hard to be off-putting; it's just right for your lifting needs and a big plus to see it being used on the AtivaFit adjustable bench.
Folds For Storage
Another positive for this bench is that it folds for storage. Great for those of you who are tight on space, you can fold it to near flat after a workout and store it away. This is also the one time when owning a light bench has its advantages because moving the bench once folded should be a breeze, weighing just 20lb!
Assembly
Again we see another positive for this bench when it comes to assembly. With an average build time of just 10 minutes. Most of the bench cones pre-assembled all you have to do is attach the seat with three bolts its that easy. Instructions are included.
Versatile – 7 back pad angles including decline
High-density foam padding
Fast to adjust ladder adjustment system
No adjustable seat to give you support in incline positions
Suitable for for beginners – Low weight capacity
To Sum Up
The AtivaFit is an excellent bench for dumbbell workouts for both men and women. The bench isn't built for heavy lifting. It has been built with the beginner and intermediate weight trainer in mind.
I like that it includes all the back pad angles you'll ever need for pressing exercises, and it includes the important decline angle especially useful if you want to work your abs and use the bench as a sit-up bench.
There was only one drawback I could find for the bench, and that was the lack of an adjustable seat. However, I think the pros of this bench, ladder adjustment system, high-density foam, decline, folds for storage, etc. far out weight this one drawback.
Overall a decent bench for the price point, built by a company who are starting to make a real impact on the home gym market.