PowerBlock, a company that's been building quality home gym gear for decades, these guys produce well-built heavy-duty gym equipment that's both durable and affordable.
PowerBlock makes a selection of dumbbells sets, some for pro lifters, some for complete beginners, and one set, the PowerBlock Personal Trainer Set that sits somewhere in the middle.
Suitable For Beginners & Intermediate Lifters.
The 5-50lb non-expandable weight range of the personal trainer set is suitable for beginners and intermediate weight trainers; the Personal Trainer set should last most years of growth as your strength increases.
Yeah, 50lb per dumbbell isn't a huge max weight per dumbbell, but it's easy enough to build muscle mass and increase strength for a considerable length of time.
Today I want to take a close look at this impressive set of bells; at the end of the review, I'll also compare the PowerBlocks with the popular Bowflex set. By the end of the review, you should have a good idea if the PowerBlock 50lb adjustable set is the right set for your training needs.
First, let's take a quick look at the product specs!
Product dimensions –  15 x 10 x 9 inches
Weight – 5-50lb per dumbbells
Adjustment system – magentic selector pin
No. of adjustment setting 20 – replaces 20 sets of fixed weight dumbbells
Why Do We Like The PowerBlock Personal Trainer Set?
The first thing that most people love about adjustable sets like the PowerBlocks is just how much space they save. The PowerBlock replace 20 sets of fixed weight dumbbells or 40 separate dumbbells, just think how much space that would take up in your home gym?
So if your tight on space to house gym equipment or you need to pack away your gym gear after a workout, the PowerBlocks are an excellent choice.
Another important feature of this set are the weight increments, while most fast to adjust dumbbells on the market increase weight in 5lb increments (Core Fitness, Merax) the PowerBlocks thankfully go up in 2.5lb increments.
The reason 2.5lb increments are important is that isolation exercises such as concentration curls, dumbbells flyes, lateral raises, tricep kickbacks, etc. need smaller weight increments for proper progression.
Isolation exercises concentrate on a single muscle group rather than multiple muscle groups for compound movements; therefore, you need lighter weights and smaller increments to build the muscle.
For beginners, especially, it can be difficult moving up in 5lb increments as the heavier weight can cause you to cheat 'swing' the weight, thus causing bad form and progression will be slower.
So a big thumbs up to PowerBlock, who include the 2.5lb increments right up to the 50lb max weight!

Compact
When it comes to adjustable dumbbells for home, we want a dumbbell that feels natural to train with; we need to get as close to the feel of a fixed weight dumbbell as possible.
The main issue that plagues all the super fast to adjust dial select dumbbell like the Bowflex, AtivaFit, and Merax is their long handles; their adjustment system calls for long handles because their dial selectors are on each end of the handle.
Long handles are troublesome to train with; they can hit your side when you curl and clash above your head when you press.
Long handles aren't a deal killer, you will get used to them over time, but if you can avoid them, I urge you too.
Thankfully, because of how the PowrBlock are designed with a weight staking system, the dumbbell is compact, the dumbbell will only increase in length when extra weight is added. Whereas a set such as the Bowflex doesn't matter whether you lift 5 or 50lb, the length of the handle stays the same.
If you prefer a natural feeling compact dumbbell, the PowerBlock trumps nearly all on the market.
Speedy Adjustment Times
While the PowerBlock Personal Trainer Set is not as fast to adjust as the dial select sets their no slouch either. To adjust the PowerBlocks, you simply remove the magnetic selector pin and place it back into the weight stack for the desired weight you wish to lift.
There's also the 2.5lb cylinders, these you add to the handle of the dumbbell when you want to go up in 2.5lb increments. And it's these cylinders that take an extra 5 seconds to place in the handle; overall you're looking at about 10 seconds to change each dumbbell, which is quick, and fast enough for drop sets too.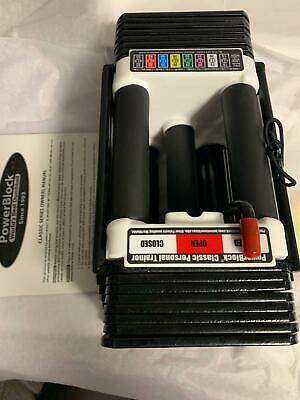 Durability
This is where the PowerBlocks shine over the Bowflex and other dial select sets. There's much less plastic used in the build of the PowerBlocks compared to the Bowflex sets. And there are no plastic moving parts in the adjustment system, which is the one big downfall of all the dial select sets.
While I wouldn't recommend dropping the PowerBlocks from a hight, they will survive a few drops; unlike the Bowflex, if you drop a Bowflex you're in trouble as their fragile adjustment systems will break, then you'll be looking at an expensive repair bill as drops are not covered in the warranty.
Drops are not covered in any adjustable dumbbell warranty, even the PowerBlocks.
Yes, the PowerBlocks are tougher than most on the market because of the pin selector system rather than the fragile dial select systems. You can be a bit rough with this set still, avoid drops.
Who Are The PowerBlocks For?
As I mentioned earlier, a 50lb per dumbbell set is suitable for most people looking to put on some muscle mass and increase their strength; if you have just started training, this is an excellent set as 50lb per dumbbell should last years of consistent training.
For the more serious lifters out there, a 50lb dumbbell will become limiting fairly fast.
You need to remember the personal trainer set is not an expandable set. This means you can not add extra weight to the set once you've reached the 50lb max per dumbbell, which is why we only recommend this set for beginners and intermediate lifters.
If you love the idea of a PowerBlock dumbbell set but think you need a heavier set, you can check out their Elite range. The Elite range starts at 50lb per dumbbell but includes the option of expansion packs of 70 & 90lb, which you can add later as your strength increases.
Click the link below if you are an advanced lifter and want to read our review of the Elite set.
Robust well-built dumbbell set
Space-saving – replaces 20 sets of fixed weight dumbbells
Compact – natural feel dumbbells
Adjusts in 2.5lb increments, great for isolation exercises
No expansion packs available
Have to buy stand separately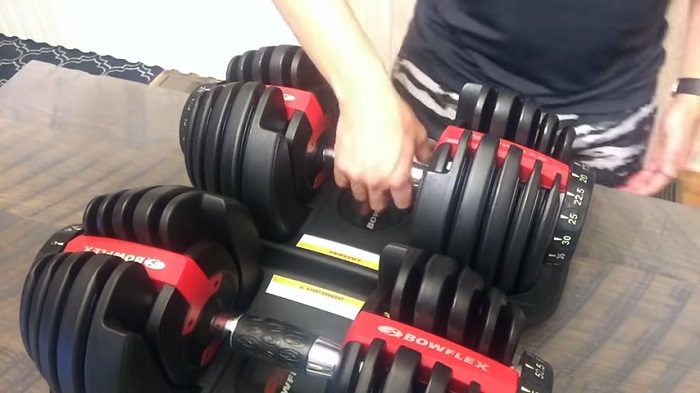 Bowflex 552 Adjustable Dumbbells
Bowflex is another company that has been around for a couple of decades and again building quality home products for our home gym. One of their most popular products is their adjustable dumbbells the 552s.
The main selling feature of this set is their Dial Select Adjustment System; these dumbbells are super fast to adjust; it literally takes a couple of seconds.
But this same adjustment system as I mentioned is fragile, too much plastic, and if you drop them, you're going to break it.
The fragile nature of the adjustment system is not a deal stopper, just be careful, and you'll be fine, I've known people to own these for years, and they still work as well today as they did when they were purchased.
Another useful feature of the Bowflex set is that they adjust in 2.5lb increments, something that is quite rare when we look at all the other dial select sets on the market. So just like the PowerBlocks a great set for beginners or anyone who doesn't like the idea of moving up in 5lb increments.
The main reason I'd choose the Powerblocks over the Bowflex is the difference in handle length.
Compact dumbbells are much easier to train with than the long handle type, and the Bowflex has some of the longest handles out there, whatever you are lifting the handle length is going to stay the same.
Still, if you're after super fast adjustment times, you will have to put up with long handles as nearly all the super-fast sets apart from one 'Core Fitness'  incorporate long handles in their build.
Overall the Bowflex dumbbells are a nice set, and I can see why they are popular; they come from a trusted company they're fast to adjust. They look good too, but when it comes to weight training with them, they are a long way off the PowerBlocks, yeah the Bowflex are fast, but they're also awkward to lift with, and you need to be especially careful with them.
To Sum Up
The compact size of the PowerBlocks, their durable build, and their simple robust and fast to adjust adjustment system puts them at the top of any dumbbell list.
The PowerBlock Personal Trainer Set are an excellent set of adjustable dumbbells built by a company that really knows what they are doing. You won't find any better on the market right now in the 50lb per dumbbell weight range.
I highly recommend you take a closer look at this versatile set of bells from PowerBlock,  you won't be disappointed.