The Funcode Adjustable Dumbbells tick a lot of the right boxes, they're fast to adjust, they replace five sets of fixed weight dumbbells so save a ton of space, and best of all, they are much cheaper than the more popular sets like the Bowflex 552's and the PowerBlock Elites. But like most cheap sets of adjustable dumbbells, the Funcodes have a few drawbacks, which I'll get into later, maybe not deal-killers but something worth considering before deciding on a set like this.
Includes Comparison With Best Sellers – Bowflex 552s
In this review, I'll take a close look at everything this set of dumbbells from Funcode offers, including those drawbacks I just mentioned. At the end of the review, I'll also compare the Funcodes with the Bowflex 552's as it will be interesting to see how the Funcode's compare to the best sellers. But first, let's take a quick look at the Fundocde Dumbbell product specs!
Product dimensions – 17'72" x 8.60″ x 7.09″ L x W x H
Weight – 44lb per dumbbell
Adjustment system – twist lock
Weight increments – 6.6lb, 15lb, 25lb, 33lb, 44lb
Material – Metal – plastic
Why Do We Like The Funcode Adjustable Dumbbells?
The Twist-Lock adjustment system is easily this dumbbell's best feature. It's an adjustment system seen first on much more expensive sets like the Core Fitness and Stairmaster sets, and it helped sell thousands of those sets. The reason it's so impressive is that you can adjust the dumbbells in just a second, which is impressive.
An adjustable dumbbell that adjusts so quickly allows you to perform a ton of advanced and a few basic Bodybuilding techniques that require a fast change in weight like drop sets etc. And the design is foolproof. All you need to do is twist your wrist to the desired weight amount you want to lift, its that easy.
Just remember to make sure the dumbbell is sitting fully in the storage cradle when you want to adjust it.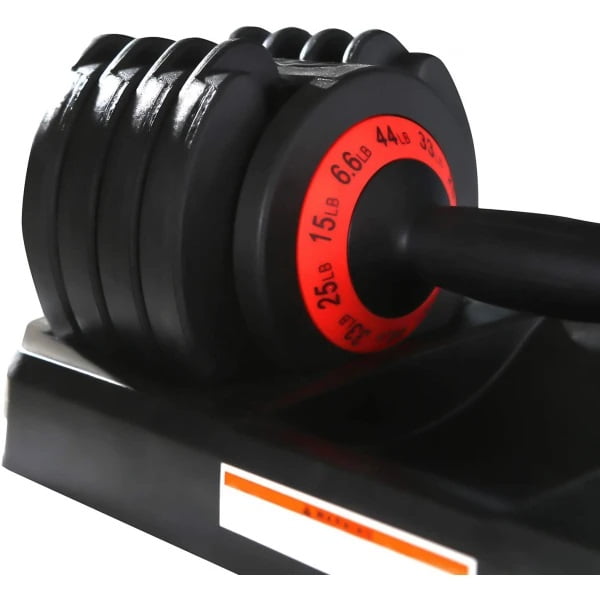 Feel Solid No Plate Movement
Something else I really liked about this set of bells is there's no plate movement. They feel solid in hand. Plate movement or rattle plagues many of the cheaper sets of dumbells, even a few of the higher-priced ones, so it was a surprise to find this set of bells from Funcode feels so solid. It's what you want from an adjustable dumbbell, so thumbs up to Funcode.
Are The Handles To Long?
So one of the drawbacks of the Funcode dumbbells is that the handles are long, nearly 18″. They use a fixed-length handle, which means no matter how much weight you're lifting, 10lb or 44lb, the length of the handle stays the same. This has been a problem with selectable dumbbells sets for over 20 years. 
Compact Handles Are Best
Ideally, you look for a handle that only increases in length with the more weight you add. This allows for a compact, natural feeling dumbbell similar to fixed weight dumbbells you might have used in a local gym. Compact dumbbells are usually more expensive, sets like the PowerBlocks, Ironmasters, and the Core Fitness twist lock-set. All are compact, thanks to not using a fixed-length handle.
It takes a Few Weeks To Get Used To Fixed Length Handles – Don't Let it Be a Deal Stopper.
Still, a fixed-length handle shouldn't be a deal-killer. They can be awkward at first when setting up for presses and can clash above your head when pressing but its something you can adjust to. It takes a couple of weeks to get used to long-handle dumbbells, especially if you're a beginner.
Plus, once you start lifting heavier weights, you have to get used to long handles anyway, whatever set you to use fixed or not.
Plastic In The Adjustment System & Plastic Casing Surrounding The Plates
Plastic is almost impossible to avoid if you want a fast-to-adjust dumbbell set like the Funcodes. I haven't come across one super fast set yet that doesn't have a ton of plastic in the build.
Plastic is a bad idea for dumbbells because you can not train to failure and then drop the dumbbells on that last killer rep from any height, you'll break them, and drops aren't covered in the warranty.
Some of the higher-end sets only have plastic in the adjustment system and handles, so are slightly tougher, but the Funcode and many of the cheap sets also seem to love using plastic casing for the weight plates. This is usually the first thing to break if you drop a dumbbell like the Funcode from height, and once it is cracked, it makes the dumbells almost impossible to use as they won't adjust properly. This issue was first seen with the Bowflex 552's with many customers complaining, yet companies like Bowflex and Funcode continue to coat their weight plates with plastic.
Again it's not a deal killer; just be careful not to drop them. On the flip side, having a plastic casing surrounding your weight plates keeps noise levels down and makes adjusting them that bit smoother.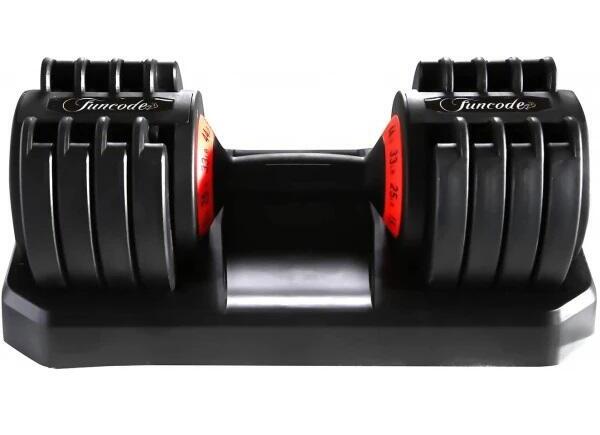 Large Increases In Weight
Long handles plastic in the build are all things you can live with and adapt to. But large weight increases may be what holds these dumbells back, yeah, I love the fast adjustments times and their solid feel, but increases of around 10lb are too large for most people.
Put it this way if you can curl a 15lb Funcode dumbbell for 10 reps and want to continue adapting, curing a 25lb Funcode dumbbell represents a 75% increase in load that's a huge jump in weight and something that will slow progress for most beginners., Even season lifters would shy away from dumbbells with 10lb increments. It's just too big of a jump.
Smaller weight increases are one of the keys to progress no matter what apparatus you're are using or what exercise you are performing. Ideally, we look for increments of 2.5lb or 5lb for dumbbells. The 10lb weight increments are the Funcode dumbbell's biggest drawback, and if you're just starting with bodybuilding? A dumbbell that adjusts in 10lb increments isn't suitable, especially for isolation exercises.
Anything Else Worth Mentioning?
There are no weight expansion packs for this set of dumbbells. 44lb is the max for each dumbbell. Most people shouldn't outgrow a 44lb dumbbell anytime soon.
Still, it's important to remember that gains in strength come quickly when you first start lifting, and a few you may outgrow a 44lb dumbbell quite easily in a year. if you're someone who takes your lifting seriously? It might be worth considering a dumbbell set that includes the option for expansion packs, sets like the PowerBlock Elites that start at 50lb per dumbbell give you the option of 70lb and 90lb expansion packs for when your training progresses.
Storage Trays
Each Funcode dumbbell comes with its own storage tray. The storage trays are not just handy for storing your pair of bells but are also used to adjust the dumbbells. When adjusting, make sure to push the dumbbell fully into the storage cradle.
Space-Saving Design
And lastly, one of the best things about the Funcode or any adjustable dumbbell set is how much space they save. The Funcode set replaces five sets of fixed weight dumbbells. That's a heck of a lot of space to save especially if you're tight for space in your home gym.
Feel solid in hand – no plate movement
Fastest adjustment systems on the market – adjusts in one second with a twist of your wrist
Replaces 5 sets of fixed weight dumbbells
Affordable – great price for a set of 44lb twist lock dumbbells
Large weight increases not ideal for bodybuilding
Avoid dropping from height a lot of plastic in the design
Fixed length handles – take some time to get used to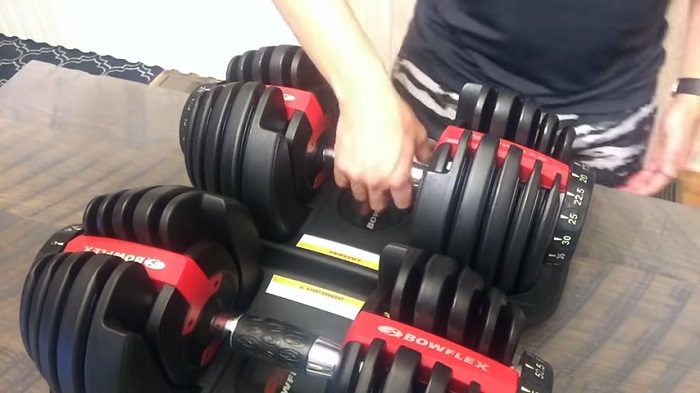 Bowflex 552 Dumbbells
The Bowflex 552s were the first fast-to-adjust selectable dumbbell set, and they have been popular for years outselling almost everything else.
The reason this set of bells is so popular is that they are made by a company with a great rep in the home gym market, and also, it's an excellent set for beginners or anyone who wants to progress fast with their lifting because of the small weight increments. The Bowflex adjusts in 2.5lb weight increments up to 25lb and 5lb increments up to 52.5lb.
And it's the small weight increases that sell this set for me. It's one of the only adjustable sets that offers the 2.5lb increments, perfect for isolation exercises and great if you're a beginner who doesn't want to deal with large weight increases that will slow your progress.
Apart from the weight increments, this set of dumbbells from Bowflex is very similar to the Funcodes. Both include the fixed-length handles, both have a fair amount of plastic in the handles and adjustments system, and even Bowflex has the plastic casing surrounding their weight plates. Also, both sets are fast to adjust. The Bowflex 552s use a dial select system on each end of the dumbbell,  which takes a few seconds to adjust, and the Funcodes use the twist-lock system taking only a second to adjust.
The Bowflex 552's have come down in price recently  you can get hold of them now for around $400, so they are 100 or so bucks more than the Funcodes, but when you consider the Bowflex 552s replace 15 sets of fixed weight dumbbells to just the five sets of the Funcodes, you start to understand that the Bowflex are priced competitively and worth that extra $100.
To Sum Up
There's a lot to like about the Funcode Adjustable Dumbells. The twist-lock adjustment system is a favorite of mine, it's so fast and easy to use. And this is a solid set of bells; I'm not saying you can throw them around your gym, but they feel solid, which is what you want, with no plate movement when lifting.
Still, it's the large weight increments I'd be concerned about. It all depends on your training needs? Because if you can live with the large weight increases, the Funcodes are an impressive set of bells, especially when you look at the price tag.